This Coach collaboration celebrates new Americana
Our queen Paloma Elsesser, plus TikTok's fashion stars, front the new campaign for Coach and Champion's sporty crossover.
|
02 February 2021, 2:00pm
Images courtesy of Coach
The state of New York is built on collaboration and unity. Even outside of the city, where art and fashion collide continuously, the spirit of creativity can be felt. After channelling many symbols of New York and wider Americana -- be it Basquiat, Keith Haring or Disney -- Coach have joined forces with another legendary juggernaut of style: the sportswear brand Champion.
A perfect crossover between the elevated luxury of Coach and Champion's ubiquitous presence as a sports brand, this link-up has been inspired by the blurred lines between the two. High fashion's most hyped model Paloma Elsesser fronts the campaign, but she's joined by a few talents who aren't as used to occupying the fashion world's famous blinding glare: TikTok's stylist du jour Maha Gondal and the app's famous fashion leader, Wisdom Kaye. C-Pop star Jeffrey Tung rounds out the quartet.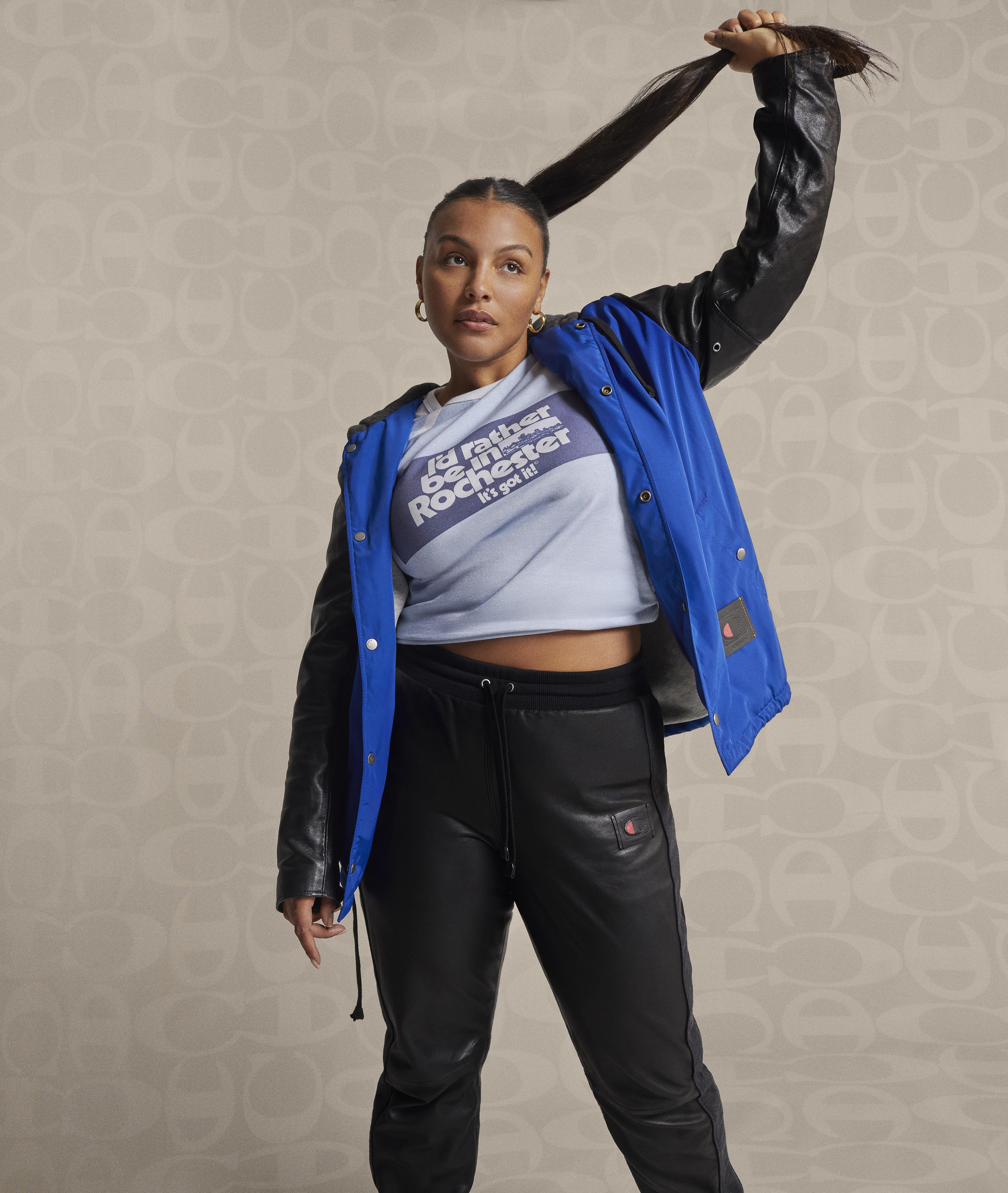 The collection merges the codes of Coach and Champion perfectly: varsity jackets in royal blue are emblazoned with a Champion patch, with sleeves crafted from leather. Traditional heather grey sweats get a black leather re-up too. Knitwear is chic and speaks to the college-going kid of the 90s, while the iconic handbags Coach have become known for are reimagined with the other famous 'C' logo gracing it too. Even T-shirts allude to Champion's heritage, with slogans reading: "I'd rather be in Rochester -- It's got it!"
What's more, it'll be supported by a selection of "How to Coach a Champion" challenges on TikTok, so you can flex your new garb on the For You page.
"I'm excited to introduce Coach x Champion, a collection grounded in the authentic American heritage we share," Coach's Creative Director Stuart Vevers said in a statement. "I was inspired by the idea of elevating sportswear silhouettes in an unmistakably Coach way using leather, shearling and by combining our iconic symbols in a way that feels fresh, youthful and immediate."
Champion's Chief Global Design Officer Ned Munroe added: "The opportunity to partner with Stuart and the Coach team and merge the design expertise, as well as the great heritage of these two iconic American brands, is what was so inspiring. To be able to pair Champion's roots in sport with Coach's exceptional craftsmanship creates the opportunity for Champion's iconic styles to come to life through a new and elevated lens."
Get your first look at the new collection below, before heading over to Coach's website here to snag it. Be quick!