Images courtesy of Marques'Almeida
Marques'Almeida is driven by a desire for change for AW21
The Portuguese design duo collaborated with local musician Nenny on a film that showcases their sustainability-focussed new collection.
|
22 February 2021, 12:15pm
Images courtesy of Marques'Almeida
Over the past few months we've reported on the exodus of young creatives from London. In a time of such uncertainty, it's easy to see why people are leaving major cities the world over in favour of a cheaper way of life and the promise of being closer to nature, family, and -- in the case of Marta and Paulo, the couple behind Marques'Almeida -- the craftspeople making your designs. Last year, early on in the pandemic, they relocated from their East London home of 10 years to their Portuguese motherland, where they're now running their brand from a space just outside of Lisbon. Their AW21 collection is almost a direct result of the move.
"We would have never started reM'Ade if we were still in London," Marta says, "and that has informed everything else we do now." Launched in May 2020, their reM'Ade project transforms waste into fashion by creating new and classic M'A designs exclusively with deadstock and recycled fabrics on a made-to-order basis. It was announced with a manifesto in which the brand acknowledged their social and environmental responsibility, setting out clear targets that they intend to meet by the end of 2021.
Long known for combing the young creative communities of London in search of M'A faces, for AW21, they looked to the Portuguese music scene for their latest star, finding 19-year-old singer, songwriter and rapper, Nenny. "It was an absolute no brainer! I had her album AURA on repeat," says Marta, who called on the young artist and her creative director, Ana, to shoot a performance video — which they presented yesterday on the London Fashion Week schedule — incorporating looks from the new M'A collection. Wearing, in turn, a rainbow coloured balloon-sleeved shirt dress, tie-dyed padded overcoat and a 90s popcorn shirt-style spiky blue mini dress with an oversized denim jacket, this was classic M'A cool girl fun.

While AW20's playful collection was inspired by HBO's Euphoria and SS21 marked a public declaration of change, AW21 is all about what's going on behind the scenes in the quest towards working sustainably: using natural dyes made from vegetable waste, cutting petroleum-based fibres from their production line completely, embracing recycled and biodegradable materials, using less water in their denim wash. "It's the biggest thing driving us every time we start a collection now, so in that sense AW21 is a continuation of SS21," Marta says.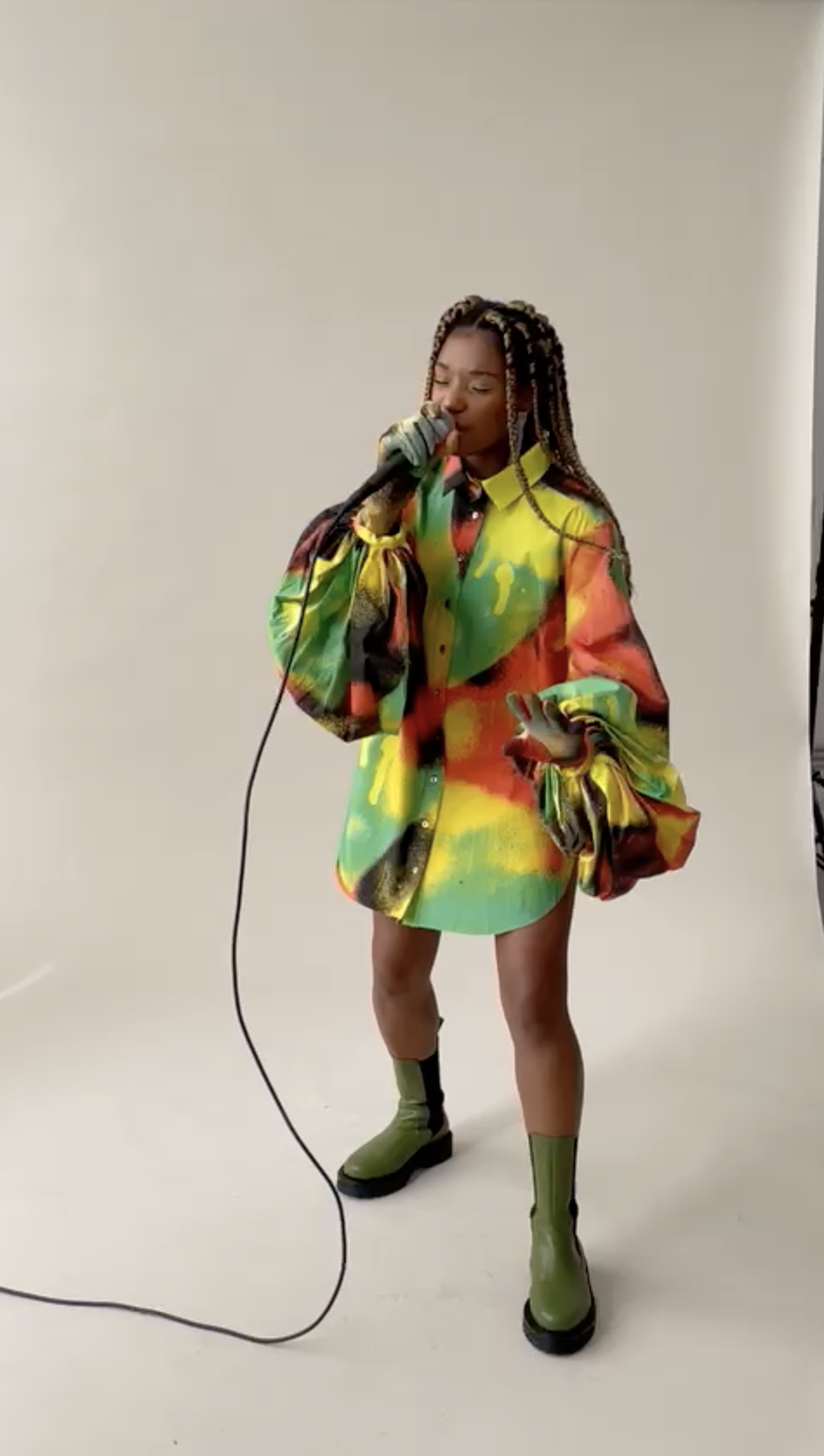 "It might not sound big but it was a struggle [to use zero petroleum-based fibres] and it's a big achievement for us," she continues. "To do a brocade, for example, it's normally always silk, or polyester if you want to make it affordable, so we had to replace that with recycled polyester." In the process, she and Paulo learnt that due to the technical difficulties posed, many other "sustainable" brands switch just 50% to recycled. "This company had really well-known brands they work for claiming to be sustainable but taking that easy route — but we fought hard and were able to replace it entirely with either recycled poly or natural fibre," Marta adds. "Now we want to work on other things like waste-free events and reducing our carbon footprint further."

As for this season's aesthetic, returning to their home country stirred something in Marta and Paulo. "There was this thing pulling us back to our younger years in Portugal, like the early 2000s, which were very different here than in a city like London," Marta says. "It was all about this nature vibe mixed with a modern, cool spacial thing… so we used these shiny tech fabrics but also tie-dye natura colours and materials."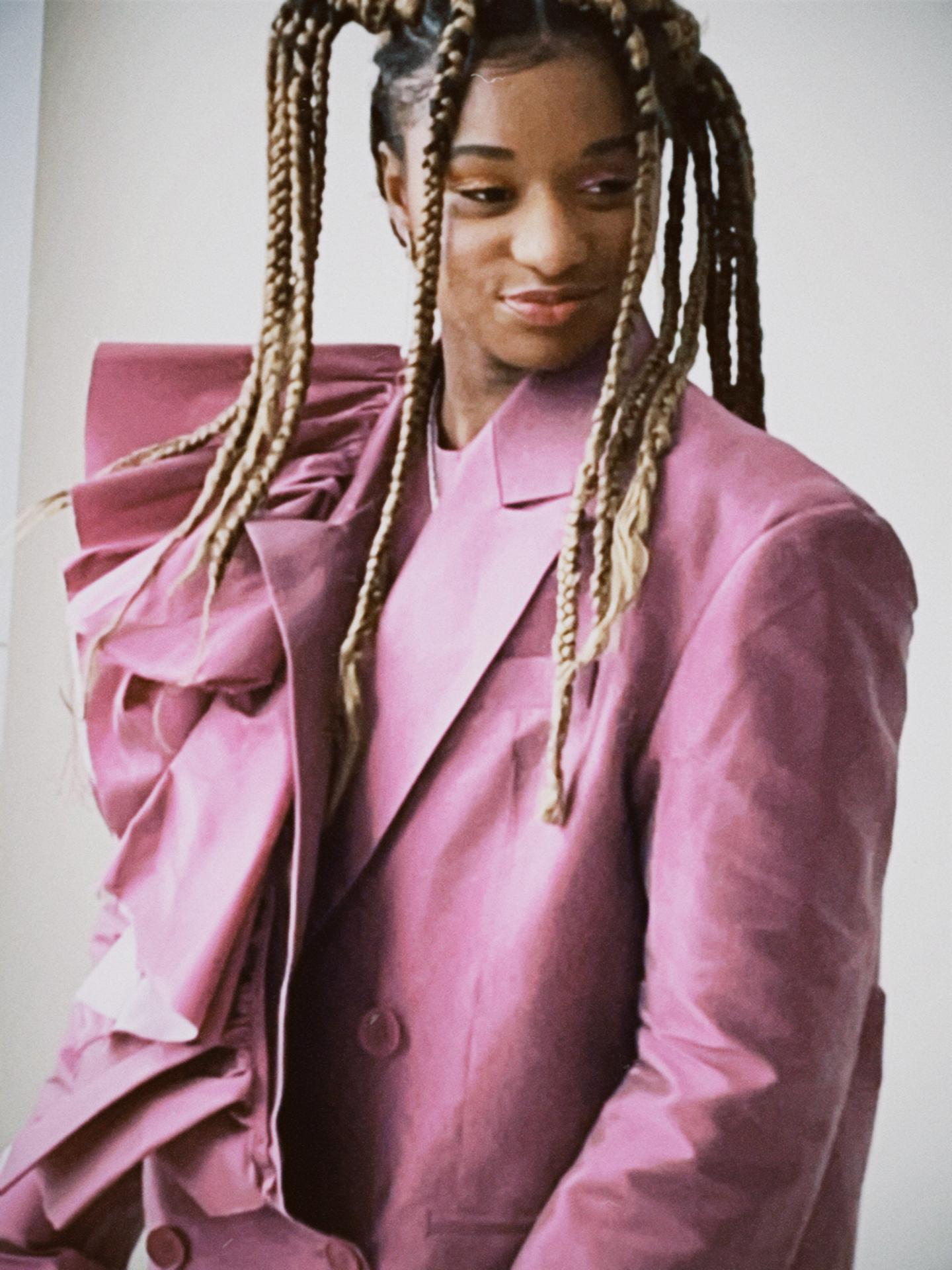 While venturing further into the WFH realm of tracksuits, silk pyjamas and their signature draped lightweight knits (reading the room, as ever), the collection still has plenty of fun looks to covet for those post-pandemic parties. There's a sleeveless, tiered maxi dress in shiny lilac taffeta, one-shouldered silk slips with asymmetric hems and silhouettes we've seen in previous seasons — the pirate shirt dress, the puff sleeve mini — given new life with colourful tie-dye style prints and bold block tones. Ruffles are everywhere -- from the sleeves of formal dresses to the shoulders of sweatshirts; Marques'Almeida refuses to give up on the idea of a fun-filled tomorrow.
"That is never gonna go away for the M'A girl! Even if it's a house party for one," says Marta. "I was reading the other day about the power of partying as a form of political rebellion, of resistance, and that's so important for the communities and the young people we support. So we want dress-up to never stop being a thing, but we may also be dressing up in a tie-dyed tracksuit and some feather strap crazy shoes and a bright coloured padded hat… that's just the M'A spirit :)" And when said hat is not only stunning but made from recycled polyester and ocean plastic waste, that sounds pretty good to us.