7 of Erykah Badu's most iconic outfits
The Queen of neo-soul music is also the queen of headwear, from big bowler hats to towering headwraps.
|
26 February 2021, 7:00am
Queen of neo-soul, acclaimed actress, fashion icon. Erykah Badu wears many hats — literally. Since her debut in 1997 with critically-lauded album Baduizm, Erykah has defined (and redefined) the neo-soul genre, alongside artists like D'Angelo and Maxwell. Her musical talents — namely her experimental approach and singular vocal stylings (oft compared to Billie Holiday) — have earned her a total of 59 nominations and 16 awards, including Grammys and Soul Train Awards, over the years. Erykah's personal style is equally as singular, merging a cool, bohemian attitude with her African roots, and making headwear — towering hats and headwraps — her thing. She's also inspired some of fashion's most notable designers, from Tom Ford and Riccardo Tisci to Kerby Jean-Raymond. Here, in honour of the soul legend's 50th birthday, we chart her career along a selection of some of her most iconic outfits.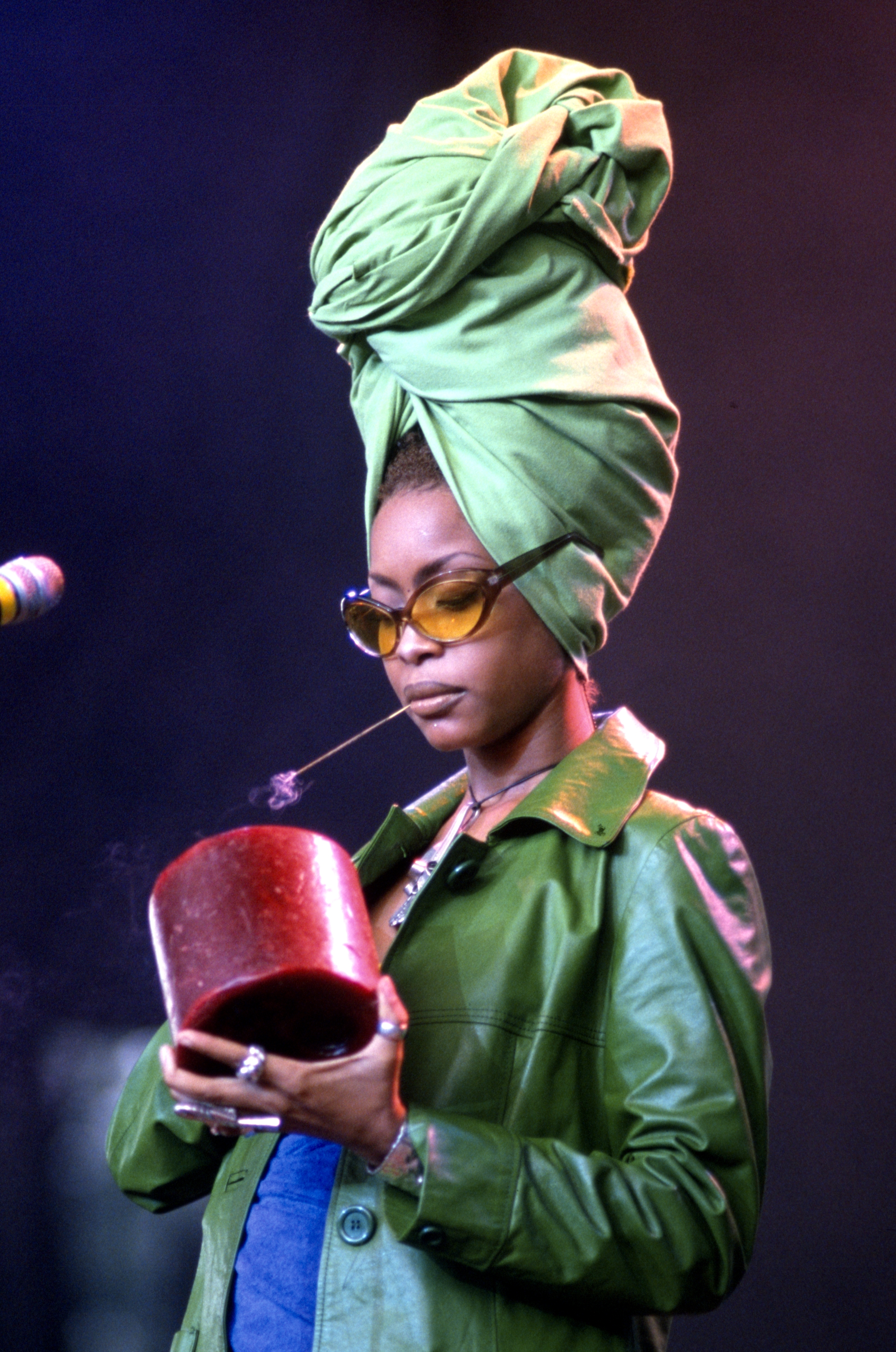 Performing on the Smokin' Grooves Tour, 1997
Dallas-born singer-songwriter Erykah Badu has always had a talent for the arts. In her college years, she majored in dance and theatre before dropping out to pursue music full-time, forming the band Erykah Free with her cousin. In 1995, while opening for R&B singer D'Angelo, Erykah was discovered by record producer Kedar Massenburg, who signed her to Universal Records. Here, two years after being signed, Erykah performs on her Smokin' Grooves tour. She looks ineffably cool, stick of incense between her lips, cat-eye sunglasses, green leather car coat and her signature towering headwrap.
At the Grammy Awards, 1998
In 1997, Erykah released her debut album Baduizm to incredible critical and commercial acclaim. The album was certified triple platinum in the US, and its lead single, "On & On," was #12 on Billboard's Hot 100. Critics dubbed her "the Queen of neo-soul" comparing her vocals to jazz legend Billie Holiday. Both the album and lead single earned Erykah her first two Grammys. Here she is at the awards ceremony, matching her hallmark headwrap to her hot pink dress. She's also wearing her signature jewels: wide cuff bracelets, a huge pendant necklace and stacks and stacks of rings. In 2015, she told Vogue, "Accessories really are everything for me. I travel with a black body bag full of them when I'm on tour."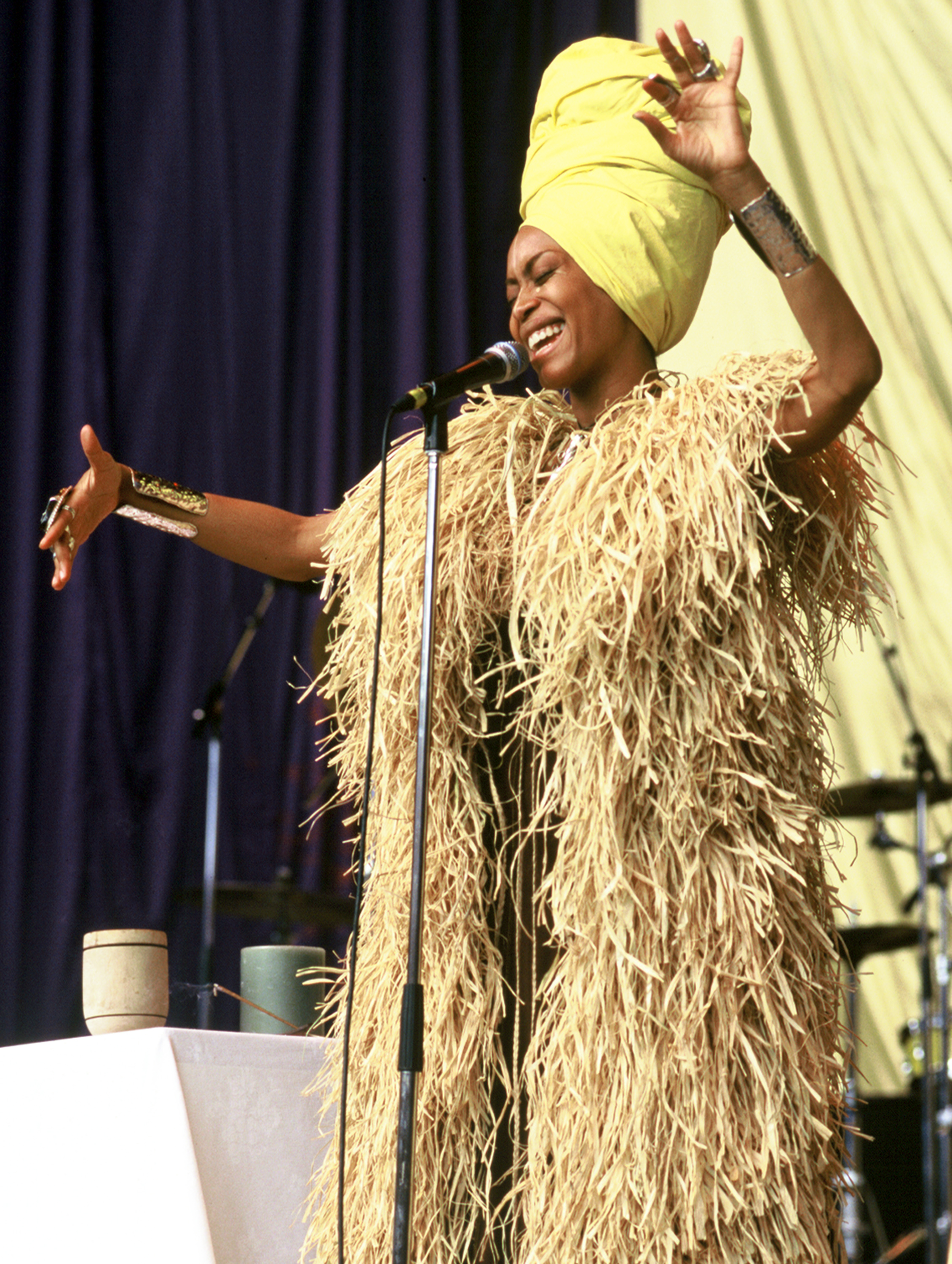 At Lilith Fair, 1998
In 1998, Erykah Badu was invited to headline the second annual Lilith Fair musical festival. The concert tour was founded in 1997 by Canadian singer-songwriter Sarah McLachlan and featured only women musicians. Not only did the short-lived festival earn over $10 million for women's charities, it also helped launch the careers of artists like Missy Elliott, Dido, Nelly Furtado, and, of course, Erykah Badu. Here she is, headlining the festival, wearing a shaggy raffia vest and a vibrant lemon-yellow headwrap.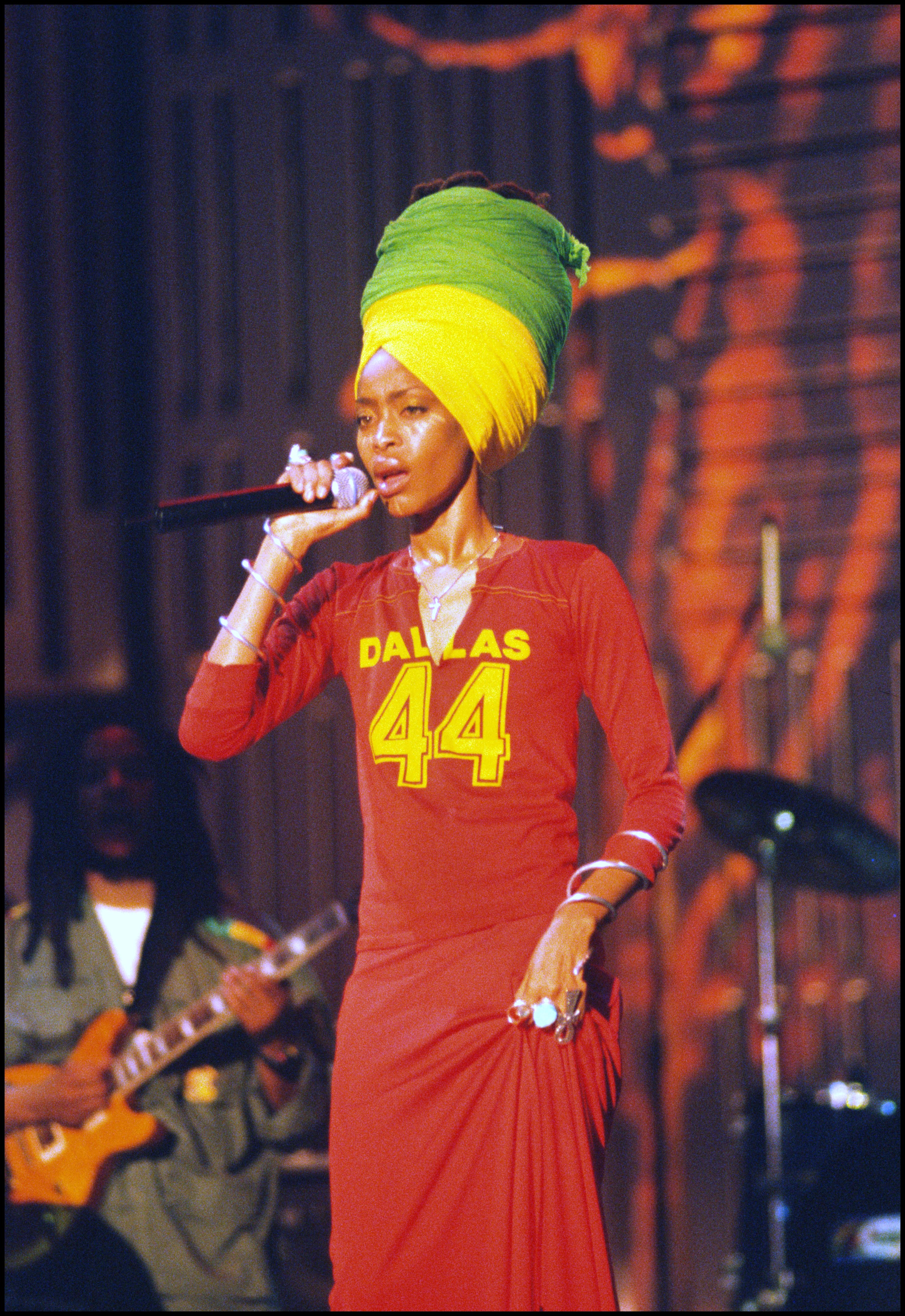 Performing at One Love Bob Marley Festival, 1999
In 1999, Erykah — alongside musicians Tracey Chapman, Lauryn Hill, Queen Latifa and Busta Rhymes — was invited by Bob Marley's family to perform in an all-star tribute concert in honour of the late reggae legend in his native Jamaica. Erykah also paid tribute to Marley sartorially, wearing the Rastafari colours: red, yellow and green. This wasn't the first (or last) time she rocked the colourway. Erykah wore head-to-toe green, red and yellow to the 1998 Soul Train Awards, where she took home three awards for Best New Artist, Single and Album.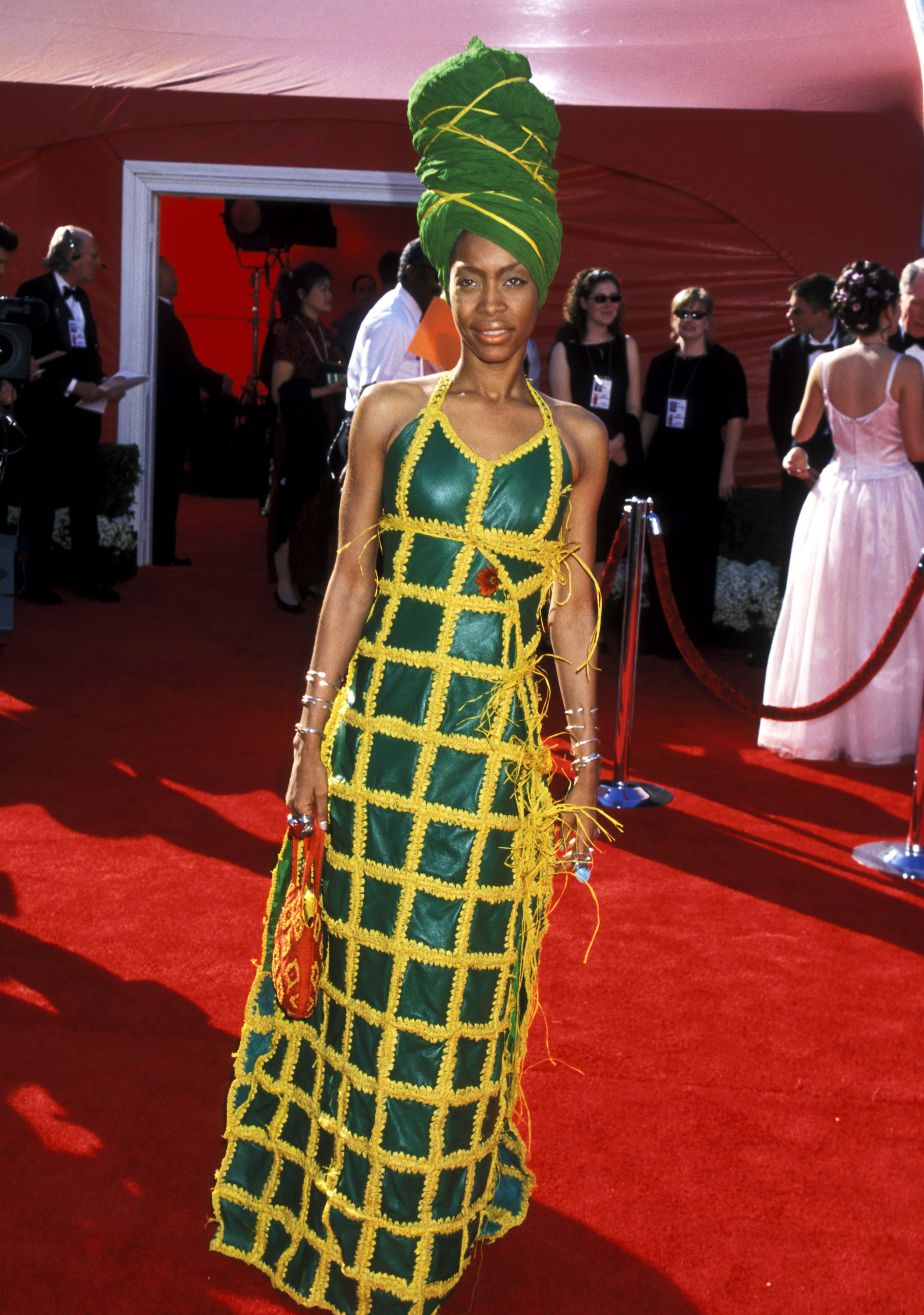 At the Academy Awards, 2000
Beyond music, Erykah also ventured into the realm of cinema, making her acting debut in 1998's Blues Brothers 2000. The next year, she played a supporting role in the critically acclaimed movie The Cider House Rules, along an all-star cast including Michael Caine, Charlize Theron, Tobey Maguire and Paul Rudd. The turn earned her the award for Best Supporting Actress at the 2000 Black Reel Awards, and a coveted SAG Awards nomination. Here she is at the Academy Awards that same year, wearing an intricately crocheted dress in Rastafari-reminiscent colours.
Performing at the Essence Awards, 2003
In 2002, Erykah teamed up with then-boyfriend rapper Common on the track "Love of My Life (An Ode to Hip-Hop)". Written for the Brown Sugar soundtrack, the single charted at #1 on America's Hot R&B/Hip Hop Chart and peaked at #9 on the Billboard Hot 100. It also earned Erykah her fourth Grammy and a Soul Train Lady of Soul Award. Here she is performing the song at the Essence Awards — Common just off camera — wearing a lime green military-inspired suit with matching bandolier.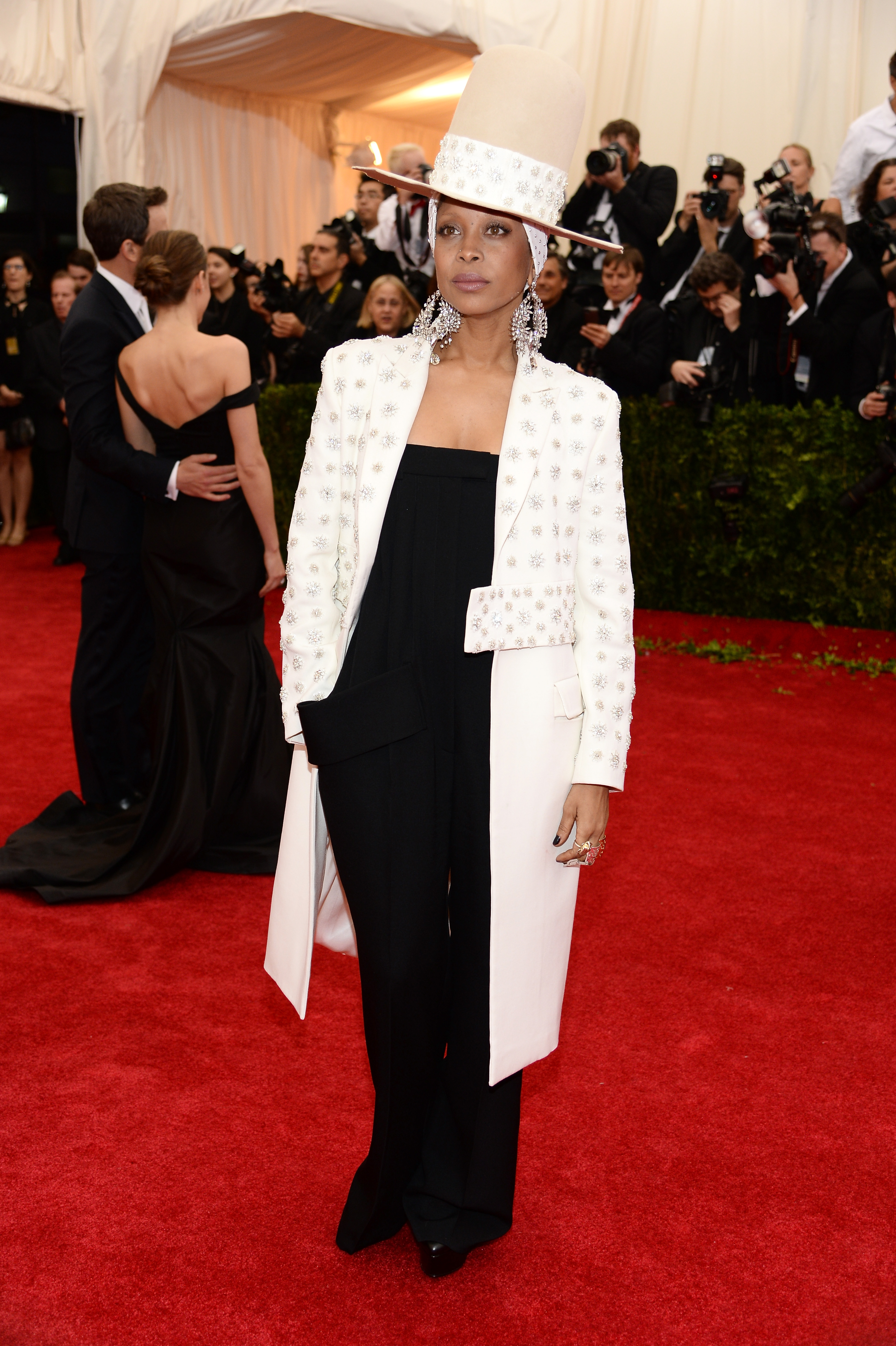 At the Met Gala, 2014
Over the years, Erykah and her singular style has inspired some of the fashion industry's most visionary designers. In 2008, Tom Ford tapped her to face the campaign for his White Patchouli fragrance. She also fronted the campaign for Givenchy's SS14 collection, under the creative directorship of Riccardo Tisci. That year, she attended the annual Met Gala wearing a custom outfit — complete with bedazzled and towering hat — designed by the French house. From headwraps to top hats, Erykah's love of headwear is well-documented and iconic in itself. "There's room for six hats in my hat box," she told Vogue in 2015, referring to her tour luggage. Two years after her iconic turn on the Met Gala's red carpet, Erykah tried her hand behind-the-fashion-scenes, styling Pyer Moss' AW16 show.