Rick Owens goes biblical for AW21
Transforming a chaste Venetian piazza into the Garden of Gethsemane, fashion's dark prince presented a protective uniform for whatever lies ahead.
Courtesy of Rick Owens
The last time we saw Rick Owens, it was for his SS21 womenswear show. Back in October, the forecourt of a Rationalist palazzo on the Lido di Venezia hosted Phlegethon, a show named after one of the five rivers of the Ancient Greek underworld, which flows with blood and boils souls alive. For his AW21 menswear collection, fashion's prince of darkness once again proved his capacity for transforming otherwise-innocuous Venetian landmarks into sombre historical locations, bringing Gethsemane (the Jerusalem garden in which Jesus prayed the night before his crucifixion) to a promenade along the city's lagoon.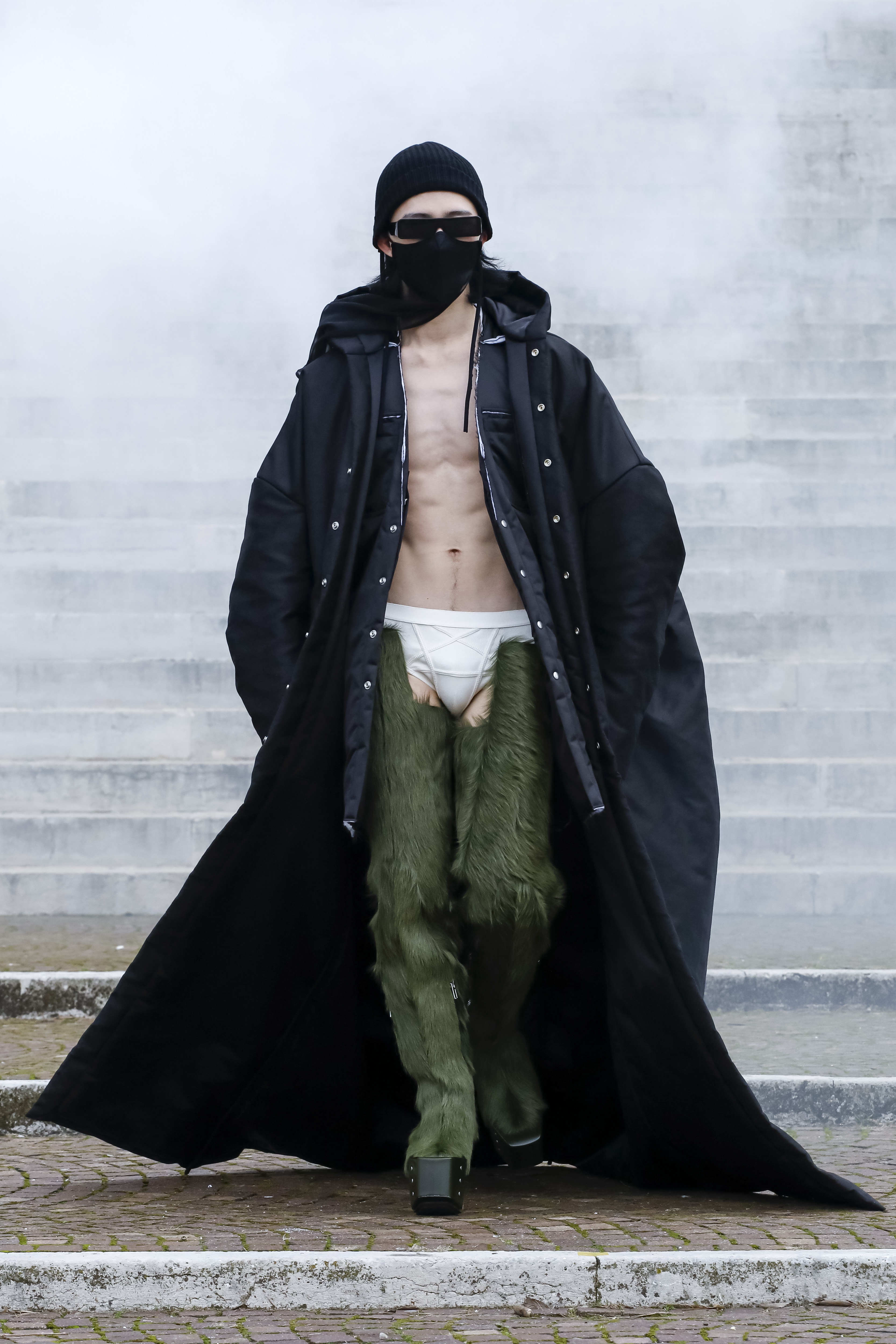 Whether or not the collection's title is to be read as a sign of Rick and Michèle turning to the Good Word over these many months of lockdown is to be confirmed; what we do know, though, is that the tale of Jesus' last night before dying is the perfect metaphor for our times. Describing the biblical grove as "a place of uneasy repose and disquiet before a final reckoning," Rick goes on to write of how "we're all living a tense period in history waiting for a resolution, be it catastrophic or rational, in a suspense that feels almost biblical in its drama." Damn fucking straight, Rick!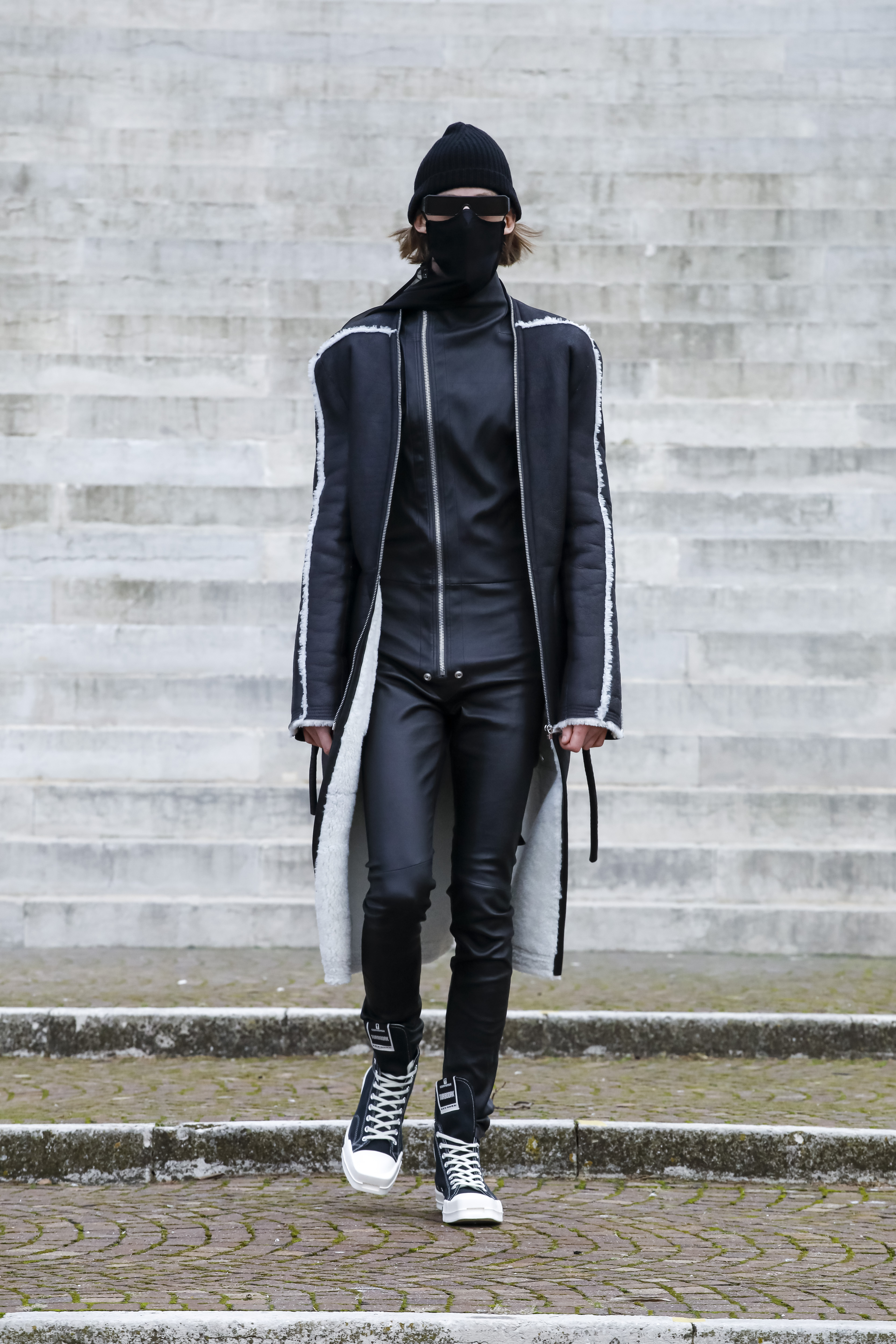 Around midday today, residents of the Lido may well have thought that reckoning had finally come when they saw a troupe of models, clad in the designer's characteristic dusky drapes, emerging from a plume of smoke that billowed across a church's piazza. Look a little closer, though, and it quickly became clear that these were not in fact incredibly chic harbingers of imminent apocalypse; rather an army well prepared for whatever hardships may lie ahead. Hooded, butter-soft leather and shearling jackets, for example, zipped up to the eyeballs, and had gloves integrated into the sleeves -- perfect attire for right now, when any surface not marked as sanitised is to be treated with suspicion -- while the revealing leather bodysuits worn throughout almost read like second-skin suits of armour, offering a closely felt sense of protection.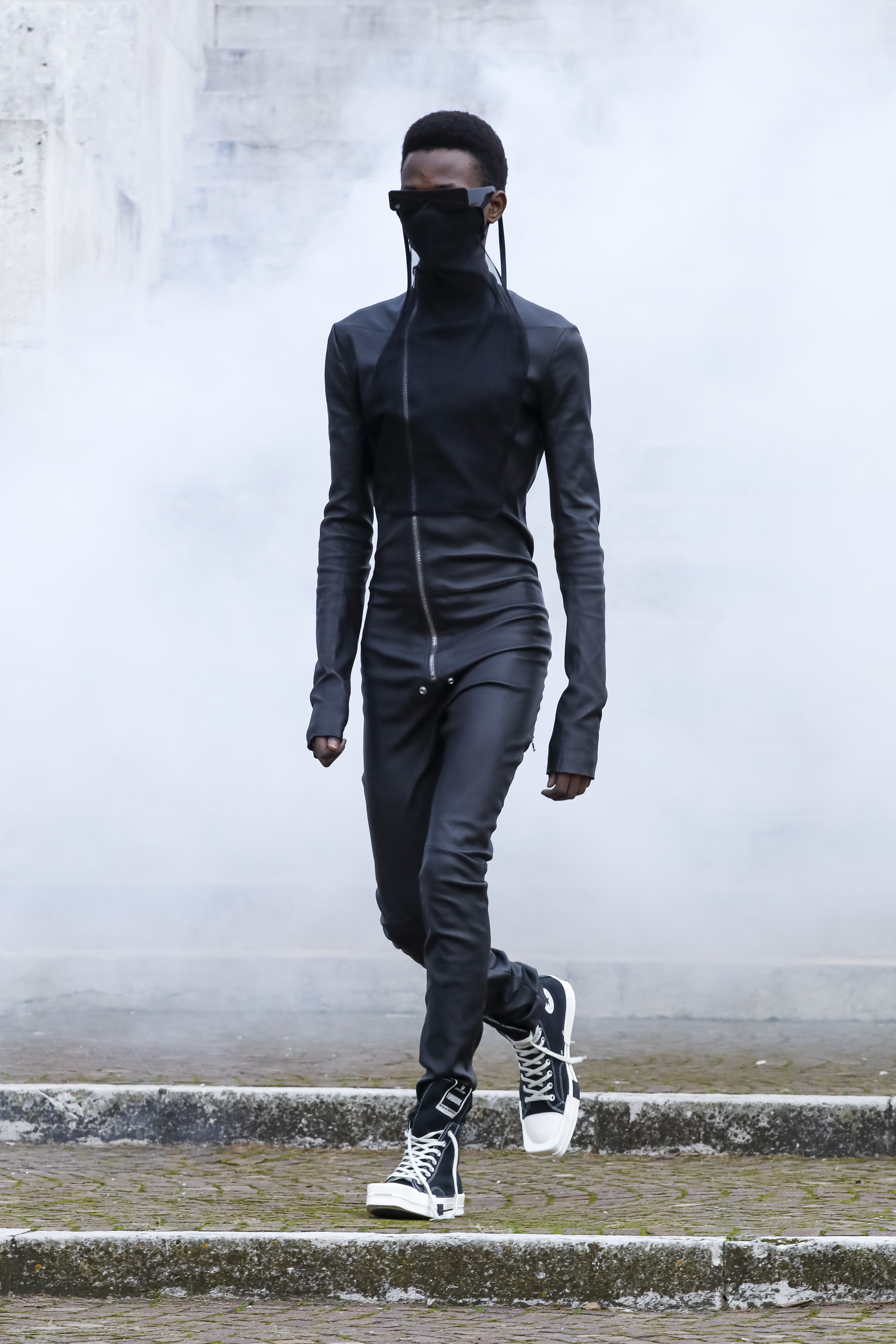 As much as this toughness spoke to the strength we've all had to summon, it also highlighted the sense of critical vulnerability we know too well by now -- it was there in the looks that flared open to reveal little else but a pair of tighty-whities, or in the cropped duvet coats and weighty recycled cashmere sweaters that nodded to the sense of comfort we are all craving right now. In its openness, though, that vulnerability became an asset, and even a source of power. In the face of a great reckoning, this felt like Rick's way of saying that a flexible, more human approach is needed to overcome whatever lies ahead…