Image courtesy of Matches Fashion
What does Black British masculinity look like in the digital age?
Bianca Saunders and A-COLD-WALL* founder Samuel Ross discuss shaping the look of Black-British masculinity and building POC-owned businesses.
Image courtesy of Matches Fashion
In London, a generation of Black British designers are putting their stamp on the country's fashion scene. Many focus on menswear, perhaps as an indication that the visual representation of Black British masculinity is in need of reframing. Two of the strongest voices doing so? Bianca Saunders and A-COLD-WALL*'s Samuel Ross.
As members of Matches Fashion's Innovators programme, which spotlights the designers radically shifting fashion's parameters, the pair share many parallels beyond their British-Caribbean heritage. namely, their multidisciplinary approaches to luxury menswear.
Royal College of Art graduate Bianca made her London Fashion Week debut three years ago. Today, she considers herself an artist, working with drapery, creasing and ruffled detailing to add a sense of movement to archetypal menswear. Samuel, on the other hand, received a graphic design and illustration degree from Leicester's De Montfort University and worked with Virgil Abloh at Off-White and Yeezy, before launching his own line of high-tech, futuristic fashion, setting up a financial mentorship programme for POC-owned businesses and artists in the process.
Fresh from winning the ANDAM Prize, Bianca sat down with A-COLD-WALL*'s Samuel Ross to discuss what it means to be Black British designers building brands with the purpose of exploring the nuances of identity.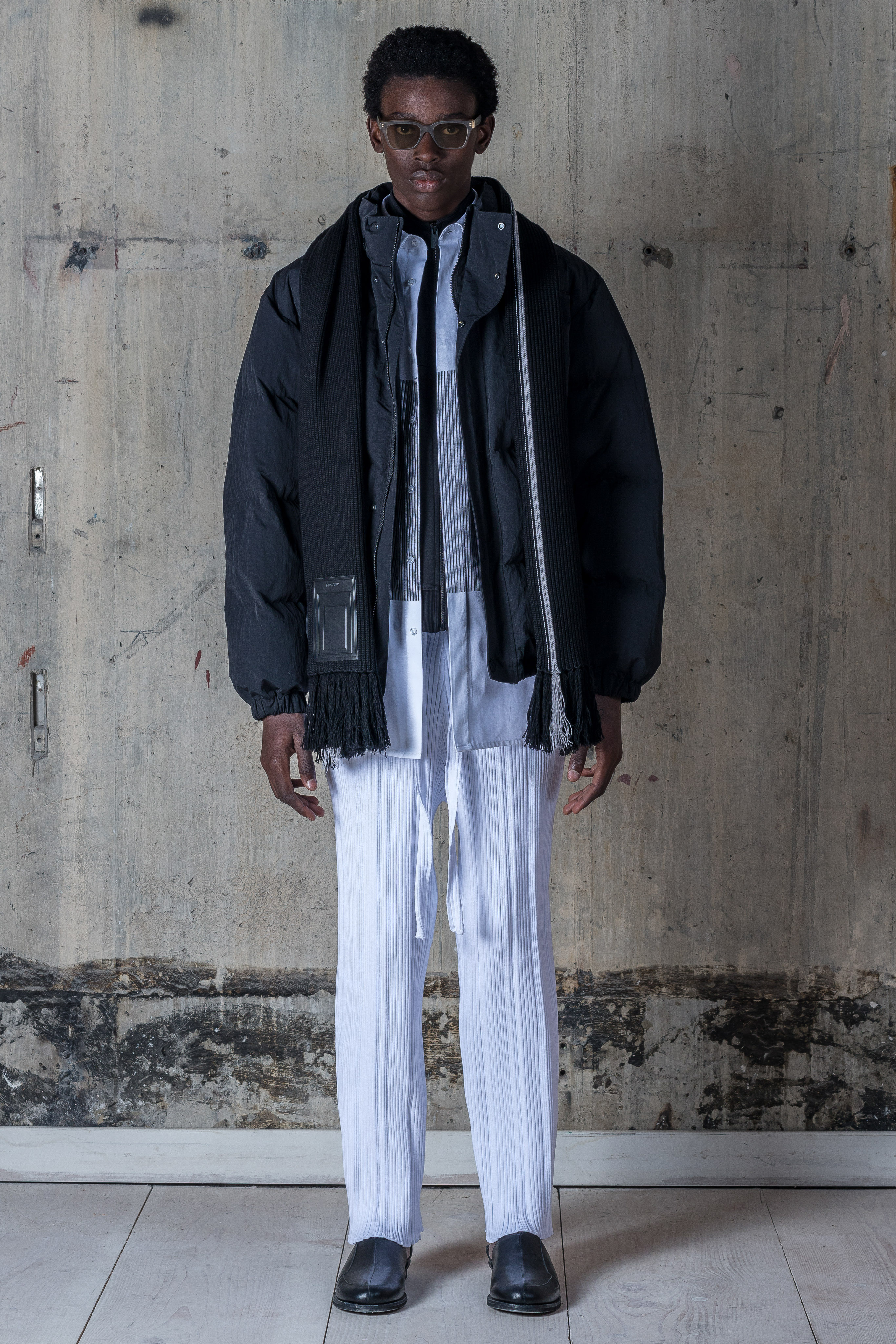 Samuel Ross: Your work explores a range of identities, histories and experiences within the remit of masculinity. What initially spurred this continued study and intrigue?
Bianca Saunders: I did a project based on my heritage and Black integration into British culture for my MA degree at the Royal College of Art. That's where I started becoming interested in identity and what makes people who they are. My tutor really encouraged me to go deeper into this and encouraged me to try menswear. From there, I started getting deeper into the concept of Black masculinity and that has really informed most of my work since.
What does masculinity mean to you today? Do you consciously embed your thoughts around masculinity into your work?
We both come from Caribbean Windrush backgrounds and came of age in a digital space; first internet culture and then social media culture. This has shaped much of my perception of masculinity. Yours, too, I'm sure. On one side, there is a stoic spirit and purposeful application of masculinity – the archetype, the provider, the athlete, the protector, the anchor. On the other, masculinity in digital space: internet culture, early internet gamer culture, early YouTube, forum culture.
Both are equally important and what it means to me today changes as I get older. Moving from a young adult into a family provider shifts a layer of the reality distortion one can quite easily become lost in, to return to the stoic point. There's a hybrid effect. True masculinity is vast and nuanced.
Do you design with anyone specific in mind?
Artists, musicians, industrial designers, architects, product designers and film-makers. Those who enjoy architectural shapes and functional forms, carrying a visual intensity. The 'mandem', globally. These are my people.
This generation of the diaspora carries a stylistic nuance. Your work embodies layers of this incredibly well, bringing forth our heritage without overtly presenting our skin as an elixir or form of voyeurism. It is humanising and sophisticated: can you share thoughts on identity and cultural signatures within your work?'
The beauty of it is that there isn't one way of expressing cultural heritage. Being third generation gives me a slightly different approach; it's not just about being of Jamaican descent, it's about being British-Jamaican. A lot of what informs my work is Black male culture and dress codes in the UK, being influenced by the men in my life growing up or looking back at old photos of family in the 60s and 70s, or even album sleeves from that time. Something as simple as my dad always telling me the importance of a good pair of shoes. Sometimes I dig deeper into my West-Indian heritage, too and look at Jamaican references.
What's your favourite food from the islands?'
Ackee and saltfish! I love it and we have it for breakfast at Christmas with fried dumplings. Christmas is a special time in my house for food. It's a real mix of classic British stuff and Caribbean – we might do turkey and roast potatoes but then there will also be ten other meats and fish.
Last year, you distributed funds to Black-owned British businesses. A year on, your initiative continues to support those who have been historically marginalised in the fashion industry including POC, working class people and the LGBTQ+ community. What would you say are your values as a designer and as a brand?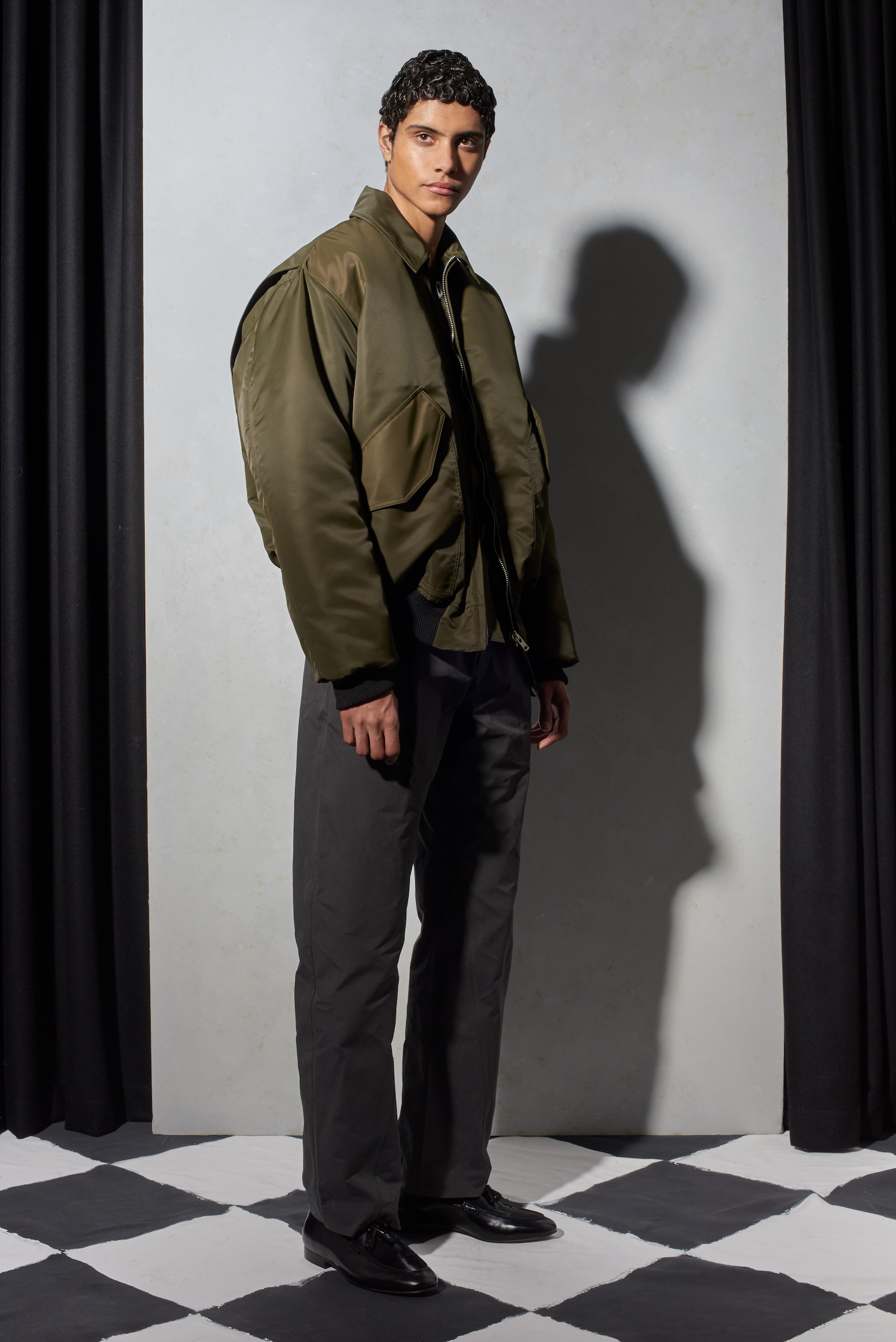 Socialism and optimism. I truly believe in meritocracy and equality and genuinely believe in a positive future. To contribute to this belief, through tangible civic duties is at the front of my mind. Integration and strategic community-led support is the future.
Your output is famously multidisciplinary, including your label A-COLD-WALL*, graphic design and illustration, commercial design, film, art… Do you remember when you started thinking about yourself as a creative director?
I find it to be a balance of storytelling, image making and world building. To dream, to problem solve. It covers every level of user experience from the hem of a T-shirt through to the texture of an invitation and temperature of an installation.
This multidisciplinary element happened quite naturally. A lot of trying and failing in different fields before developing a flow between specific disciplines. Film and moving image have always been a passion – the ability to captivate and hold the audience on a tipping point of emotion. The intrigue and focus on communication came about through questioning both fabric and material, mood, tone and intensity to convey my perspective correctly.
You are a creative entrepreneur. Your ability to balance creativity with business acumen is very strong and your ANDAM fashion award win is incredible, and beyond deserved. Congratulations! Where do you want to take your business next?
Thank you so much, I am so honoured! I've always wanted to express creativity through many forms, not just fashion. I prefer to be thought of an "artist" and I want to keep expanding my brand beyond just ready-to-wear, from shoes and accessories to furniture and lifestyle product.
I'm focusing on infrastructure and building my team so that I can focus more on being creative and less on the day-to-day. Also, although the films I've created for the past few fashion weeks have been a great creative challenge, I'm very excited to present the brand in physical spaces again.
Is fashion art?
Depends on who is making the clothes. People always question if fashion is art. I don't see a difference. Fashion for me is just another artistic output, a form of expression. Has design philosophy shaped your work?
Definitely my thinking. I say this due to my university and college studies, as total focus was placed on communication and material, objectivity and function. My thought process is that of an industrial designer and artist before a fashion designer. Iteration, A/B testing and fabric manipulation inform all of my work, particularly the industrial design traits embedded within A-COLD-WALL*. Naturally, my point of reference is that of objectifying a garment ahead of using a garment to express, which has driven fabric innovation, use of colour, a deep love of outerwear and volume, and systematic experimentation.
What inspires you?
In terms of people, [architects] David Adjaye, Anish Kapoor, James Turrell and Shusaku Arakawa. In terms of environment, the city and the feeling of open space, the eclipse of landscape. In terms of emotion, the reverence of sacred space, the sacredness associated with linear, vertical proportions.
How does music play a role in your collections and shows?
Music carries the spirit of the garments, it reveals references, feelings and contextualises the product itself. Sound manipulation and SFX is hugely important to conveying and affecting the design process. It's always been a key part of garment development, particular genres will play in my studio spaces. What advice would you give to younger artists and designers?
Try not to be too influenced by what other people are doing. Try to have tunnel vision in the beginning and stick to what you think is truly unique to you, rather than looking at what might work on Instagram. When I started out, I used to go to the library to find unique references. Do you have any advice for me?'
Follow your radical ideas, regardless, whether they be commercial or creative. You deserve it all.