Everything we know about Rupaul's Drag Race Down Under
Check out the queens who are competing, the very special guest judges, the kind of drama expected, and where you can watch it.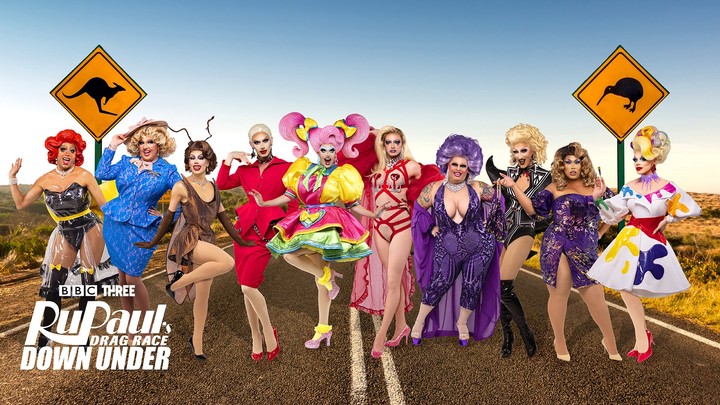 Image via @worldofwonder
When a new supreme rises, the old one fades away and in the case of Drag Race, as Season 13 in the US finally prepares to choose its winner, a new cohort of queens from Australia and New Zealand are competing to find Down Under's first drag superstar… with some help from Kylie Minogue! The legendary singer — the first ever female artist to have number one albums across five decades — will be joined by her sister Dannii to guest judge on the show. Here's hoping for a "Get Outta My Way" lip-sync!
The show has already created quite a buzz before it's even aired, after coronavirus restrictions in Australia forced filming to move from Sydney to New Zealand; causing an impassioned speech from a local politician during parliament who iconically told the ministers to "sashay away". A trailer for the upcoming first season also anticipates some high-stakes action — with a lot of screaming, Michelle shutdowns and Rupaul calling a queen's look "rotten". Perhaps we're gonna get H&M-gate 2.0.
Since we'll inevitably be watching every rhinestoned-encrusted second, here's everything you need to know about Drag Race Down Under before it starts. Who are the ten queens competing? Who else will be judging? Where can we watch it? And for the love of Rupaul, what else is coming in the ever-expanding Drag Race universe???
Who are the competing queens?
Ten queens will be sashaying into the down under werk room in the show's first season. The renowned Anita Wigl'it, dancing diva Elektra Shock and kooky comic Kita Mean all hail from New Zealand. Coco Jumbo, who was voted Sydney's favourite showgirl, will be showcasing the city's drag scene alongside "non-binary finery" Etcetera Etcetera and drag veteran Maxi Shield. Burlesque party girl Scarlet Adams and international star Karen From Finance (who you may remember from that UNhhhh episode) are repping Perth and Melbourne respectively. Finishing off this pun-filled cast list is Newcastle's proud Indigenous queen Jojo Zaho and reigning drag performer of the year Art Simone from Geelong.
According to Courtney Act — Season 6 finalist on the original US show — there was some drama during casting for the season, with the producers DMing potential contestants from their personal instagram accounts, rather than putting out an open call. The whole thing led to confusion from the queens as to why they were being invited onto Drag Race by an account that only posted pictures of a hairless sphynx cat. Wild!
Who are the judges?
Both RuPaul and Michelle Visage have flown over to film the series as head judges and will be joined by lauded Newcastle comedian, Rhys Nicholson. Other than Kylie and Danni, the only other guest judge announced so far is Taika Waititi, the actor and director behind Jojo Rabbit and the Thor films.
When does it air?
The first hour-long episode will premiere on 1 May on Australian streaming service Stan and on TVNZ OnDemand in New Zealand, with the rest of the eight-episode season airing weekly.
Can you watch it internationally?
In the UK, the series will be available on BBC Three from 9am on 2 May, while US and international fans can watch the show on WOWPresents Plus.
Are there any other upcoming Drag Race series?
2021 is shaping up to be the biggest year yet for the Drag Race universe. Since January, we've had Drag Race UK season 2 and a seemingly never-ending Season 13 in the US. After we head Down Under, there are also expected iterations of the show popping up in Spain and the Netherlands, as well as a second season for Canada and a third season for the UK! That's not even including the upcoming All Stars 6 and the highly rumoured international All Stars series expected to have just wrapped production. The Drag Race supremacy is truly rising.