L-R: still from Gilmore Girls; other Images via Alamy
9 of Gilmore Girls' most iconic fashion moments
It's fall, which means it's officially time to start rewatching your fave 00s TV show.
|
29 September 2021, 12:04pm
L-R: still from Gilmore Girls; other Images via Alamy
As summer comes to an end, sweater weather sets in and we begin to consume ridiculous amounts of coffee in order to drag ourselves out of the house and into the darkness each morning, it's important to remember that there's an upside. As it is written in the book of nostalgia: it is time, once more, to rewatch Gilmore Girls. The beloved TV show, which kicked off in the year 2000 and ran for seven whole seasons (plus a bonus one, and if rumours are to be believed, another where that came from) gives off big cosy, fall energy. Home to mother and daughter duo, Lorelai and Rory Gilmore, the fictional New England town Stars Hollow and its residents provide not just a familiar safe space to return to, but also a reliable dose of 00s fashion inspiration.
Indeed, aside from Kirk in a hot dog costume, Taylor's homemade jumper at the criminally brief knitathon and the pilgrim outfits worn for the town's autumn festival, Stars Hollow serves up looks as strong as the coffee at Luke's Diner. Luke himself — the stoic grump whose will-they-won't-they relationship with Lorelai is both frustrating and beautiful — works a flannel shirt and army surplus store jacket better than even Bella Swan. We see his surly heartthrob nephew Jess evolve from grungy kid to leathered-up biker, while his rival Dean remains a normcore boy-next-door well into adulthood. Rory's BFF Lane, of course, uses fashion to rebel against her strict mother – throwing band tees and hair dye on as soon as she sneaks out of the house.
But the centre of the Stars Hollow style scene lies with the Gilmore Girls themselves: Lorelai, with her eccentric slogan tees, clashing prints and oversized hats; Rory with her preppy shirts under cable knit sweaters, Friday night dinner dresses and private school uniform. Here to convince you to indulge in this comfort watch with us, let's dig through the archives to rediscover some of Gilmore Girls' most iconic fashion moments. Hit play on this and read on.

Rory's oversized pilot sweater
As in, she wears it in the pilot. It has nothing to do with planes. Back when Alexis Bledel was an extra as a "student" in Wes Anderson's 1998 movie Rushmore, she kicked off her very first day as Rory in an oversized slouchy sweater with rolled up sleeves, a brown backpack and a cord necklace. A very 90s look that hung about long enough to make an appearance in this Y2K debut episode.

Rory's first day at Chilton
In this, the second of 153 episodes, Lorelai's furry blue alarm clock fails her and she wakes up late on Rory's first day at Chilton, a private school in a nearby town. Realising she doesn't have any clean clothes to wear -- she was planning on wearing her "blue suit with the flippy skirt" but didn't collect it from the dry cleaners -- she instead throws on the first thing she finds: a pair of denim hotpants, a pink tie-dye T-shirt and cowboy boots. "I didn't know the rodeo was in town," Rory quips before they head off to school where the whole world proceeds to judge Lorelai for her on-the-spot styling decisions.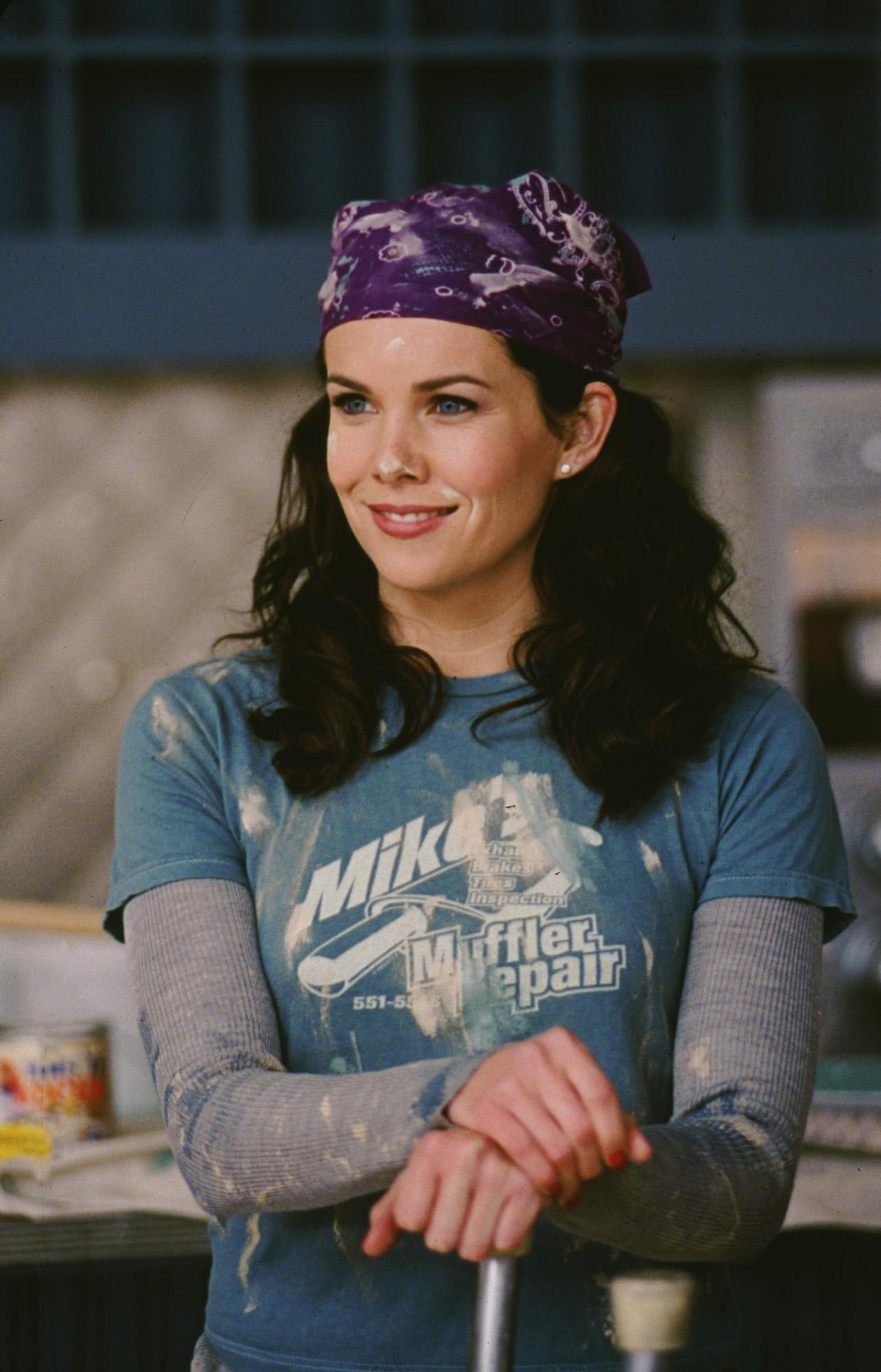 Lorelai guilt-paints Luke's diner
In S1 E15, Lorelai bails on a cute renovation date with Luke to go to Friday night dinner with her parents and, it transpires, her high school sweetheart (Rory's dad Christopher) and his parents. Somehow this leads to Lorelai and Christopher having sex on the balcony of the former's childhood bedroom. Lorelai then does what any of us would do in such a situation and breaks into Luke's Diner and guilt-paints it. Naturally, the very DIY-phobic Lorelai doesn't own any DIY-friendly clothes, instead completing the task in one of her go-to layered T-shirt and early 00s bandana looks.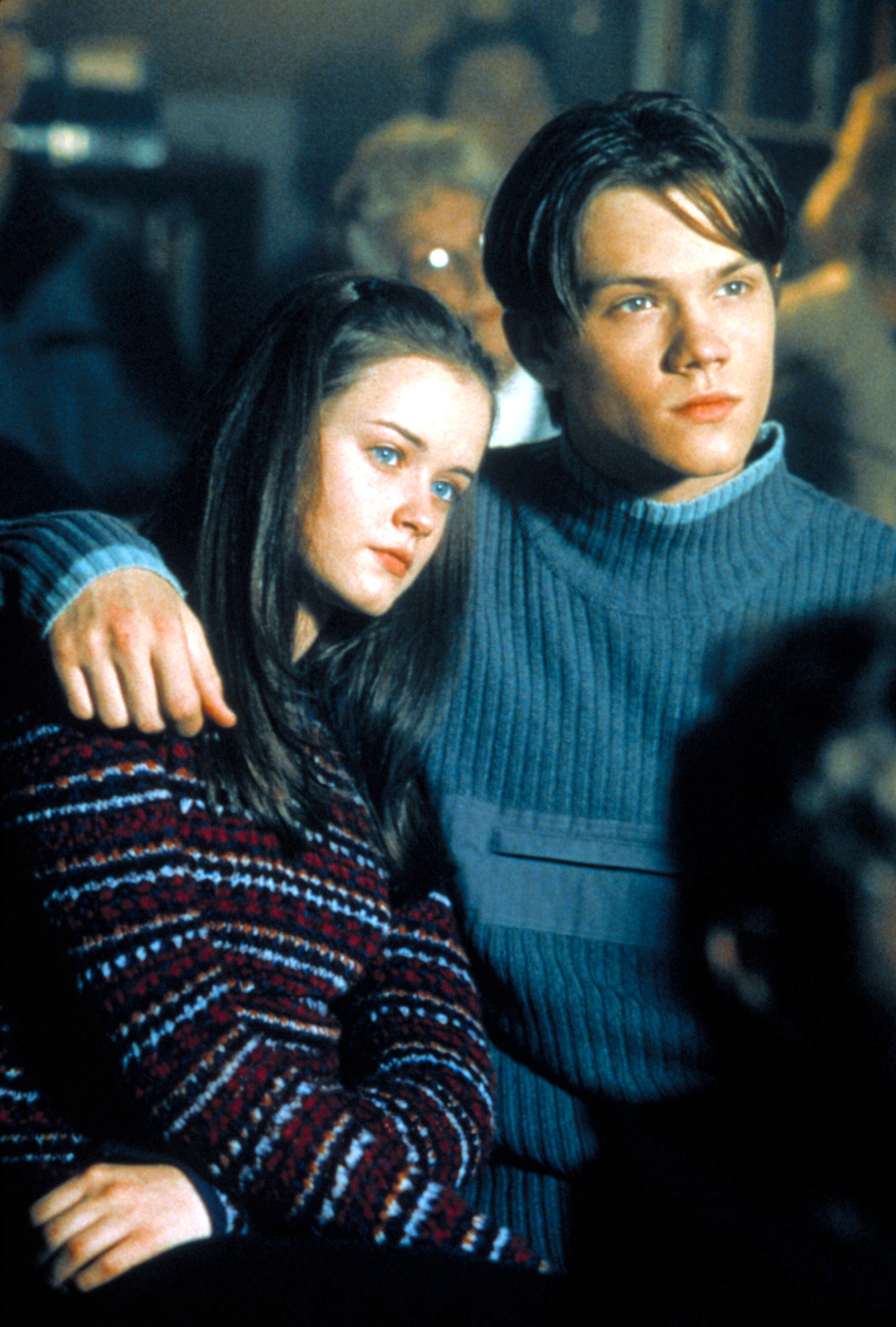 Rory and Dean do date night
This image is so wholesome it makes us feel sick. It's date night in season one and so, naturally, Dean takes Rory out to watch Attack of the 50 Foot Woman at the local movie theatre. What you can't see here is that they're actually on a very awkward double date with Rory's bff Lane and Dean's friend Todd. Despite the matchmaking plan going horribly wrong, Rory and her Fair Isle sweater look pretty damn comfortable cosying up to Dean in his Stone Island-esque ribbed knit.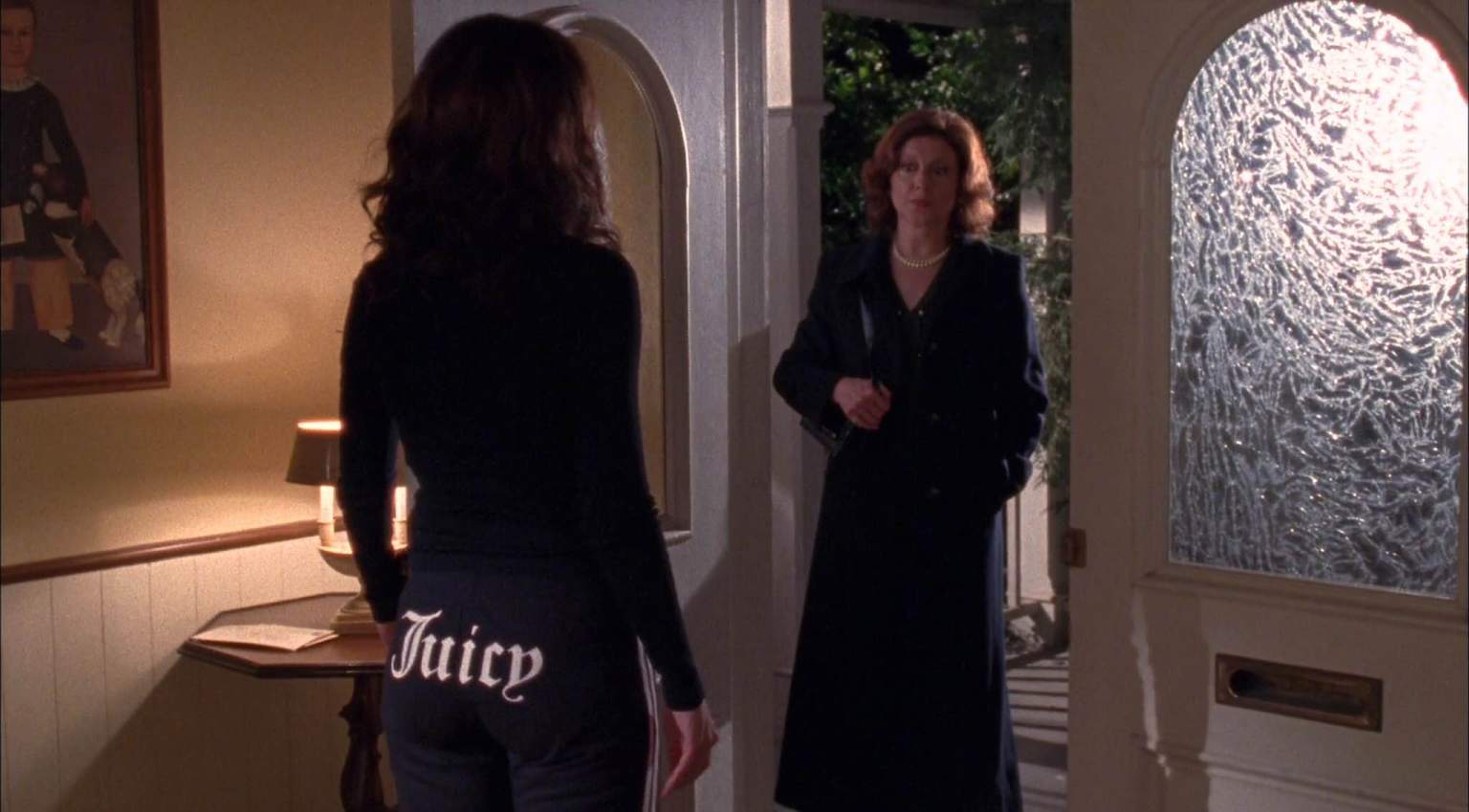 Those juicy sweatpants
It wouldn't be a 00s TV show centred on a cool mom without a pair of Juicy Couture sweatpants. Lorelai wears her around the house, the brand's insignia causing all kinds of confusion when her mom Emily calls in and wonders why her daughter has the word "juicy" written across her bum.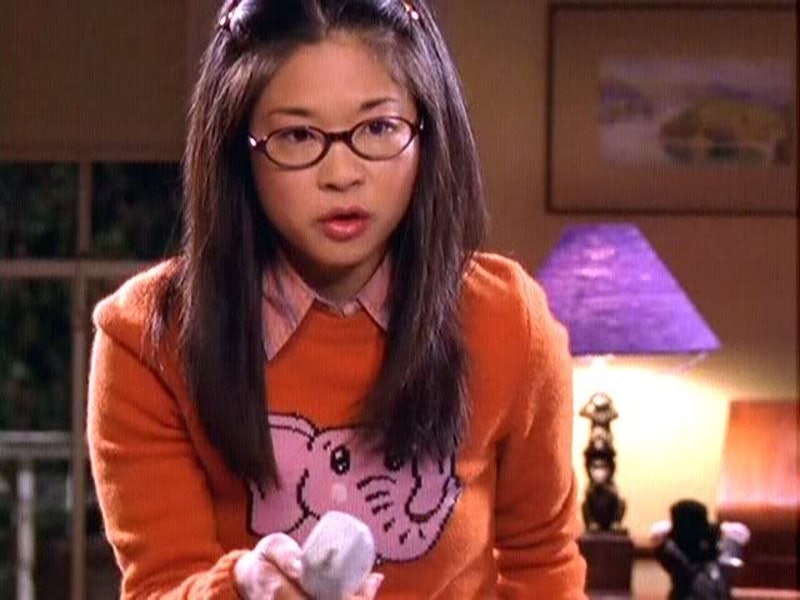 Lane's cute sweater
We're very much into the cutesy orange sweater and pink shirt combo worn by Rory's bff Lane Kim here. Mom-friendly (in early Gilmore Girls seasons her mother religious mother, Mrs Kim, is overbearingly strict) it's also a fun intarsia knit that wouldn't look out of place in 2021. Other stand-out Lane looks include when she layered her "Trust God" T-shirt over a long sleeved top, styling it so well that her bandmate and crush Seth Cohen (I mean, Dave Rygalski) fully assumed it was something cool. "Trust God… is that a band?" he asks her. "It's my life," she responds with a sigh.
Rory at a Tarantino costume party
Back in the pilot episode of Gilmore Girls (the day before Rory started at Chilton) we saw Lorelai painting Rory's toenails red and telling her that "private school girls are bad, and bad girls wear red polish". Rory certainly wasn't bad back then, but now she's at Yale and wearing her Chilton uniform to a college party, repurposed as the ultimate bad girl: Gogo Yubari, the sadistic, meteor hammer-wielding school girl from Kill Bill. She went to the party with a boy and left having successfully regained the attention of rich boy Logan Huntzberger.
Louise "underrated style icon" Grant
One of the high school bad girls that bullied Rory when she first moved to Chilton, Louise is also one of the unsung fashion heroes of Gilmore Girls. Though more often than not she was in her school uniform, when Rory ran into her on evenings, weekends and Floridian spring breaks, we were treated to a visual feast of strappy dresses and pink polka dot bikinis. She goes from serving Cruel Intentions smoulder in a sheer feather-trim top at a gig in New York in S1 E13, to peak Jamie Lynn Spears in tiny sunglasses and a pink cowboy hat on the beach in S4 E17.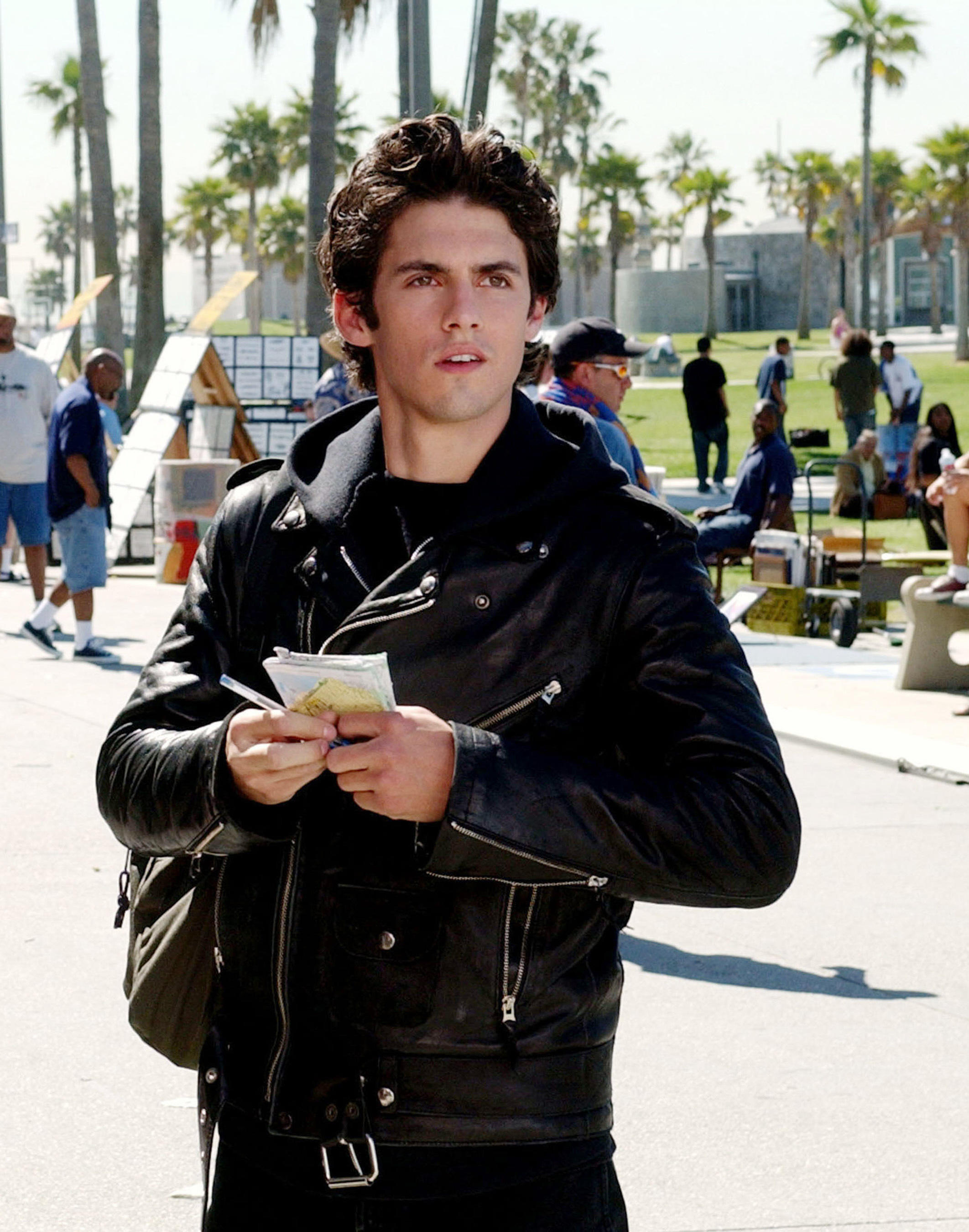 The leather jacket Jess runs away in
Team Jess 4ever, am I right? Luke's nephew and Rory's longtime admirer Jess Mariano (also technically her step brother at one point but that never seems to matter in teen dramas, does it?) undergoes a real style evolution as he grows up. When he arrives in Stars Hollow, he's an apathetic bad boy usually seen in grungy layered T-shirts, trucker jackets or double denim. Here though, in S3, he invests in a classic leather biker jacket and runs away to California, determined to track down his dad and figure his life out. Interestingly, another Jess look seems to have inspired Timothée Chalamet's 2020 Oscars fit — as pointed out by Teen Vogue and the probably perfect people that stan both Gilmore Girls and Timmy.