The reign of the CupcakKe remix is here, may it never end
Move over Ryan Murphy, CupcakKe owns the musical mashup now.
|
24 September 2021, 7:00am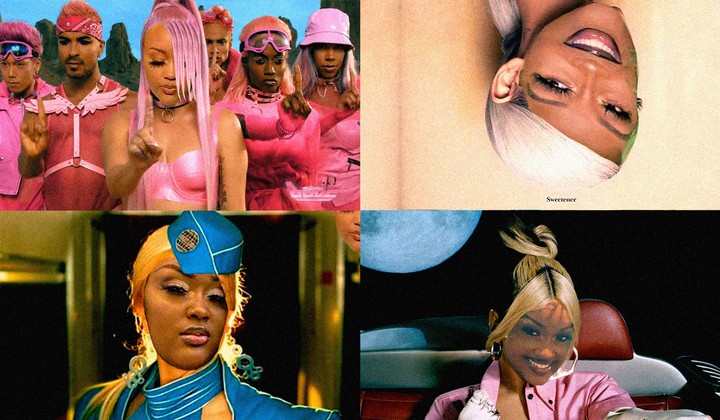 Collage by Douglas Greenwood
A TikTok video begins with the familiar tune of Olivia Rodrigo's "deja vu". Two teenage boys sit centre frame, ready to accomplish the challenge set forth by their text on screen: "try not to laugh". "So when you gonna tell her…" Olivia croons, "that we FUCKED that too?" Like lightning, the curse word strikes abruptly in the middle of Rodrigo's soft falsetto hook. "That was our CUM. I found it first," no one on screen can contain their laughter.
Such is the effect of a CupcakKe remix, the Gen Z Rickroll that has taken over TikTok. Thousands of such audios have been uploaded to the app so far, chopping and screwing songs with lyrics from CupcakKe's iconic rap bop, "Vagina". Taken from the Chicago artist's 2016 debut album, Cum Cake, "Vagina" is one of her most popular songs to date, alongside the similarly clever and candidly horny "Deepthroat". Years later, these songs continue to catch listeners off guard with the rapper's lack of innuendo. On "Vagina", she's unflinching about her intentions to "slurp that dick til it cums", while her directives are loud and clear when she calls us to "smack my ass like a drum".
That frankness finds itself at its most sacrilegious when spliced into songs by artists who are absolutely never horny on main. Friendly, purple children's TV character Barney the Dinosaur, for example, knows no peace thanks to a morally bankrupt internet.
The popularity of the trend is such that there are now various accounts dedicated solely to uploading new edits, like @cupcakke.mixess, @ranvision_2 and @gulaschmula, who are constantly fielding requests from their followers of new songs to desecrate. Remixer @heavenonvenus, real name Carter Phoenix, even has a Google form where people can request that any song get the "Vagina" treatment, and the submissions just keep rolling in. "I'm currently at 603 requests on my (now paused) online form with hundreds, maybe thousands more in my YouTube and TikTok comments," Phoenix says.
There's always been a special sort of pleasure to be found in a musical mashup: a small, base joy in seeing that two songs (often from disparate genres) actually fit together quite well. It's why we let Ryan Murphy get away with making six seasons of Glee. But with CupcakKe remixes, the objective has nothing to do with whether the artist's famously profane raps sound good with another artist's instrumental. The goal of a CupcakKe mix maker is to push the boundaries of how outlandish a pairing can be and to catch the unsuspecting listener by surprise. Left feeling scandalised by the rapper's explicit and now-absurd lyrics? That's half the point.
"If you're scrolling on TikTok and hear the start of your favourite song and the lyrics then unexpectedly cut off to CupcakKe's autotuned "smack my ass like a drum!" it's definitely going to take you by surprise," Phoenix says. "I think, from there, the remixes themselves started to get people hooked, especially because we remix creators put a lot of thought and detail into our remixes that probably wouldn't be expected by the listener."
What started with swapping out a short bar of pop for the occasional explicit outburst, has manifested across just about all genres of music. For example, for those who love classical music but feel the masters lacked diversity, CupcakKe hops on "Mozart's Serenade No. 13". And it doesn't stop there. "I hate this app," one user posted, starring into the middle distance as CupcakKe's moans are autotuned and interpolated into "Hedwig's Theme" from the first Harry Potter movie. Truly, nothing from your childhood is sacred.
But what does this sudden unconventional appreciation on TikTok mean for CupcakKe herself? Will the attention guarantee her future success in the music industry or is it all a momentary bit of fun? It is widely acknowledged that Black people — particularly Black women — are responsible for some of the funniest and most widely-spread content on the internet. For many young folks scrolling through TikTok, female rappers dominate the For You Page. Azealia Banks is constantly birthing new memes simply by opening her mouth on Instagram: whether it's her chanting about her VEGAN VEGAN PUSSY, or asking followers if she was "giving Arianka" when her hair was worn up.
Of course, Megan Thee Stallion and Cardi B's "WAP" was a cultural reset, spurring on an energetic and shockingly pervasive dance trend on TikTok in 2020. The very online Doja Cat continues to reign supreme on the app. A classically trained shitposter, Doja participates in memes like a true TikTok native, with an irreverent disregard for her pop superstardom evocative of Lil Nas X's nonstop viral narrative online.
In 2014, cultural critic Hillary Crosley Coker predicted this moment, where female rappers would spark "an Internet hip-hop movement all their own, busting down the door with good music independent of the old system". Clearly, she was right: female rappers are indeed having their time in the spotlight on social media. But if a large part of their cultural currency is their comic appeal, how can they also be taken seriously?
CupcakKe put "Vagina" out in 2015, but unlike Doja Cat's "Mooo!," the song has yet to be followed up with mainstream success and attention for the artist, despite critical acclaim that goes beyond her humour. Users on TikTok, while they appreciate the humour of a CupcakKe remix, are beginning to share this concern. "Your lyrical genius is so underrated," one user said to CupcakKe in a video after the rapper commented on one of their TikToks. "The Cupcakke remixes were kinda funny before but I feel like she's just being turned into a meme when she's so much more than that," reads another user's comment. Conversely though, other users argue that the memes have helped them discover her music, or inspired them to revisit CupcakKe's discography when they might not have otherwise.
Crosley Croker says CupcakKe's work is "often maligned because of its sexually frank content, and possibly who that content is coming from as a Black woman," but she doesn't see it as a hindrance to her career, mostly because the landscape of women in hip-hop today is just so vast. "A fan can choose to listen to someone in any mini-genre they like — funny, quirky, fashionable, boastful, political, kinda sexual, mid-sexual, Pornhub sexual, or pansexual," she says. "That's the great thing about the democratisation of music on the internet."
CupcakKe finally joined TikTok herself in August, at the peak of the trend's rise, often commenting in jest on videos featuring the remixes. "Ok, this is getting out of hand I'm calling my lawyer," she joked on a remix of Taylor Swift's "Shake it Off" that has since been taken down. Without needing to post a single video, the rapper has already gained more than half a million followers on the platform. Moving forward, there's a good chance that they'll stream whatever she puts out next; in an industry where numbers mean everything, that loyalty is invaluable.
"CupcakKe's popularity is getting a boost from TikTok but she's not relegated to that single platform, rather it's a tool in her promotional arsenal," Crosley Croker says. "And if this is how someone comes to her music and decides to dig deeper? Great!"
Follow i-D on Instagram and TikTok for more on online music trends.