Photography James Dittiger/TM and ©Copyright Fox Atomic. All rights reserved./Courtesy Everett Collection, Todd Williamson/NBC/NBCU Photo Bank via Getty Images and Jeff Kravitz/MTV VMAs 2021/Getty Images for MTV/ViacomCBS
7 of Megan Fox's most iconic outfits
The 'Jennifer's Body' star is queen of sultry red carpet gowns, Y2K style and 2000s-inspired couple dressing.
|
24 September 2021, 7:00am
Photography James Dittiger/TM and ©Copyright Fox Atomic. All rights reserved./Courtesy Everett Collection, Todd Williamson/NBC/NBCU Photo Bank via Getty Images and Jeff Kravitz/MTV VMAs 2021/Getty Images for MTV/ViacomCBS
Megan Fox has star power. After a role in Ashley and Mary-Kate Olsen's direct-to-video family film Holiday in the Sun and an uncredited scene in the blockbuster Bad Boys II, she rose to fame alongside Lindsay Lohan in the chaotic Disney teen comedy Confessions of a Teenage Drama Queen (2004). Often cast as the pretty popular girl, the Tennessee native's sweet appearance but dark humour allowed her to deliver cutting lines whilst keeping the audience secretly rooting for her characters. She found her niche in male-centric action franchises like Transformers, becoming a bonafide sex symbol of the 21st century. However, it was in the highly underrated horror-comedy Jennifer's Body (2009) that Megan truly shined. The movie has now become a cult classic, and Olivia Rodrigo even referenced Megan's demonic, wet-hair lake-swimming scene in the "Good 4 U" video.
Though Megan's long been known as an on-screen siren, her off-screen style — characterized by cute Y2K fits made sexy — doesn't always get the credit it deserves. In 2021, she made waves at the MTV VMAs and at the Met Gala with back-to-back eye-catching looks, before serving in a seductive new SKIMS campaign alongside new BFF Kourtney Kardashian. No one knows how to shock quite like Megan Fox. Here, we look back at the actress' most iconic outfits.
In Confessions of a Teenage Drama Queen, 2004
Confessions of a Teenage Drama Queen is a fashion film, actually. LiLo's coke bottle-top necklace and mesh "I ♥ NY" tee? The Alison Pill makeover scene? All of it, iconic. Playing the Regina George-esque character before Regina George was even a thing is Megan Fox. As the popular it-girl who rules the school hallways, Megan's character Carla has her own stylishly Y2K wardrobe comprised of the fashions du jour. From denim jackets of every shade and a co-ord Burberry bag, skirt and bucket hat, to this iconic rhinestoned J'adore Dior tee, accessorised with a leather jacket and chains dangling from her low-rise jeans.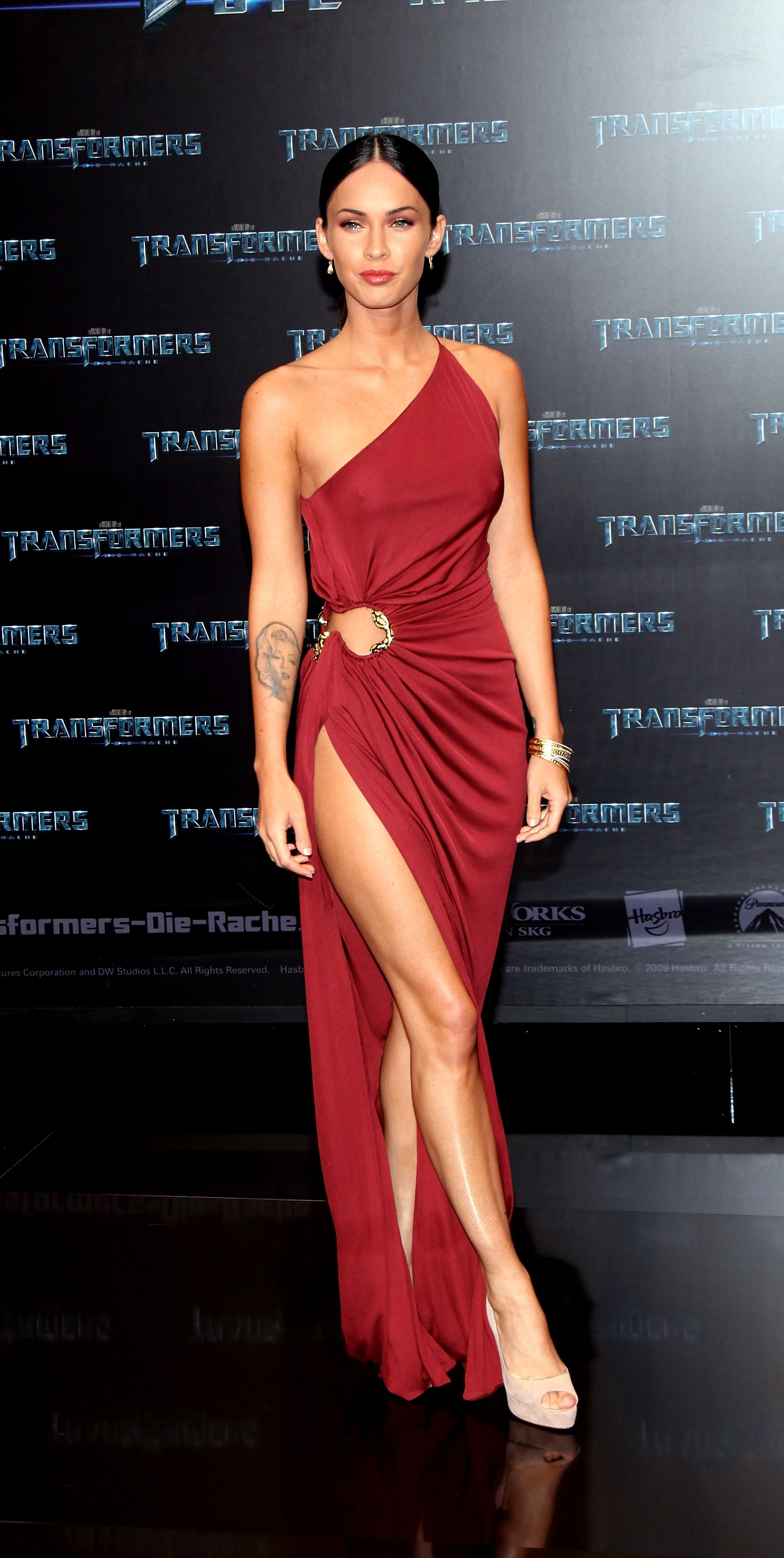 At the Transformers: Revenge of the Fallen premiere, 2009
In her opening scene in the film series about cars that are actually shapeshifting alien robots (based on the popular kids toys), Megan leans over the hood of a car, her bronzed skin in a denim mini skirt and strappy orange vest clearly the focus of a scene written for the male gaze. But Megan was aware of this, creating a character to separate herself from the celebrity: "All women in Hollywood are known as sex symbols. You're sold, and it's based on sex. That's OK, if you know how to use it," she told The New York Times. By the premiere of the second movie, where she stunned in a sultry, red Roberto Cavalli dress with a thigh-high slit along one side and a snake embellished hip cut-out on the other, Megan's had solidified her position as the sex symbol of the late aughts.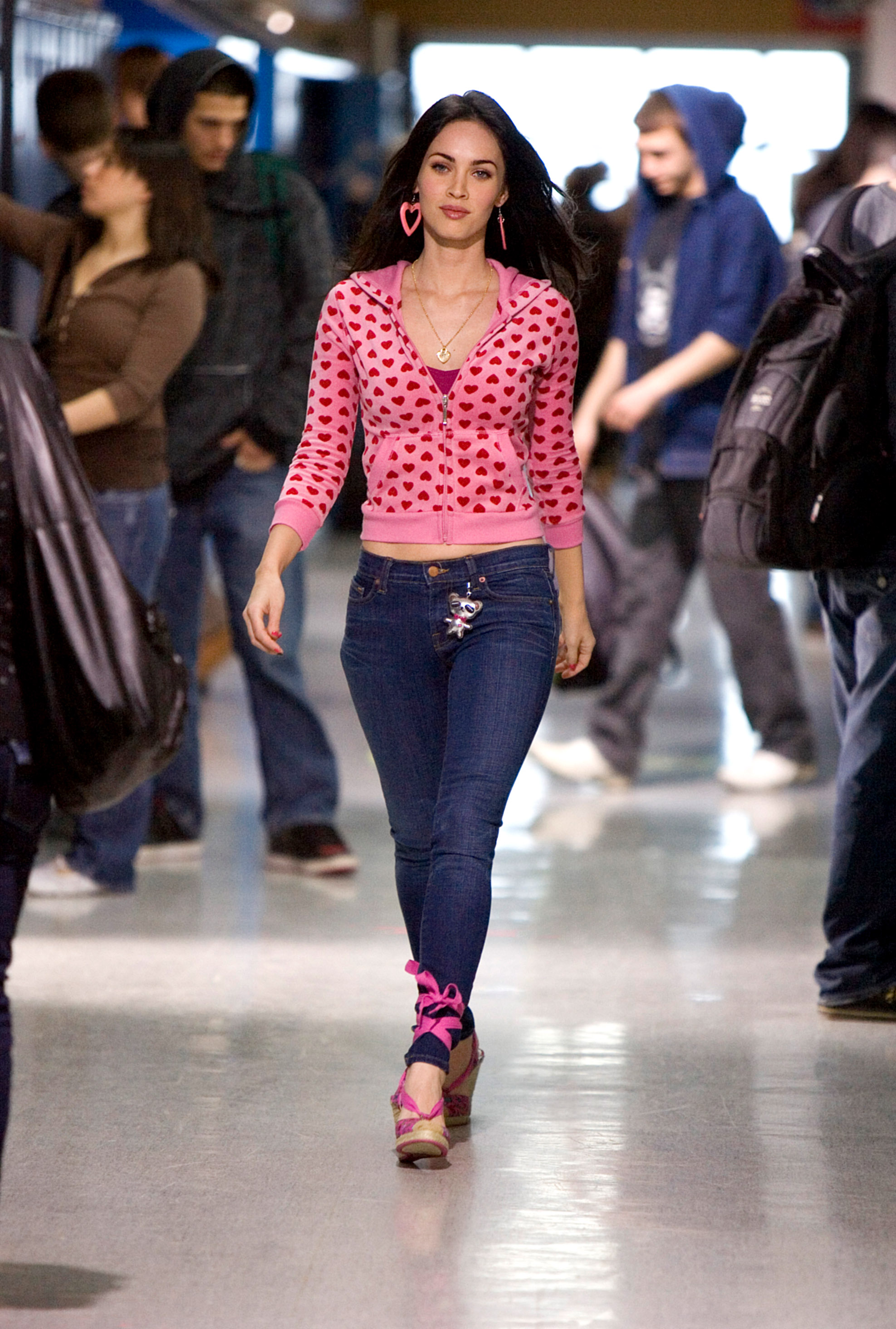 In Jennifer's Body, 2009
This GAP Kids velour hoodie from the brand's 2008 valentines collection is one of cinema's most iconic outfits since… well, since Jesus invented the calendar. A descendant of the early 00s Juicy Couture scene, the look, with its intoxicatingly sweet vibe, was perfect for Megan's character of the popular head cheerleader turned demon-possessed succubus with a plot to murder all the boys at school. Though panned at the time, the movie has received more recent recognition as a cult queer feminist revenge classic (rightly so) while the heart-printed garment has been resurrected of late as a Gen Z favourite with replicas being swooped up on Depop and TikTokers sharing how to DIY your own.
Spotted on the streets, 2011
If this list of iconic looks was ranked, this would be number one. Continuing the style from Jennifer's Body of rocking kids' clothing, the tabloid media began to notice that both Megan and her eight-year-old stepson Kassius were spotted wearing the exact same items. His fitted Voltron and Star Wars T-shirts became cute baby crop tops on her. You know when you buy your sibling an item for Christmas you actually plan to steal for yourself? This has the same energy. We're obsessed with the idea of a confused Kassius asking, "Where's my Star Wars tee??" and Megan nonchalantly being like, "Sorry sweetie, mummy's wearing it today". Queen behaviour.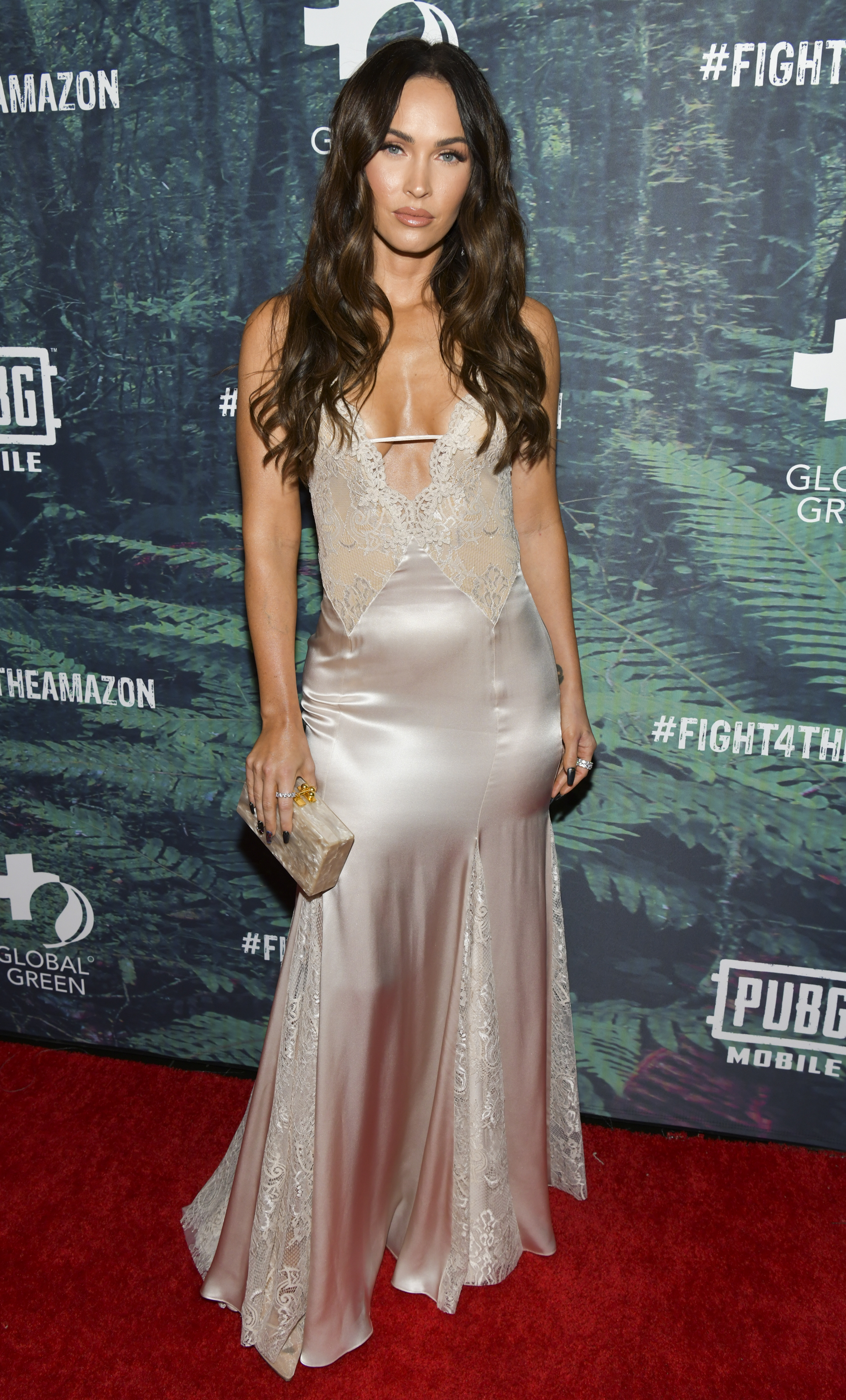 At a charity event, 2019
The italian fashion house founded in the 70s, Blumarine, has gone through something of a renaissance in recent years after it's creative director, Nicola Brognano, switched up the brands offering by looking to the likes of early 00s icons such as Paris Hilton, J-Lo and Britney for inspo. Now, in the midst of Y2K fashion's glorious return, Blumarine garments from the OG era are like gold dust on Depop. But Megan was ahead of the trend. Just months after Nicola took over the brand she sported a gorgeous champagne silk dress to a charity event fighting for the Amazon rainforest. The gowns' lacy-lingerie feel on the top half following through into the dresses pleats.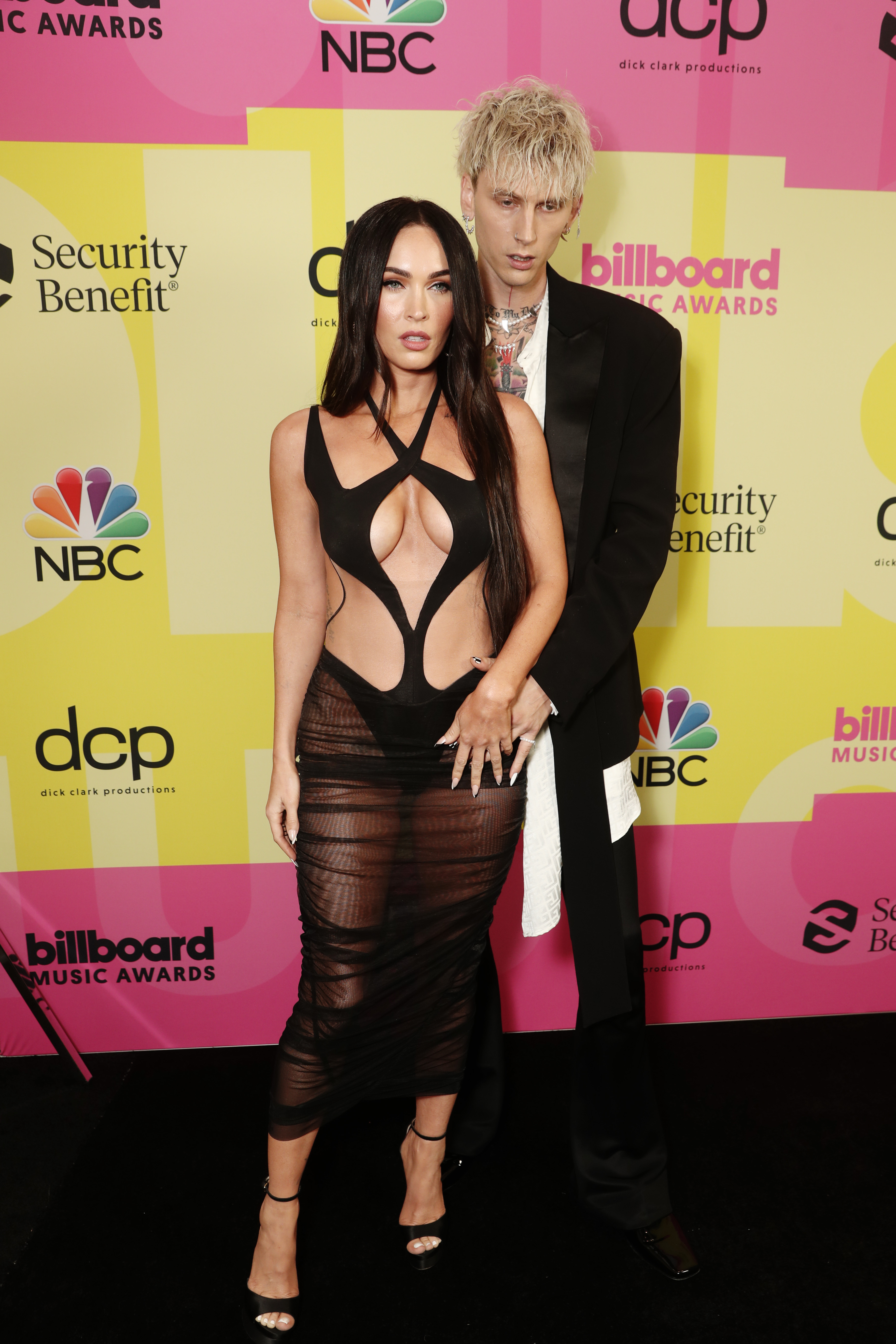 At the Billboard Music Awards with Machine Gun Kelly, 2021
In a recent interview with the New York Post, Megan suggested she and her "twin flame" and partner, the rapper Machine Gun Kelly, would bring back the early 00s trend of couple dressing. "I haven't seen two grown adult people match their outfits this way," she said. "There's a fun element that maybe people have been missing. You know, we're not too serious." For this year's Billboard Music Awards, Megan paired MGK's Balmain SS21 suit with Mugler's dazzling bondage-esque bodysuit, with cutouts framed to the body, adorned by a draping sheer mesh skirt. It was the first of many recent looks from the star that reminded us she is still the moment.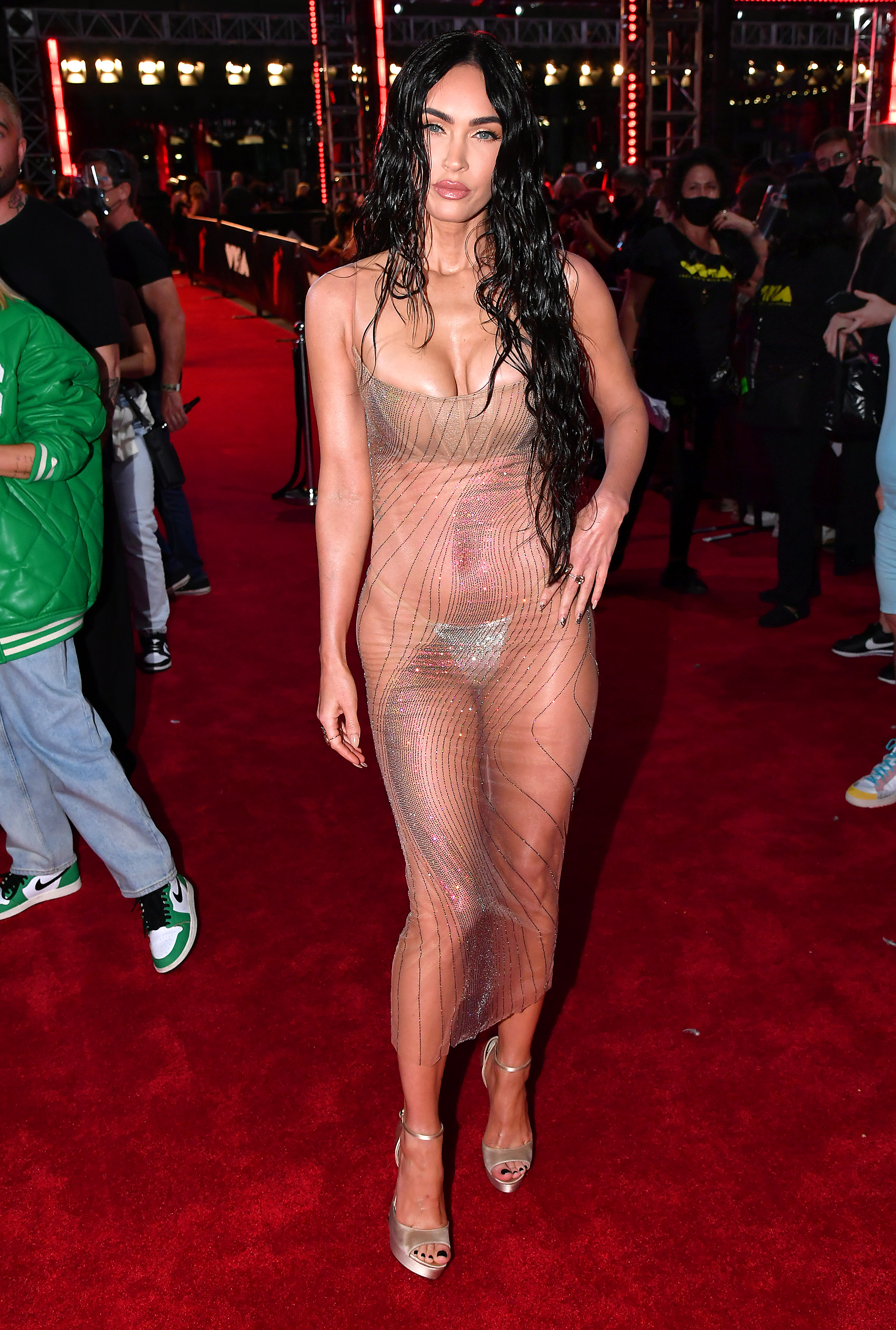 At the MTV VMA Awards, 2021
Before attending the Met Gala in a ropey beaded gown by Dundas and her usual beachy waves styled into a long, stiff plait, the day prior Megan had already caught the world's eye at the MTV VMAs. At the awards ceremony that has a history of controversial cultural moments and groundbreaking fashion looks, Megan wore a striking sheer naked dress by Mugler. Her glittering silver thong visible under waves of crystals set across her body. While the look was an homage to a Halston-created dress worn by fellow scream queen Rose McGowan to the annual event in 1998, it also felt uniquely Megan — embodying her famously Y2K style with her penchant for fun and flirty fashions.
Tagged: