Illustration by Drake Carr. Image courtesy of Inpatien
Big Joe is the dirty, erotic tale of queer love in a trailer park
Samuel R. Delany's newest novella is an unapologetic portrait of queer utopia, and the relationship between four men who really love to fuck.
Illustration by Drake Carr. Image courtesy of Inpatien
Samuel R. Delany has never failed to deliver a sex scene in his fifty years of writing. A prolific writer, Delany has charted an exceptional literary career, flitting between sci-fi, fantasy, memoir, and critical non-fiction on the entanglements of navigating the world as a gay, Black man. When Delany writes erotica it is not meant to be shocking or 'merely' pornographic. As much as Delany is interested in arousal and intimacy he is profoundly engaged in the social aspects of sex: how it shapes infrastructures and power dynamics. Yet his political writing is so unlike what we usually see. Delany doesn't problematise, he displays with frankness the texture of society through the prism of his own sensuality.
His book Times Square Red, Times Square Blue explored the porn theaters of the 70s, both as objects of interest in the realm of urban studies but also as a site where Delany explored and enjoyed his sexuality. The Motion of Light in Water, which won the non-fiction Hugo Award, chronicles his experiences writing erotic sci-fi, his open marriage with Marilyn Hacker, a gay woman, and his many musing on love, sex, and culture, featuring a number of cameos from Bob Dylan, Stokely Carmichael and… Albert Einstein? The joy for his readers is that the variety of Delany's life bleeds into his sci-fi and fantasy work as well, giving us some of the most complex, sensual, and fun work to ever emerge from these genres so often dominated by white men.
Now, Delany has come out with his new novella Big Joe, an unapologetically sexual and loving story of the relationship between four men who really love to fuck: Uncle Shad, Uncle Tommy, Ligie, and Big Joe. Big Joe is a stunning culmination of Delany's erotic life, both off an on the page, illustrated by the artist Drake Carr. This month, i-D traded emails with the author to discuss his relationship with writing, "smut" fanfiction, and the real-life couple that inspired Big Joe.
Did you experience pushback early in your career because of the erotic nature of some of your work? Nope, never. Though once I became a professor, I was always halfway waiting for someone to say something about some of my works. One reason for this, I suspect, is that most of the time, unless you are up for promotion, your fellow faculty members by and large aren't very interested in your work. What is it? No one is a genius in his own hometown; no one is a pornographer in his own university. Most people who've bothered to note the sexual content of some of my work have been pretty supportive.
Was there a particular inspiration for Big Joe**?
**The inspiration was the dozens of times I've visited High Meadow Trailer Park over the years to see a friend of mine and his family. His name is Mason Bailey, and I used to go up and visit him and the various people he lived with. Mason never had any kids of his own; basically, he was gay.
We've remained friends ever since the first time we met years ago at the Variety Photoplays Theater, then on 3rd Avenue. For many years, we were occasional fuck-buddies. Mason really wanted a partner, however, and was also very attached to his family. Eventually, he found a partner in the neighbourhood named Fred Renaldi, and I visited the two of them on several occasions, first at Fred's place outside the trailer park in sight of the Hudson, and then back in the trailer park, where Mason, one of his brothers, and his father and mother had eventually moved.
Eventually, Fred and Mason got married and moved into High Meadow. Indeed, I missed their wedding, but I visited them there three or four times and really enjoyed myself whenever I went.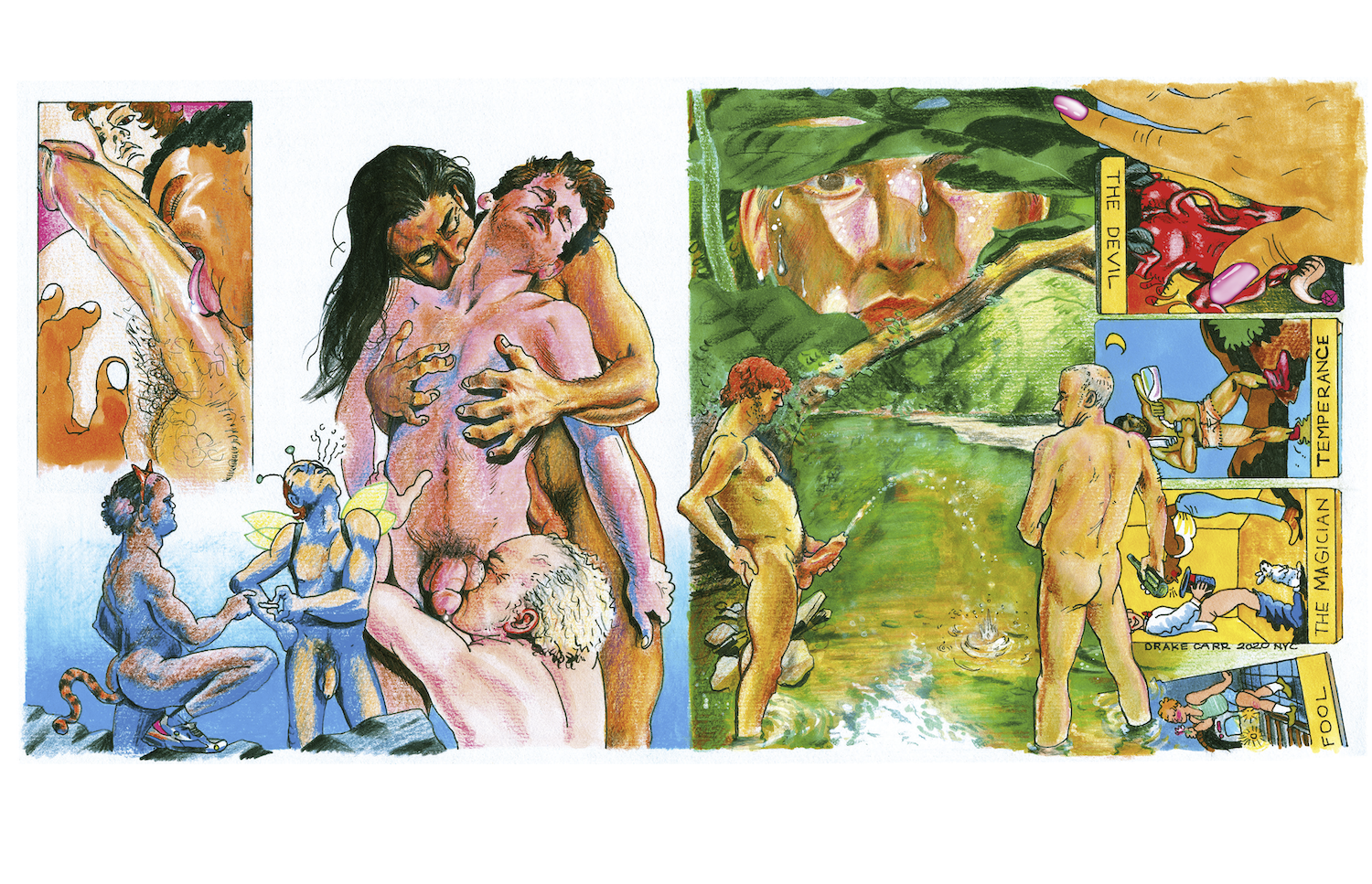 When I first read the synopsis of your book I was immediately attracted to its relevance. The urge for the commune, the homestead, has really taken root amongst straight and queer people alike. Have you seen or tracked this pastoral wish for the queer commune?
Among my nonfiction books is a short book-length essay on urban communes in the 1960s: Heavenly Breakfast, An Essay on the Winter of Love (1979/'97/'99/'06). Not that you'll find an example of the scene in my book. A good deal of the commune and some of the cast at the stop-offs, toward the end of Big Joe, are presented through the lens of Drake's imaginative colour drawings.
**Speaking of those drawings, what was it like having an artist work on your novella?
**Some of the trailer park pictures in Big Joe are based on trailer park photographs from my last visit. Indeed, looking at what one of the artists was doing, I found it all too squeaky clean, which is not the effect that one gets wandering around in those places, although it's neat enough, and there's not much littering.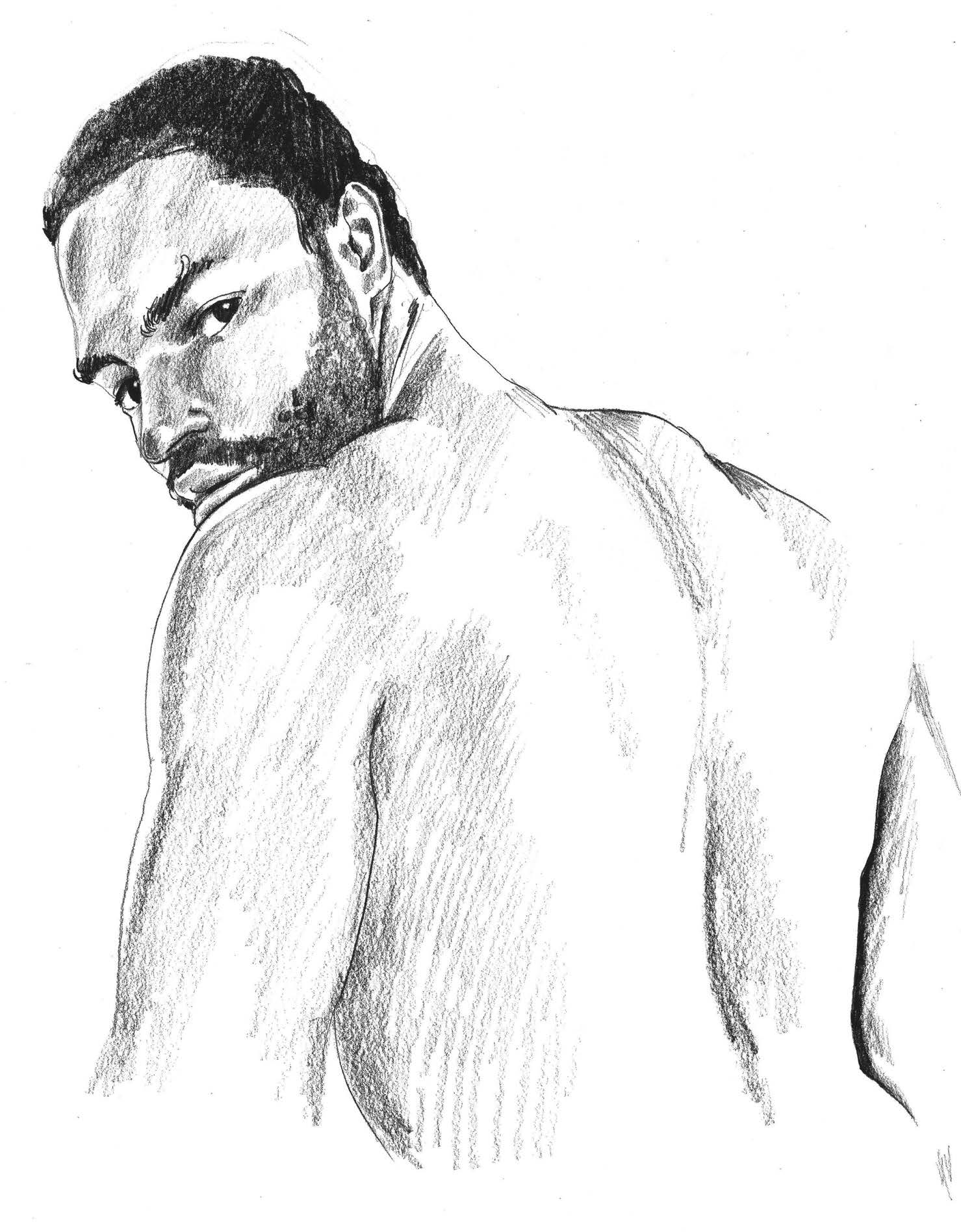 **If I think about it, I did encounter a lot of erotica in my early teens, and particularly gay erotica, through fanfiction, almost all of it written by women. Have you been introduced to that social phenomena, that is, of "smut" fanfiction?
**Yes, I saw some fanfic. Back then it was called Kirk/Spock, or sometimes "slash fiction". I gather there was a notable amount of Sam/Dean "slash" from Supernatural (2005–2020), though I never read any. Well, nothing like that lies behind Big Joe. It's a good place for young writers to practice with a sympathetic audience, though it tends not to go anywhere.
I had a brilliant professional writer friend named Joanna Russ, who died in 2011. Look up her work; you might enjoy it. She began publishing in 1958 and went on to write six novels and several books of criticism. Just before she died, she wrote an entire Kirk/Spock novel and was thinking about publishing it. I wish she had. Since her first novel, Picnic on Paradise, which is now collected in a Library of America anthology of 1960's science fiction. It's part of a wonderful series of stories and short novels, called The Adventures of Alyx (1976). Treat yourself; you'll enjoy it.