Image courtesy of Duran Lantink
Drone fashion shows and Balenciaga couture: What's in fashion?
Your one-stop-shop for this week's fashion news to know.
Image courtesy of Duran Lantink
Between Gucci getting fashion's travelling circus back on on the road, taking its centenary show to LA later this year, and the FHCM's announcement that July's couture shows will be able to take place in the flesh, it truly feels like the world is healing. To celebrate, here's an edit of the lightest, brightest and cheeriest capsules around — from Dior to Fendi to Alexander McQueen. We're also bringing you our first ever What's In Fashion? interview! With who, you ask? Read on and find out! Here's what's in fashion. Alexander McQueen comes through with colour for Pre-AW21
Half a year on from first seeing it, Sarah Burton's SS21 womenswear collection for Alexander McQueen remains one of our stand-outs of the season. Toeing a fine line between the severity of blade-sharp tailoring and the frothy romance of inflated volumes, it was an impeccably pared-back exploration of silhouette; a celebration of "the beauty of the bare bones of clothing stripped back to its essence", she said back then. Knowing that you can never have too much of a good thing, Sarah decided to extend the focus on form for the house's Pre-AW21 collection. The key difference here, though, is that she decided to come through with the COLOUR! In keeping with the increasingly optimistic tone of our times, the collection offers a plethora of party-friendly frocks in a palette of jewel and pastel tones; think deep v-neck polytaffeta numbers in ruby red and bon-bon pink, and dresses with cloud-like exploded sleeves in papercut-printed poplin and sapphire polyfaille. Hybrid pieces that we first saw in the pre-AW21 menswear collection return, like a camel wool coat with MA-1 sleeves and a parka back, and McQueen's SS21 it-bag, the harness-clad Curve, gets a polychrome makeover with new colourways including chrome green and scarlet and pink.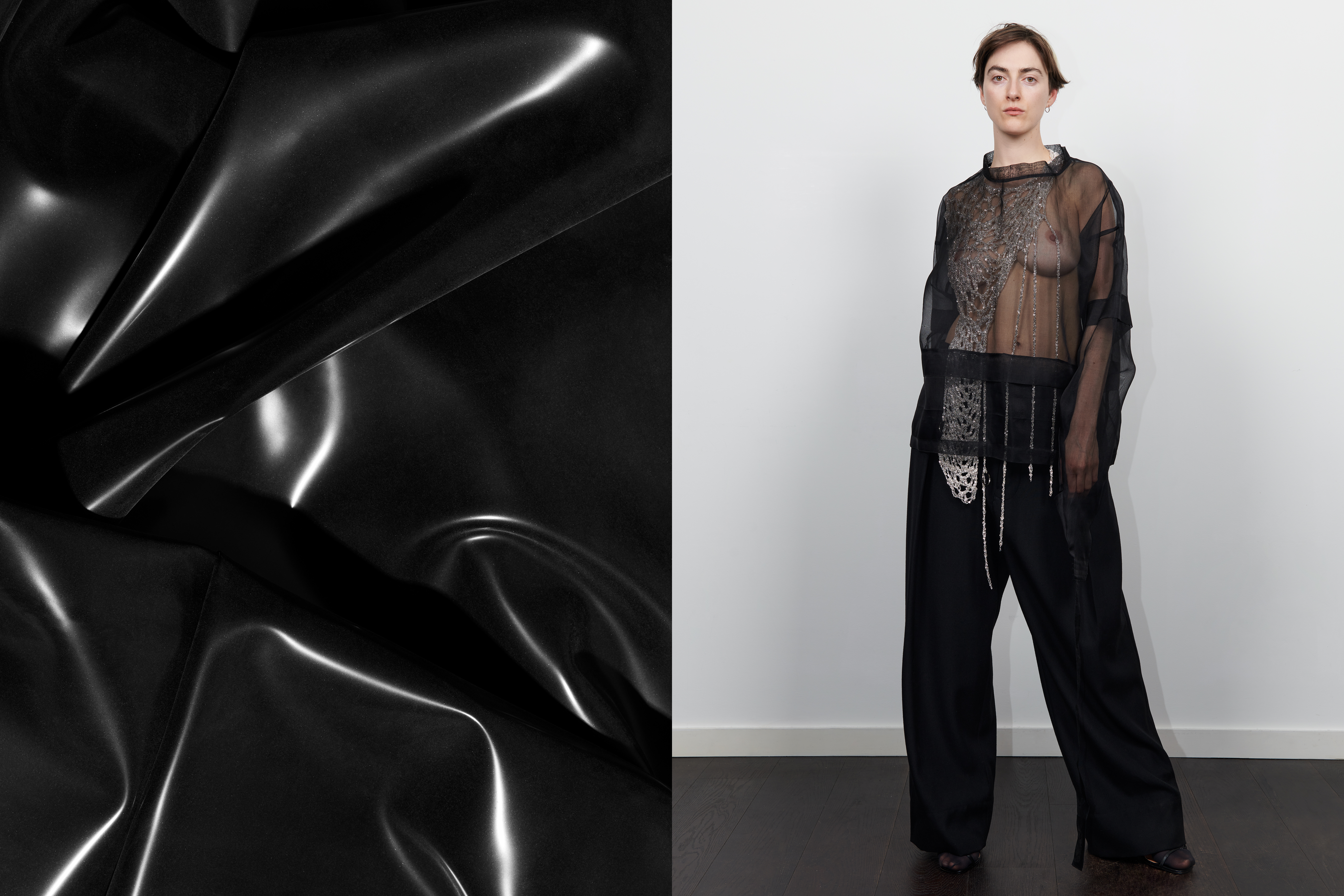 BERTHOLD upcycles its archive
Since launching BERTHOLD in 2009, London-based Raimund Berthold has always insisted in carving out his own path. Creating architectural, non-gendered garments that lean into the world of fine art, the Austrian-born designer has consciously sought to create garments that are appreciated for the rigour of their design rather than their expression of a given trend. In 2019, Raimund stepped back from the SS/AW cycle entirely, launching BERTHOLD's CORE collection an edit of, you guessed it, core looks, supplemented by limited-edition releases throughout the year. Now, Raimund is back with RENEW, a bold project that saw him upcycle his own archive into one-off clothes. Why, you ask? Well, here he is to tell you himself!
Hi Raimund! Can you tell us a bit about the idea behind RENEW? How did it come to life?During the pandemic, when all of the factories and fabric suppliers were closed, I had a lot of time on my own in the studio so I began to reassess everything. I started looking back at ideas that were hidden in some of the past collections we'd shown over the last 10 years, and was staring at samples piled up in boxes around the studio. Because the team was working remotely, I began playing and experimenting with techniques, cuts and merging existing pieces; it was really cathartic — giving life to the lonely fabrics and garments felt right. I know this is often called 'upcycling' or 'recycling' but for me it is just design — design that is aware of its footprint.
Has it informed the way you're going to make and design collections in the future? This just made sense after launching CORE at the end of 2019. I was done with thinking in seasonal terms, but of course there's still a desire for something new. The process for RENEW was very free and open-ended. This was about using what I had in front of me and the outcome was about the individual piece rather than a collection. The studio turned into a mad experimental lab with latex dripping in one corner, chain being knitted in the other. Someone would be cutting up two pairs of trousers to make a top or we were trying to use old T-shirts to make skirts. I'm going to keep this practice alive and embrace some of the chaos because it reengaged me with what I love about making.
Photographer George Harvey shot the pieces — how did that happen and what did you both want to express through the images?
Our whole industry was put on pause during the pandemic and George got in touch with me about doing something that sat outside of his other photographic work. He too wanted to be more playful, more 'chaotic' if you like. I love the rigour and the minimalism of his pictures, so working together was less about the photographs and more about the process of making a picture. We shot with no real plan. No moodboard, no hair and makeup, no production, no preconceived ideas. Just the rail of one-off clothes and a handsome woman. This is at the heart of everything I will do from now on. It's a genuinely open-ended way of working that feels right for the world we are living in.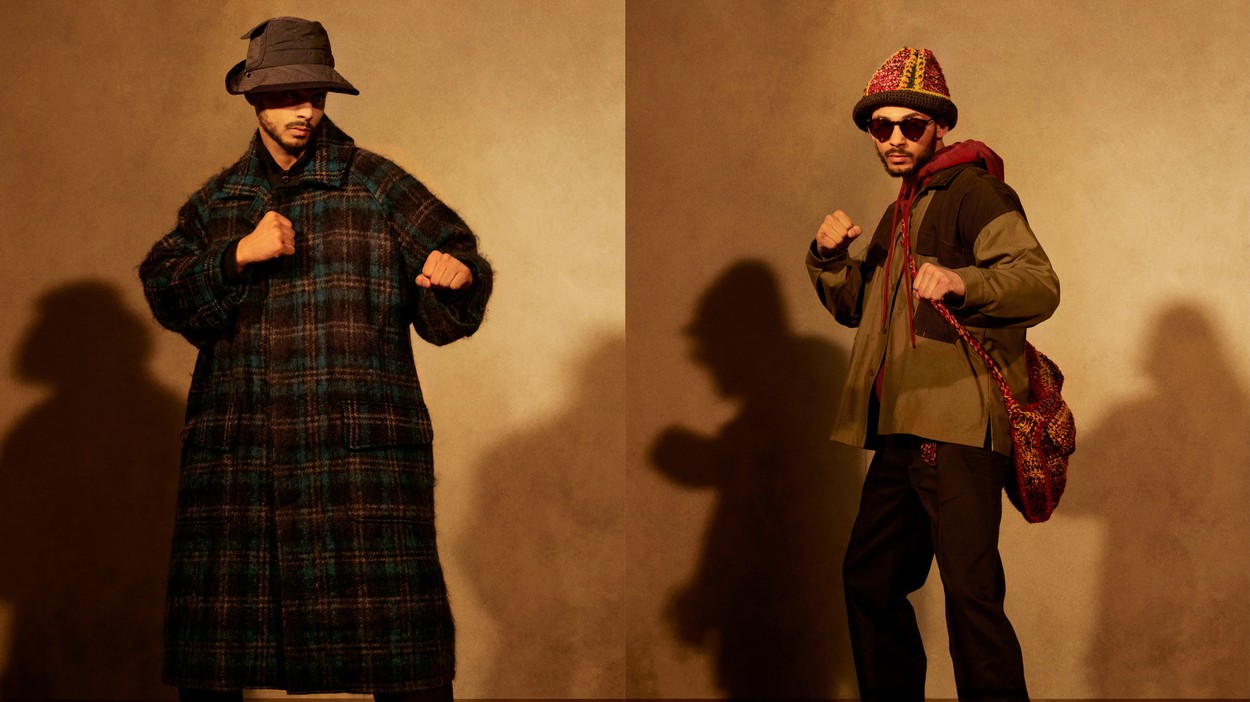 Nicholas Daley takes over NOW Gallery
Following months of delays (need we explain why) Return to Slygo, an exhibition by London menswear designer Nicholas Daley, is finally opening at London's NOW Gallery on Monday. A celebration of his Jamaican-Scottish roots, the exhibition builds on the themes of the collections he's shown since graduating from CSM in 2013, and expands the universe of his LFW presentations — which often take place away from the main throng of shows, instead inviting guests into smaller venues with live music and a more immersive feel. Expect nods towards his background in fine tailoring, archival family photos, legendary reggae artist memorabilia and other references from the Nicholas Daley milieu. There'll be a playlist curated by Nabihah Iqbal, an exclusive zine with stills by Piczo and, crucially, two films: A Knitted History, examining the knitting skills and craftsmanship his mother passed down to him, and eponymous Return to Slygo, a love letter to his musical inspirations. Described as a marriage of Nicholas' three core values "community, culture and craftsmanship", the show may be long overdue, but there's certainly a poetry to it opening at a vital moment in the UK's push towards returning to normality and reconnecting its communities.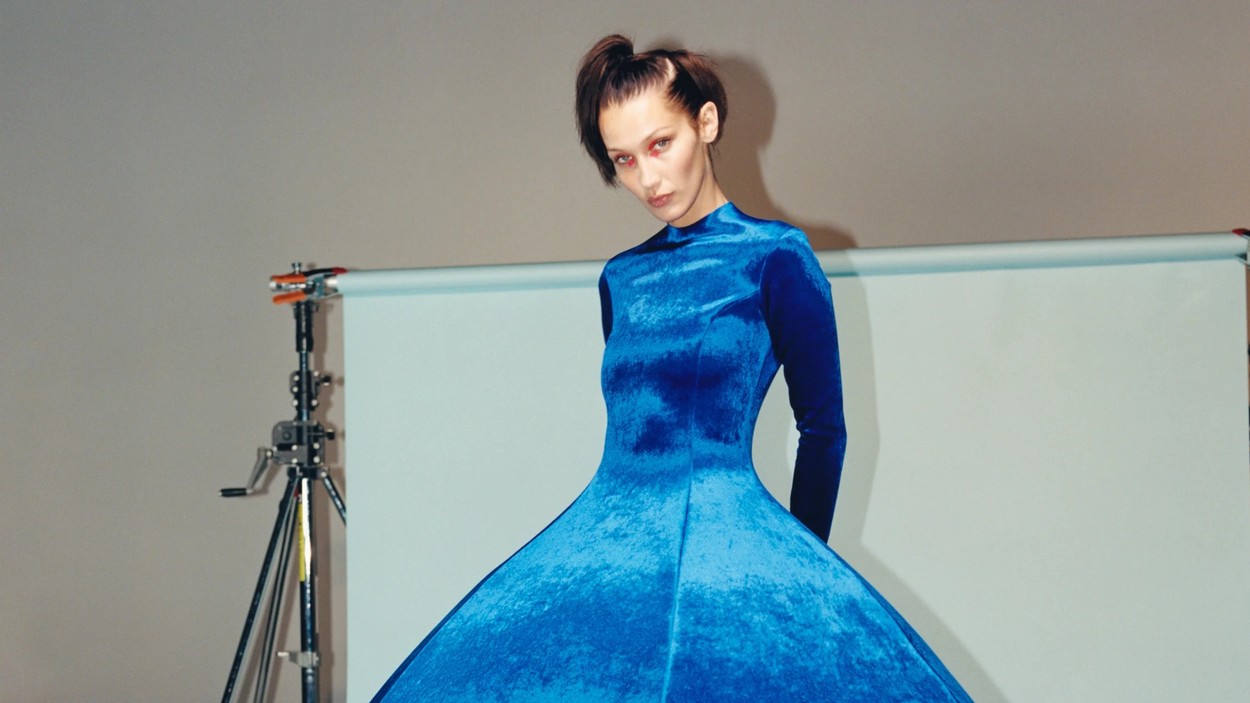 Balenciaga and Pyer Moss are confirmed for couture week
As we noted earlier, one of this week's most exciting bits of news was the FHCM's announcement that IRL, actual in-person fashion shows are coming back as soon as July! That's right, the AW21 haute couture shows have been given the green light to begin welcoming guests back to an actual frow! What made that news more joyous, though, were the schedule confirmations that came with the announcement. Joining the usuals — Chanel, Dior, Schiaparelli etc. — is New York fave Pyer Moss, who'll be showing their first collection in close to two years. The most major news, though, is that Demna's Balenciaga couture debut will finally see the light of day after a year's delay. It marks the first time the house has presented an haute couture collection since its namesake founder shuttered the line in 1968. Talk about a revival!
Duran Lantink ushers in the age of the drone fashion show
Excited as we are for the return of in-person fashion shows, we've become pretty accustomed to taking it all in from the comfort of our armchairs. Making a staunch case for URL presentations this week was Amsterdam's maverick upcycler Duran Lantink, presenting his 'Springsummerautumnwinter' collection in a spectacle that was well worth staying home for. In the abandoned corridors of the Soestdijk Palace in Baarn, The Netherlands, Duran supplanted the typical audience of editors, photographers and influencers with hundreds of live-streaming drones — yes, drones! (Talk about buzz, amirite??) Flitting about models as they walked, they captured the collection's sinuous, spliced looks in motion. In keeping with the designer's signature making process, certain pieces were upcycled from the identifiable remnants of pieces from major luxury labels — think: a mini shift dress cut from Louis Vuitton monogram canvas — while others were upcycled from leftovers he had lying around his studio from previous projects. "I'm upcycling my own leftovers, a kind of double recycling," he says. Didn't manage to tune in live? Well, the best bit about digital shows is that you can catch up on them long after they've happened! What a time to be alive.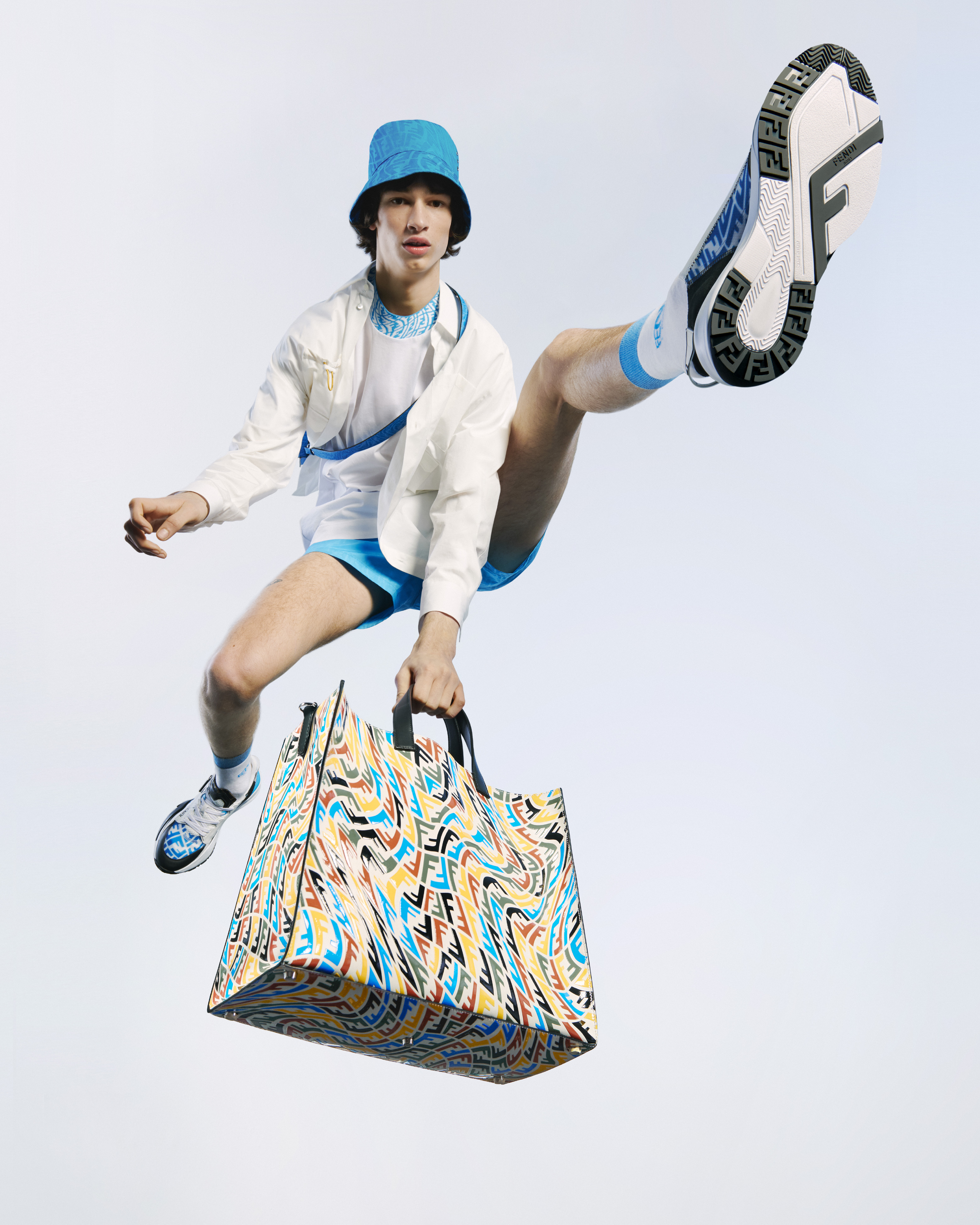 Sarah Coleman gives Fendi a trippy makeover
As you've probably clocked at this point in this week's round-up, fashion's feeling pretty optimistic right now. Another house that's manifesting good vibes for all is Fendi. For their Summer 2021 capsule, Silvia Venturini Fendi has paired up with New York-based artist Sarah Coleman to create a bright, joyful range of accessories, ready-to-wear and… tents? Vibey! Opting for sunshine yellow and cerulean blue as their base hues, they've given the house's iconic monogram a trippy 70s makeover. The result? The FF Vertigo is inkjet printed on the Peekaboo and Baguette 1997 bags, with the latter also getting a do-over in FF Fisheye, Sarah's riff on the monogram that imagines it through a fisheye lens. Sound the new it-bag klaxon!
The Dior Bar Jacket takes a walk on the wild side
Over the past year, the phoenix-like rise of Dior's New Look from the ashes of post-WWII austerity has often been cited as a sort of template for what we hope will happen with fashion post-pandemic. Well, darlings, if the house's Fall 2021 collection is anything to go by, it has come through again! As you'll no doubt remember, the collection, first presented back in December, was Maria Grazia Chiuri's poppiest yet — a welcome sign of optimism, a wardrobe to wear for brighter times ahead. Few pieces conveyed that sentiment more faithfully than the leopard-print Bar Jackets, inspired by a coat designed by Christian Dior in the 1950s for his muse, Mizza Bricard. This week, Dior has released a new video offering a rare insight into the making of the ritzy jacket, showing, for example, how the threads of the piece's fabric were dyed before being woven to enhance its heathered effect. After some chic educational weekend watching? Thank us later!
Machine-A champions London's next-gen talent
Given that London is a hub of emerging design talent, it's little surprise that its leading retailers are some of the best places there are to discover new names in the flesh. Few, though, are as active in supporting the city's young fashion community as Machine-A. Since launching in 2013, Stavros Karelis' Soho store has established itself as a launch platform for the careers of some of London's brightest talents today, like Kiko Kostadinov, Bianca Saunders and Arnar Mar Jonsson. The latter two were part of The Graduate Programme, a yearly initiative geared towards "discovering emerging designers with a strong vision, finding exceptional talent and individual strength, and supporting them by gaining their first retail experience," Stavros explains.
This year, its lucky participants are Cameron Williams and Johanna Parv, two recent graduates from Central Saint Martins' MA programme. In the case of the former, it was his unique approach to design that earned him Machine-A's support. Working with Ugandan bark cloth that "funds community development in the region of its origin", his work fuses the "artisanal qualities of the traditional dress of the ethnic groups and tribes of the Nuba people of the Southern Sudan and South London streetwear, resulting in a beautiful gender-fluid collection which is about strong tailoring and asymmetrical cuts," Stavros says. Johanna's work, on the other hand, "highlights a modern woman, who moves around the city with her bike, dressed in an ultra-feminine yet functional way," he continues, bringing couture-like attention to detail and elegance to the world of performancewear. Look no further for ahead-of-the-curve post-lockdown lewks!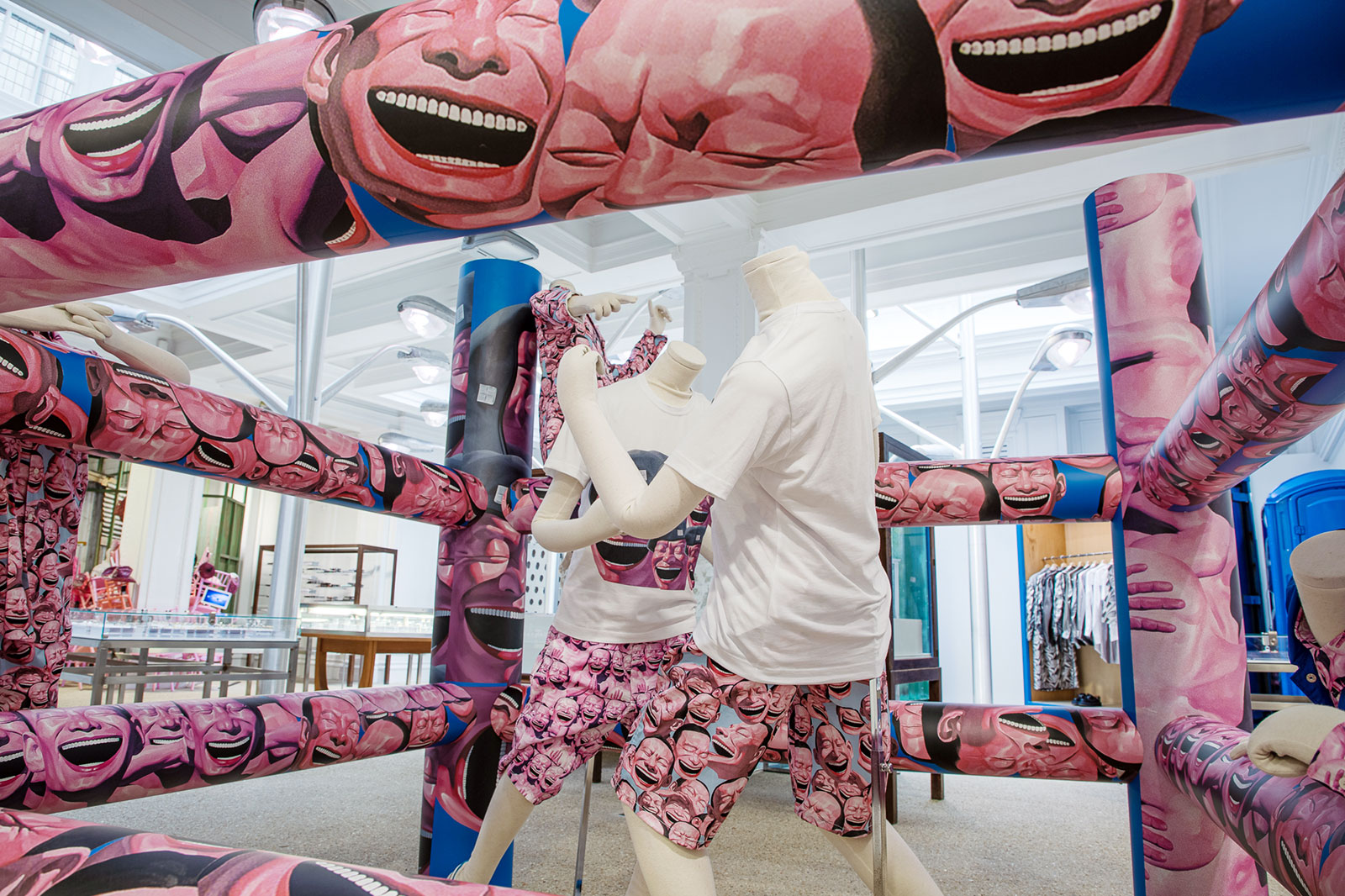 Check out Dover Street Market's pensive new installation
Of course, when it comes to artist collabs, there are few who do it quite like Comme des Garçons. Just head down to Dover Street Market for proof, where you'll find a brand new installation celebrating the label's Comme des Garçons SHIRT collection, created in collaboration with Chinese contemporary artist Yue Minjun. Set up a little like a boxing ring, complete with mannequins wearing laughing-face-printed garments appearing to fight, it's a reflection of the primary intrigue of the artist's work, "the fundamental agony of being human and the sense of confusion that comes with living in society". Same, Yue Minjun. Same. Though the installation may not be keeping with the jolly tone of all the other fashion treats here today, it does offer food for thought. And that's exactly the artist's intention. "I want people to look at my art and then pause for reflection as they look for luxury handbags," he says. And we're sure they will.