The messed-up trailer for You season three is here
Netflix have released the first full length trailer, along with the release date, for the third season.
|
17 September 2021, 2:30pm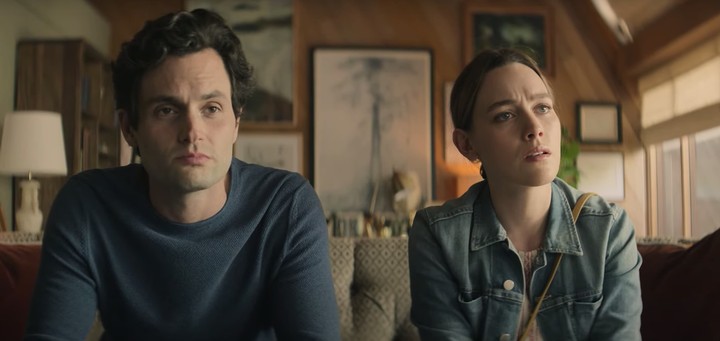 Finally, almost two years since the last season, Netflix have dropped the trailer for season three of chilling stalker series You, resplendent with wild weaponry and a Britney cover to boot. With all episodes available to stream from 15 October 2021, Penn Badgley, (the actor behind Gossip Girl's secret stalker lonely boy Dan Humphrey) will reprise his role as creepy Joe Goldberg.
The lethally hopeless-romantic book lover with delusions of being a normcore boyfriend will also be joined by his partner from season two, the equally murderous, LA-native rich-kid Love, played by the amazing Victoria Pedretti.
At the end of season two, tumultuous couple Joe and Love left behind their murderous pasts to focus on raising their new baby in the suburbs. However, it was hinted Joe wasn't completely a new man, as the final scene showed him stealthily watching the woman who lives next door through a hole in the fence.
With the trailer promising lots more delusional monologues, literary references and spilt blood, here's everything we know so far about the upcoming third season of You.
What's the plot of You season three?
The constantly moving Joe will now be heading slightly more north of LA to the California enclave of Madre Linda with new wife and baby-mummy Love, according to Netflix. But things aren't all perfect in paradise. Just like in previous seasons, Joe will be tested by a number of annoyingly entitled locals, this time including "tech entrepreneurs, judgmental mommy bloggers and Insta-famous biohackers". As the season two finale suggested, Joe will be conflicted by his new role as a husband and father, and a potential new love interest neighbour. "Could the woman he's been searching for all this time live right next door? Breaking out of a cage in a basement is one thing. But the prison of a picture-perfect marriage to a woman who's wise to your tricks? Well, that'll prove a much more complicated escape."
Will You season three follow the book series?
It seems unlikely since the third novel, You Love Me, in Caroline Kepnes' best-selling You book series, was released in April 2021, after filming on season three had already begun. Season two of the show had also already started to diverge away from the book series by giving Love some killer instincts herself.
Who's joining the cast for You season three?
Alongside Penn and Victoria, season three will see the return of Saffron Burrows as Love's mother Dottie Quinn, now "Glam-ma" to their baby. Also joining the cast is Tati Gabrielle (you may remember her as the ever-stylish Prudence from The Chilling Adventures of Sabrina), Michaela McManus (One Tree Hill), Dylan Arnold (from 2018's Halloween) along with Scott Speedman, Shalita Grant and Travis Van Winkle.
Is there a trailer for You season three?
Yes! The official first trailer for You season three has officially dropped, giving us our best look yet at Joe and Love's new life. But all of the idyll of their setting seems stripped back thanks to their murderous tendencies taking over. No spoilers: watch below to see the blood-soaked mania, bat-shit crazy weapons and the iconic "… Baby One More Time" cover that soundtracks the whole thing.
Does You season three have a release date?
Sure does: You season three will hit Netflix on 15 October 2021.