L-R: Images via Alamy; Getty; Getty
7 of Britney's most iconic outfits
20 years on from her headline-grabbing MTV VMA snake look, we revisit the slogan tees and leather revenge dresses of Brit's 90s and 00s wardrobe.
|
08 September 2021, 11:53am
L-R: Images via Alamy; Getty; Getty
Britney Spears is a living legend. Her 23-year reign as the Princess of Pop has cemented her status as a cultural icon, one whose impact is still as relevant today as it was two decades ago. Ever since she was accompanied by those now legendary piano chords on her debut single "…Baby One More Time" in 1998, she has gone on to become one of the most successful artists of all time, paving the way for people like Lady Gaga, Miley Cyrus, Selena Gomez, Dua Lipa, Charli XCX and Billie Eilish, all of whom cite Britney as one of their idols. Songs like "Toxic", "Womanizer", "I'm A Slave 4 U", "Piece of Me" and "Work Bitch" have all been enshrined in pop's hall of fame, each record setting the bar for what it means to be a popstar today.
That she's also served some looks throughout the years almost goes without saying. But Britney's style has always been unique: whether it's her love affair with the fedora, her penchant for Juicy Couture or her dazzling stage costumes, she embodies an unbothered and unpretentious approach to fashion. Here, to mark 20 years since she draped a live snake around her shoulders at the MTV VMAs, we take a look back at some of Britney's most iconic outfits.

The "…Baby One More Time" video, 1998
It was the song that started it all. Released in 1998, "…Baby One More Time" altered the landscape of pop music, topped the charts in 22 countries around the world (including four weeks at Number 1 on the Billboard Hot 100) and has since sold over 10 million copies. The accompanying video, directed by Nigel Dick, helped the song's ascent while ensuring that Britney Spears became a global pop phenomenon that everyone was talking about. Dressed in a schoolgirl outfit that came from Kmart, midriff exposed and hair in pigtails, Britney courted controversy by finely treading the line between school-age innocence and knowing self-sexualisation. The fact that the concept came from her just demonstrates that she has always been an artist who knows how to play pop's game.
The "Oops!… I Did It Again" video, 2000
Teaming up with director Nigel Dick again, the video for "Oops!…" was also Britney's idea, as was the red catsuit, which has since gone on to become one of the singer's most recognisable outfits. Created by costume designer Michael Bush, who was also working on Britney's tour outfits at the time, the catsuit came together at the 11th hour, with Bush making the red latex confection the night before the video shoot. The space-themed video was apt, too, as Britney's star power was about to go stratospheric. Her second album, also called Oops!… I Did It Again, sold 1.39 million copies in its first week in the US, breaking the record for the highest debut-week album sales by a female artist, a record Britney held for 15 years until Adele released 25.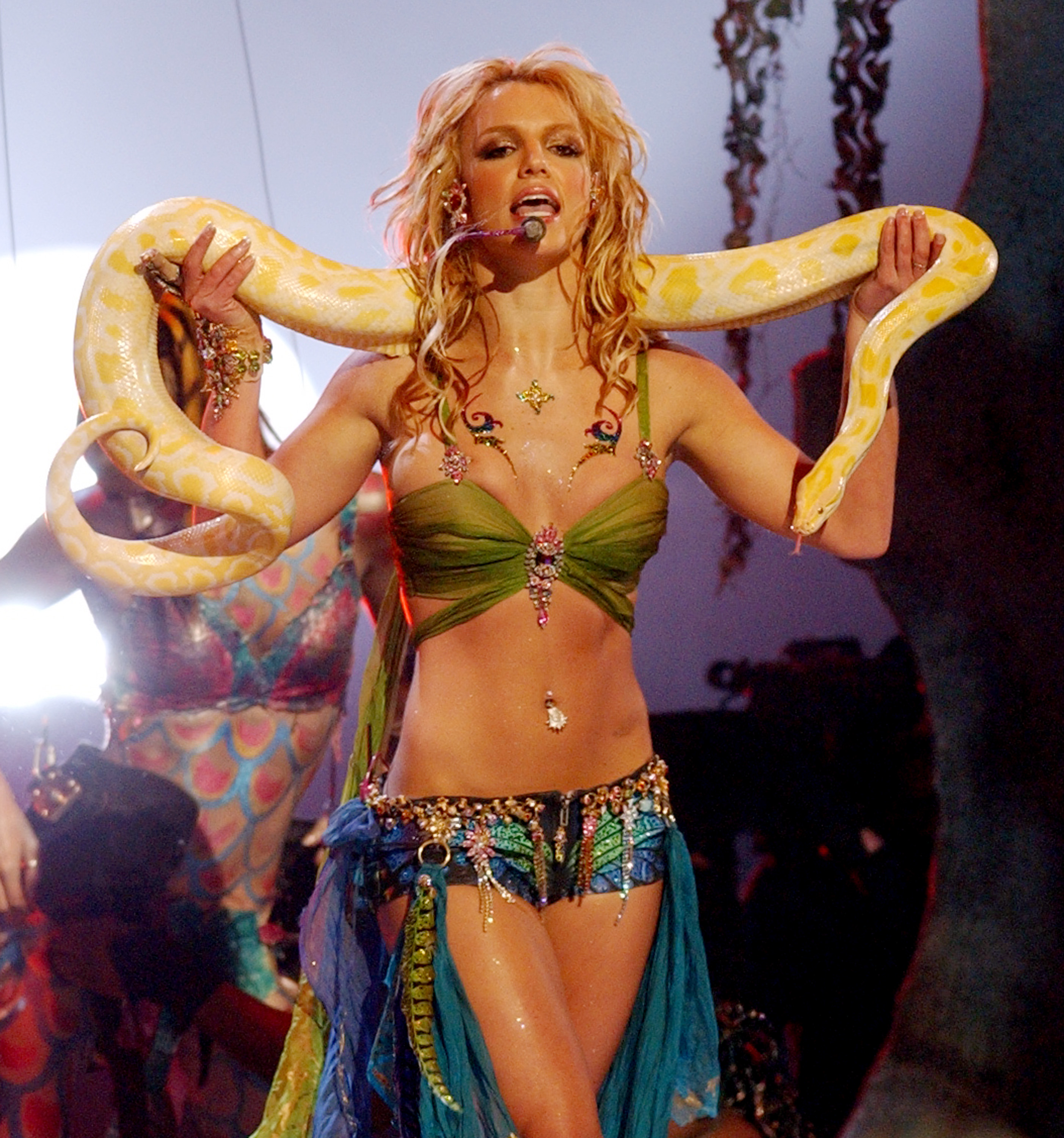 Performing at the MTV VMAs, 2001
"I know I may be young," Britney coos over sweaty beats at the beginning of "I'm A Slave 4 U", "but I've got feelings too. And I need to do what I feel like doing." That, in this case, was draping an albino Burmese python called Banana around her neck and dancing on stage at the 2001 MTV VMAs. It's perhaps the most defining image of Britney, one that's emblematic of her power as pop's prime provocateur. It also marked a departure from cleaner teen pop imagery into something more mature and overtly sexual. Britney was young, but she was no longer innocent: about to turn 20, she had entered into the first fray of adulthood. The previously contentious exposed midriff and school girl outfit had nothing on the green bralette and tiny blue shorts that accentuated Britney's athleticism and the steaming hot choreography. It was such an iconic moment that MTV has been dining out on it for 20 years.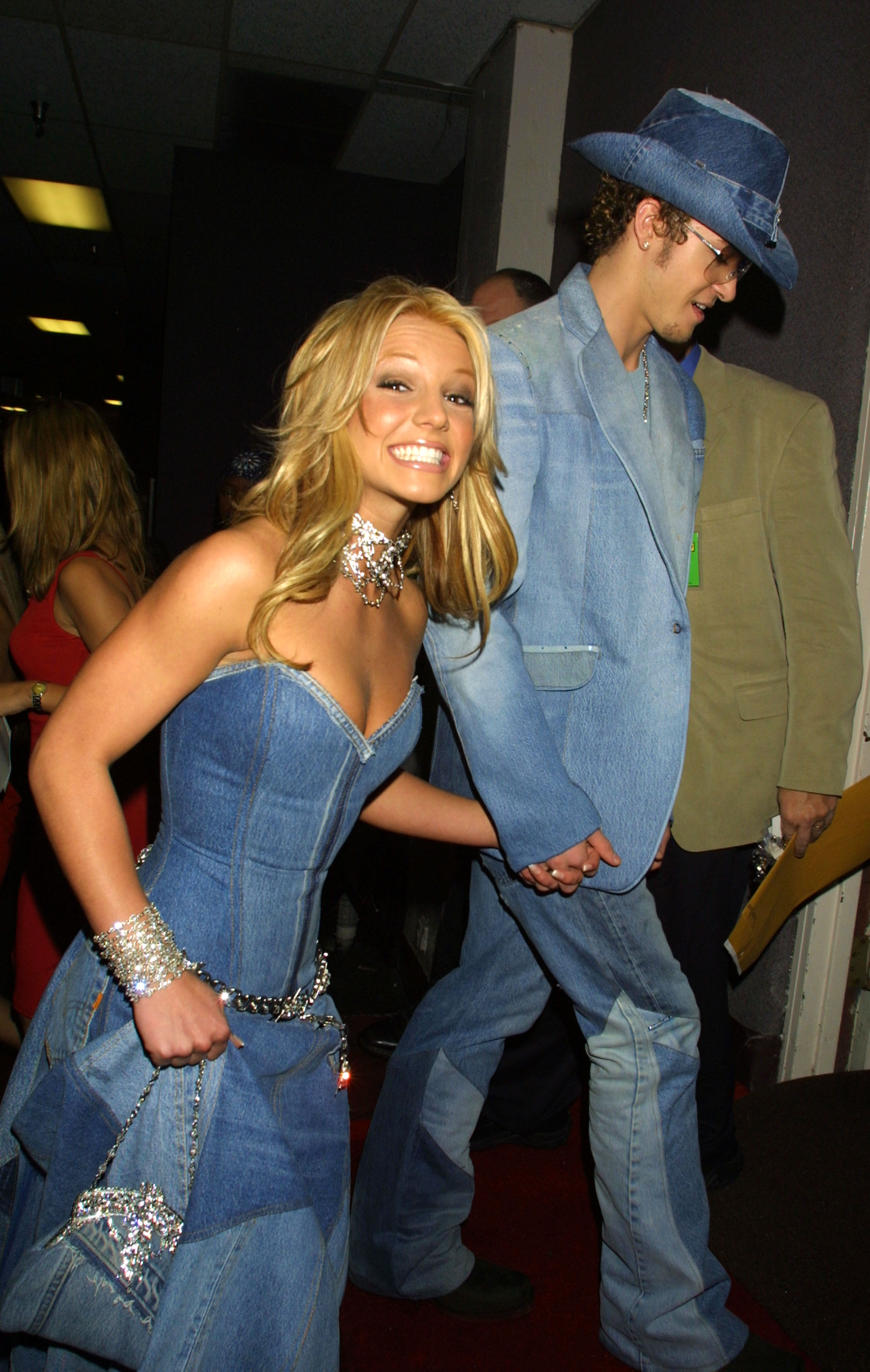 At the American Music Awards, 2001
Not only is it the 20th anniversary of Britney's "I'm a Slave 4 U" performance with the snake, but it's also 20 years since her and then boo, Justin Timberlake, turned up at the American Music Awards in this matching denim moment. As with many of Britney's most iconic fashion moments, the double denim was her idea. Britney's patchwork outfit was created by costume designers Kurt and Bart, while Steven Gerstein was behind Justin's denim tux. The look is so legendary that Katy Perry and Riff Raff recreated it at the 2014 MTV VMAs, and it is a regular Halloween get-up for couples, too. Sadly, a year later Justin and Britney would no longer be together, although this look would go on to immortalise their relationship in the pop culture hall of fame forever.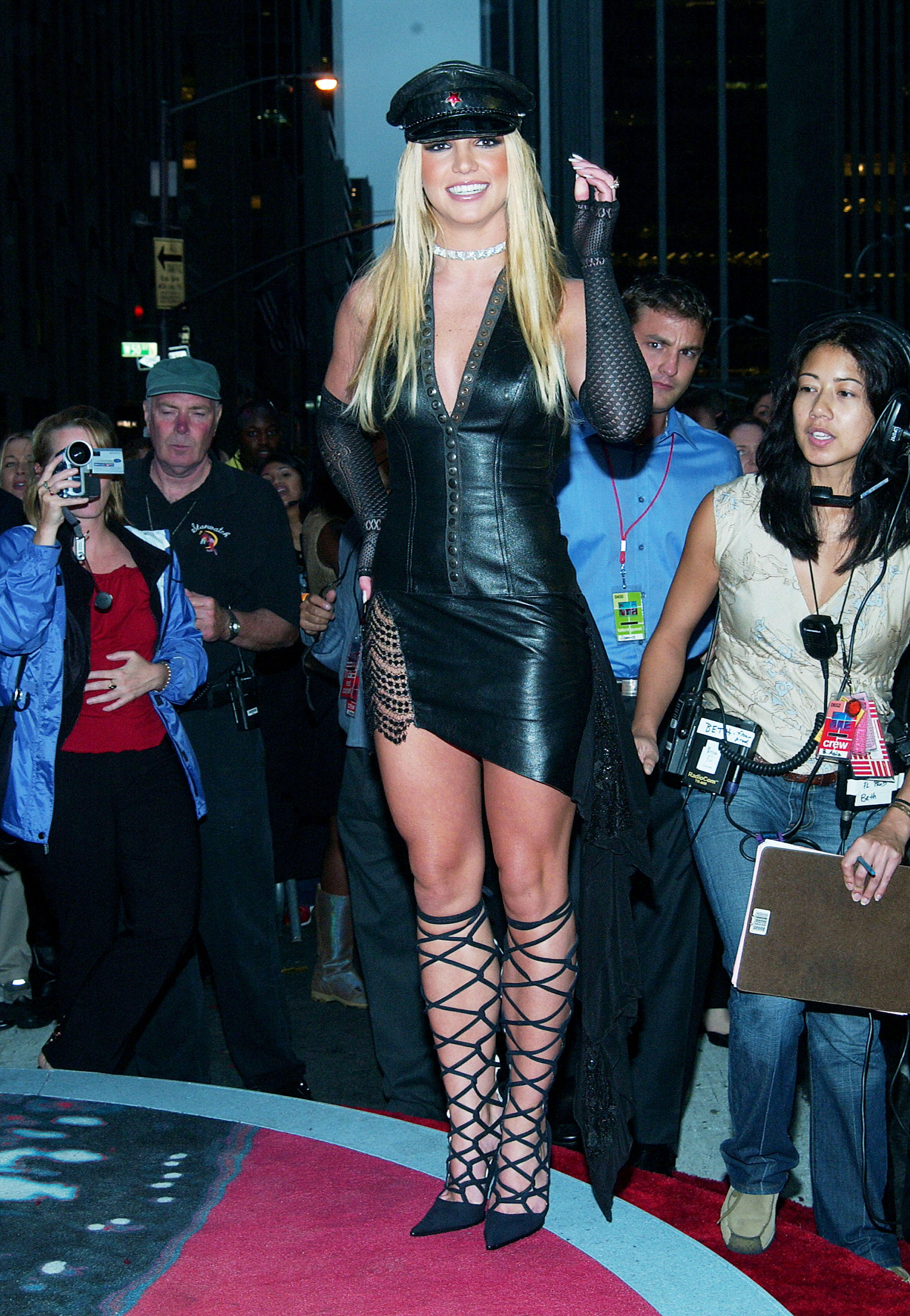 At the MTV VMAs, 2002
2002 was something of a transition year for Britney. After she released her third album in 2001, marking three album releases in three years, she starred in her first feature film, 2002's Crossroads and went out on tour. However, her personal life was about to get super public as it was announced that she had split with her longtime boyfriend, fellow popstar Justin Timberlake. The pair had been together throughout her meteoritic rise to pop superstardom, but with rumours of infidelity and Justin bashing her in the press and in his music videos, Britney was being painted as a villain. This perhaps explains this leather dress from the 2002 MTV VMAs: playing into the media narrative, Britney adopted a darker look that wouldn't be out of place at Folsom Street Fair. All dressed up in lace and leather, BDSMney ain't playing.
Getting Starbucks in London, 2002
There isn't much to say about this outfit except that for 19 years it has always been a mood. Still inspiring fashion today from the likes of Miley Cyrus to artist Florence Given, you can't move on Etsy without seeing reproductions of this iconic t-shirt. If Britney says dump him, you should dump him.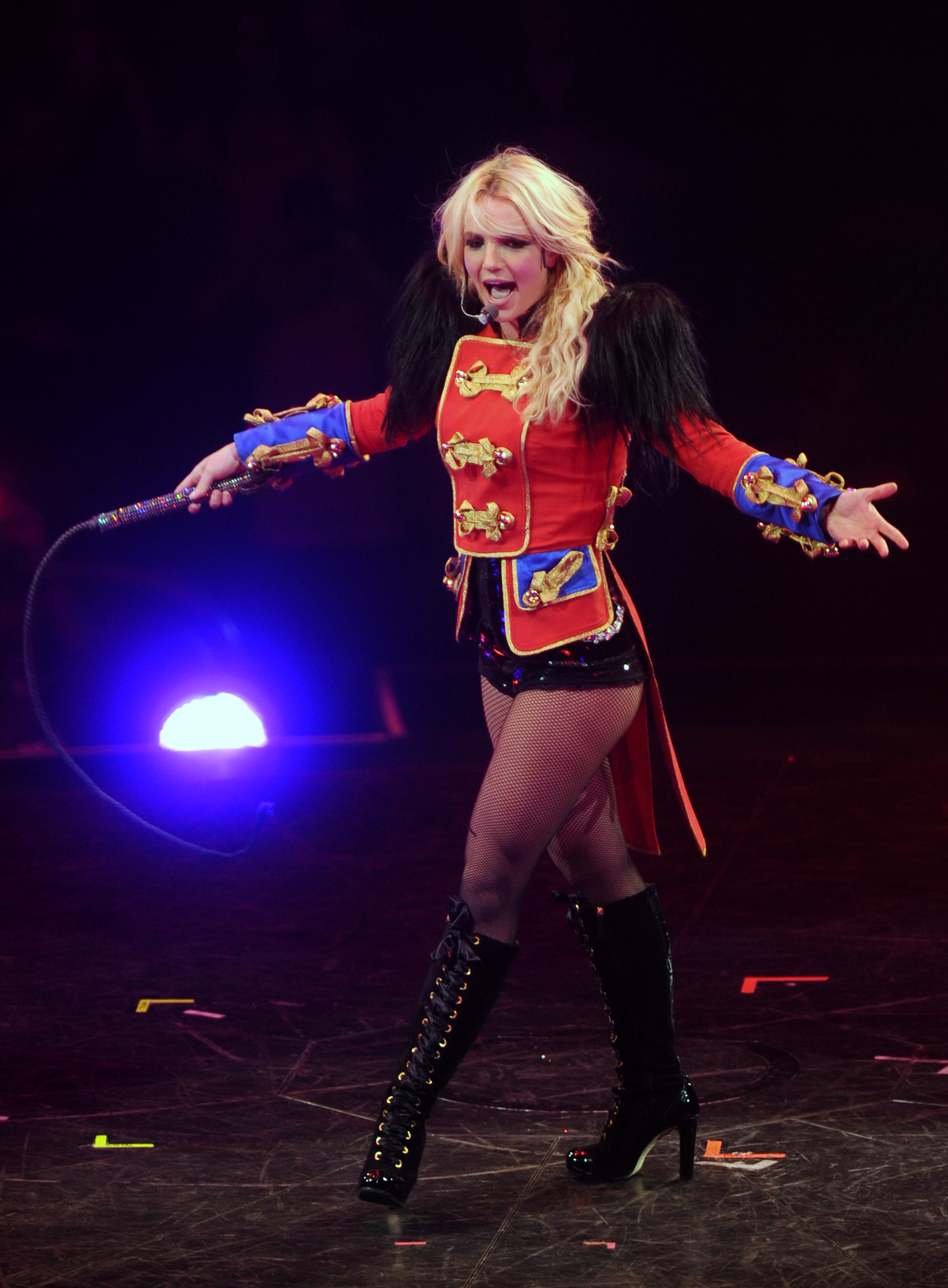 Performing in New Orleans, 2009
While there are other iconic outfits (dressed as a bride at the 2003 VMAs when she kissed Madonna, the Juicy Couture bridal party look from 2004 to name just two), Britney descending from the ceiling dressed as a ringleader at the beginning of The Circus Tour is perhaps the most fitting way to round things out. After her very public troubles in 2007 and 2008, this image is Britney asserting her dominance over pop music once again: her sixth album, 2008's Circus, debuted at Number One on the Billboard chart, while lead single "Womanizer" was Britney's first US Number One single since "…Baby One More Time". Of course we know now, following Britney's explosive testimony at the recent hearings regarding her ongoing conservatorship battle with her father, that things behind the scenes weren't necessarily as peachy. But, as with the image of the snake, there's a power to this look, Britney ready once again to whip pop music into shape. As she sings on the opening line of "Circus": "There's only two types of people in the world, the ones that entertain, and the ones that observe." Looking at the legacy of Britney Spears, of that there is no doubt.