How transphobia found a home on TikTok
The platform has been heralded as a safer social space for marginalized communities, but trans creators are still attacked — or banned — daily.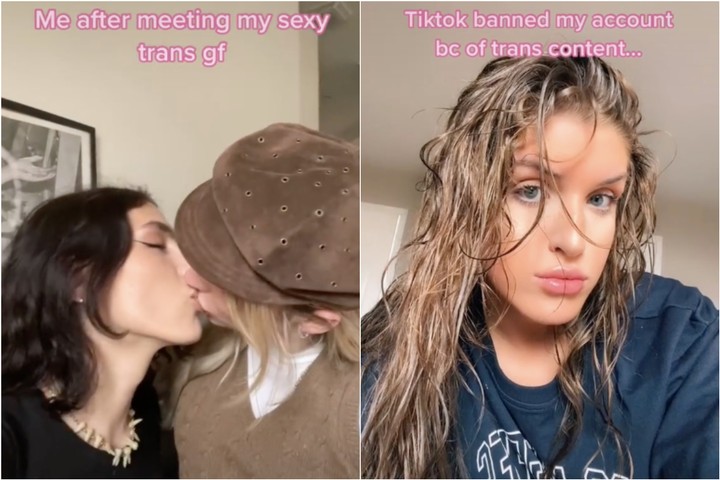 Photos courtesy of @blairthebarbie and @adeadani
She's the first to appear on the 'For You' page. In baggy jeans and a backless black top, she poses at various angles to a voiceover compilation of Kourtney Kardashian quotes about "living life". She's so stunning, and the audio so uplifting, it would be easy to miss the speech bubble pasted in the TikTok's top left corner serving as the video's prompt. "Literal cap," reads the comment, "look at her hands, look at her shoulders, it's not hard to notice male features."
For the woman in the clip, known online as Miss Dylan, this is nothing out of the ordinary. Since joining TikTok in late 2019, Dylan has experienced transphobia of varying degrees: from "born male" heckling to thinly-veiled threats of violence. A 20-something model splitting her time between New York and Los Angeles, Dylan didn't initially intend to address her gender identity on the app. Instead, she figured she would utilise TikTok to pepper fun thirst traps amid shoot outtakes, free from the hyper-calculated curation of Instagram. It wasn't like Dylan was refusing to acknowledge her transness, it just wasn't that relevant to her online presence. But as her following grew, so did her reach to TikTok's lesser-known factions. The comment section devolved from light speculation as to her gender, to debate as to the 'validity' of her womanhood.
"When something goes viral, the TikTok algorithm shares it to so many different communities which leads to a lot more alt-right, proud boys and neo-Nazis on my page than any other platform," Dylan says. "This can feel like a target on my back for more serious things — doxxing, hate crimes, stalkers — but I try not to let it affect me."
But Dylan may have bigger concerns than bigotry. Last week, 20-year-old trans creator Adea Danielle revealed to Buzzfeed that her TikTok account had been deleted without warning after she'd amassed an impressive 1.5 million followers. Prior to that, Adea's videos were frequently removed for 'violating community guidelines', though her content was primarily comedic commentary on the trans experience. The account of creator Tay Scheider was banned for similar reasons, though she mostly posted makeup videos. The 18-year-old appealed the deletion and saw her account reinstated — only to be banned again three days later. Adea's profile, alternatively, was returned after an inquiry from Buzzfeed.
"I don't know how it works," Adea told the publication, "but I do know that [TikTok is] not made for us; it's made for white, straight cis people to do dances and stuff."
Owing its exponential growth to an en masse-embrace by youth culture, TikTok has inadvertently become a magic mirror to better understand the nuances of Gen Z (and a crystal ball for trend forecasters). Though regarding gender identity, there seems to be a disconnect between the social media app and its young users. A year ago, the Harvard Business Review reported over half of Gen Z Americans know someone who is non-binary, and globally, a quarter believe they'll overhaul their gender identity at least once in their lives. But this progression seems either absent on TikTok, or quashed by a very vocal minority. Ella Snyder, an LA-based model and photographer, says one only needs to Google "super straight TikTok" to discover rampant — and oftentimes, violent — transmisogyny.
"[Look at] the comment section on any trans-related video," Ella says. "People deny the womanhood of trans-femme creators; there are sorry attempts to dox trans creators, death threats, the list goes on. The way I navigate it is to support and uplift other trans creators, while compartmentalising my own hate comments."
Ella has experienced issues similar to those cited by Adea and Tay. It feels "inherently transphobic" that every time she shares a goofy video in a bathing suit, it's removed following a 'minor safety' citation. Moreover, on the occasions she posts trans-specific content, Ella notices the algorithm pushes it toward a transphobic audience.
"When things like this happen, it does make me question, how queer-friendly is that platform, truly?" Ella asks. "I think when the algorithm is smart and shows your content to audiences with similar moral values, it's a great space for finding community. But more often than not, the platform can be a space for bullying, prejudice and hate."
"Whenever a video of mine blows up, I am always ready for transphobic comments," says Blair Broll, who is in her early 20s and working in casting in New York. Broll has also undergone the involuntary deletion of multiple TikTok profiles, having used the app since its earlier iteration, Music.ly. Now, she not only blocks users but specific words from appearing on her page, forcing trolls to "get creative" in their public attacks.
"It honestly makes me worried that young trans girls are on it because I know I couldn't have handled it in my teens," Blair adds. "My advice would be to only use Instagram until you're older. [TikTok] is way more harsh."
Nonetheless, when it comes to connecting with others in her community, Blair asserts TikTok can't be beat. What attracts the girls to the platform —¸freedom from the psycho-social, or literal, restrictions of Instagram — has facilitated faster attachment with other trans people, so much so that Blair claims "all the girlies follow each other and get advice from each other". The app's sense of communality also serves as a coping mechanism when it comes to critique. Without the support of the leagues of trans women as protective armor, TikTok may not seem worth it for users like Blair.
"I have found that I actually make fun trans friends from all over on TikTok, where as [on] Instagram I don't connect as much," Blair explains. "I think that's because TikTok is a bigger display of personality, so people can relate to you more. It isn't so much about who you follow — it functions off the explore page, so your content is shared with a wide variety of people. I love having people from outside my world see what I'm doing."
Ella agrees. "It's the platform I take the least seriously," she says. "I'm not on there trying to be cool or promote the best version of myself, I am just myself. I think what's surprised me the most is the power of TikTok's algorithm. It's been so astonishing to watch because I don't think any other platform has had this ability before."
While Blair notes the platform is steadily growing in faceless, follower-less users who "love to talk shit without revealing their identity," Ella believes the app has made "small efforts" to better cultivate an accepting and diverse space — if only performatively. Various creators, she alleges, have publicly taken issue with the rampant intolerance on the app, which has prompted TikTok's attempts to "make amends". For her part, Dylan appears to be benefiting from these updates.
"Once I started posting more content about being queer, the audience TikTok sent me to was a lot more supportive," she says. "But up until then, while the algorithm was still calibrating, it was a wild ride."
TikTok certainly still seems to be capitalising on, or at least riding out, its 'Wild West' appeal — the kind of lawlessness reminiscent of uploading 200 images from one night to Facebook in 2009, or posting a photo of flowers with the 'gingham' filter to Instagram in 2012. It's this very appeal that will continue to drive users to the app, and make superstars out of the most uninhibited. Though Dylan wonders for how long.
"I feel a lot of pressure from well-intentioned — often very young — users who fetishise marginalised identities, which feels like a lot of pressure that isn't put on the shoulders of 'straight-Tok,'" she says. "The straight creators seem to have more freedom to just be silly because less is expected of them."
Though it's not always easy, Dylan will continue to showcase her authentic self on the app: both dolled-up and makeup-free, trolling and triumphant. Whether exhibiting her "male features" or flaunting overt femininity, Dylan, like all of the trans creators enjoying your attention, is just living life. As for the hate, that just boosts engagement.
"If you are in a space that feels safe to be who you are, who's to stop you from sharing that authentic happiness with the rest of the world online?" Ella says. "You'd be doing us all a favour by sharing it with us."
Tagged: