Left: View from exhibition 'To Fall in Love, Click Here'. Konstantīns Žukovs 'Black Carnation 1', 2021. Right: Irēna Andrejeva 'Dicks I Haven't Met', 2021.
A new exhibition looks at sex, love and dick pics in Latvia
At Riga's Art Academy, 'To Fall in Love, Click Here' challenges old notions of sexuality and identity in a post-Soviet country.
Left: View from exhibition 'To Fall in Love, Click Here'. Konstantīns Žukovs 'Black Carnation 1', 2021. Right: Irēna Andrejeva 'Dicks I Haven't Met', 2021.
Down a side street in Riga's Old Town, the windows of Pilot — the Art Academy of Latvia's experimental space — are alight with a new exhibition exploring sexuality, internet identities, and the "dating supermarkets that have now become a multi-billion industry" (think: Tinder, Grindr). That the exhibition unfolds in the midst of a global pandemic — with all its restrictions on physical touch, dating, and intimacy — is lost on no-one.
Curated by Tīna Pētersone, winner of a national competition for emerging curators run by Riga Photography Biennial as part of their NEXT 2021 programme, 'To Fall in Love, Click Here' is an exhibition featuring four Latvian artists. We meet them in the gallery's courtyard to discover how they're using their work to challenge old notions of sexuality and identity in this post-Soviet country.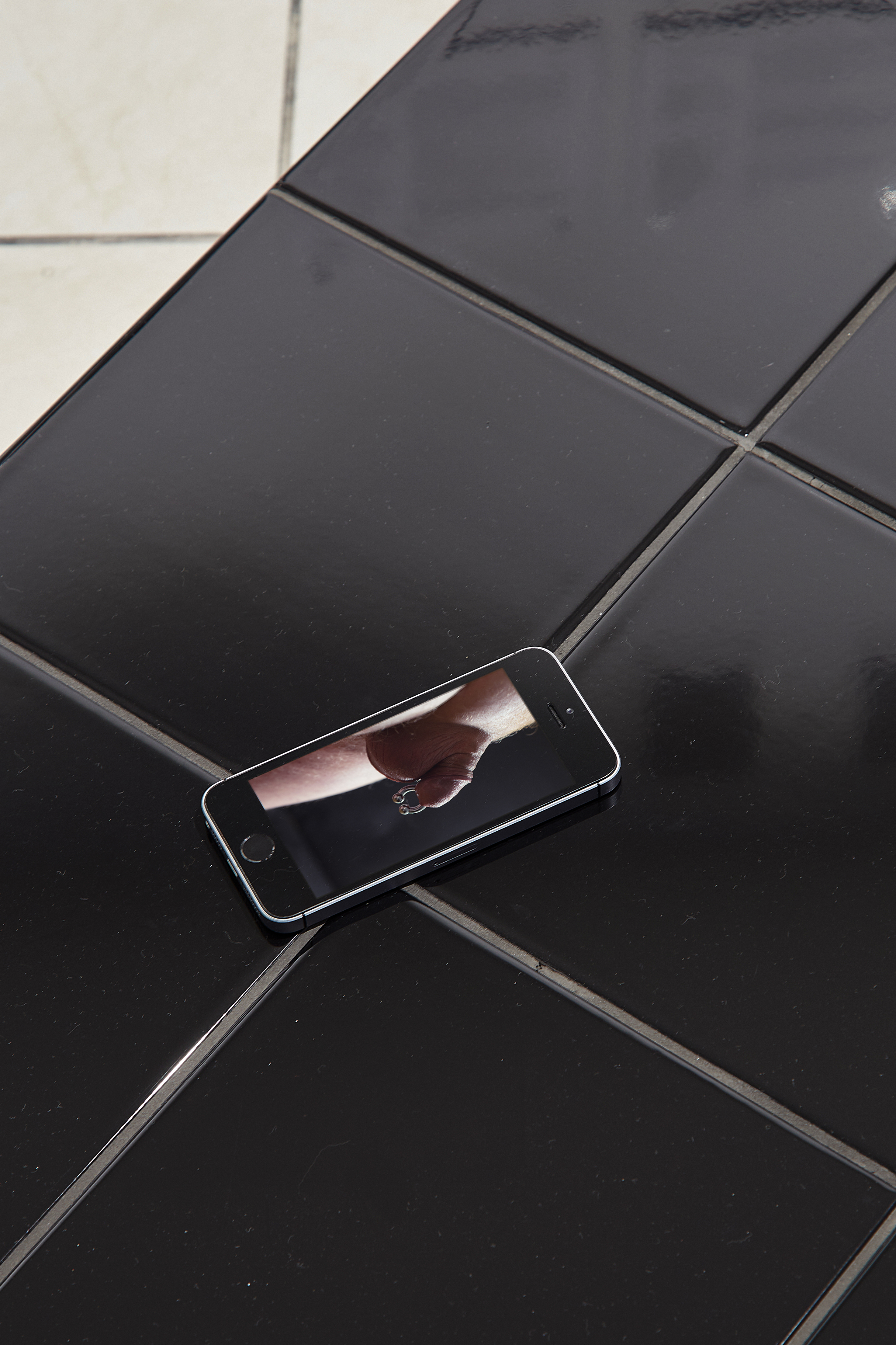 The exhibition is framed by the work of scenographer Krišjānis Elviks, who produced a series of architectural interventions throughout the gallery. He describes how he was "inspired by public space and infrastructures of urban environments", manifested in crumbling breeze blocks, flower petals, and bathroom tiles. His response to the exhibition's premise was infused with his experience of the pandemic.
Krišjānis explains that "dating app culture had a second wave because it was the only place where you actually can get some human contact or flirt. During Covid, I started to explore Riga. I started to think about the city as a meeting point and ask myself a question: is this city made to meet someone? Or does it force you to stay inside and enjoy reality through screens?" Inside the exhibition space, this tension is made real as the viewer moves between each artist's installation, often overlapping and merging together like multiple tabs open on a browser.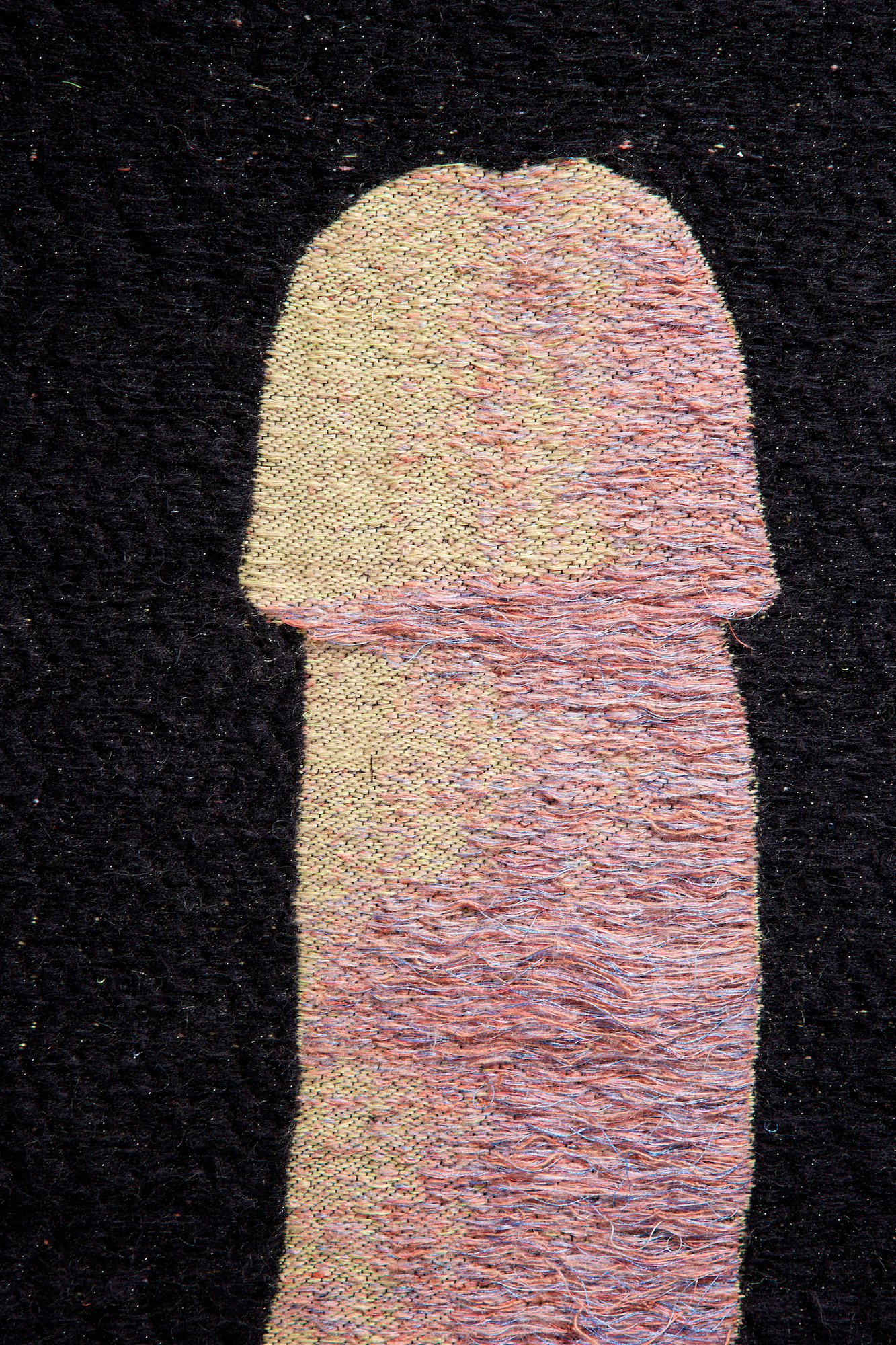 Irēna Andrejeva's works – digital tapestries of dick pics hung in pinkish tones – reflect upon the issue of male exhibitionism while navigating the apps; the "unexpected and awkward intrusion of a virtual image into a personal space". The project was developed from an archive of dick pics accumulated by the artist herself, and the medium – digital jacquard – echoes the electronic nature of the experience being examined. As society finally begins to reflect on toxic masculinity and how the patriarchy encroaches on the lives of women (both online and IRL), Irēna's textile forms have a tactile resonance, unruly and repeating, using linen yarn "in a raw, cooked meat tone, the structure of which resembled muscle fibres, blood vessels, tendons".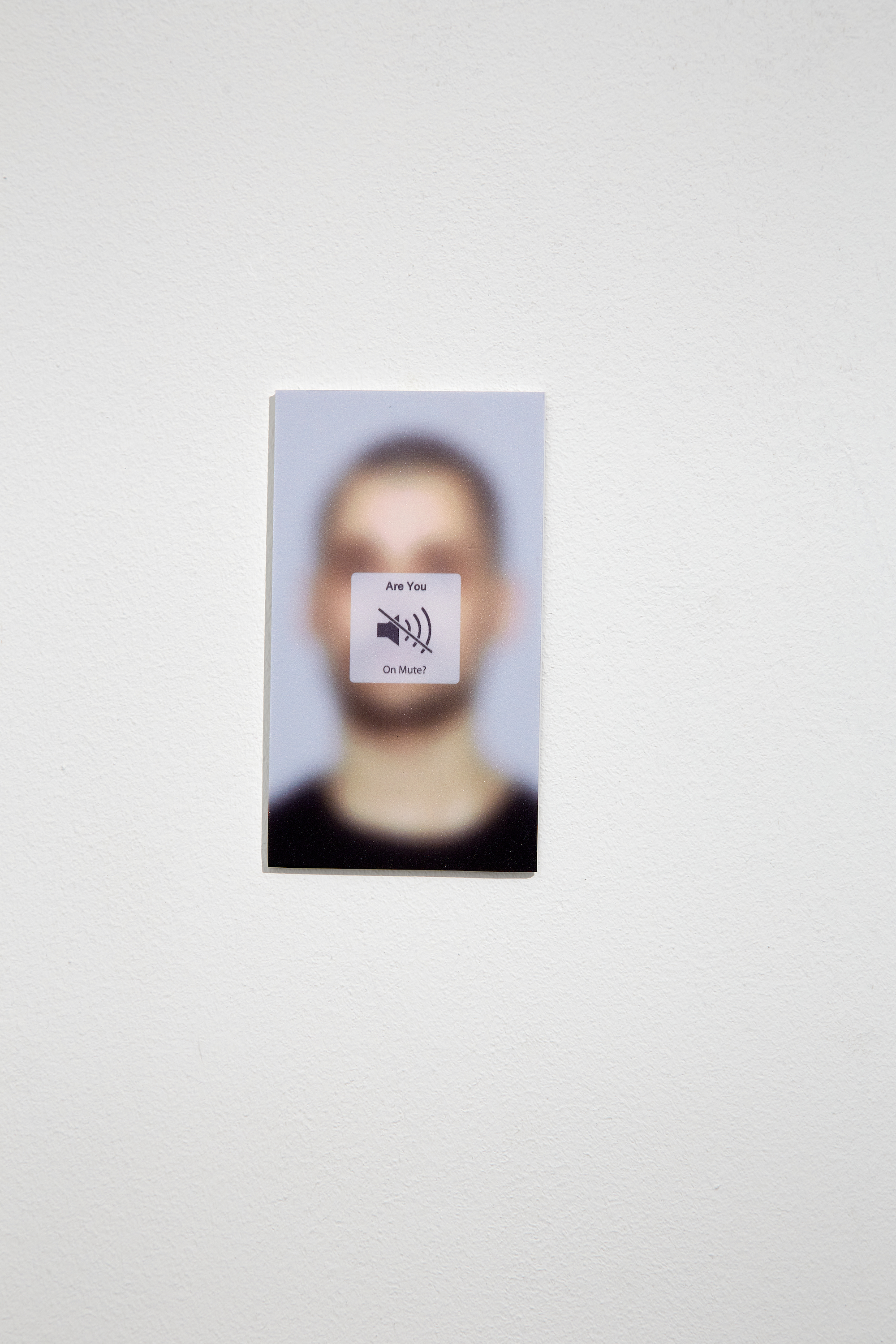 'To Fall in Love, Click Here' is in many ways a meditation on the city and how it interacts with themes of sexuality and digital identity, reflecting a post-Soviet generation of artists reconciling the past with the present through their work. Elizabete Ezergaile analyses the way in which technologically-mediated communication transforms relationship dynamics in real life. Her work chimes with the aesthetics of Instagram; a furry zebra-print driving seat holds a lavender clutch bag bedazzled with the name 'Lucifer', containing a machete with a metallic scorpion tip.
The artist describes how "the younger generations here have a healthy relationship with sexuality", and yet cultural legacies (and censorship) live on. "I did think about my parents, while making photos, who are Soviet generation and don't come from an art background. I actually didn't even show them the exhibition, because I knew that they wouldn't be at peace with how I portrayed sexuality… I have accepted that they come from a different background and I don't push them to understand my work."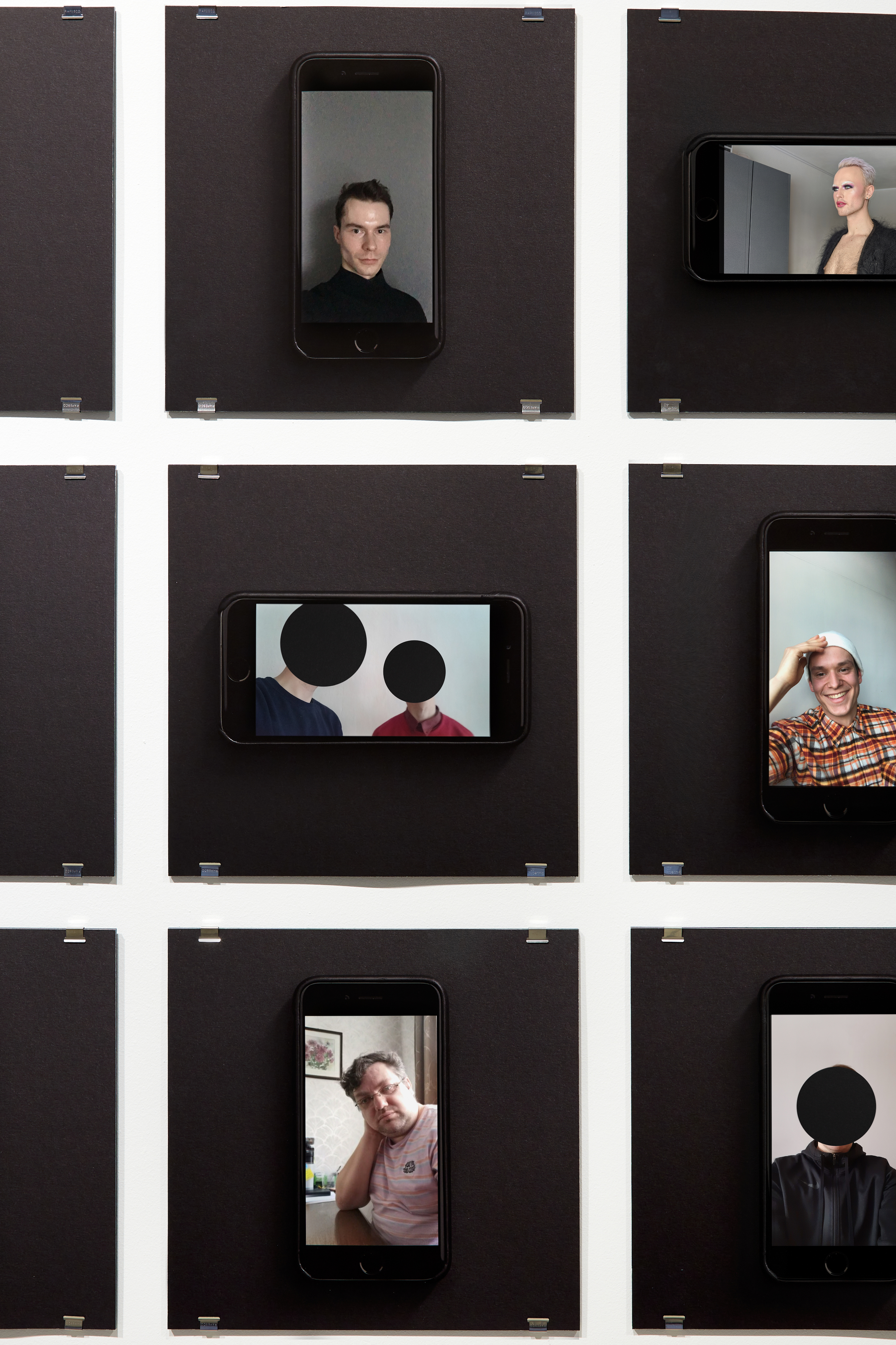 Konstantin Zhukov's project began with the Black Carnation Club — an apartment-turned-social space where local men would meet for sex in the 1920s, until it was raided by police in 1926. Konstantin reflects on how the space once occupied by covert operations such as the Black Carnation Club has been "superseded by a virtual space, where dress codes and passwords have given way to emojis and English-language abbreviations. To people whose sexuality lies outside the boundaries of heteronormativity, dating apps are often the only way to meet other people safely, for one night or until death does them part."
Konstantin decided to invite Grindr users to a video call, resulting in an installation made up of iPhone portraits — an adjustment made for Covid's social distancing but which suits the project's theme, much like Irēna's use of digital tapestry. Exhibited among questionnaire responses from his subjects and sculptural interventions with iPads displaying his various nude studies, Konstantin describes how "the entire project was done using my phone — I met my respondents through the app, conducted the interviews via the video calls and created their portraits by making the screenshots. Both true to the medium and a testimony to these unprecedented times".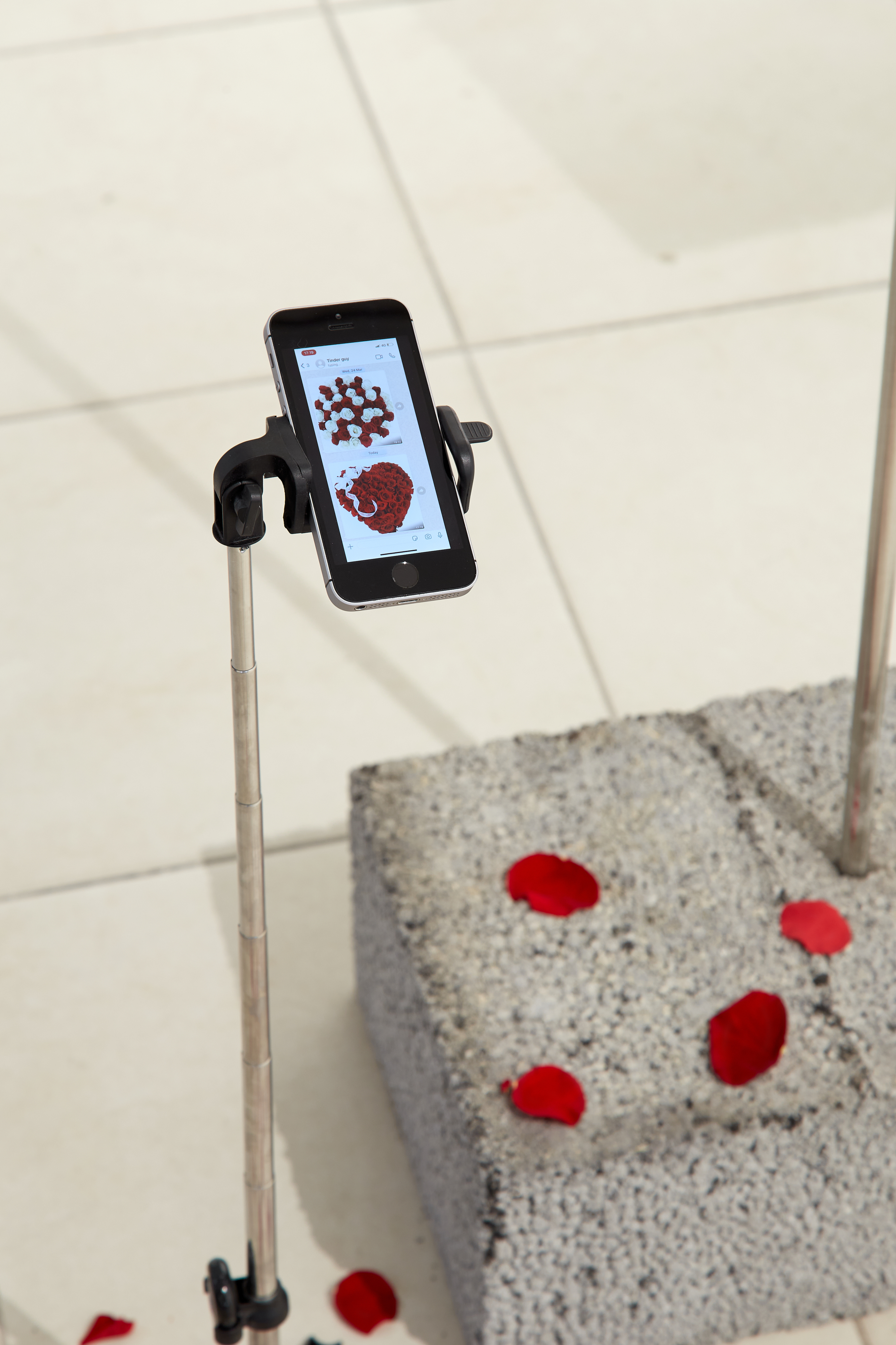 In April, a homophobic attack occurred in Latvia where a young man and his partner were set on fire as they slept in their apartment, by a neighbour who was seemingly opposed to their sexuality. One of the young men ended up succumbing to his injuries. Konstantin observes that "the attack itself and the police inaction affected many liberal-minded people in the country. It prompted a couple of respondents to amend some of their answers. They decided to be more open in their responses, to make a statement by showing who they are".
Of the current political climate, Krišjānis notes that the issue is not direct censorship, but a more insidious "passive-aggressive way" of filtering sexualities. "There are just a few 'right' ways and huge ignorance of humanity itself. As a queer artist I have these doubts constantly — I feel like a non-existing human being in this country but meanwhile I really see the point of working here."
A sentiment shared is that things are changing, and these artists are part of a new Baltic wave increasingly able and empowered to declare themselves both at home and internationally — whether that be in their artistic work, their politics, or their sexuality.
"I do think that there are some really good emerging artists in Riga", Krišjānis tells us towards the end of our exchange, "but I hope that one day people will appreciate their heritage and the place they come from. I feel that a lot of artists try to be Northern because it's cool; Western because it's rich; Eastern because it's trendy. The Baltics include all of this and we just have to appreciate that and have some self-esteem, which is this region's main issue."