one last tour of colette with co-founder sarah andelman
We spent a final afternoon saying goodbye to our favorite Parisian fashion store, as Sarah reveals what she'll do on the day the store closes for good.
|
08 December 2017, 9:36am
Photography Ellius Grace
This article was originally published by i-D UK.
The shop floor at Colette is buzzing; the queue for the cash register criss-crosses the lunch line, which snakes downstairs to the store's popular restaurant and water bar in the basement. A bright November afternoon in Paris, Colette is about to launch its last collaboration, with Saint Laurent, before closing the doors of their much-loved fashion concept store forever.
Sarah Andelman, and Colette, her mother, started the store in an empty retail space below the apartment they lived in in 1997, and have been there ever since. From the get-go, the store was famous for its window displays and working with everyone — from the biggest names to the youngest, most untested talent. Word spread. Quickly, Colette became the store in Paris. Famed for its curation, a heady mix of designer clothes and accessories, objects, art books, and magazines, and an array of brand collaborations ranging from Chanel to Aston Martin.
But, after two decades of business, Colette will close its doors on December 20th. Sarah is in the gallery space upstairs. She doesn't like to appear in staged photographs but, instead takes us on a tour of the shop, pointing out her current favorite objects and collaborations for me to photograph.
Sarah is kind but business-like, and her strong tie to Colette's history is obvious when we chat and peruse the objects for sale. As we walk around the shop, she routinely repositions and fixes items on the shelves. You can tell that Colette is an important part of her life; not only as an integral part of her relationship with her mother, but as a project she has personally immersed herself in for more than 20 years.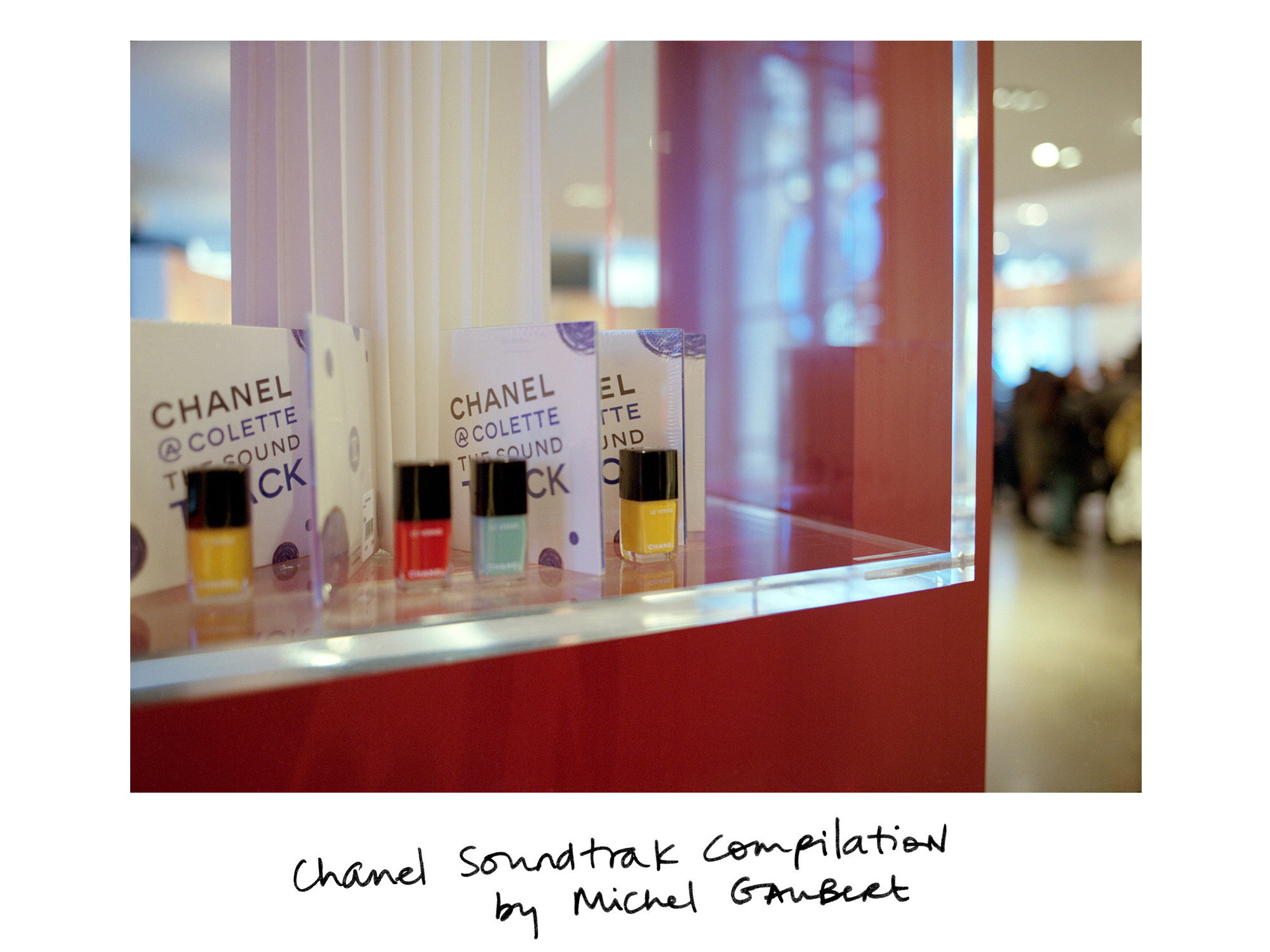 What was it like teaming up with your mother at 22 to start a concept store?
It was very natural. We've always been very close. I didn't realize originally, but she said later that she wanted to start this project for us to be able to work together.
What influence do you think your mother, Colette, had on you when you were younger?
Her influence on me is working. My mom always worked, nonstop, and I didn't see her much when I was a kid. I don't really have lots of souvenirs at all. She was leaving early, coming back late.
But this shop is like a souvenir of the time, maybe?
Of course, but before Colette, my mother used to tell me to work, work, work, and I remember as a little girl I would say, 'I want to see you more!' But she would say 'Don't you want to have a possibility to travel?' But with Colette (the store) she gave me a lot of freedom, a lot of responsibility to select the brands, to organize the shows in the gallery space, and for that I'm very grateful. It was like school, to learn every day and I really realize now how lucky I am. It made total sense.
What points of reference did you have while creating Colette?
First to mix different things. Our slogan was "Style, Design, Art, Food." From the beginning it wasn't only fashion or beauty, it was a mix of a gallery space, streetwear, design, furniture, and a restaurant. From the beginning there was a balance between classic established brands, young designers, and brands that we wanted to support. The main objective was creativity. To find interesting talents and give them space to express themselves.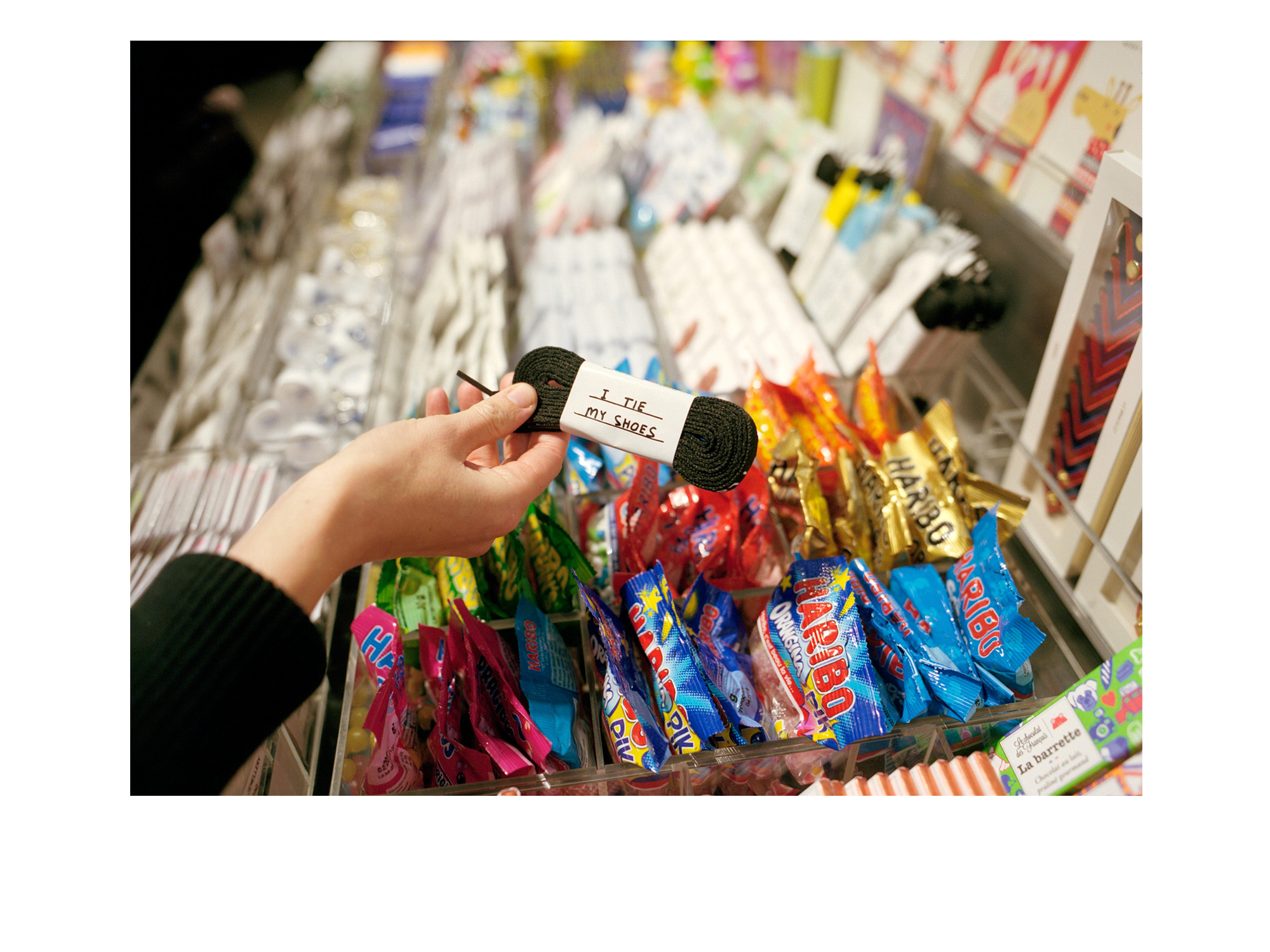 Do you have any standout memories from the day the store opened on March 20, 1997?
We have done so many things and I have a terrible memory. However, what I always remember, and we will do again for the last day, was a very symbolic thing: we had real butterflies in the windows and on the first floor in a clear box. It was to signify the beginning and it was a nice image. When we opened, our logo was orange, the idea was to change the color of our logo every six months. We were happy to bring on brands like Kiehl's for beauty, we were in touch with sneaker brands, we went to see Emilio Pucci, back in the day it was only available in a little shop in New York for uptown ladies. It was things that we loved that we wanted to bring to Paris. It was all about London, New York. There was curiosity from clients, but also a lot of doubt that we wouldn't last for more than six months.
Do you remember what the first thing you sold was?
When we celebrated our 20th anniversary, I asked our accounts guy to print me the first receipts. I was surprised: we sold magazines like Self Service and Purple. We had Kiehl's of course and there was so much Red Comme des Garçons.
What is your process for choosing what goes in the shop?
It's always very instinctive. We see a lot of things. We have to look for them, they don't just come by themselves. I often compare it to a puzzle, as each brand will add something to the others. Sometimes I see something that is very similar to something that we already have. It has to bring something new to our selection, but I try to find things with authenticity, with quality. Sometimes I see a cool brand but the quality is awful so we cannot, out of respect to our clients, stock them. After a while, we were able to open ourselves to anything, to give ourselves no limits. It was amazing back in the day to go to brands like Prada and Gucci, to mix them with Bless and Jeremy Scott. For the last six months we have been doing this pop-up with a new brand every month.
How do you stay true to the ethos of the store?
Naturally I never sit and say, 'Ah that's great, it's successful and it works by itself.' I'm always working for the next thing and never looking back.
What do you think has made Colette so popular and influential? How have you differed from the other concept stores that have come before and after?
I'm not the one to say, as we have just been in our bubble, looking around and bringing things in. With time, I think, we worked a lot at keeping it relevant. Both the selection and the way it is in the shop. Sometimes people don't notice, but we will do a subtle changes of shelves or lights. To keep evolving when everything else around us evolves. Never sleep and always look to the next thing. We never try to be influential; we just follow what we love.
How much does Paris inform Colette?
We really opened Colette for Paris, for this location. We moved here, we saw this space empty for a long time. One day we visited it and immediately we had the vision of a retail project. We've had many offers to open in London, in New York, and we said 'No, there are already great shops there!' And there are great shops in Paris, but in 1997 the department stores were really boring, and we wanted to bring something fresh. Of course I'm very happy with how Paris, and Paris Fashion Week, has evolved in the last few years.
One thing that stands out every time I go to Colette is the smell. How long has this been an element of the shop?
It started naturally, we were doing candles — I think the first one was called Sea — and it had nice pictures covering the box. We began to think that the shop should have a smell, so we took that candle, which was fig tree I think, and it became our signature. I really cannot smell it any more. I'm surprised when someone asks me about the smell, I'm so used to it! One day we changed it to Air de Colette, which became our own scent. I think it's nice for every shop, for any brand, to have a smell. It's like music in the shop; it doesn't take much to give life to a place.
Colette has kept up a steady stream of collaborations with brands and artists, is there one that stands out to you particularly?
We have done so many, it's difficult to remember, but it's amazing to work with brands like Chanel. We did a pop-up six or seven years ago, working with Hermes who did a collection of scarves, with Ladurée because we love macaroons. Also Nike and Adidas, of course. Sometimes we are proposed a perfect collaboration idea, and we just have to say, 'Yes let's do it!' Too many collaborations!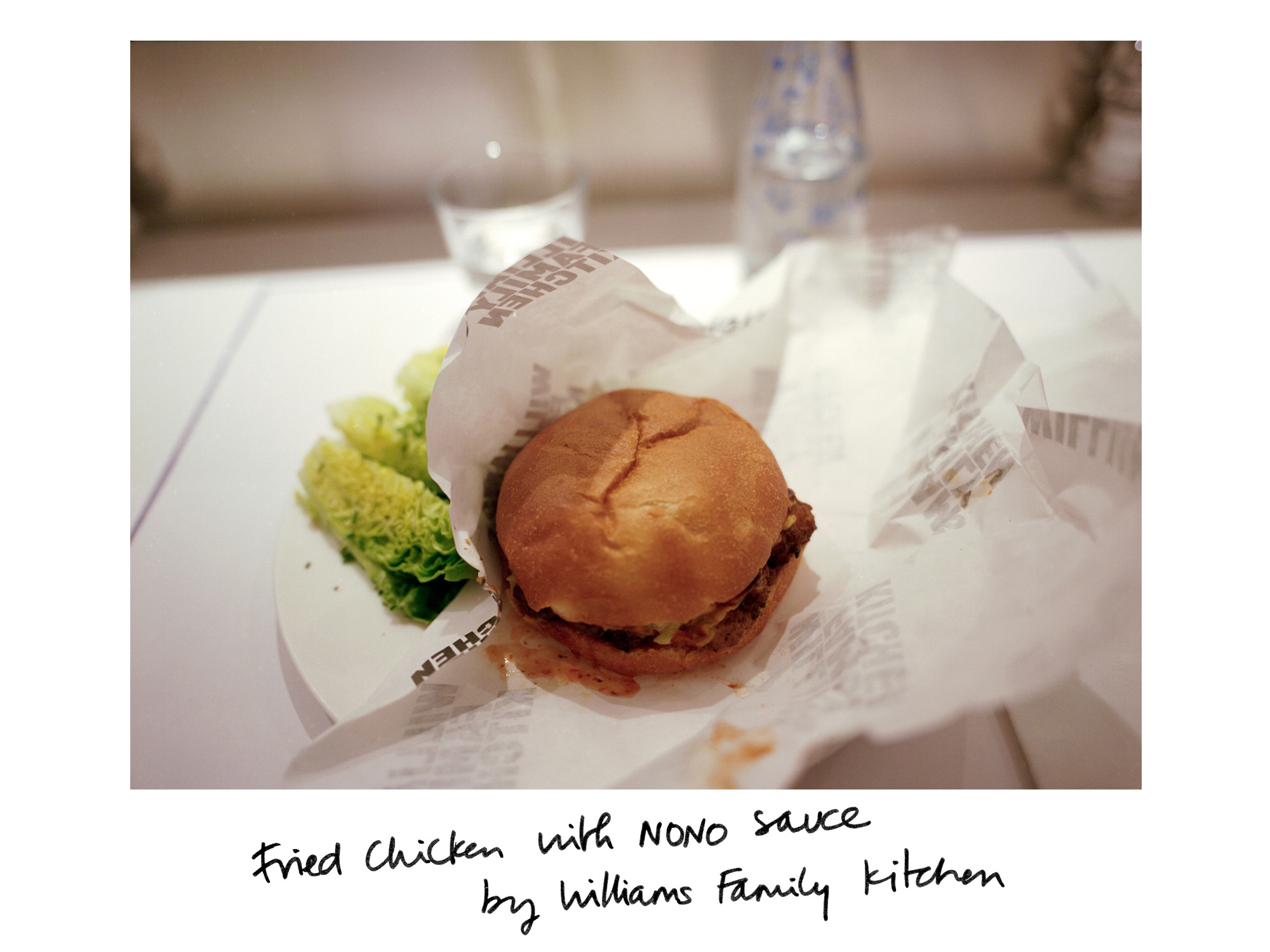 Is there one that got away? One that you would have loved to have collaborated with?
Louis Vuitton, but we've managed to do it through Kim Jones with a men's collection. Otherwise, it was a dream come true to work with Coca Cola, creating our bottle, with car companies like Smart and Aston Martin. I can't think of something I would have loved to do, that we didn't get to. We've indirectly done things with airline companies, we did bikes, we did vespas, that was a great one.
In June, Balenciaga brought a car into the shop. How did you get it onto the second floor?
Through the window. We were so stressed, the machine to lift it through the window didn't work. We were supposed to put the car in at seven in the morning, and we only got it in at 10pm. All these installations have been really incredible.
Your collection of magazines and art books is a stand out part of the shop, how does the curation of these differ from the clothing?
It's a little different to the clothes, because the classic magazines are already available everywhere. When we started in 1997, it was all about i-D and The Face. They were our first motivation to have a collection of magazines. Titles like Self Service were more independent, they had a small distribution. You know the kiosks in Paris, they only used to carry the French publications, just French newspapers and magazines I'm pretty sure. So we started to contact the magazines from New York, from London. We started working with them directly, but then over time there was more and more help from distributors who realized there was a market here. But really, i-D was the first magazine I saw in London, and we wanted to have it in Colette for sure. There are so many great independent publications now, and I'm amazed because there is more and more digital, but there are new magazines coming out every day. I like that they can be related to food, art and illustration. Right now we just launched a new issue of Papier Magazine, they did an issue dedicated to Colette with a number of illustrators. Magazines are art objects now, very inspiring and very important.
What is next for you? Are you planning your next venture already or taking a break first?
I am staying focused on Colette till the end, and after I think I will do something in the continuity of Colette, working with brands and artists. Working behind the scenes directly with the brands.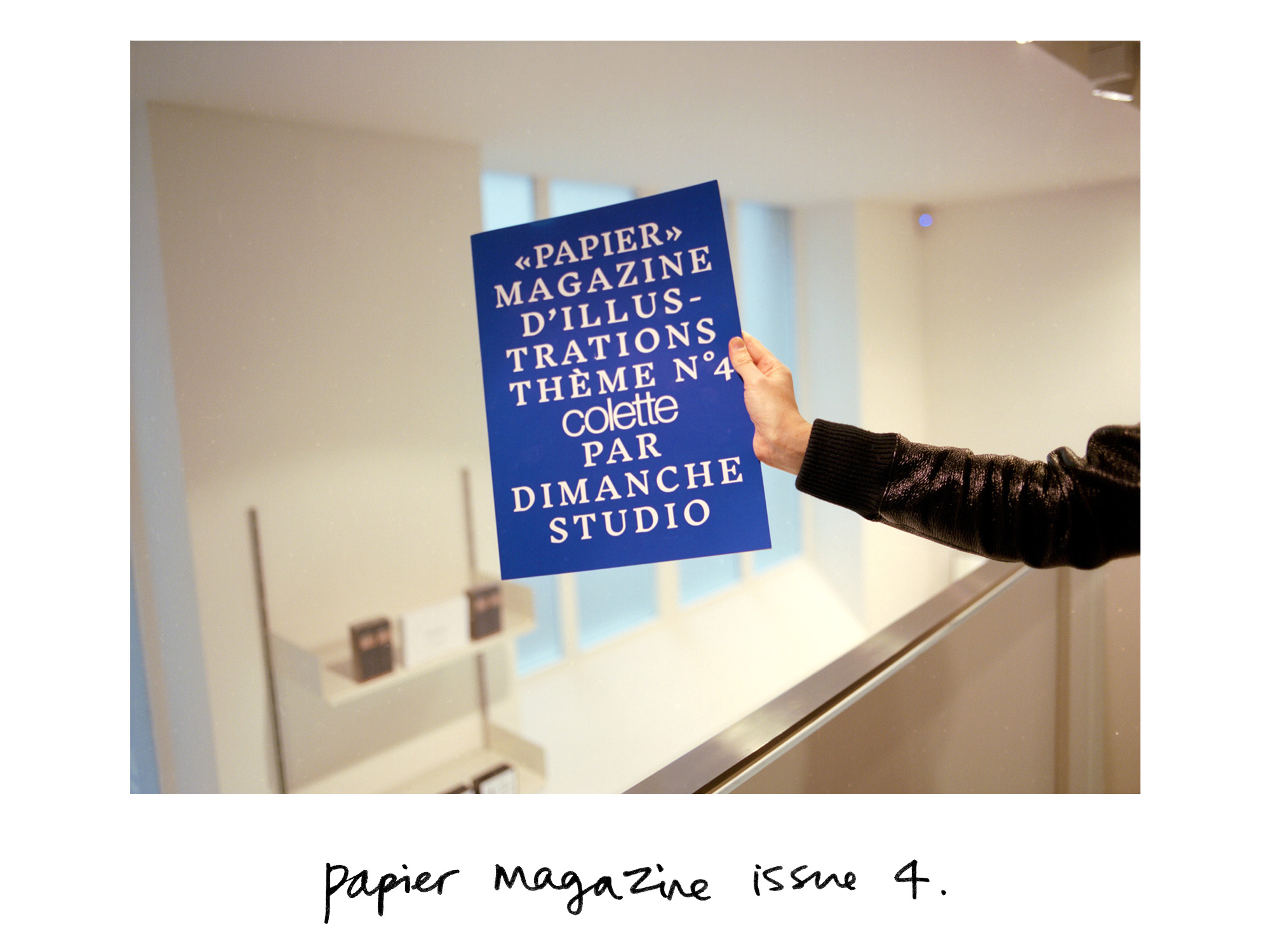 Sarah heads back to her apartment after our meeting, to answer emails and organize the next installation in the shop: a Saint Laurent collection including everything from clothes, accessories and shoes to stiletto rollerblades, skateboards, and lighters. Colette's final window display of live butterflies is just one last thing Sarah will have to attend to before she departs the store.
Colette and Sarah have done things exactly how they wanted to. They followed their instincts and left little room for compromise. They have excelled in an industry that has grown to favor online retail over brick and mortar stores. Although it will be sad to see such an iconic place shut its doors later this month, we should take solace in the fact that the shop will be going out on its own terms. Colette Roussaux will retire without the worry of the future of the store and Sarah will move onto other great things. Colette will always stand out as a legendary retail space and its influence will carry on long after its doors close. As Sarah puts it, "Never sleep and always look to the next thing."