'insecure' season 3 features your favorite black designers
Costume designer Shiona Turini breaks down Issa Rae's best looks, and explains how evolving wardrobes mirror life changes.
|
24 September 2018, 9:46am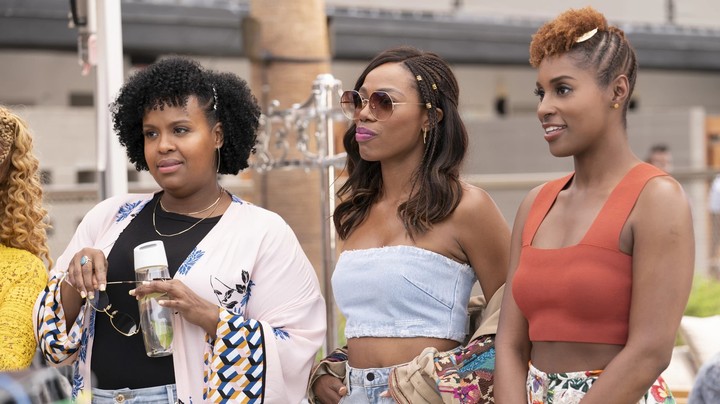 Issa Rae is a force to be reckoned with in the TV and film industry. Since the 2011 debut of her video web series, The Misadventures of Awkward Black Girl, she has given the mainstream media a glimpse of what it's like to co-exist with her white counterparts in corporate America, and, of course, at her inability to avoid uncomfortable situations at all costs. And since Insecurehit the screens, we've been glued to our screens as we watch Issa navigate her intricate professional and romantic life in Los Angeles.
It's no surprise that Insecure has garnered such a popularity and fan base — especially because it highlights the reality of life for many 30-something black girls. It's safe to say we've all had an Issa moment. Not to mention in every friend group there is someone like Issa, Molly, Kelli, and even bougie-ass Tiffany. One aspect of the show that's covered in every episode recap is the amazing outfits of each of the cast members. From Issa's statement tees to Molly's monochromatic suit looks, we catch ourselves asking, "Who designed this?"
For Season 3, Issa tapped Bermuda native Shiona Turini for majority of the costume design and direction. Though former seasons had laid out a blueprint for Shiona, she decided to shake things up a bit this time, and became more intentional about the designers and looks she selected.
How did the opportunity arise for you to work on this season and have you worked with Issa before?
I had the pleasure of working with Issa last summer, styling her for a portrait shoot for The New Yorker. Choosing the looks for the shoot together felt easy and natural for the both of us. When I was approached with the opportunity to work on part of Insecure Season 3, it felt like the cards were falling into place. I had also previously worked with the director and now executive producer of the show, Melina Matsoukas, who also worked on Beyoncé's "Formation," Nike's Equality campaign, and a few other projects — so I felt like it was a chance to work with family.
Can you describe your duties for this season?
I was responsible for the overall costume design and image, from principals to background, for Episodes 4 to 8, as well as any picking up scenes from Episodes 3 and 1. Of course the principal characters are the focus, but background — especially principal background — sets the context for every scene, so it's very much an intrinsic part of storytelling as well.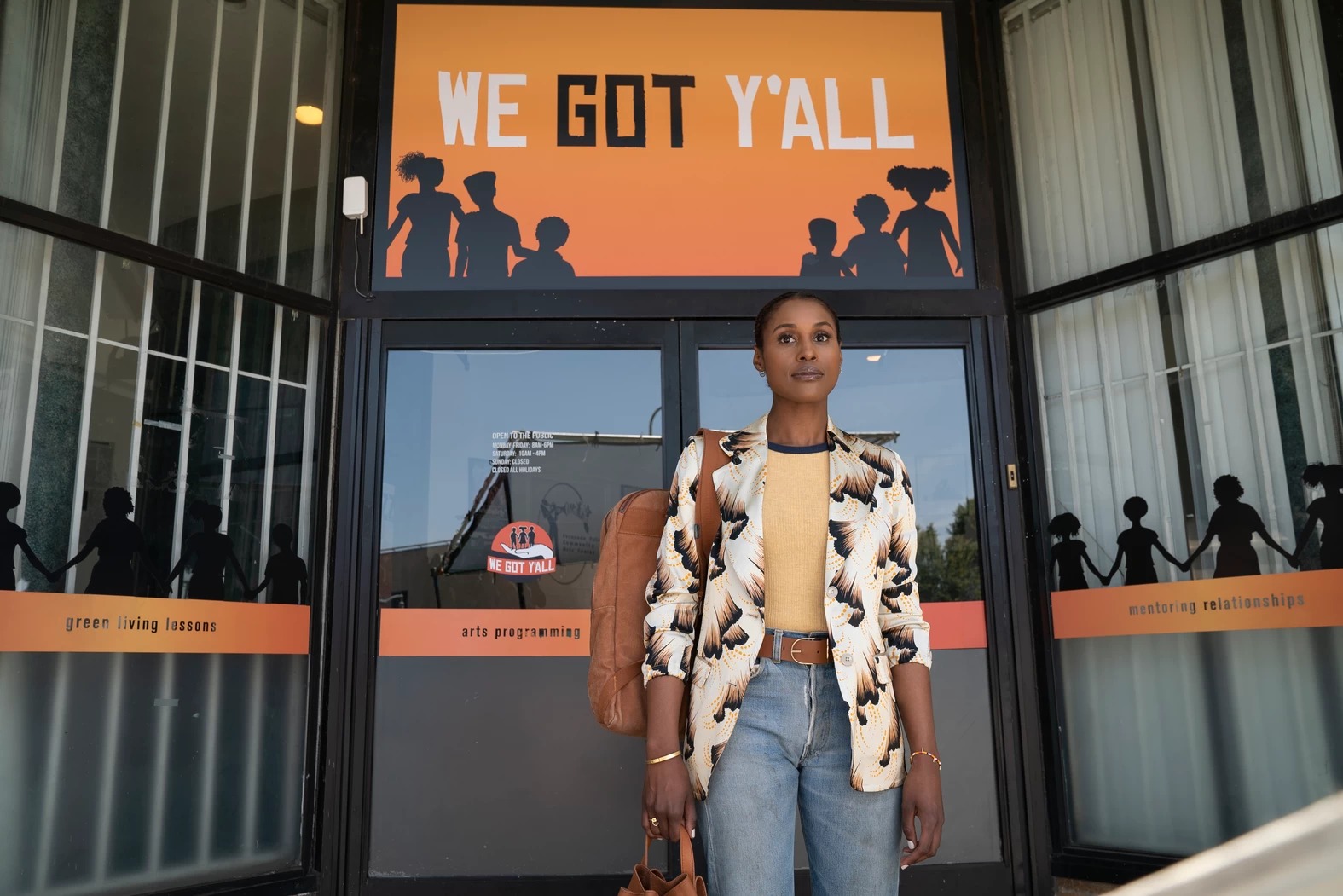 What was your overall costume vision for this season?
Issa's mastery of character development was a great help in setting the overall mood for each person. I came onto the show as a fan first, and my costume vision was deeply affected and directed by the script. While there is a solid foundation and direction for each player's aesthetic, one of this season's themes is growth, and I wanted to demonstrate evolution and elevation stylistically as well. The characters almost tactilely feel real, but I wanted to weave in a bit more fantasy with the wardrobe. For Issa I kept elements like great prints, but made them feel a bit more mature. I still focused on vintage for her — Levis and concert t-shirts that tell a story and feel lived in — but grounded them with elevated pieces.
As Issa grows up, I want her sartorial choices to as well. Viewers may see a few more designer pieces here and there, but it was less about the brands and more about the styles, cuts, fits, and grown-up prints or patterns. That's where we get to blur the line between fantasy television and real life in a good way!
Molly is also evolving — she's visibly fighting for recognition as a black woman in a male-dominated space. She wants to stand out and I wanted her wardrobe to reflect that. Bright suits, head-to-toe saturated color, powerful cuts. I wanted to push Molly's style forward this season — she technically is a representation of professional black women who have immense buying power in the luxury market.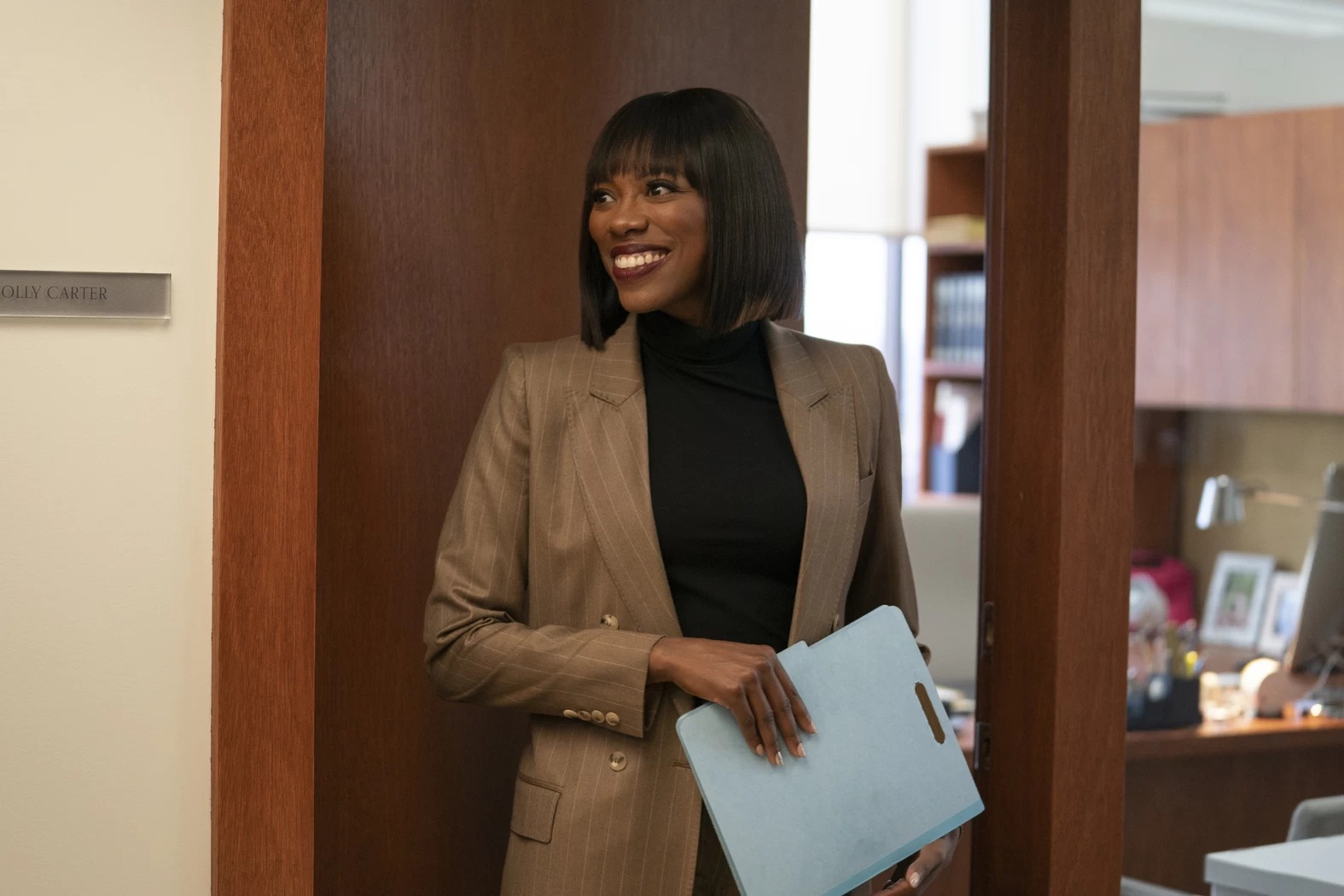 How did you select which items of clothing went in the show? How hands-on was Issa in the process?
As television was a new sphere for me, I was glad to have the support of the key brands I work often. Labels like Tibi, Monse, and Valentino took pivotal moments to the next level. Being able to weave key pieces in with items that we sourced locally in LA, found online, or shopped through vintage dealers was such an adventure. In terms of an approval process — Issa, the directors, showrunner, and writers are heavily involved and incredibly hands on. It truly is a collaborative process, which I welcomed. This team has created complex characters and it's my job to make sure that the clothing supports their vision and direction.
Are there specific designers or labels that you or Issa wanted to make sure were included? If so, why? Bringing great designer pieces into the show was a no-brainer for me, but we were also incredibly enthusiastic about including smaller labels with niche product. One that particularly comes to mind is Black Mkt Vintage. The curators of Black Market are experts in black history and have an impressive collection of black historical artifacts. That's where we found Issa's "A mind is a terrible thing to waste" t-shirt from episode 305.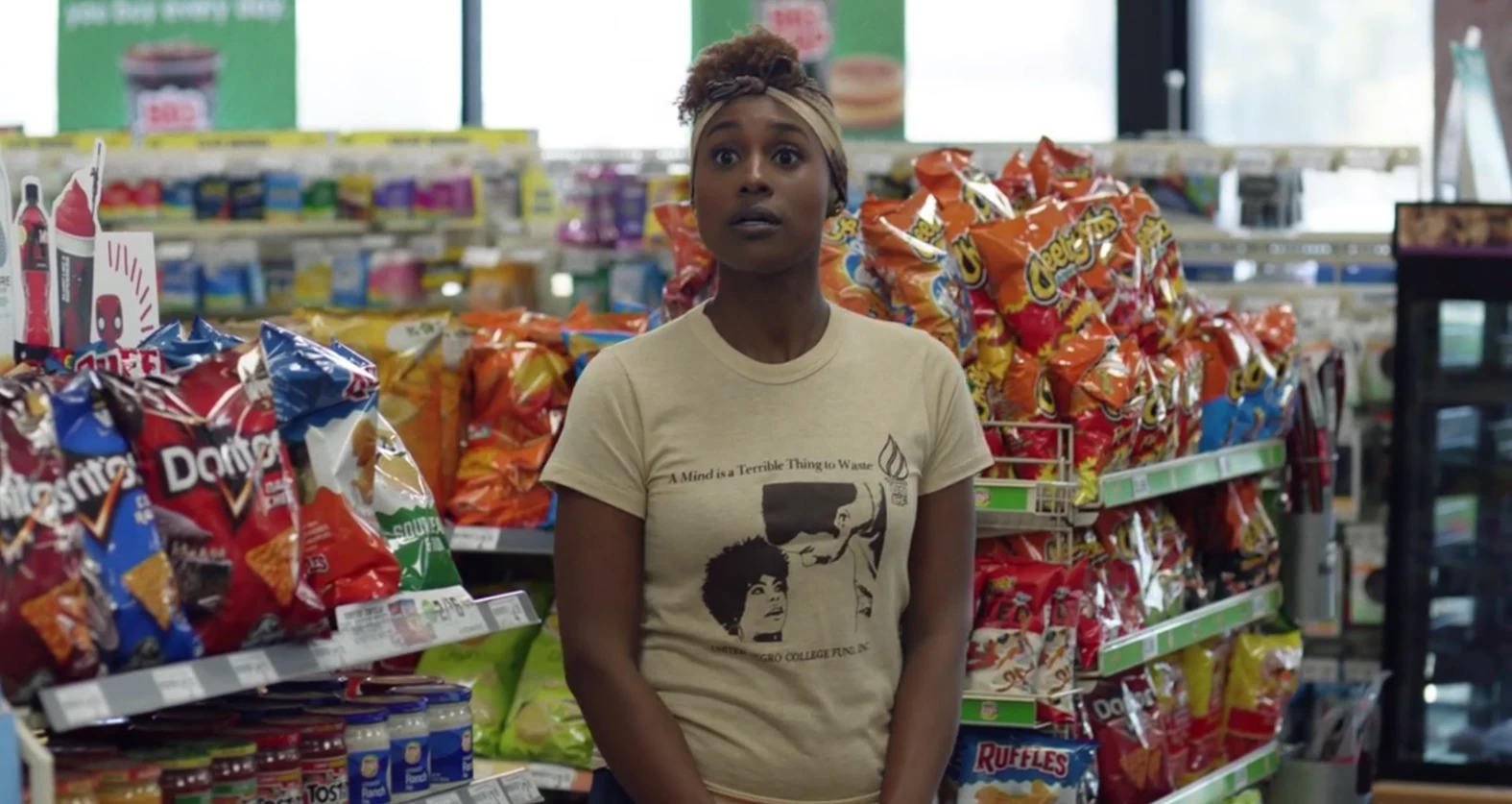 Additionally, supporting female designers of color was a focal point. I continued to use Melody Ehsani's statement jewelry, incorporated Brother Vellies footwear, and tapped into easy prints from Studio 189 and Maki Oh. Supporting emerging t-shirt brands created by women and men of color was of course a priority — standout casualwear came from Melanin Apparel and Leimert Park. Off-White by Virgil Abloh was perfect for Molly's palette both in and out of the office by way of a camo jacket and suiting which you'll see soon. Other notable brands were Premme, Pyer Moss by Kerby Jean-Raymond, Omondi, Cushnie et Ochs, and Sewit Sium jewelry.
How did you envision the style for each character and how did this vision contribute to the characters' development throughout the season?
Every character is going through a transitional period of some sort this season. My task was to create a vision for each that was true to their established personalities, but that could carry through another point in the character's life. Their individual plights were the starting point, and I built from there.
What was your favorite look this season and why?
Of all the looks, my favorite is Issa's quitting outfit. It's the culmination of my aspirations for her. She maintains her eclectic vibe with a great printed Dries van Noten blazer and a brightly colored tee, and softens the professional with easy, vintage denim. It was such an impactful moment — Issa is entering a new chapter and the look showed that as we're evolving, our sartorial choices are too.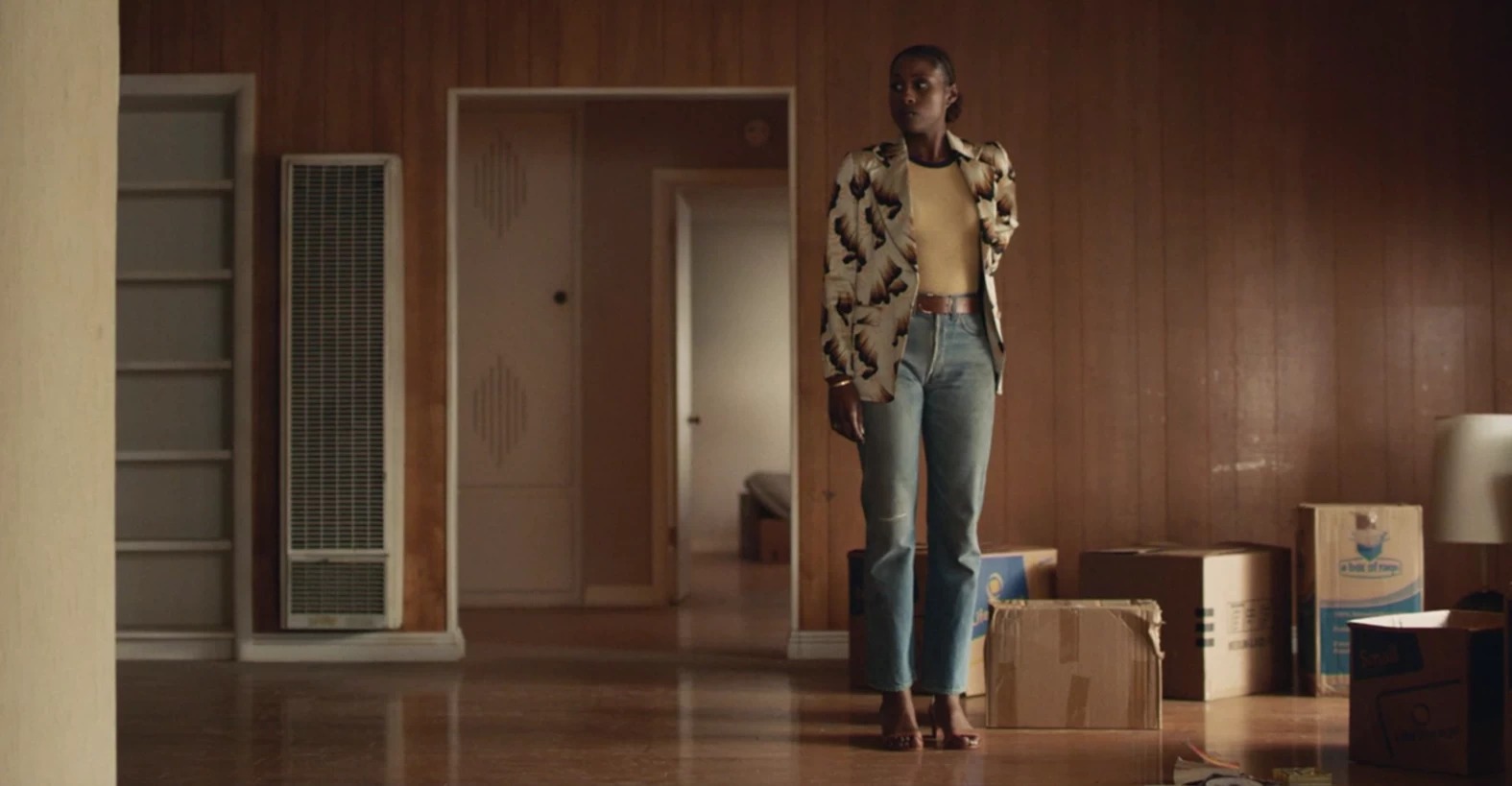 This article originally appeared on i-D US.
Tagged: