chloé celebrates the purity of summer
"It's about going back to things that are simple, like a pebble you find on the beach."
|
28 September 2018, 12:04pm
The 'Chloé girl' has always been the pin-up for Retro-Franco chic, drawing on the perennial aesthetic of Parisian women such as Jane Birkin and Françoise Hardy. However, as countless mid-market and high street brands have capitalized on that particular brand of sartorial Francophilia, the Chloé girl need to be one step ahead. So what exactly does the 'Chloé girl' look like in 2018? Or the spring of 2019, for that matter?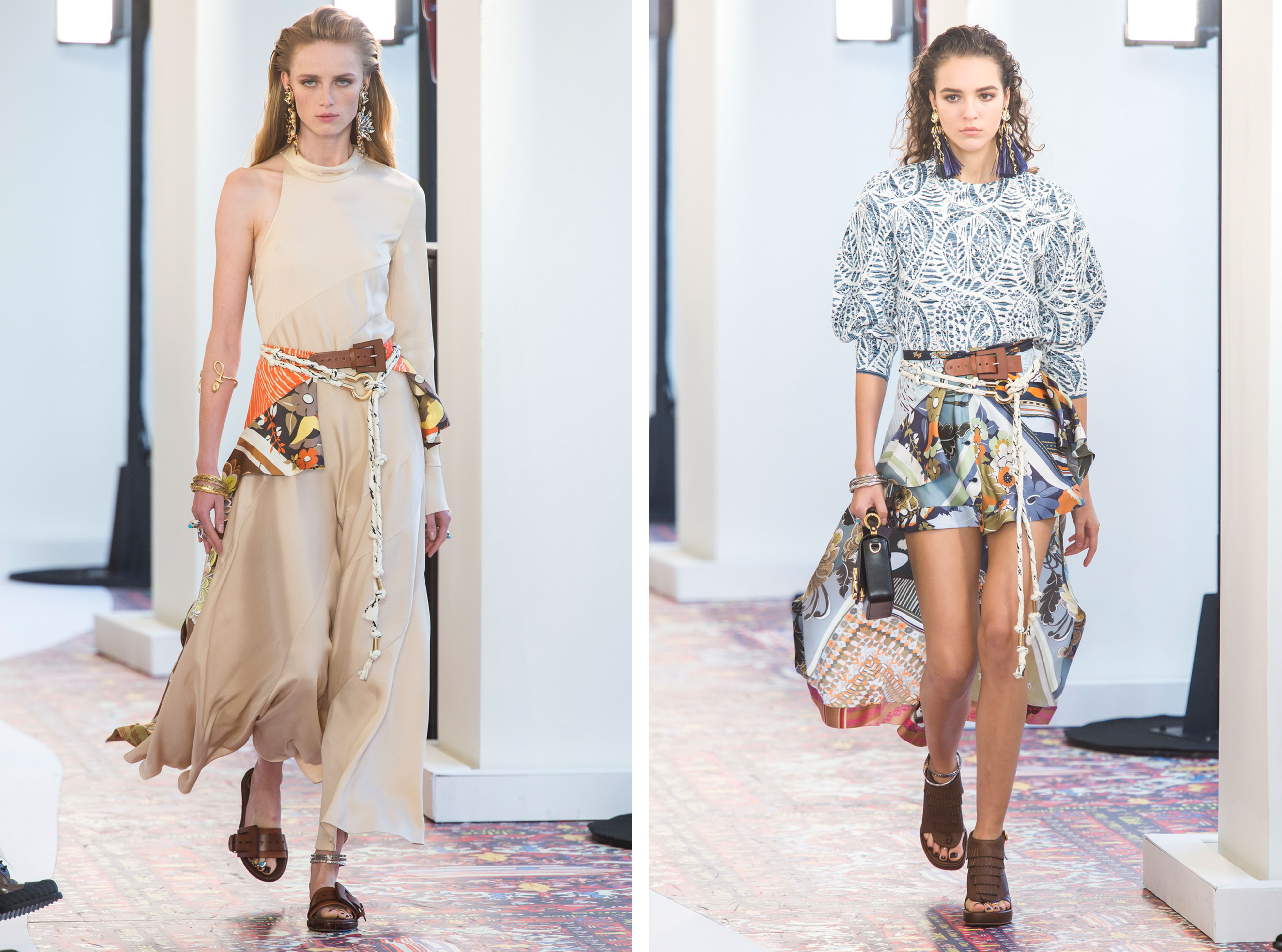 Going by the Natacha Ramsay-Levi's third show for the fashion house, she's glowing with smug post-holiday radiance and has a wardrobe to match. She's sauntering through the arrivals hall with a suitcase full of printed silks, carpet prints and pebble jewelry. Where has been? Ibiza, probably — perhaps via Morocco or even Greece. She's still Parisian, of course, but she's been spending her time anywhere but the French capital.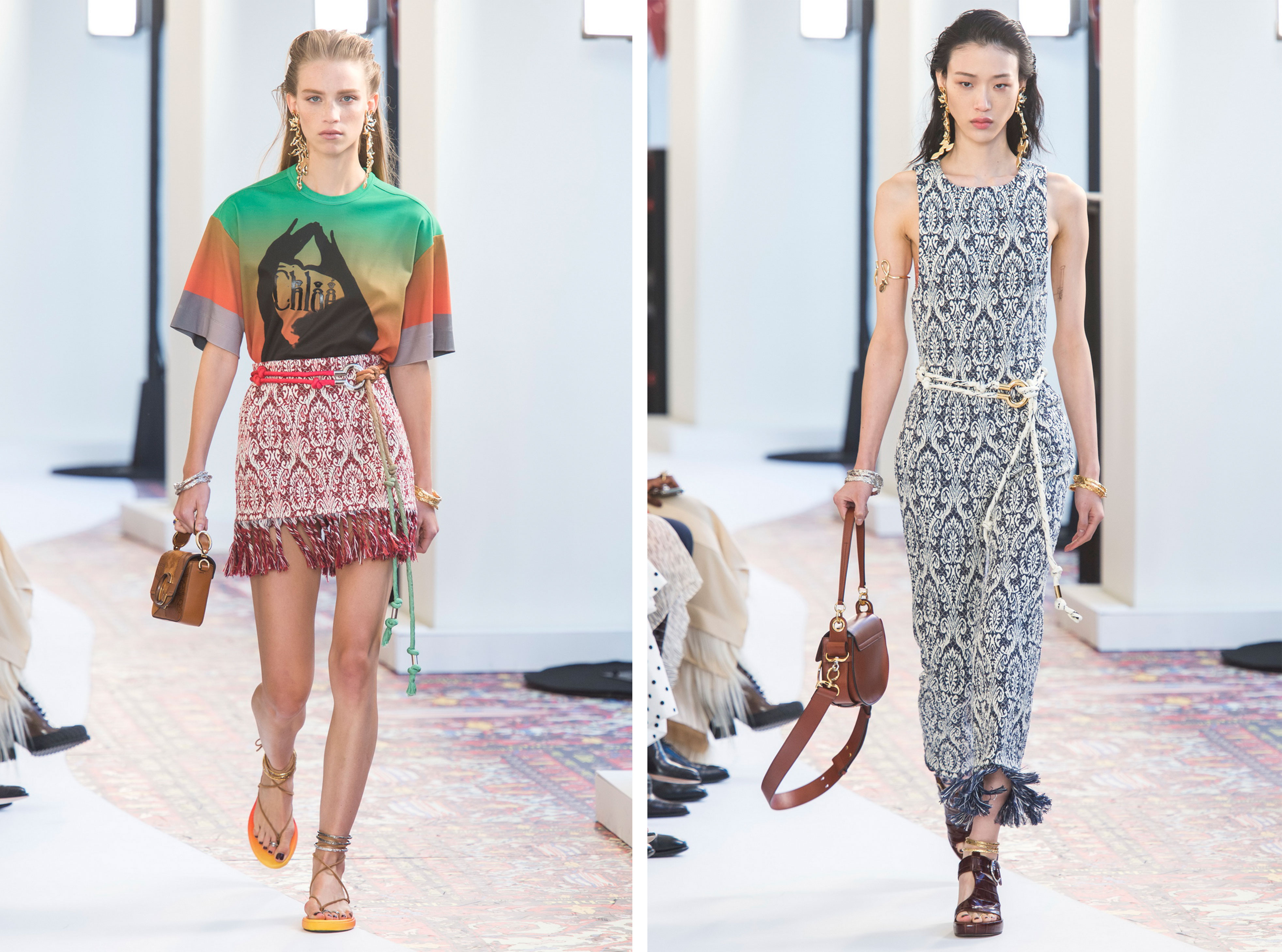 Indeed, Ramsay-Levi called her collection Hippie Modernism and drew on the Age of Aquarius as much as she did those sun-drenched days on holiday, truffling for exotic rugs and amuletic jewels. "It's two different concepts but the moment they come together it becomes interesting," she said backstage. "It's always this idea of layering and this collection was about being literal, but still being on the edge of fashion. I loved the idea of women who care about nature and takes souvenirs from summertime."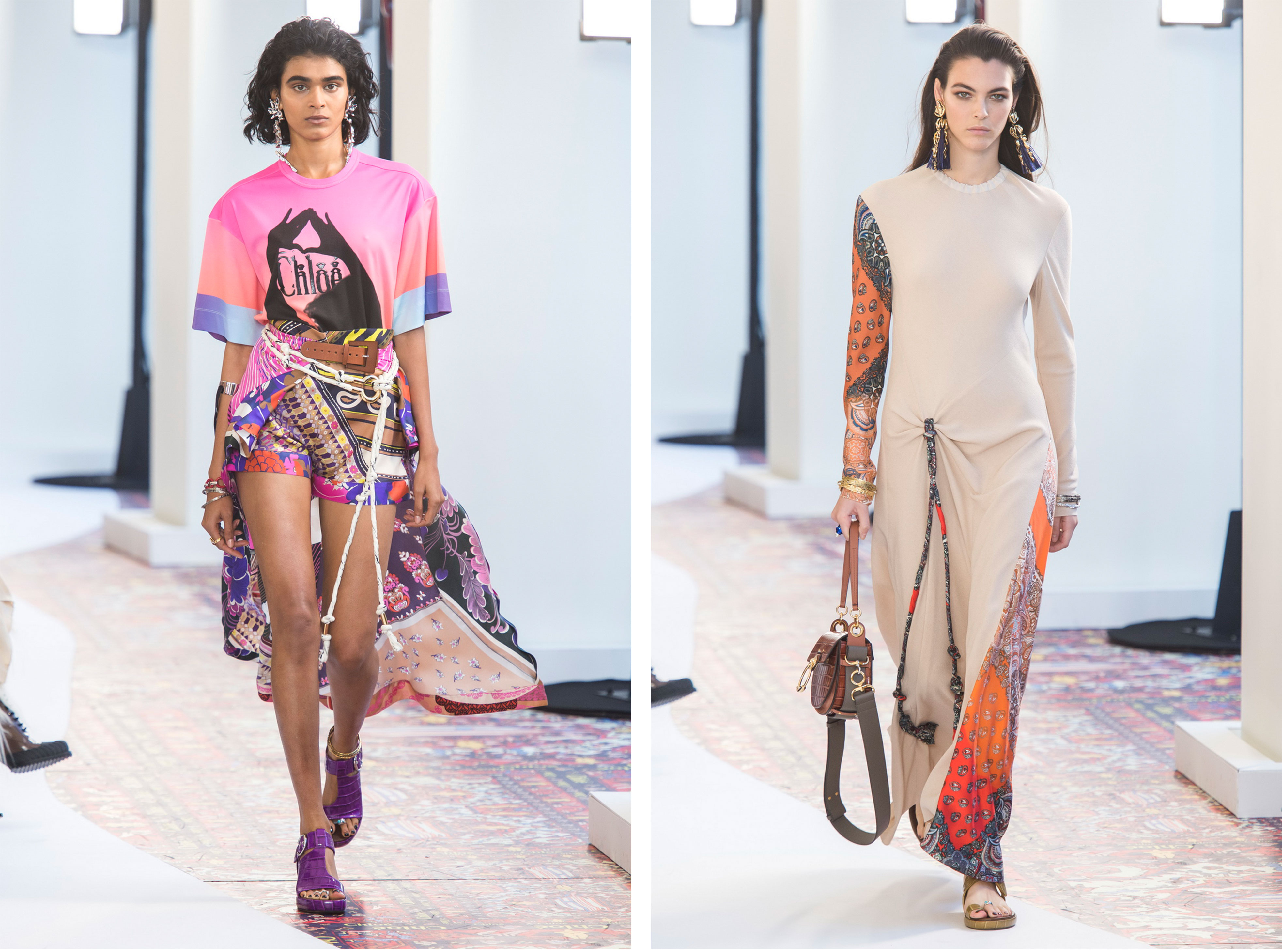 Ramsay-Levi's show was set to Ibizan anthem " 1998" by Binary Finary. So ran the gamut of fluid scarf-like silks, heavier cotton jacquards with tapestry-tassel hems, seaside rock embellishments, Delphic pleats and the elegantly ruffled blouses and separates that Chloé has always perfected. There were surprising neon-ombré San Antonio sunset moment — even T-shirts with stoner graphics! — that were a punchy antidote to the otherwise creamy parade of maison-favorite neutrals.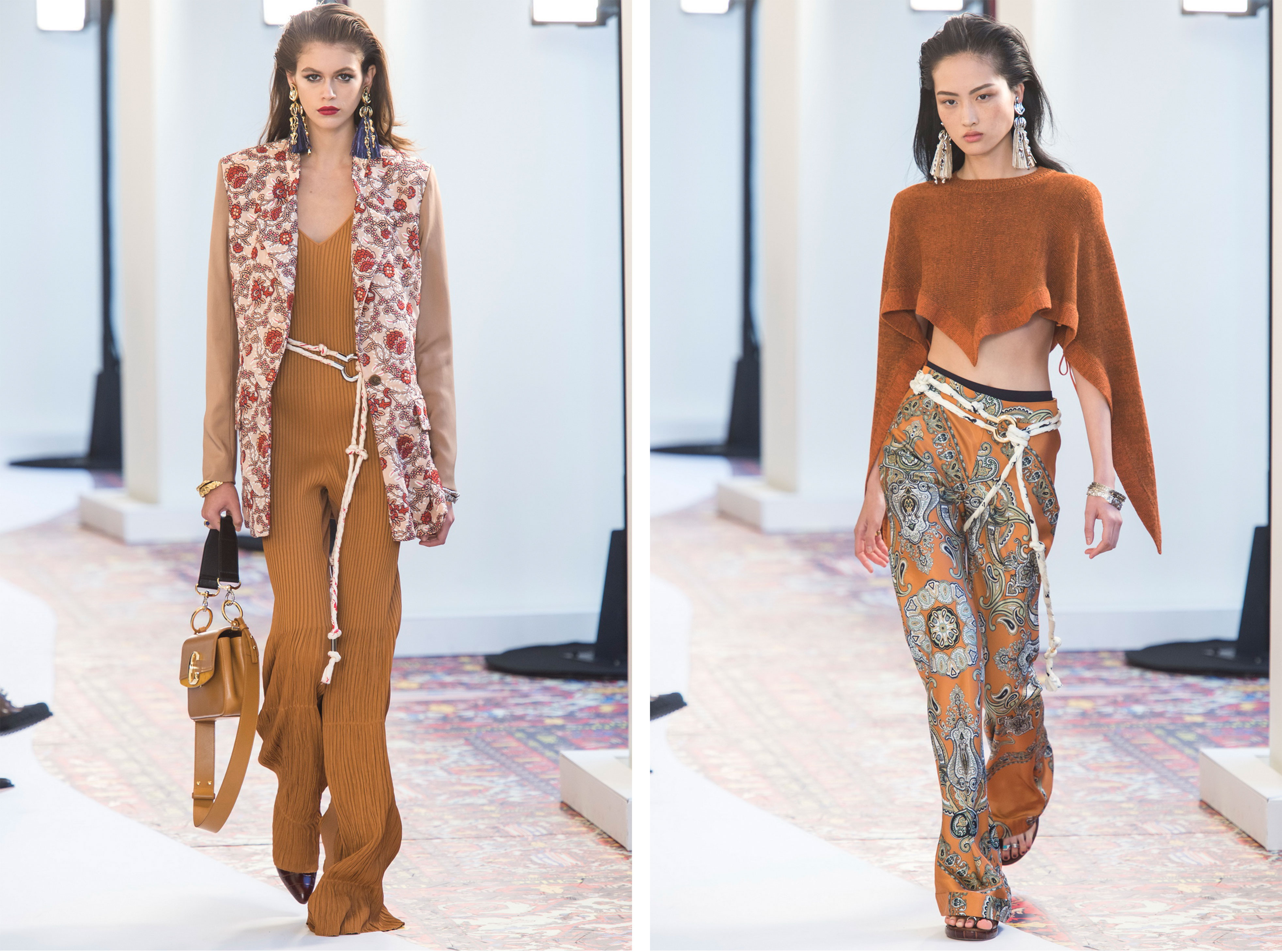 But back to Natacha Ramsay-Levi. She placed an overarching emphasis on layering and whimsy, but perhaps what it could have benefitted from was more of that harder edge that that she offered with her debut last year. More tailleur would have gone a long way to ground the fluidity of all that flou.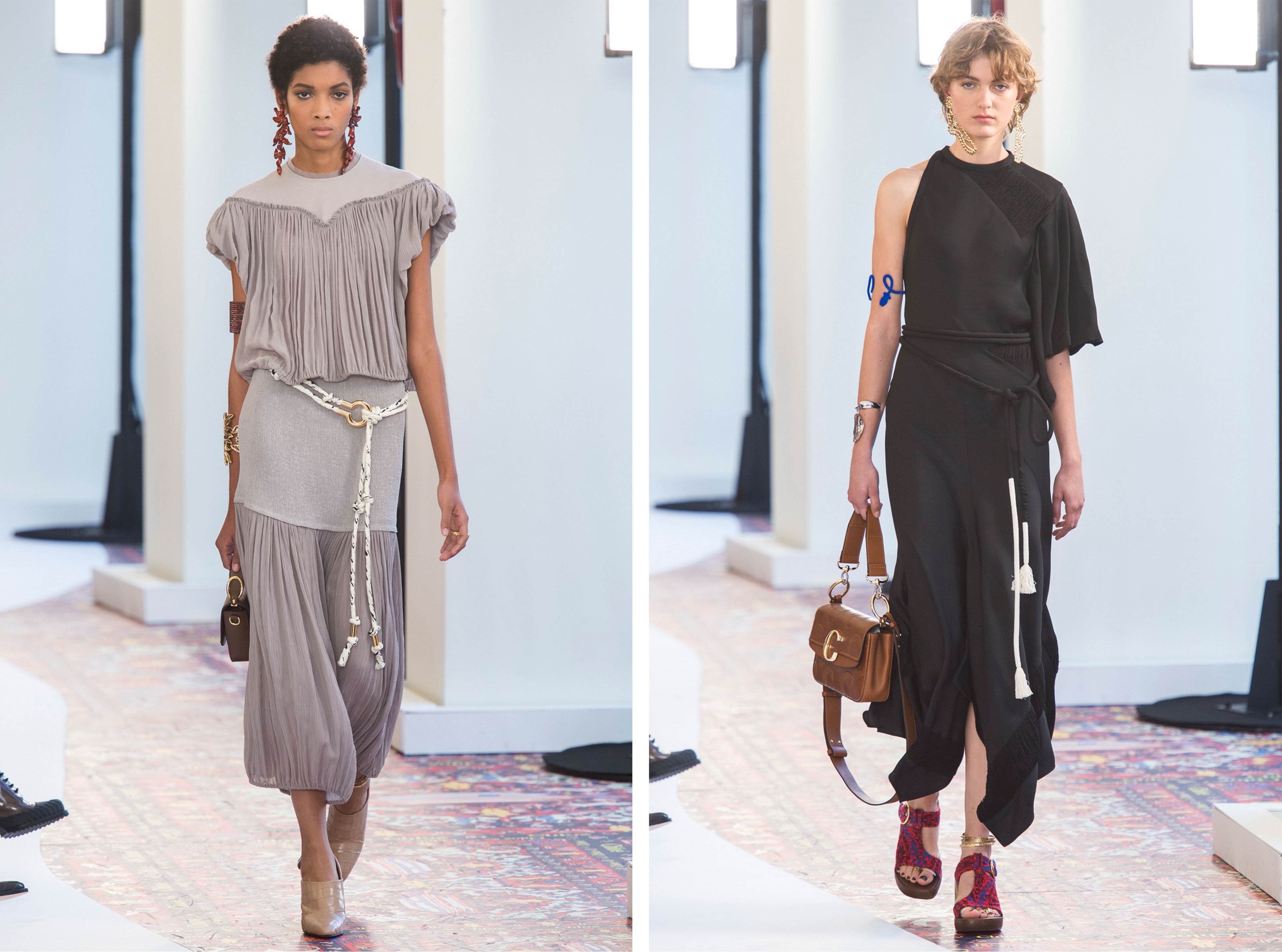 What really leapt off the catwalk were the accessories: twisted silk 'lariat' rope belts, chunky mock-crock sandals, the new 'C' bag — the singular letter in big, bold hardware — and a serious lashing of jewelry in all its forms: arm clasps, rings, coral jewelry, Yves Klein blue bodice pendants and cascading art nouveau earrings. Ramsay-Levi even said she was thinking of ceramicists and how they would dress. "It's about going back to things that are simple," she said, "like a pebble you find on the beach."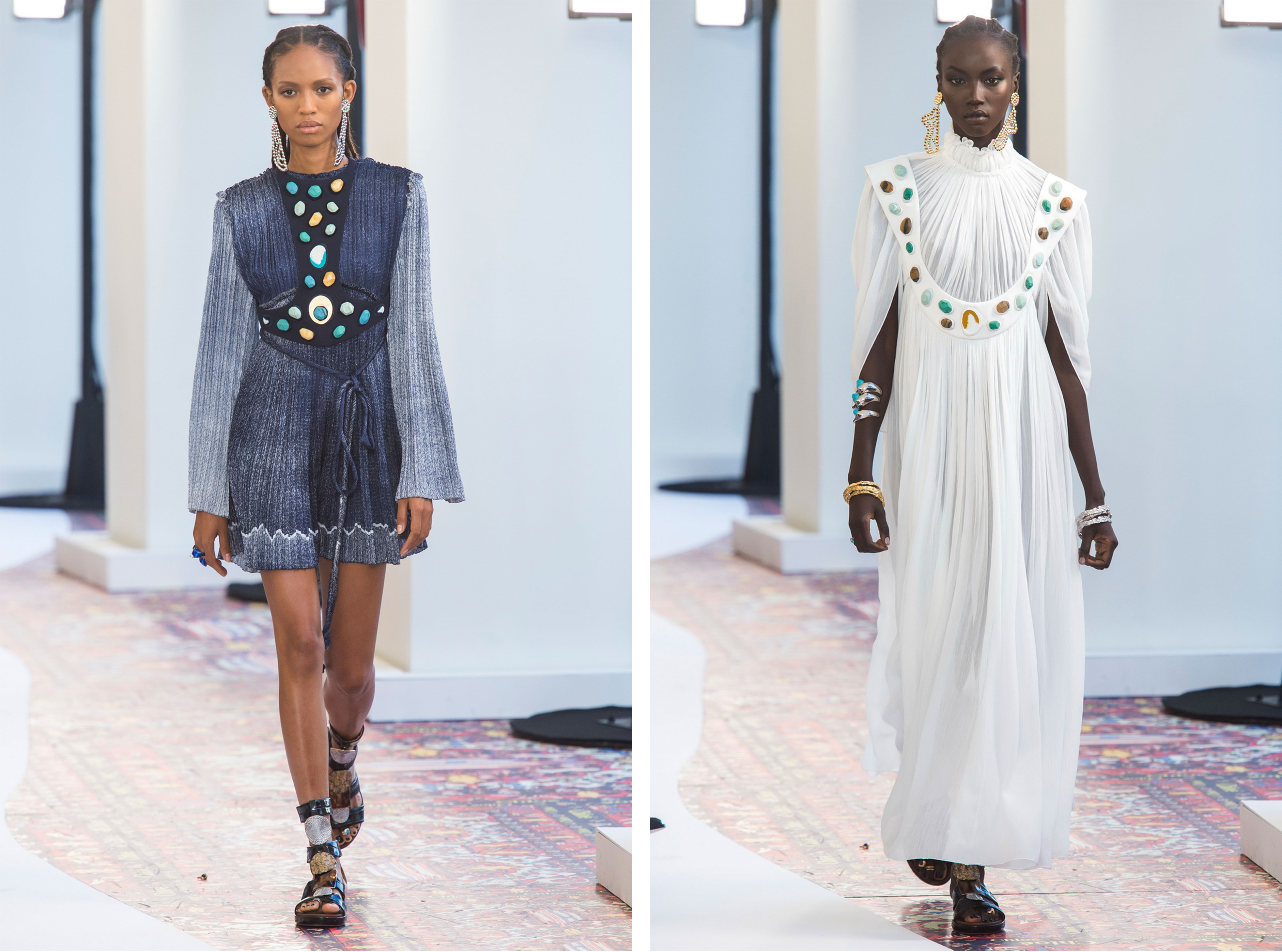 This article originally appeared on i-D UK.