the first piece of riccardo tisci-designed burberry is here
Don't sleep, the Burberry monogram logo Tisc-shirt is on sale for 24 hours only.
|
13 September 2018, 10:21am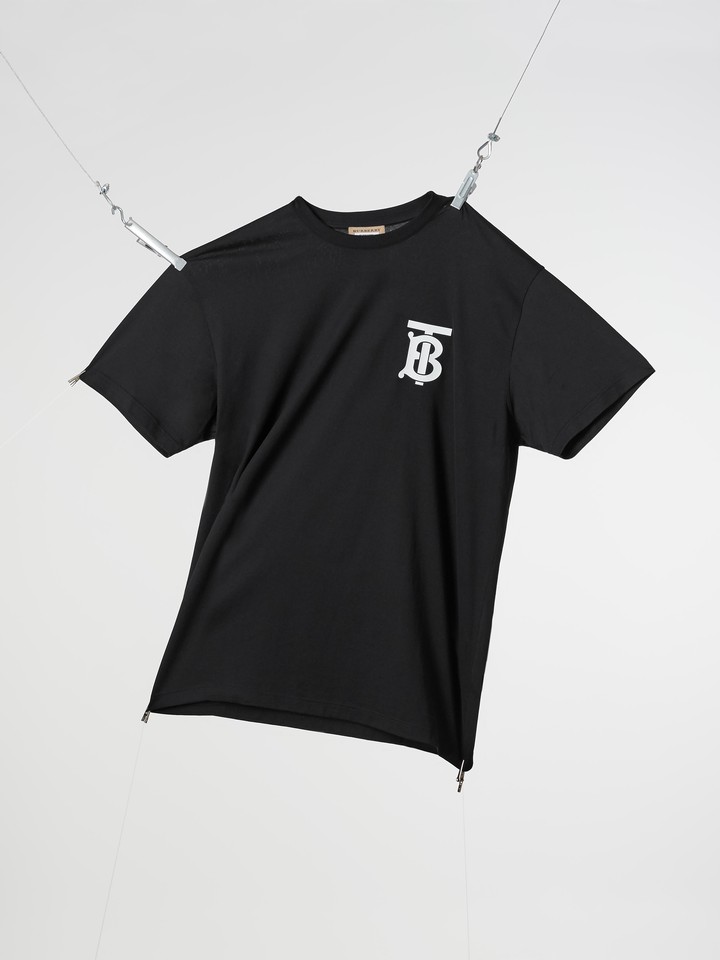 In a surprise Instagram post, Riccardo Tisci has shared the first piece from his series of 24-hour product releases and it's dropping today, September 13. The black Thomas Burberry Monogram logo T-shirt that Riccardo teases in the selfie is available for 24 hours exclusively via Instagram and WeChat from 12pm BST, or 7am EST.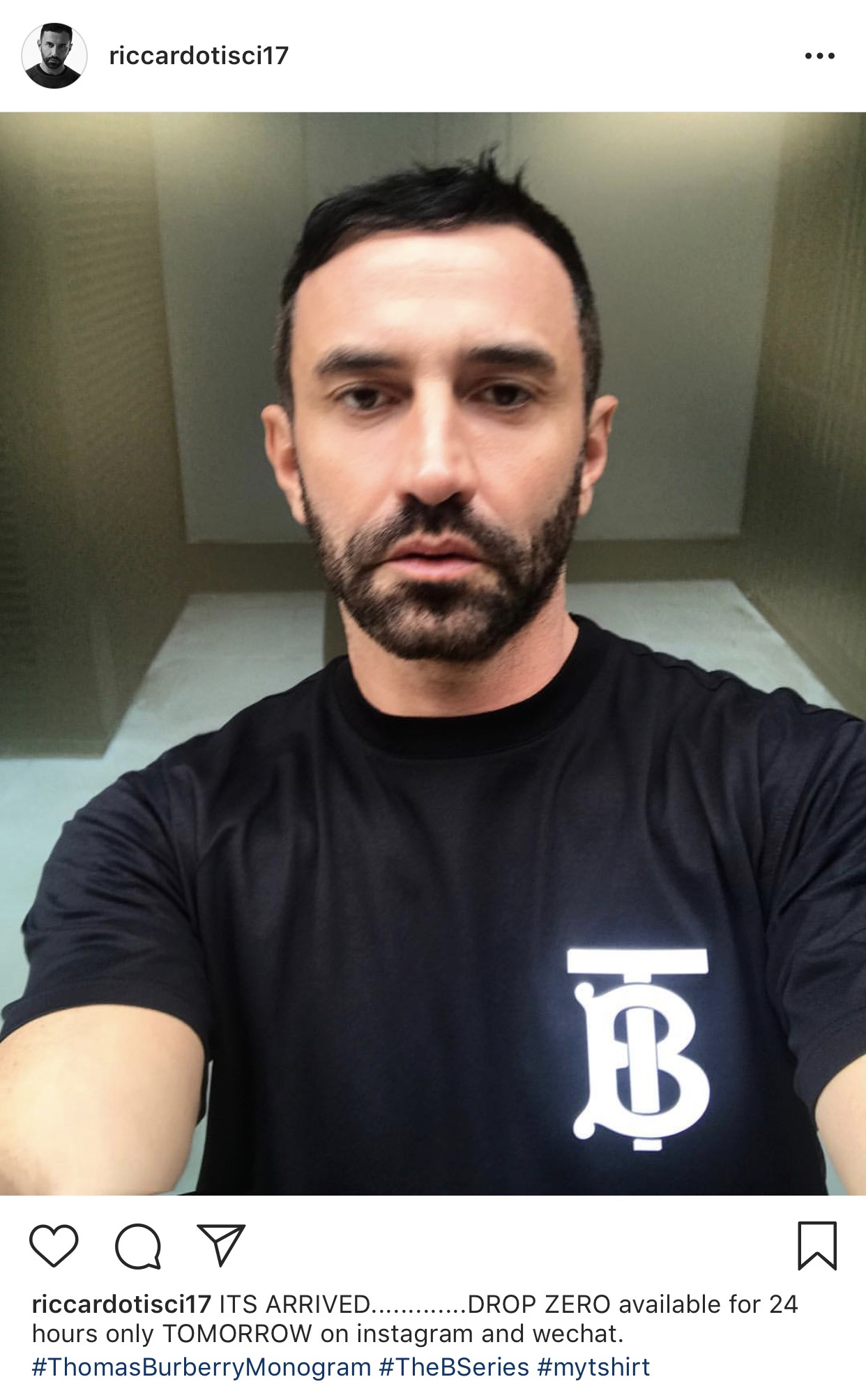 Now, after news of the social media powered drops of limited edition pieces from Tisci's Burberry debut we had expected the first release to coincide with next week's catwalk show, so this morning's announcement was unexpected. That said, we're beginning to expect the unexpected as luxury fashion houses battle for our attention and become increasingly disruptive. Throughout New York Fashion Week, our feeds have seen a number of teases, first-looks and announcements from this season's most hotly anticipated shows, the debuts of Celine by Hedi Slimane and Burberry by Riccardo Tisci. Previously we all would have had to impatiently wait for the big reveal, but in today's short attention-spanned, infinite-scrolled information age, we're continually teased as the hype builds and builds.
While the Slimane stans have seen Celine looks shared on Instagram in recent weeks, the Tisci tribe have been eagerly waiting to see how he would approach his Burberry renovation. Would he apply the same sensual and subversive approach he used at Givenchy, build on Christopher Bailey's 17-year resurrection, reinvention and revitalization, or take us in a completely different direction? Back in April, his Insta Stories unveiled the brand's archive-inspired B logo and monogram, which has since appeared everywhere from street corners to newspaper spreads. Looking beyond Bailey's recent reign, it looked as though Tisci had immersed in the 162-year-old archive in order to make his mark on its exciting future. This social media-driven drop suggests that he's building on the pioneering technological foundations that his Yorkshire-born predecessor had laid. Following Tisci's selfie, select Burberry-approved celebs including Chris Lee, Dolores De La Rosa, Lily James, and Matt Smith shared their own images, while Rihanna was papped in one too.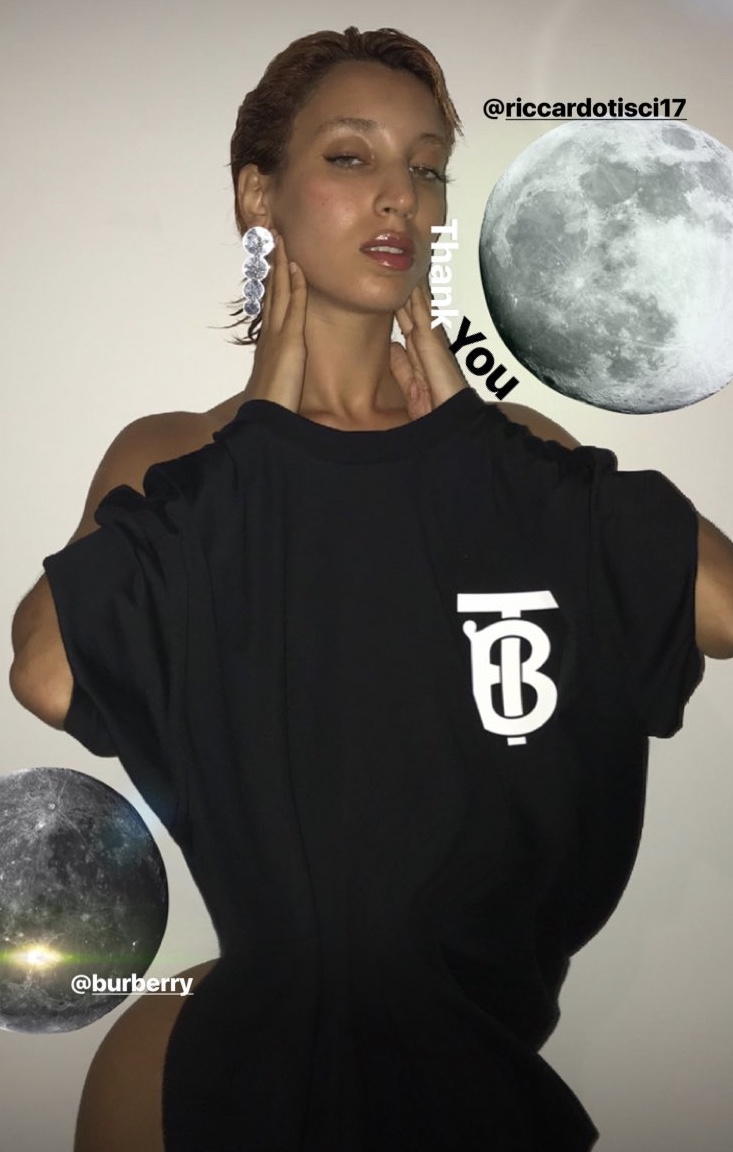 For those of you who have deleted your social media accounts, don't worry, you'll have a chance to purchase some of the product at Burberry's Regent Street flagship. The next limited-edition capsule release will comprise of selected designs for men and women from Tisci's Burberry runway debut and will drop on September 17 via Instagram and WeChat. London's 121 Regent Street will be the only physical place in the world to house this collection.
Forget the past, this really is a new luxury fashion dawn.
---
This article originally appeared on i-D UK.