NeNe Leakes Pointing at Sheree, by Laura Collins. Courtesy of the artist.
12 instantly iconic paintings of 'real housewives' pointing
Artist Laura Collins, known for her paintings of the Olsen twins, has found a rich new subject matter in reality TV.
NeNe Leakes Pointing at Sheree, by Laura Collins. Courtesy of the artist.
Real Housewives is the ultimate guilty pleasure. What reality TV show is more enjoyable or more trashy than one on which you can watch rich American women with melting facelifts pull each other's hair while binge drinking rosé? Now, as if they don't already have enough drama in their lives, the franchise's stars are the subjects of a new art exhibition opening tomorrow at the THNK Museum in Brooklyn.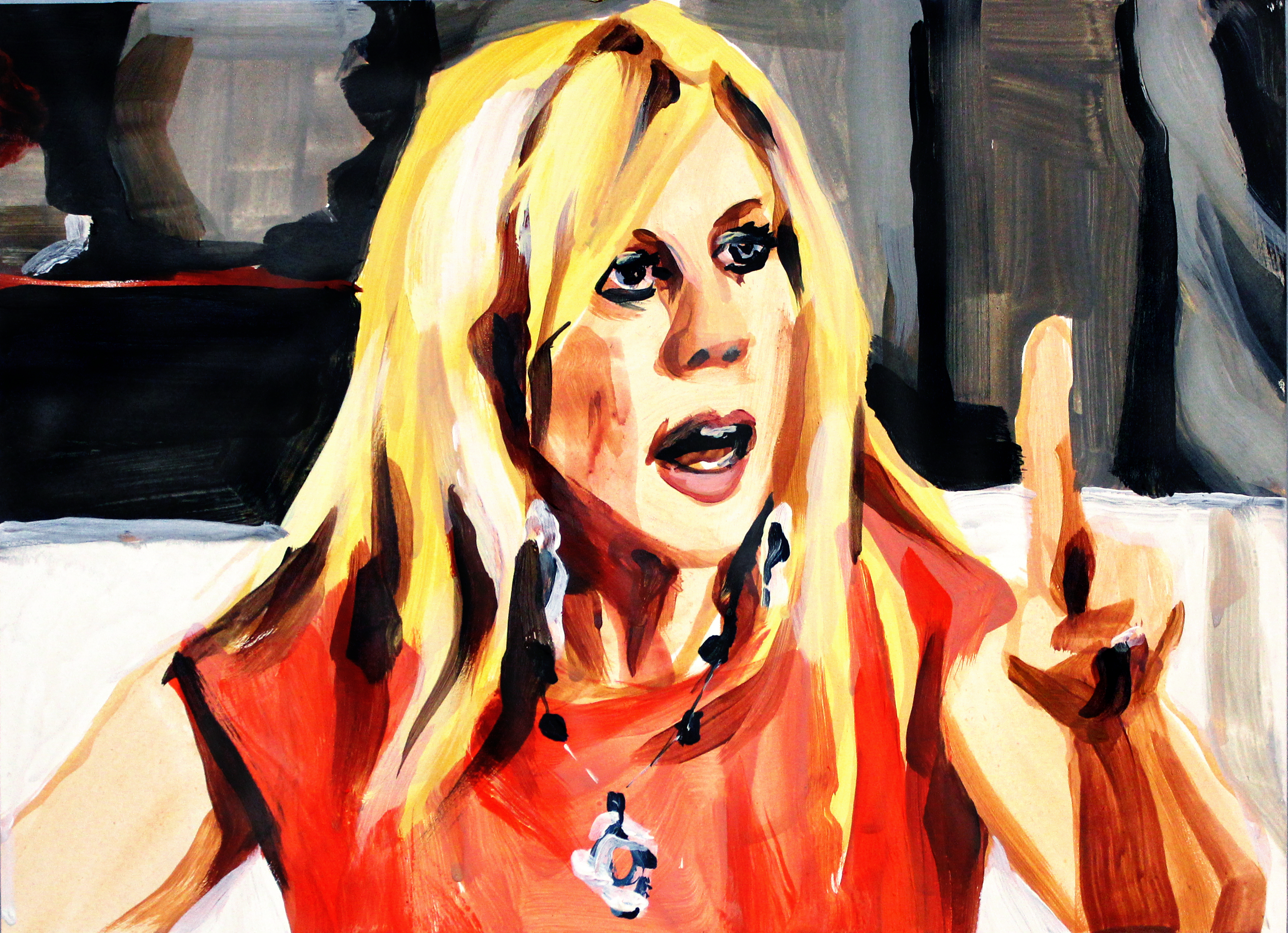 "Real Housewives Pointing Fingers" is a solo show by Chicago pop culture painter Laura Collins, who has captured some of the show's most scandalous moments in impressionistic acrylic. Based on screenshots of the artist's favorite episodes, the paintings display a kind of sympathy with their subjects as they battle the scrutiny of the public gaze.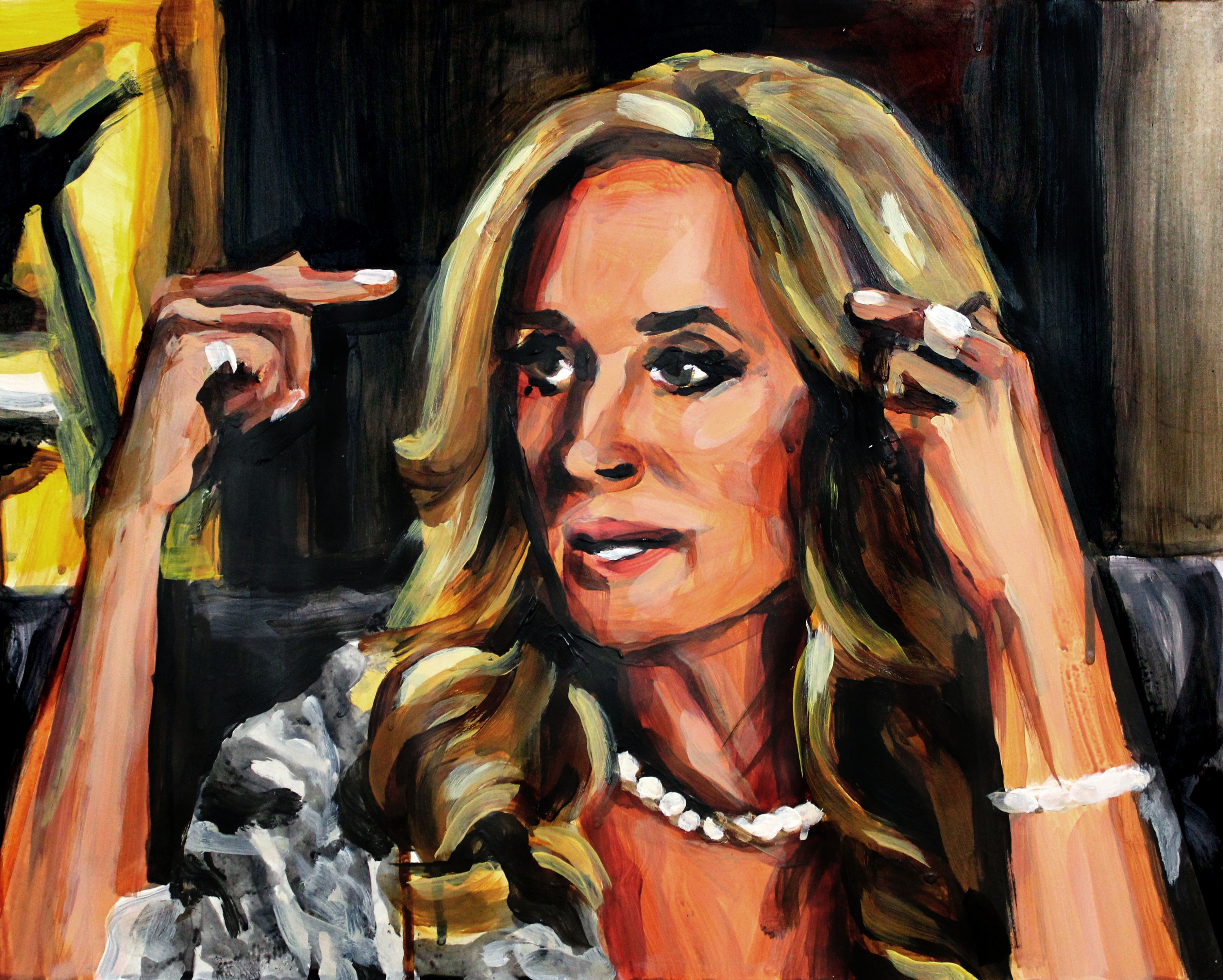 As a woman, Collins can relate. "I feel that having this in common helps me [...] to empathize with their struggles and discomforts," says Collins, who is no stranger to turning celebrity scandal into timeless artworks. She previously debuted a painting series of Mary-Kate and Ashley Olsen hiding from the paparazzi, as well as a portrait of Paris Hilton, Britney Spears, and Lindsay Lohan that appeared in an exhibition celebrating 2000s nostalgia.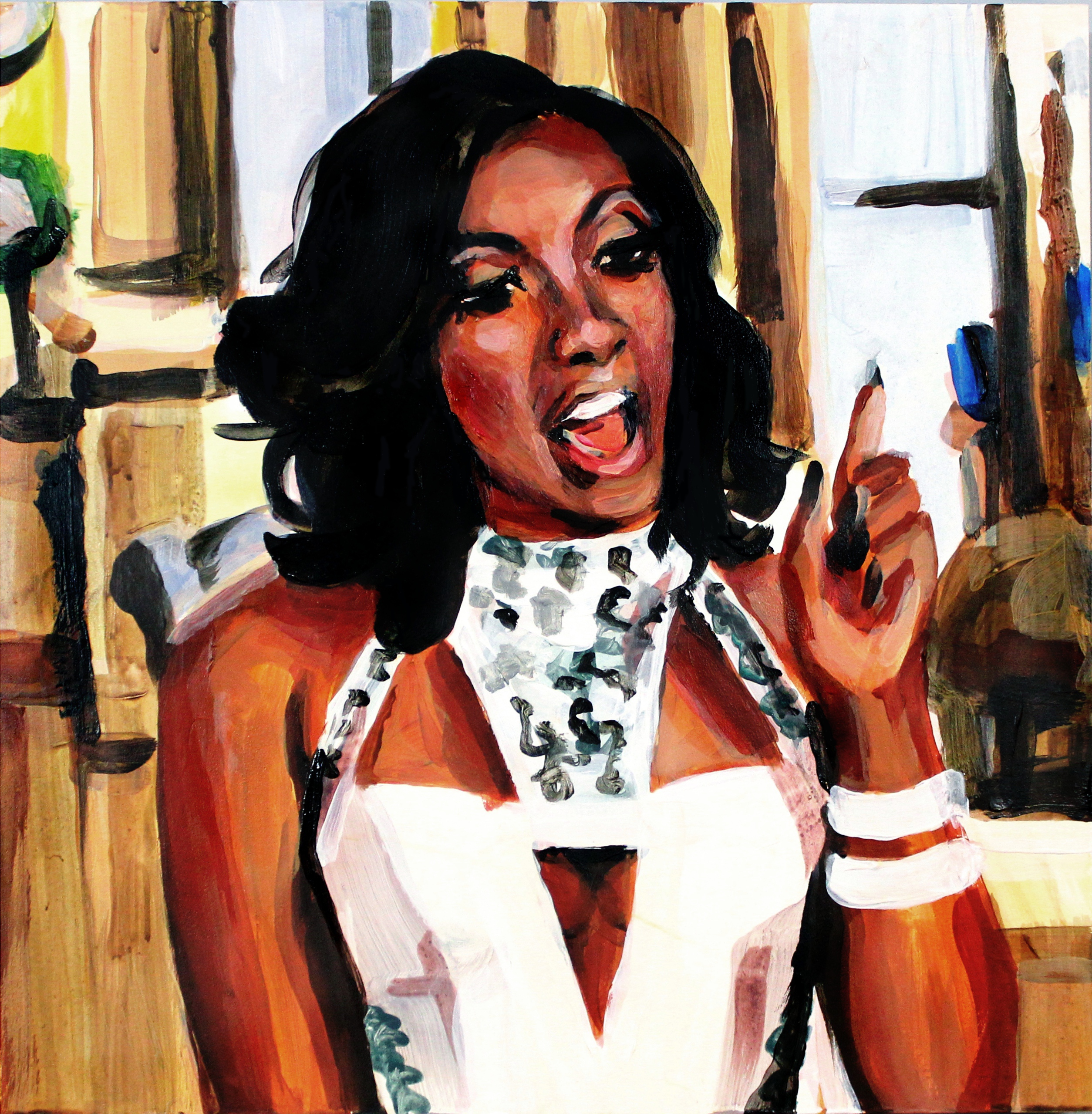 While some may see them as a parody, the Real Housewives paintings began as a tribute. "I really enjoy watching Real Housewives and think that the dynamics in their relationships are fascinating," says Collins. "Since there are so many cast members, I felt that there would be a lot of material to work from."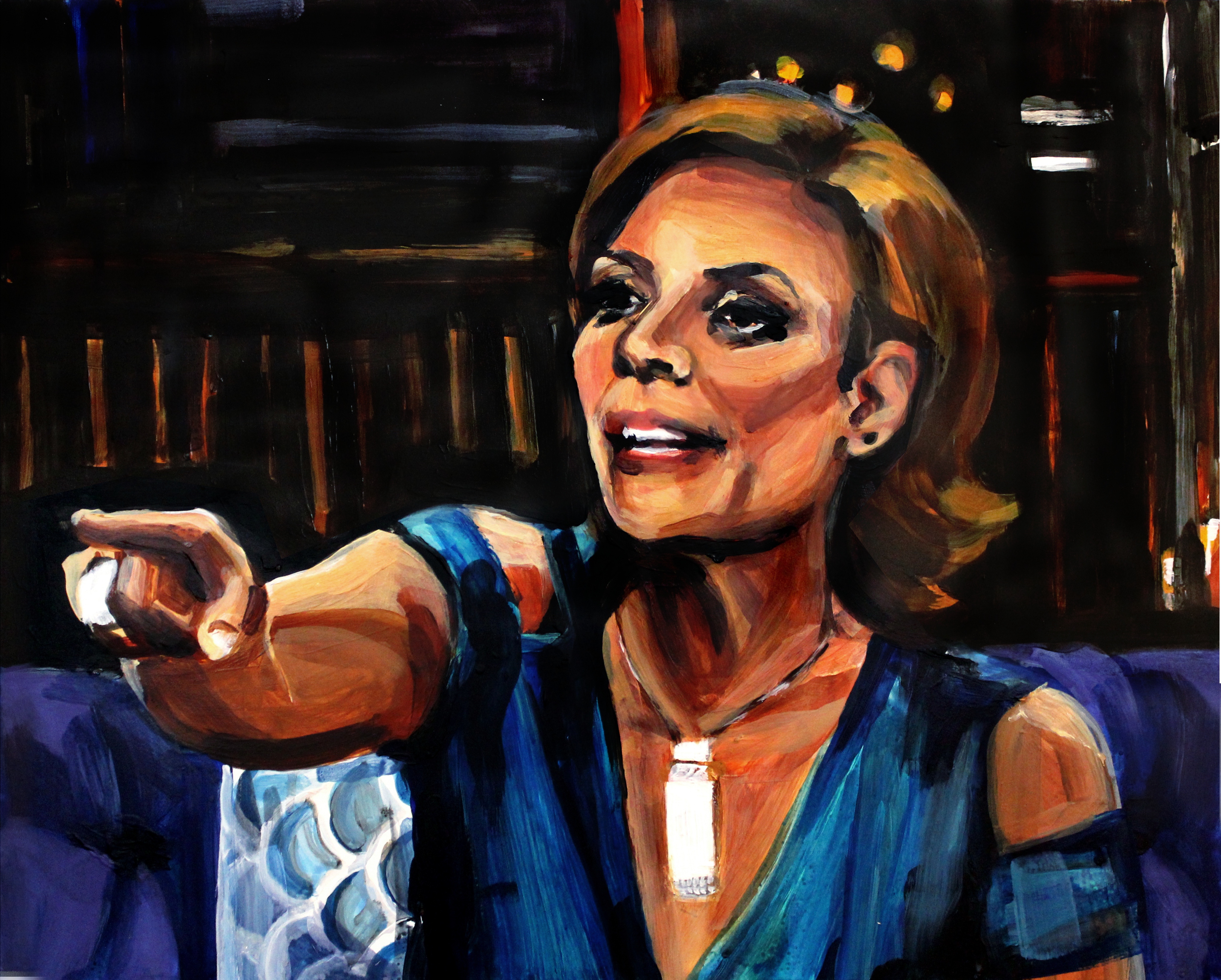 The women are painted realistically but loosely, and with flattering brushstrokes. Among the dozen paintings on display are a comical shot of Kim Zolciak from Atlanta pointing her middle fingers and a depiction of Orange County housewife Alexis Bellino pointing at fellow housewife Gretchen Rossi during an argument. But perhaps the most interesting image is of Beverly Hills housewife Lisa Rinna (famed for her acting on the 90s soap Days of Our Lives) who isn't pointing at anyone. She sits with her hand resting on her face, in a painting Collins has titled "Lisa Rinna pointing at her eyebrow."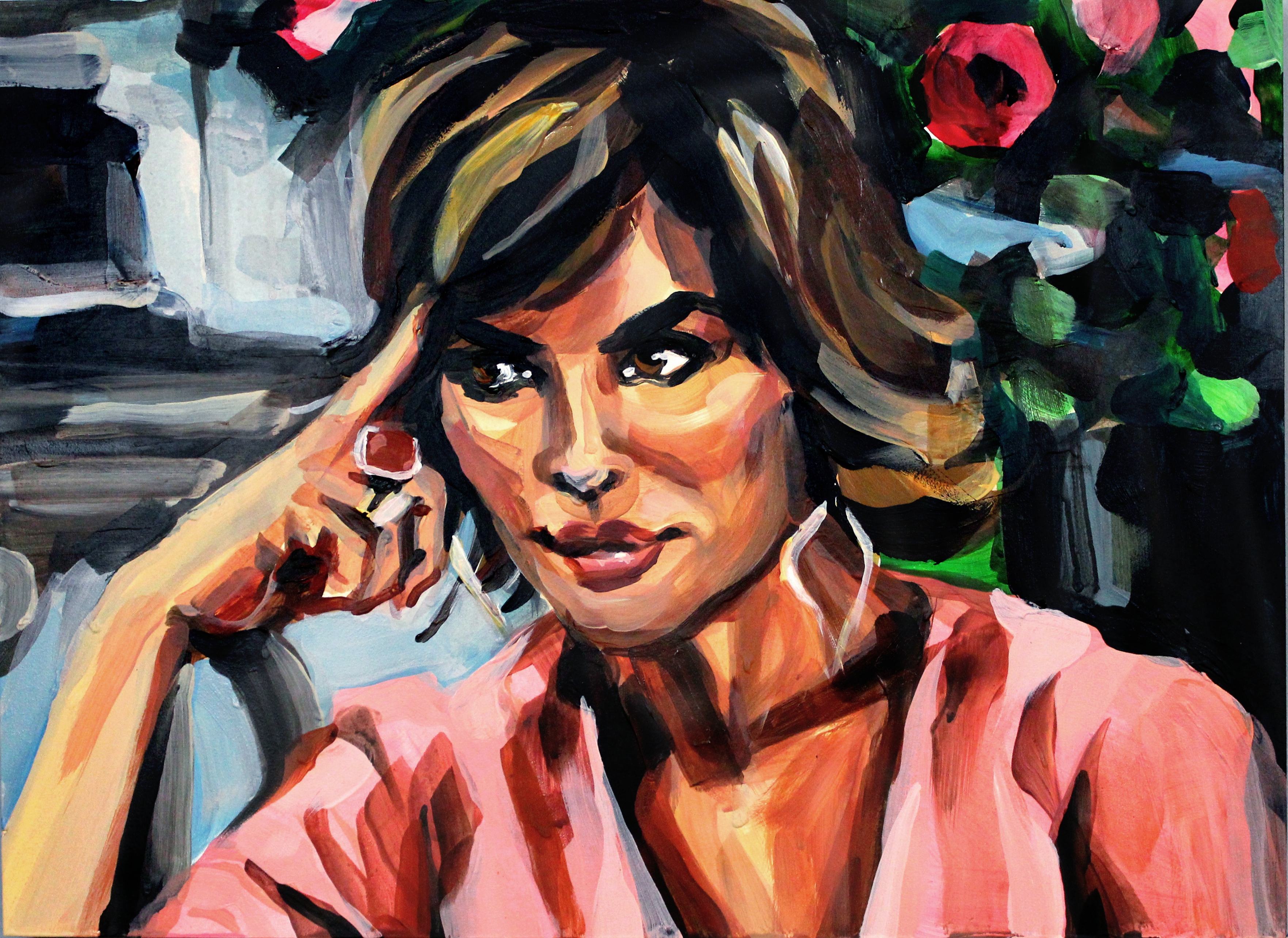 Collins's favorite painting in the show is one of Taylor Armstrong pointing at Dee Dee from Real Housewives of Beverly Hills. "I love how animated Taylor is, you can read the empathy in her face as she comforts her friend," she says. "There are many moments in which the housewives comfort each other and validate one another's emotions and this piece represents that dynamic."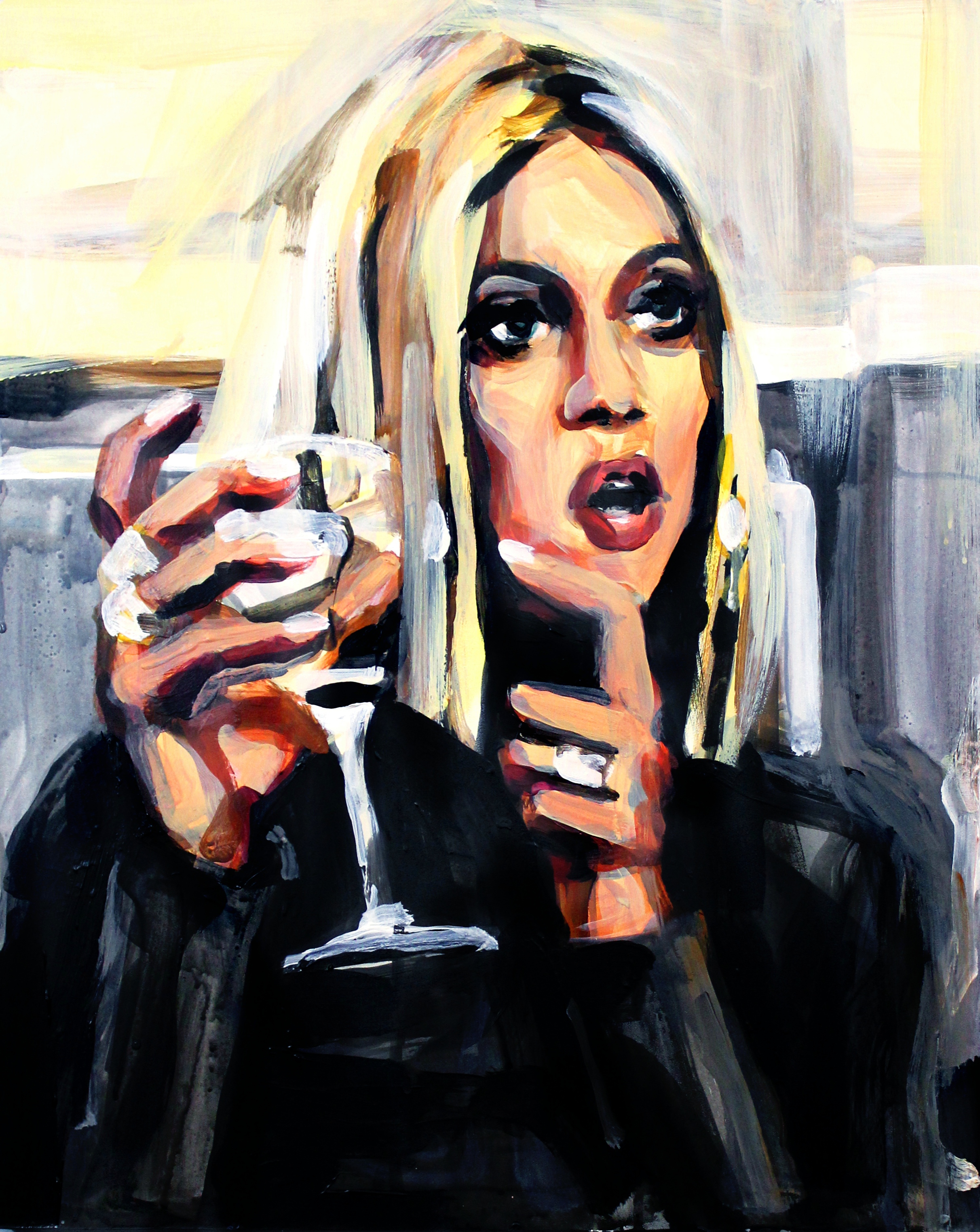 Collins has been watching the Real Housewives shows since 2012, and has her own viewing ritual. "They drink a lot of wine on the show, so I like to put on my leopard-print snuggie and have a glass of wine as well," she explains.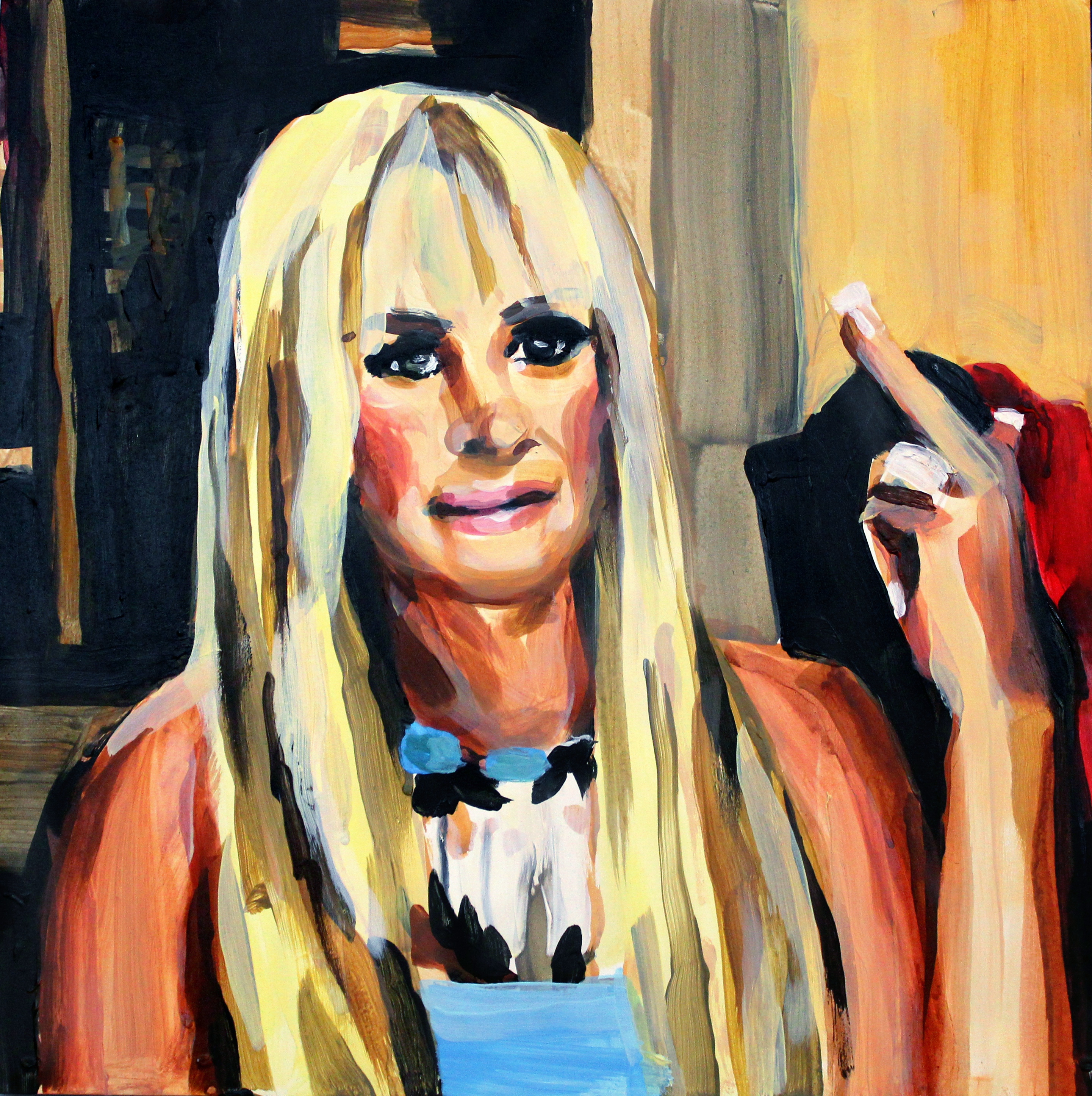 The show's real magic, she believes, is in its sweeter, sisterly moments. "The really great thing about Housewives, despite the drama and petty fights, is it's one of the rare cases where you can see women of a certain age forming bonds, going through a plethora of life events, owning their sexuality, dealing with tough relationships, experiencing loss and still forming friendships and enjoying each other," Collins says. "Just having that representation is important."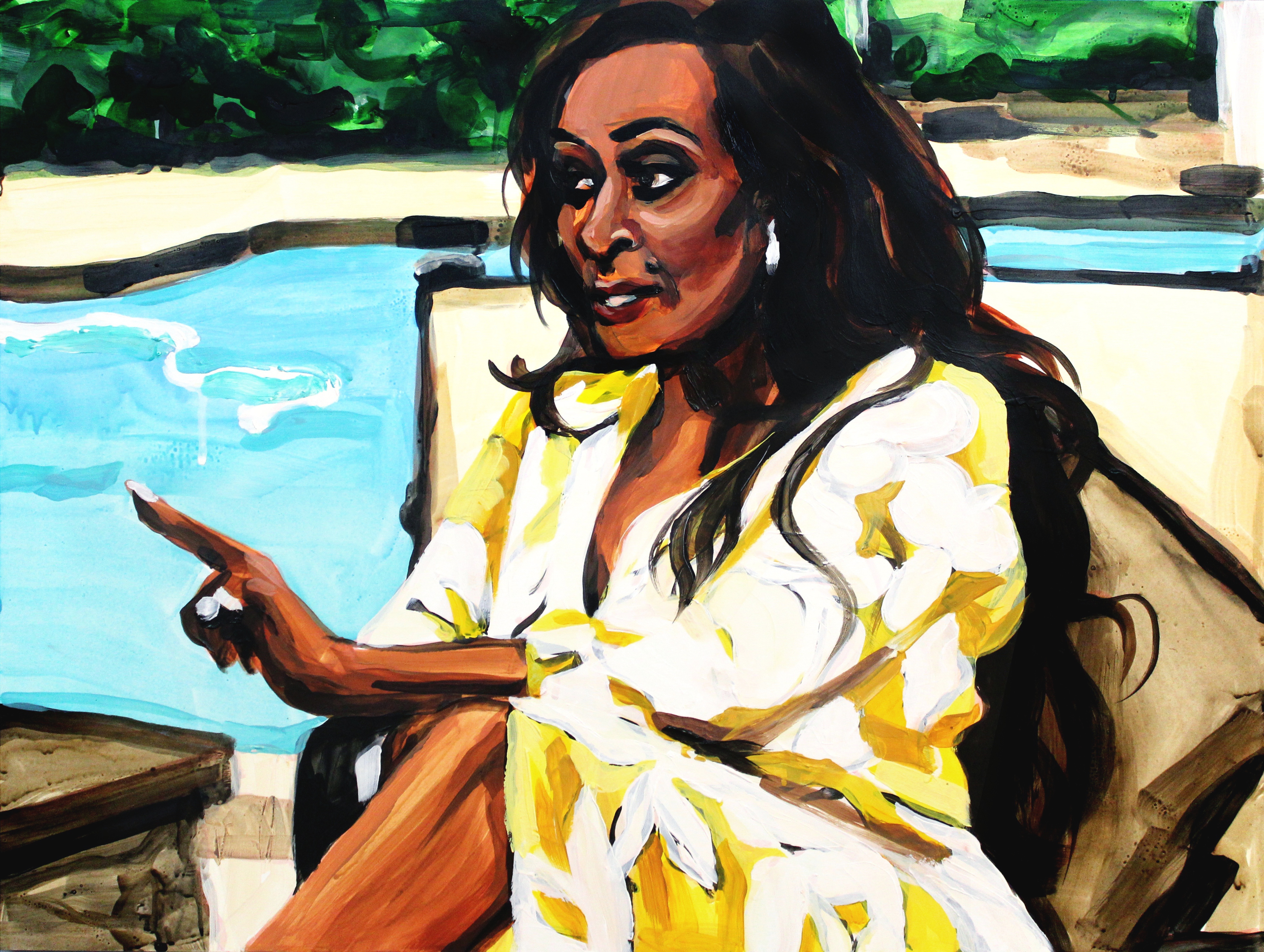 Narrowing down the show's best moments was difficult; there is a lot of finger-pointing across the franchise. Lauren searched for screenshots online and "looked for interesting compositions and color combinations."
The show has also been running since 2006 and currently has nine local versions, making the selection process harder. For those unfamiliar with its legacy: The franchise began with The Real Housewives of Orange County, which was inspired by scripted soaps like Desperate Housewives and Peyton Place. Executive producer Andy Cohen then launched spinoff series in New York City and Atlanta in 2008. New Jersey, Beverley Hills, Washington, Miami, Potomac, and Dallas shows soon followed. There are international chapters in Athens, Vancouver, Auckland, Sydney, and Toronto and there are plans for new sister shows to launch in Bangkok, Nashville, and New Orleans.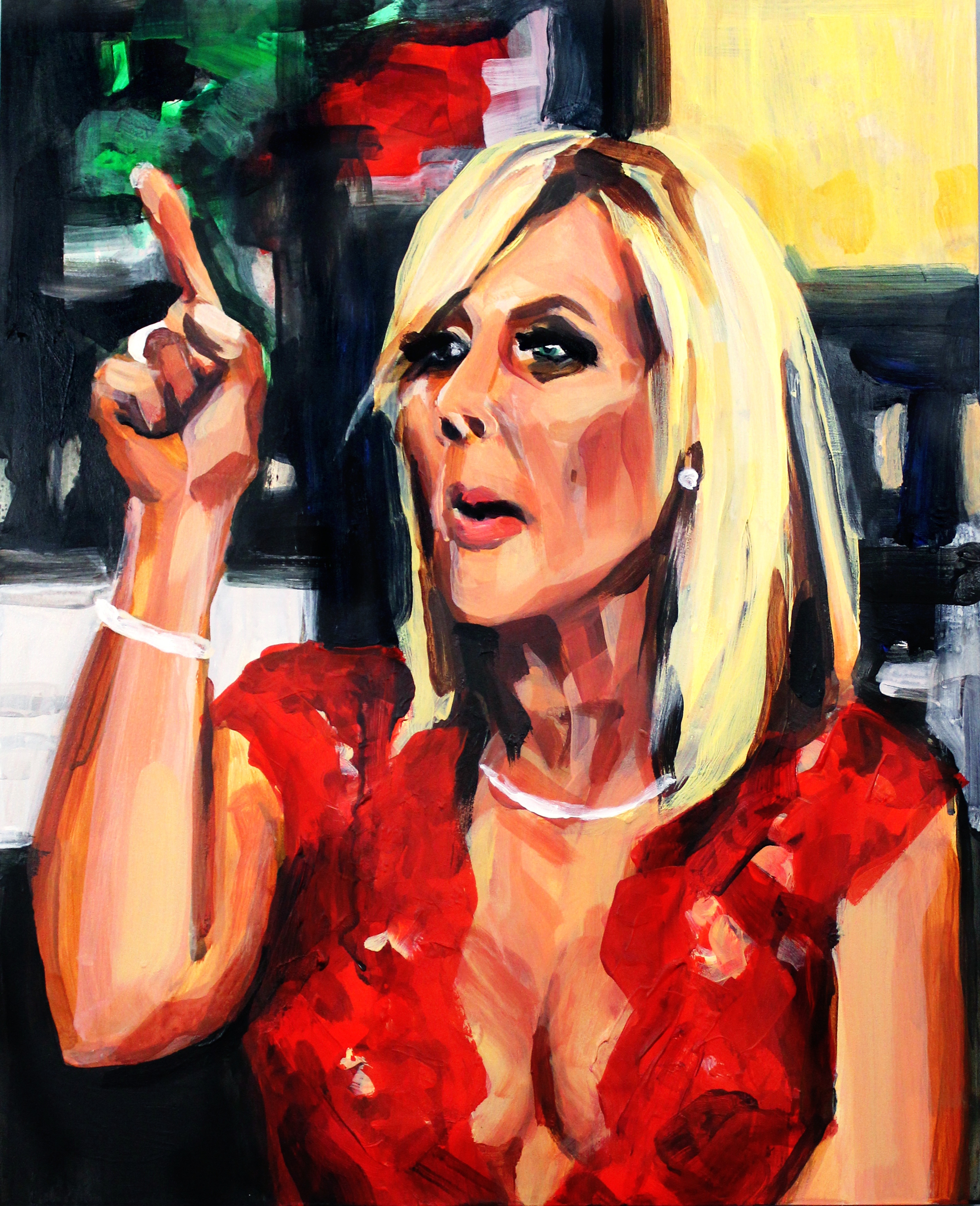 Collins's favorite Real Housewives edition is a tie between Beverly Hills and New York, she says. "But lately I have been enjoying New York."
Hasn't reality TV become a bit boring? Last year, former Real Housewives of New York actress Aviva Drescher told the New York Post that the show is "all acting." But Collins sees no problem here. "Like any reality show, the Real Housewives can feel scripted and the set-ups from which drama unfolds can feel a bit predictable," she admits. But it isn't all predictable. See: the episode when Teresa Giudice flipped a table during a dinner party in New Jersey or the moment when Vicky Gunvalson from Orange County threw her prosthetic leg on a table to prove she wasn't a fake.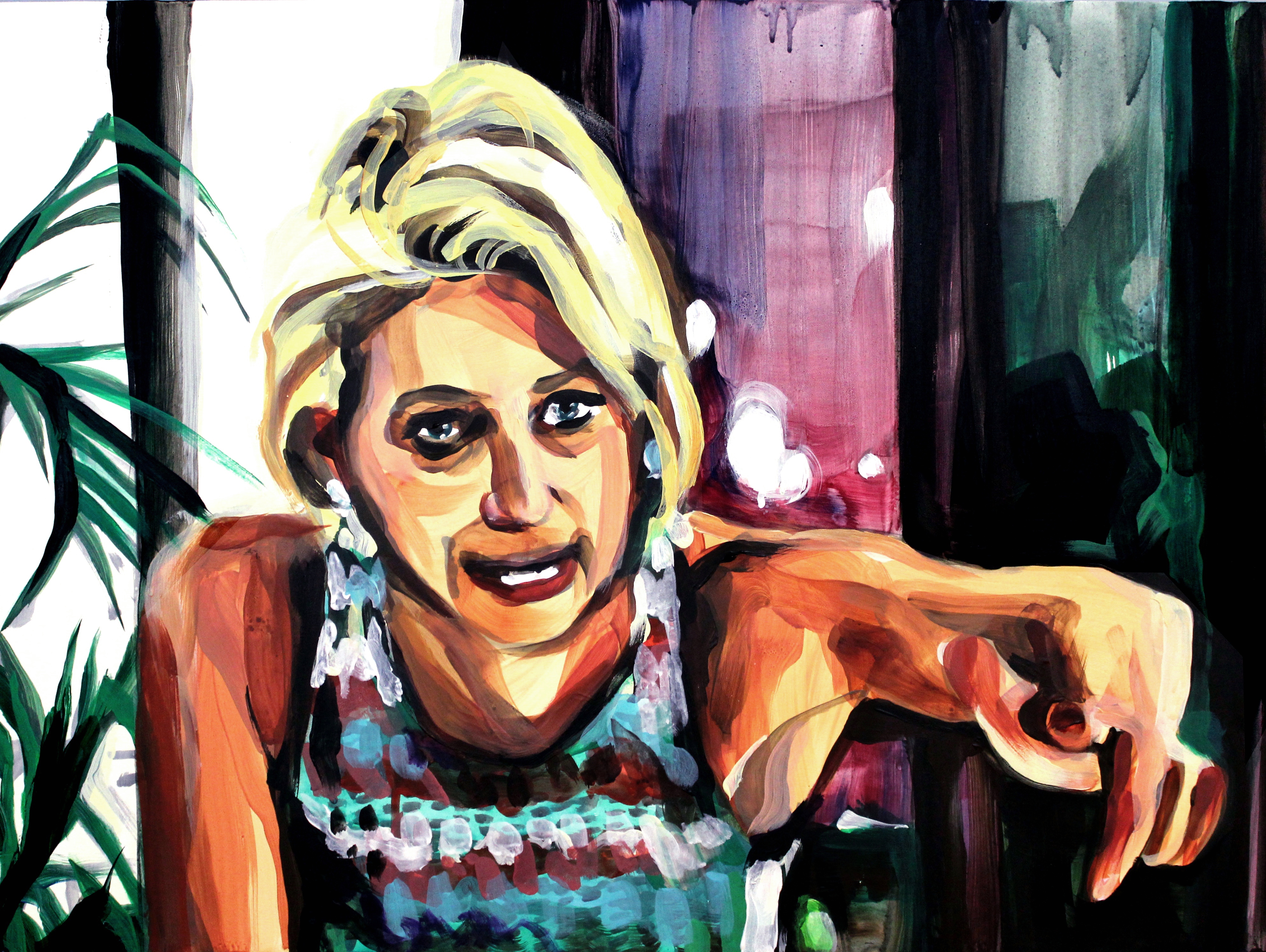 Can people who aren't diehard fans of Real Housewives still appreciate the paintings? "Hopefully they will be inspired to watch the show and learn more about them," says Collins. More than anything else, she hopes people will connect with the comedic elements of her show, that they're able to "laugh with the work."
One of the Housewives featured in the paintings recently reached out to Collins. Dorinda Medley from the New York show heard about the exhibition and messaged Collins on Instagram to thank her for making the painting. "It honestly meant the world to me," says the artist. "It encourages me to keep working."
"Real Housewives Pointing Fingers" is on display at THNK Museum in Brooklyn from October 7 to November 12, 2017.
thnk1994.com