from the ashes of revolution, anton belinskiy's designs celebrate kyiv's creative rebirth
Bringing together the Ukrainian capital's most compelling young musicians and designers, Anton Belinskiy's One Day Project is a DIY celebration of the city's individuality.
|
15 September 2017, 8:01am
This article was originally published by i-D UK.
Anton Belinskiy is a lot like his hometown of Kyiv; charming, chaotic, open, friendly, funny, wild, down to earth. He's Kyiv in microcosm form, and his designs hold up a mirror to the city's youth. His work is cool, beautiful, effortless, political. It's rooted in Ukrainian history. It explores the country's current struggles and its dreams for the future. His label is born out of love for Ukraine, his city and his friends, and a desire to reflect Kyiv's underground and show it off around the world.
He launched his label pre-revolution, but creatively it came of age in the wake of it. The revolution of 2014 was an act of optimism, but rebuilding out of the rubble isn't always so easy to navigate, or as glamorous. Especially as world news moves on to exciting new troubles in exciting new places. Sectarian conflict on the far eastern fringes of a country barely in Europe loses its drama in stalemate and uneasy ceasefire. Country slowly begins work rebuilding isn't a stop-the-press shocker.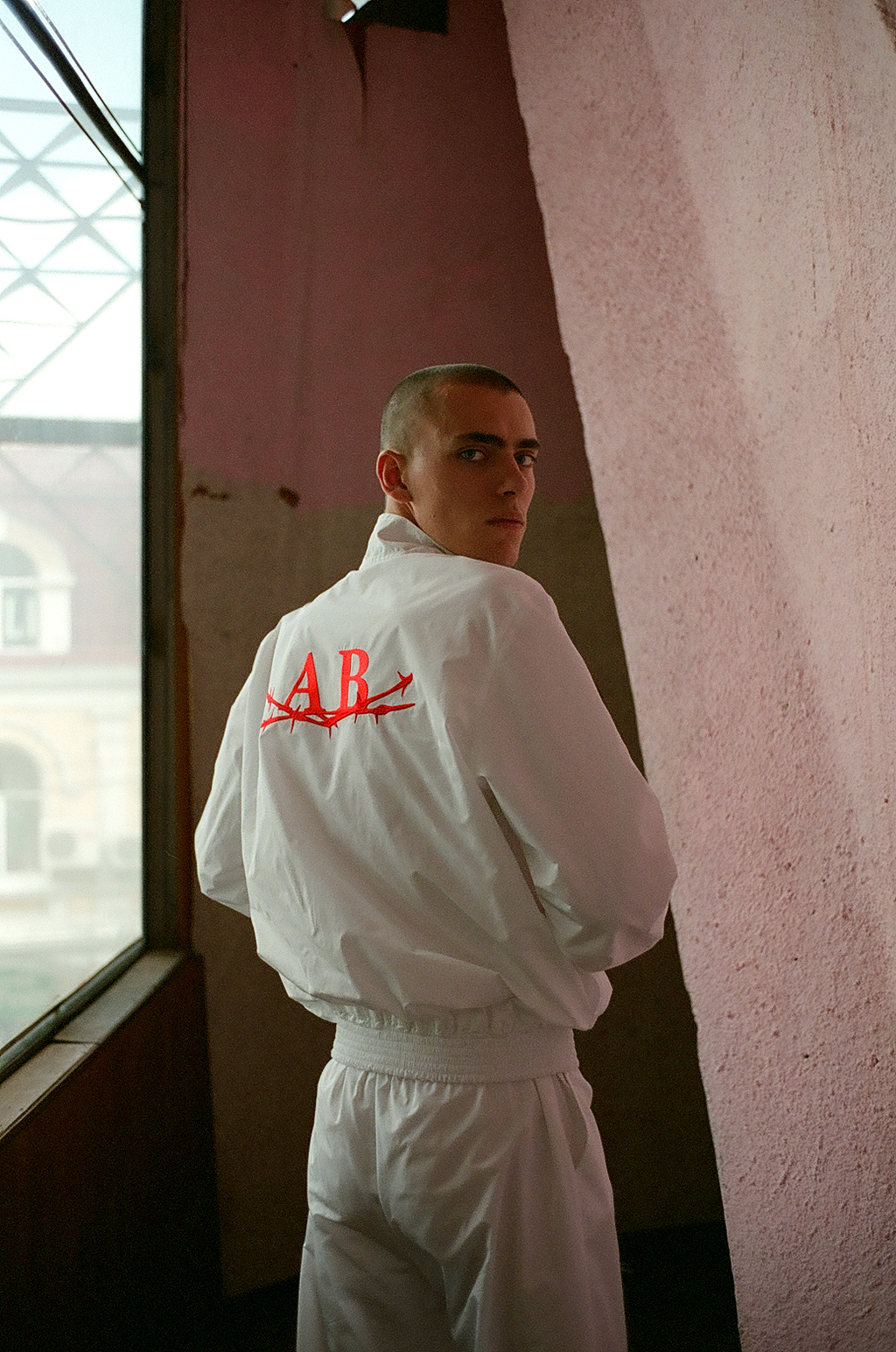 So his designs are hopeful for a brighter future, even if sometimes it feels like that future's receding out of sight. His designs are political in implication and concept, rather than in cheap, easy sloganeering. But if there is, it's "poor but cool" -- a kind of mantra and motto for the whole of Anton's scene.
Anton first came to prominence when he picked up an LVMH Prize nomination in 2015, and since then he's alternated between showing his collections in Paris and Kyiv. One collection for the international scene, one for the kids of his hometown who keep his designs grounded.
To this end, last summer, to coincide with the 25th anniversary of Ukrainian independence from the USSR, Anton brought together the best of the city's young design and music talent for what he called One Day Project . It was a DIY celebration of the brightest lights illuminating the city. On the back of its success, this year, One Day Project has expanded to last three days and nights.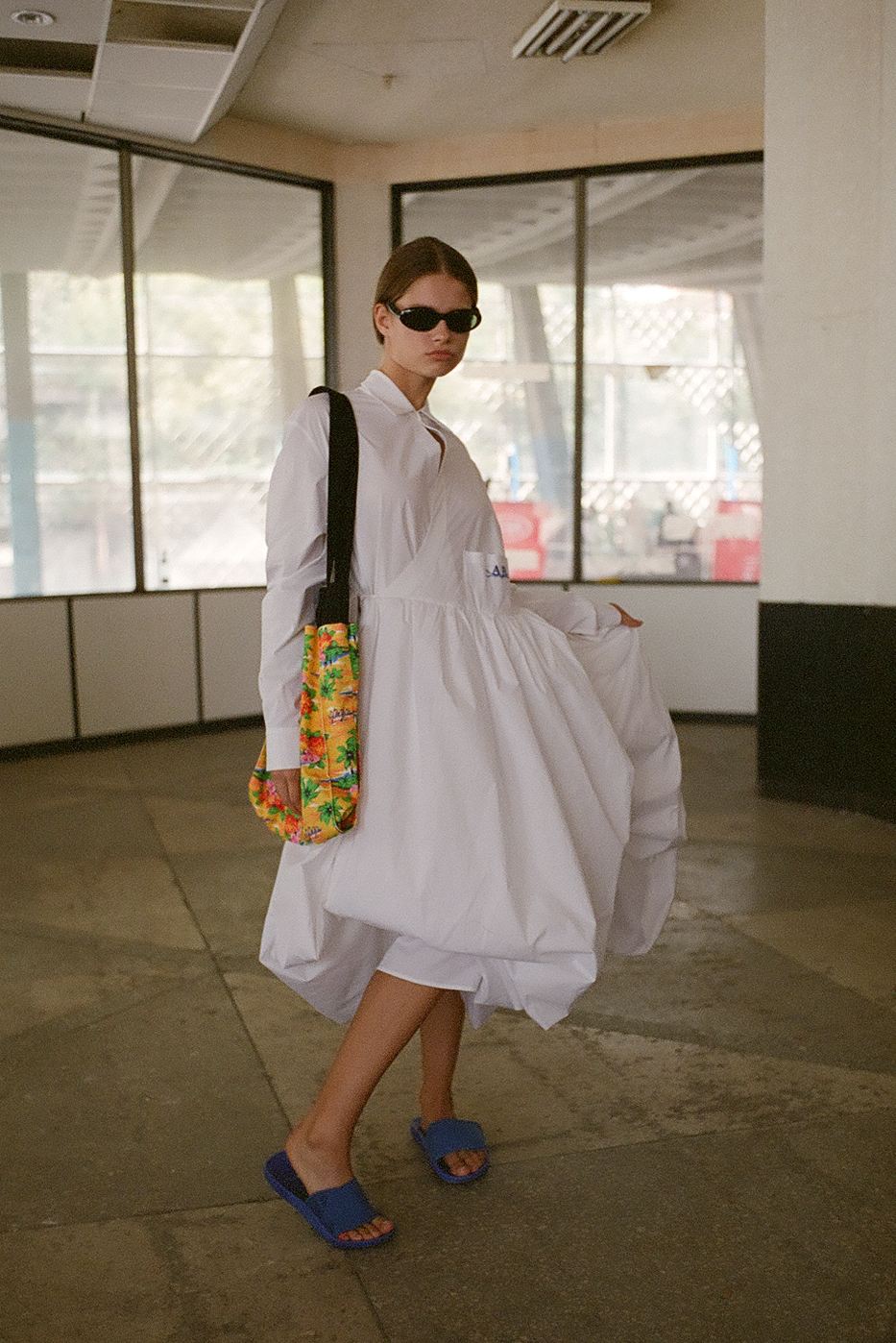 "Kyiv is my favourite city," Anton explains of the thinking behind the event. "I've lived here since forever, sharing it with all my friends, a lot of them are designing, making music, doing art and photography -- One Day Project is a celebration of this talent and friendship." It's also a reaction against the traditional structures and boredoms and restrictions that the fashion week format imposes. So it's a little chaotic, but it's fun and charming and friendly and welcoming, which is what fashion should be, really. It allows the personalities of Anton's coterie of friends and collaborators to shine through.
"Everyone's free to present themselves in any form they want, without being tied to the accustomed fashion format," Anton continues. "I'm not the only one who needs that in this city. There's a community that wants to define itself and channel the fresh young energy of Kyiv. It's very collaborative, we do everything together with people we showcase and support."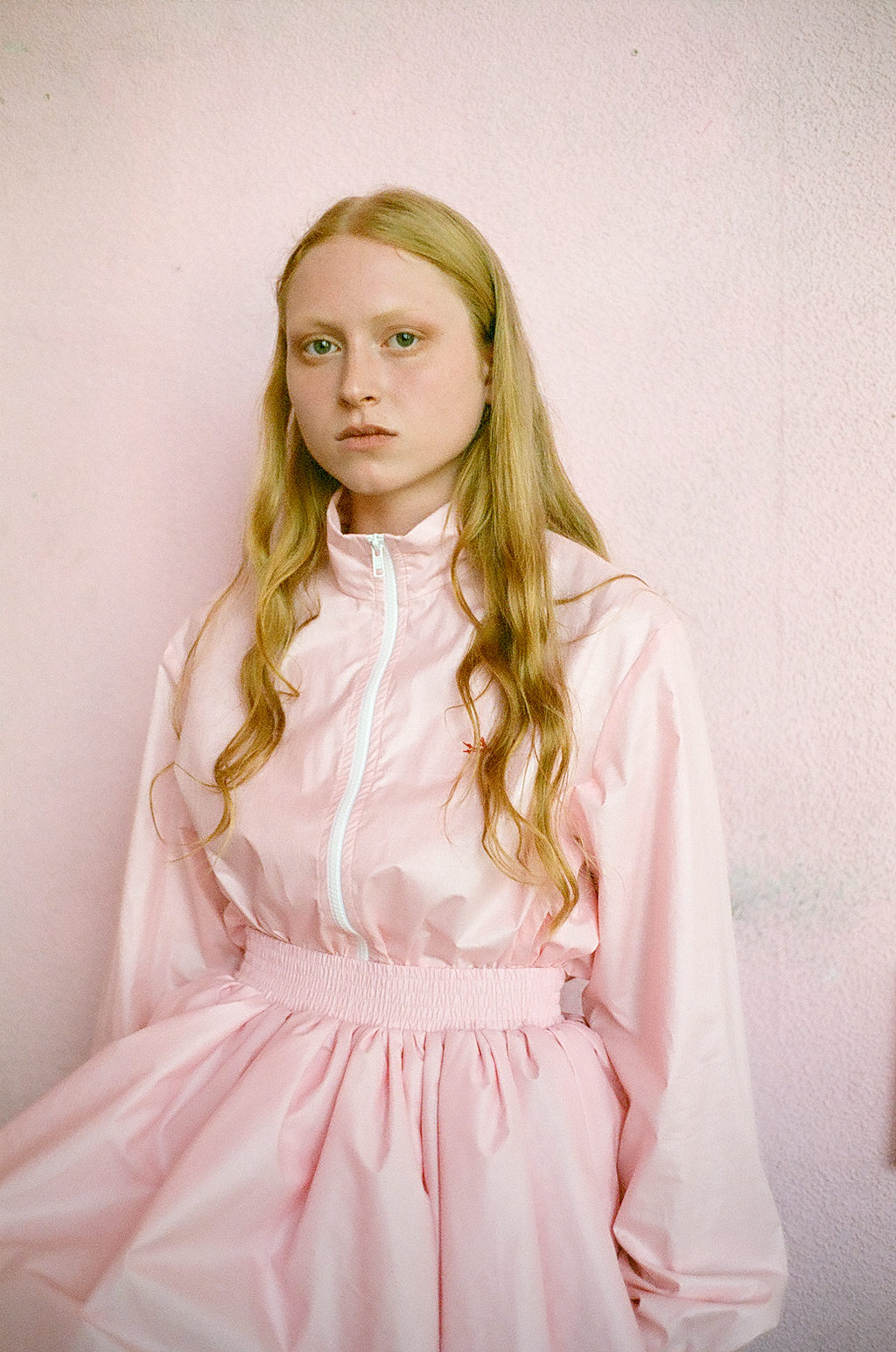 In practice then, this means the One Day Project takes you all across Kyiv for shows; from nightclubs (Yulia Yefimtchuk and Paskal) to the corners of parks (Khomenko & Zirochka) to the stoops of buildings (Subrosa) and even to city hall (Drag&Drop). For Anton's own show, we headed to Zhytniy market, a big old 70s Soviet building near the river, with a magnificent sloping roof and dramatic concrete pillared interior. It was still bustling, working, full of shoppers as Anton assembled the collection. The show itself took place on a raised ledge overlooking the market floor; full of stalls of cheese and nuts and fruits and raw meat. A dog periodically ran down the space set aside for the runway to cheers from the guests.
"It's one of my favourite places in the city," Anton says, of his decision to stage the show here. "It's constantly moving and very vibrant and alive, a lot of things which surround us every day in Ukraine can be clearly seen there. All kinds of different people come to Zhytniy Market, it's a place of contrasts; at the same corner you can see a chic girl buying sweets and an old lady asking for money."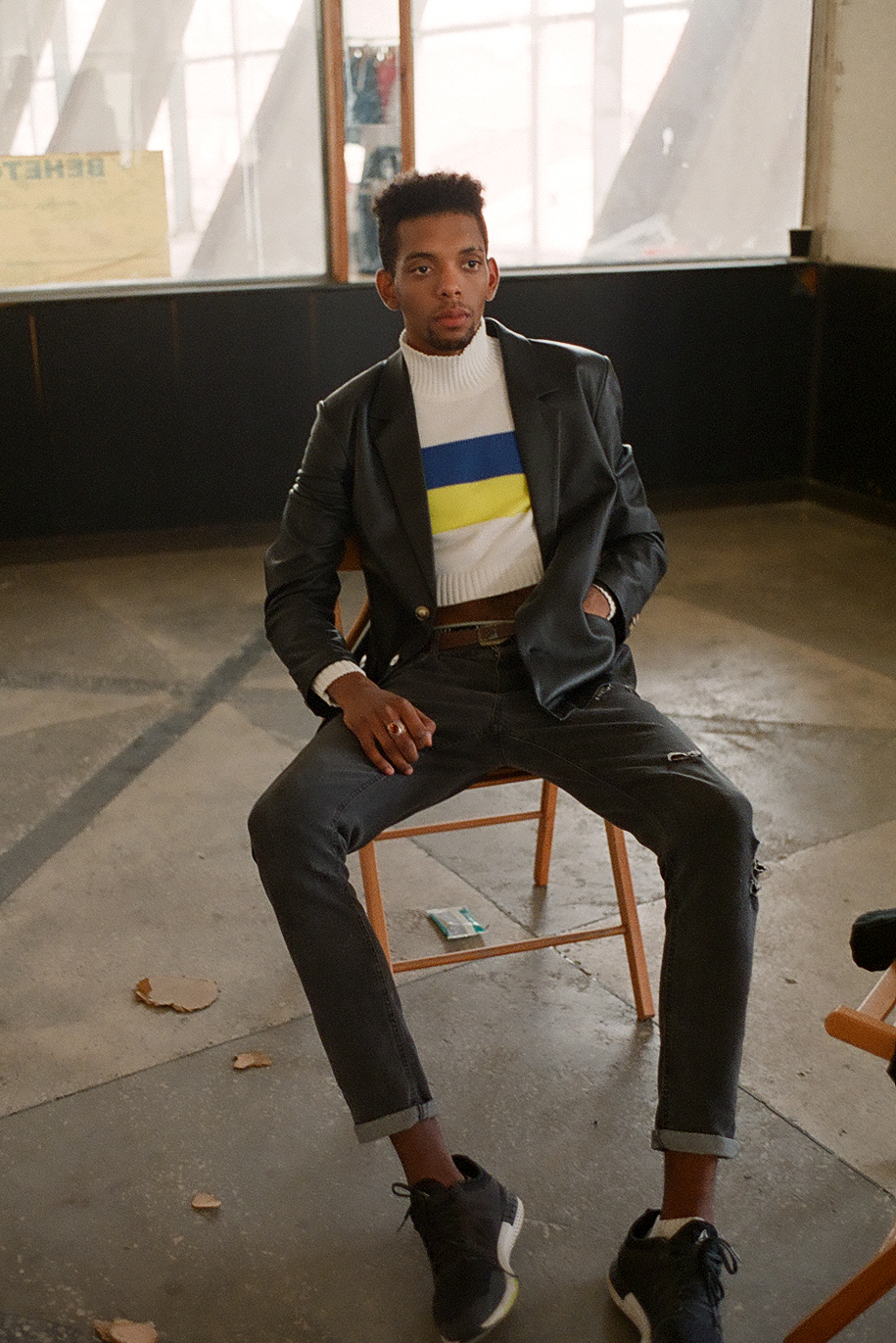 The show follows on from a presentation at Paris Fashion Week last March, and a summer spent at the Ukrainian Pavilion at the Venice Biennale, exhibiting alongside legendary Ukrainian photographer, Boris Mikhailov. For the pavilion he crafted pieces referencing the infamous fight in the Ukrainian parliament, the pictures of which went viral because of their surreal, Renaissance-esque beauty.
"We started this whole thing at Biennale in Venice," Anton explains. "This collection is dedicated to Ukraine's political situation, corruption and, particularly, politicians who cannot choose if they wanna go on vacation to an island or to snatch a bigger chunk from the country's budget. After the revolution," he continues, "the situation changed a lot for the better, but at the core it's still the same."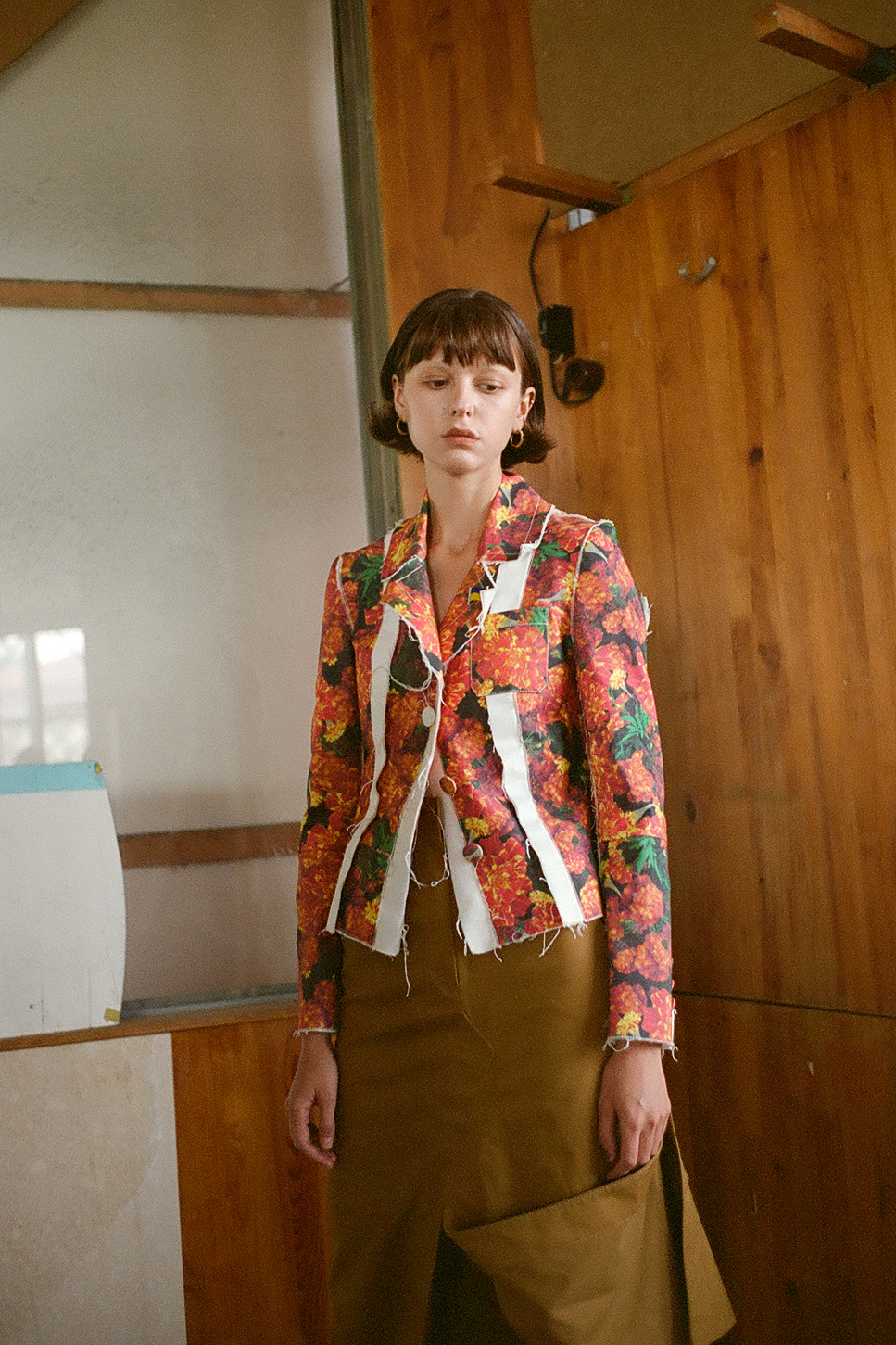 One reference was Ukrainian politicians on holiday. Anton turned reclaimed, traditional Ukrainian fur hats -- the kind worn by politicians -- into bikinis for their girlfriends to wear on the beach. He modified the print of a Hawaiian shirt he actually owns and replaced the Hawaiian hibiscus with Ukrainian orange marigolds. A puffer jacket resembled the plush leather benches MPs sit on in Parliament. ID cards and passports have been a recurring motif throughout his collections, as has the blue and yellow of the Ukrainian flag. All of which was present here too. In Paris the collection was focused on money and exchange rates.
Not that everything Anton does is so resolutely and conceptually political, much of his design work focuses on wearability and practicality, drawing inspiration from the the coolness of Kyivan youth and the reality of their lives. Politics, corruption, money, passports, that's an inescapable part of life in Kyiv right now, so that's reflected in the clothes. Anton's skill comes from that ability to make meaningful statements about everyday life, he's a designer whose clothes are full of the beauty, and difficulty of existing.