7 fashion grads on how they will revolutionize the industry
If these bright kids make it, we're looking at a more sustainable, inclusive fashion landscape.
Noah Pica
While the upper echelons of the fashion industry seem to be in a perpetual state of tumult — shakeups at top design houses, departures of stalwart magazine editors, questions about the role traditional runway shows play in the age of social media — the most exciting changes may in fact be coming from the next wave of fresh talent graduating from fashion schools across the country.
Rising designers are being forced to re-think the industry they are entering. Concerns about ethical manufacturing, sustainable production, and the effects of the current breakneck pace of fashion are more salient than ever before. Plus, students are at the forefront of important conversations about the roles that race, gender, and cultural backgrounds play in design. It will be thrilling to see the directions that young, creative people steer this industry toward in years ahead.
Below, seven recent grads share their hopes for the future of fashion — and their grand plans to put a stamp on it themselves.
Noah Pica, RISD BFA
"I hope the future of fashion centers on queer designers, artists, models, and stylists that reassess how we engage with clothing. A large part of my thesis collection is rooted in the deconstruction of common social practices and traditions. I hope to build a career that reconsiders gender normativity in fashion and reimagines how we wear, analyze, and critique clothing. Fashion is a powerful tool that not only speaks to visual aesthetics but also reflects our place in greater social systems.
My thesis collection, #1DAD, initially started as an exploration of the common shortcomings in male relationships, including fear of vulnerability and lack of emotional intimacy. I visualized the tailored shirt as a representation of masculinity and altered its traditional form. The intention was to create a reimagined wardrobe for queer men that blur the institutional boundaries of gender."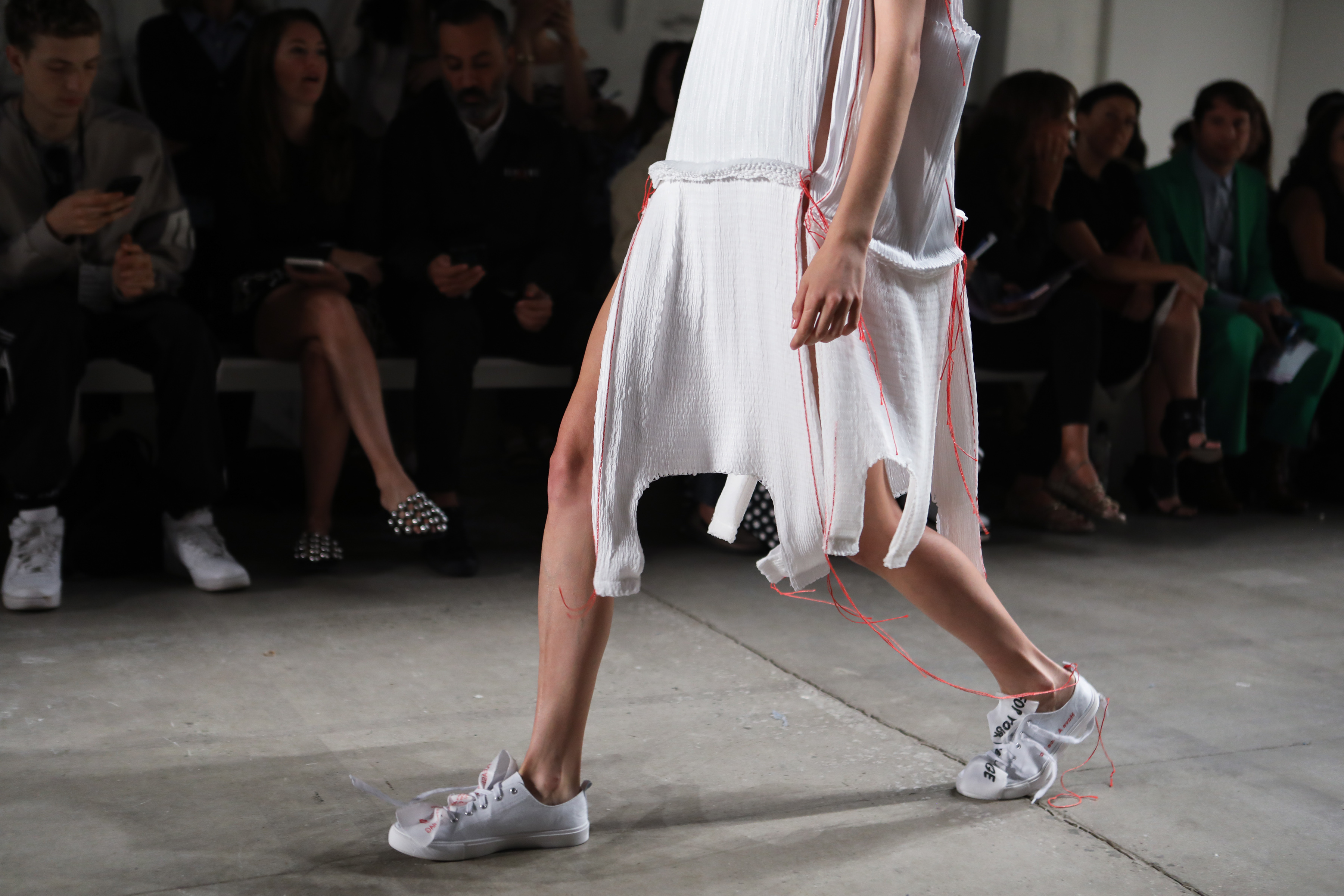 Amanda Brown, Parsons MFA
"My hope for the future of fashion is that it not just reflects the cultural zeitgeist, as it has always done well, but becomes a means and agent of social, cultural, environmental, and economic change. I think it is especially true these days that designers have a voice. Everyone is interested in storytelling, and the public is increasingly attuned to the stories and inspirations behind all creative output, fashion included. I want my work and future collections to continue to be part of the conversation around political, social, and cultural change.
In [my MFA] collection, I used the plastic shopping bag as a reference to the baggage — physical, psychological, social, and political — that women carry, and wanted the collection to both acknowledge this burden and transform it in some way. We were starting the project around the time of the election, and in the way that Hillary Clinton's white pant suit was a nod to the suffragettes at the turn of the 20th century, I wanted to generate a collection that in some way reflected and acknowledged the history of struggle in women's lives. In transforming the bag on the body, and particularly keeping them flat and empty — or unburdened of their load — the collection could envision or ask for a future time when this sort of burden is a thing of the past. In this way, I wanted to introduce a sort of hopefulness, optimism, and possibility."
Alexandra Pijut, SCAD BFA
"There is room for new talent right now within the fashion industry, especially with brands deciding to show less and moving their shows to alternate cities. I would love to see the amazing talent from SCAD and my graduating class break into the industry boldly and make a statement both creativity-wise and environmentally. SCAD is producing a lot of fresh, innovative designers who have the vision to lead the fashion industry.
My BFA senior collection is inspired by my personal experimentation with dream analysis, which developed into the concept of " The Conscious vs. The Subconscious." My concept focuses on how stress is present in people's lives on a conscious level and how the body is able to alleviate and make sense of this stress through dreaming, in the subconscious.
Having just graduated from SCAD with the opportunity to show in both New York and Paris Fashion Weeks, I feel more determined to continue expressing my distinct point of view as a fashion designer and bring something new to the table. Creating innovative ideas while maintaining the highest level of quality is what I strive to show in my work, and in my opinion, that's the future of fashion."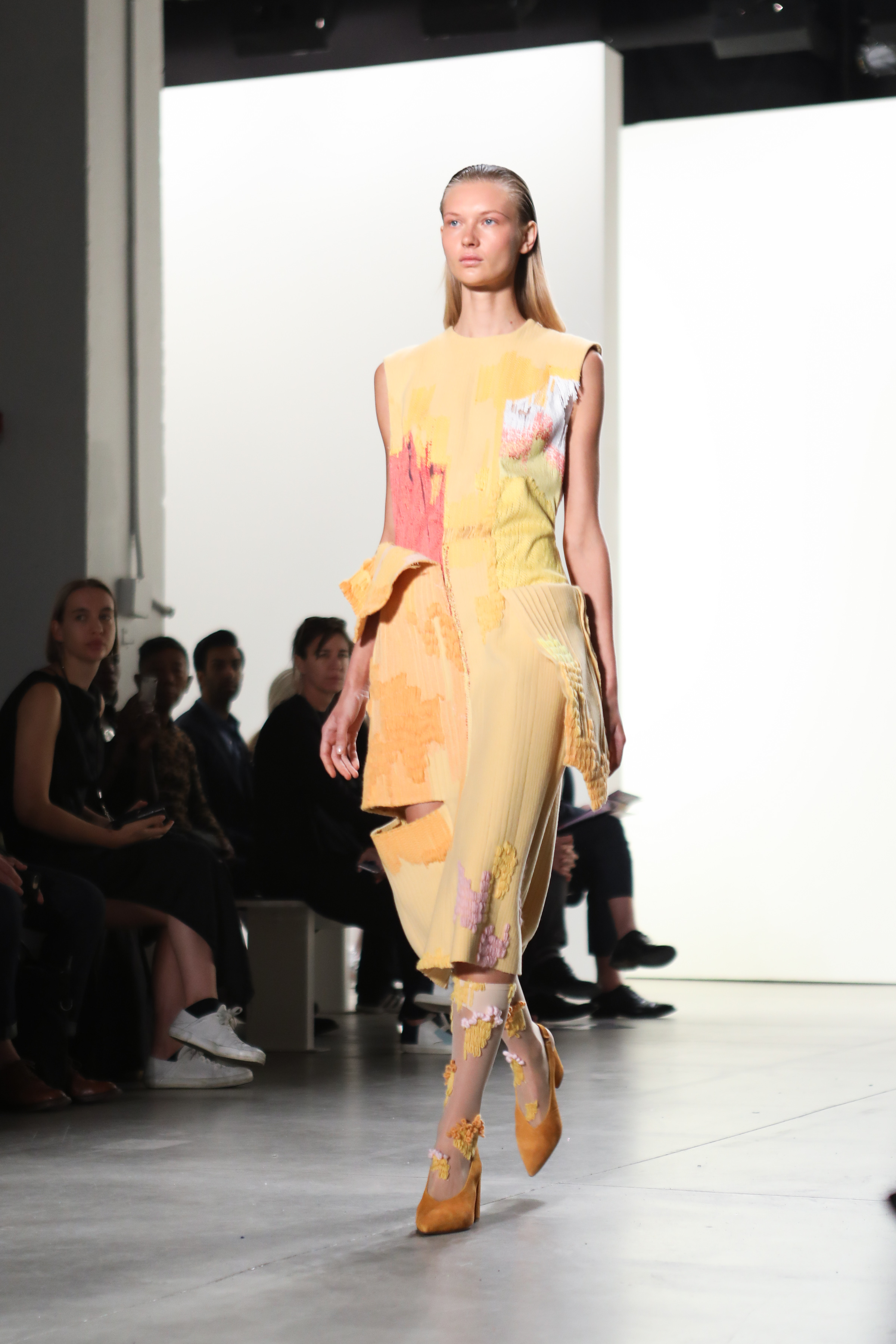 Tingyue Jiang, Parsons MFA
"I want to make good use of my cultural background and bring more different opinions into fashion. The clothes we wear are so intimate to us. I want my design to tell people a story, and connect them with the clothes. My collection was inspired by my background in the Chinese manufacturing system, which is always stereotyped as mechanical, uncreative, and low-quality. I researched the experience of these workers: Sewers only do sewing, cutters only do cutting. I tried to work like a sewer and cutter. I sewed some bad stitches, but I kept that. I cut fabric half-way, but I stopped. I kept all the imperfect elements that happened in the process of manufacturing, because in my eyes, they are beautiful.
I feel designers need more time to think and go further and deeper. It is so expensive and difficult for young designers to catch up with the speed of fashion. This high-speed industry also generates so much waste."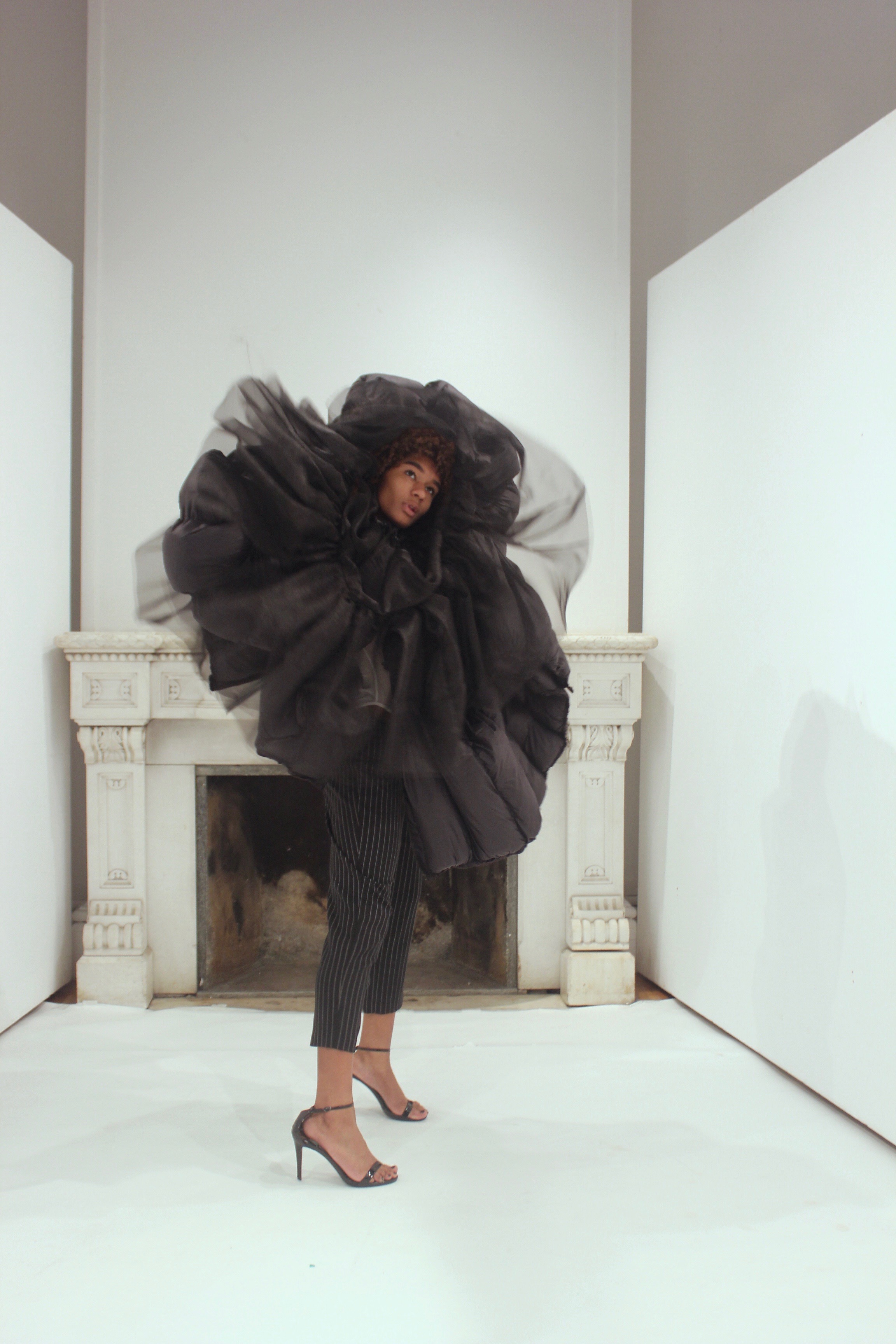 Jamall Osterholm, RISD BFA
"I hope that my work will somehow set a different tone in menswear in terms of what is 'acceptable' for the everyday man to wear. Culturally, I believe that men are told to be a certain way from birth and it's unfortunate that not many men have the strength to express themselves in different ways and I think that tackling what is and isn't menswear/womenswear could be liberating for everyone.
I think one of the biggest issues in the industry currently is the issue of appropriation and representation. The mixing of cultures today is inevitable and it think an extremely positive thing to push fashion forward, but taking from a culture without acknowledgement of those people of that culture I believe is extremely exploitative. With that said, I think that as the industry and market become more diverse and ideas become more diverse, representation on the runway must become more diverse as well. I think once the standard of beauty is not so confined to a specific kind of person, the amount of creativity and exploration in design will be insane."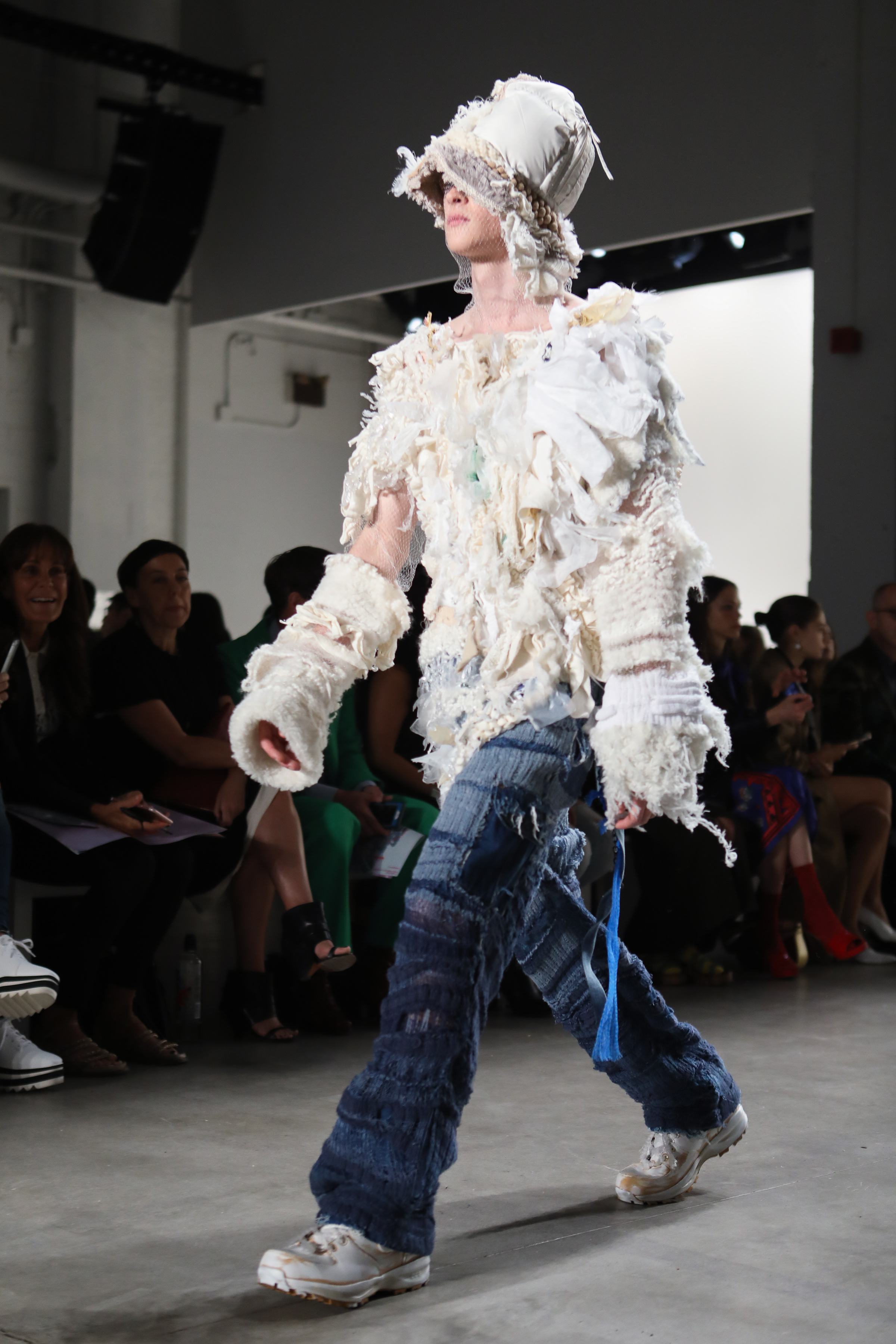 Venus Lo, Parsons MFA
"I hope the fashion industry can slow down a bit. Some designers and brands are under a lot of pressure, producing more than 200 looks per year, not including the looks that don't appear on the runway. I feel sad about this — designers cannot enjoy the moment of design, and even the customers cannot really know how to choose because there's too much! I am glad we are a new generation so we have more ways to explore our design through different media, however I do not want to lose my pace [to] the fast fashion industry and the direction of design. I want to celebrate the beauty of traditional handcrafts.
My MFA collection is inspired by my father, who is a hoarder. I wanted to celebrate the idea of hoarding, how someone's trash is another's treasure by using my own textile design. I translated this idea by collecting all the unwanted garments, yarns, and scraps from different stores and factories. By inserting found pieces of fabric throughout my knitwear and using a hand-felting technique, I created my own textile."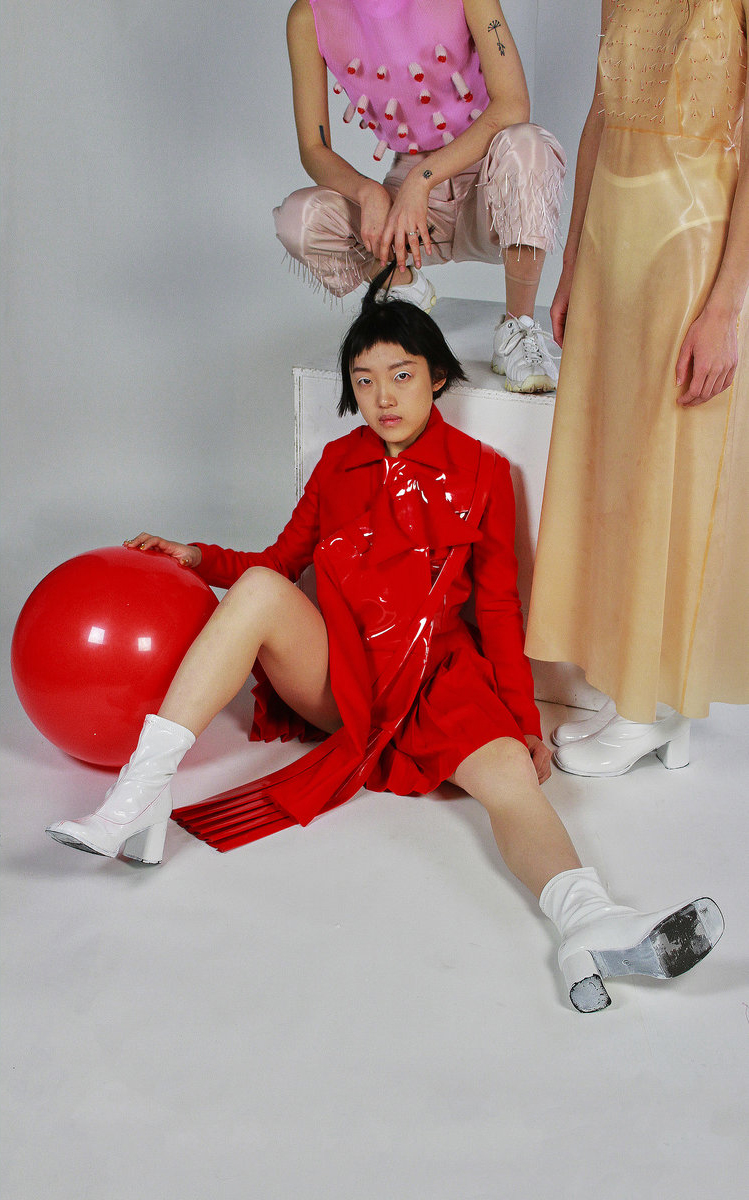 Maya Samach, RISD BFA
"My interest in fashion has always come from a recognition of fashion's potential to affect social change. Fashion is an incredibly powerful medium that can set social precedents and direct progress in a systemic way. In a time of such political turmoil, I hope to see designers reacting authentically and with a united front to the bigotry and hate that is becoming inescapable globally. I hope to see a stronger, more diverse community emerge within the fashion industry that embraces and advocates for marginalized groups. This community could be fostered in part through the elimination of unpaid internships. The culture of unpaid fashion internships creates a system within the industry where aspiring designers need to come from wealth to thrive, which reinforces the classism and exclusivity of fashion where decisions are made by those that benefit the least from social change.
I hope to someday be in a position where I can effect change on a larger scale, but for now I hope to bring to any job my dedication to the sustainable and ethical production of clothing. The fashion and textile industry is the second largest producer of wastewater in the world. I believe that in taking on the role of a fashion designer you need to take on this environmental burden."
Tagged: