Photos courtesy of Tyler McGillivery.
Tyler McGillivary is making fashion fun again
The New York-based designer wants to bring joy back to dressing with her colorful Bauhaus-inspired designs.
|
04 December 2019, 7:04pm
Photos courtesy of Tyler McGillivery.
Tyler McGillivary always knew that she wanted to make clothes. After studying "the form of identity through dress" at NYU's Gallatin School, becoming a fashion designer just made sense. But it wasn't until she started wearing her own hand-sewn garments in 2016 that friends began to flock to the 25-year-old designer for vibrant pieces of their own.
Tyler's unique designs and knack for color-blocking make her ready-to-wear line as dazzling as a disco ball at a Bauhaus costume party. In fact, she draws much of her inspiration from this era in art, the 80s, and color theory. "The act of getting dressed has always been a hopeful part of my day," she says. "For me, clothes have always brought joy." Lately, the ideal "clothes to wiggle in" have appeared on every it girl from Lola Kirke to Sasha Frolova.
i-D sat down with the New York-based designer to discuss sustainability, the importance of color, and why supporting your friends is one of the most important aspects of the creative process.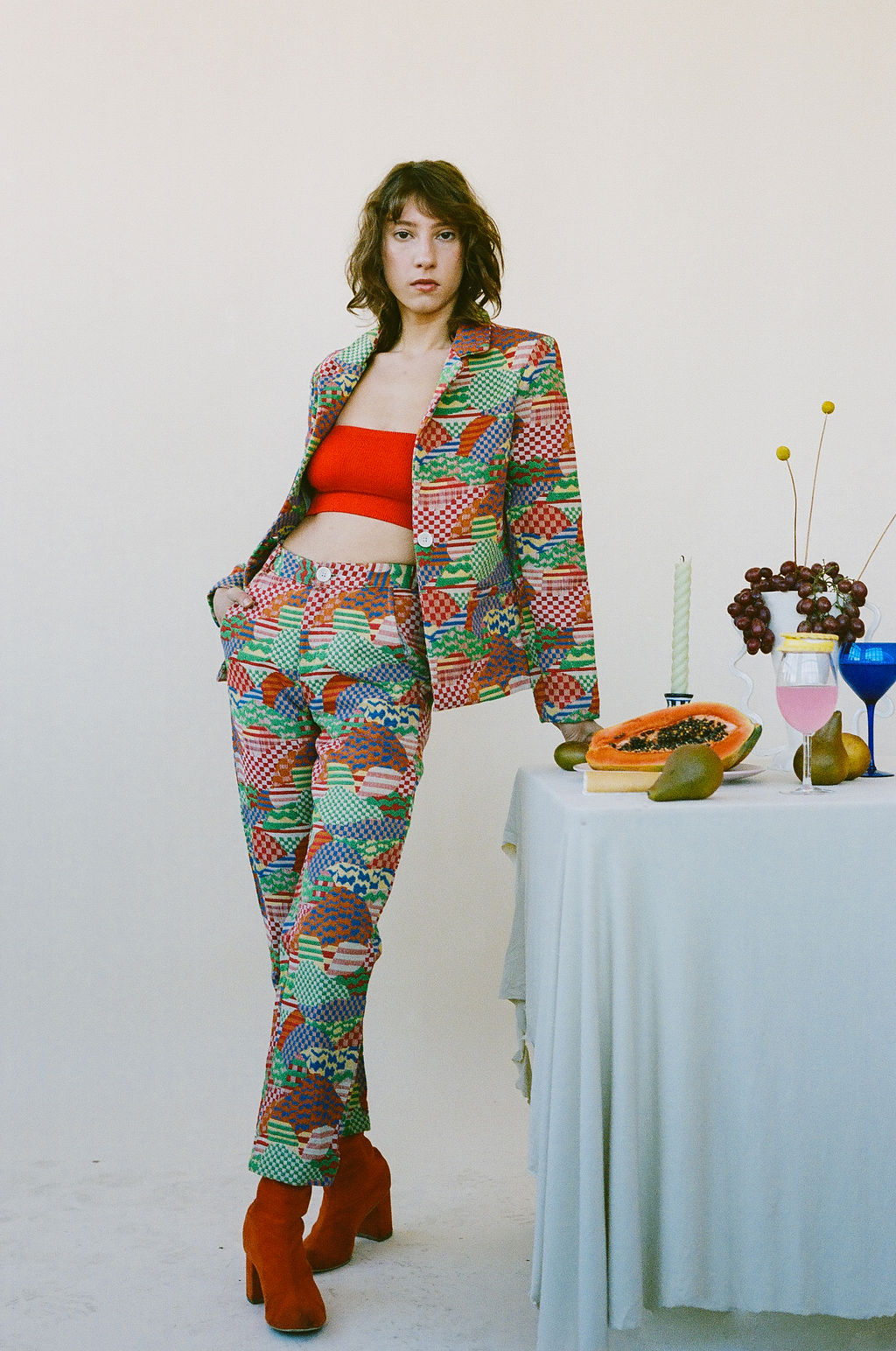 So, how did you get started as a designer?
I worked for different designers in college and when I graduated I knew I wanted to make clothes and do creative things. I felt like the best outlet for that was making clothes because that's been something I've always been interested in. The first piece was a flower top that I wore to my graduation and after that I started making pieces as one-offs. They had a pretty strong reaction. I quickly realized that I wasn't fully equipped to make large quantities and that's when I started looking into ways I could get things produced. Not long after that I went to India, found a factory, and started working with them.
Many consumers don't want to buy something that's made outside the US, but there are factories in other countries that are sustainable. What is your factory like?
Some people assume that if you make something domestically you can have more control, but often times when I talk to other independent designers they say that you can have horrible labor conditions anywhere. I think the most important aspect of designing is that you visit the factories and meet the people who are making your clothes, so that you understand the process of how something gets made. The factories that I work with are both really small and women run, and I love working in India because I source a lot of the fabrics there. The factories I work with also have an emphasis on sustainability.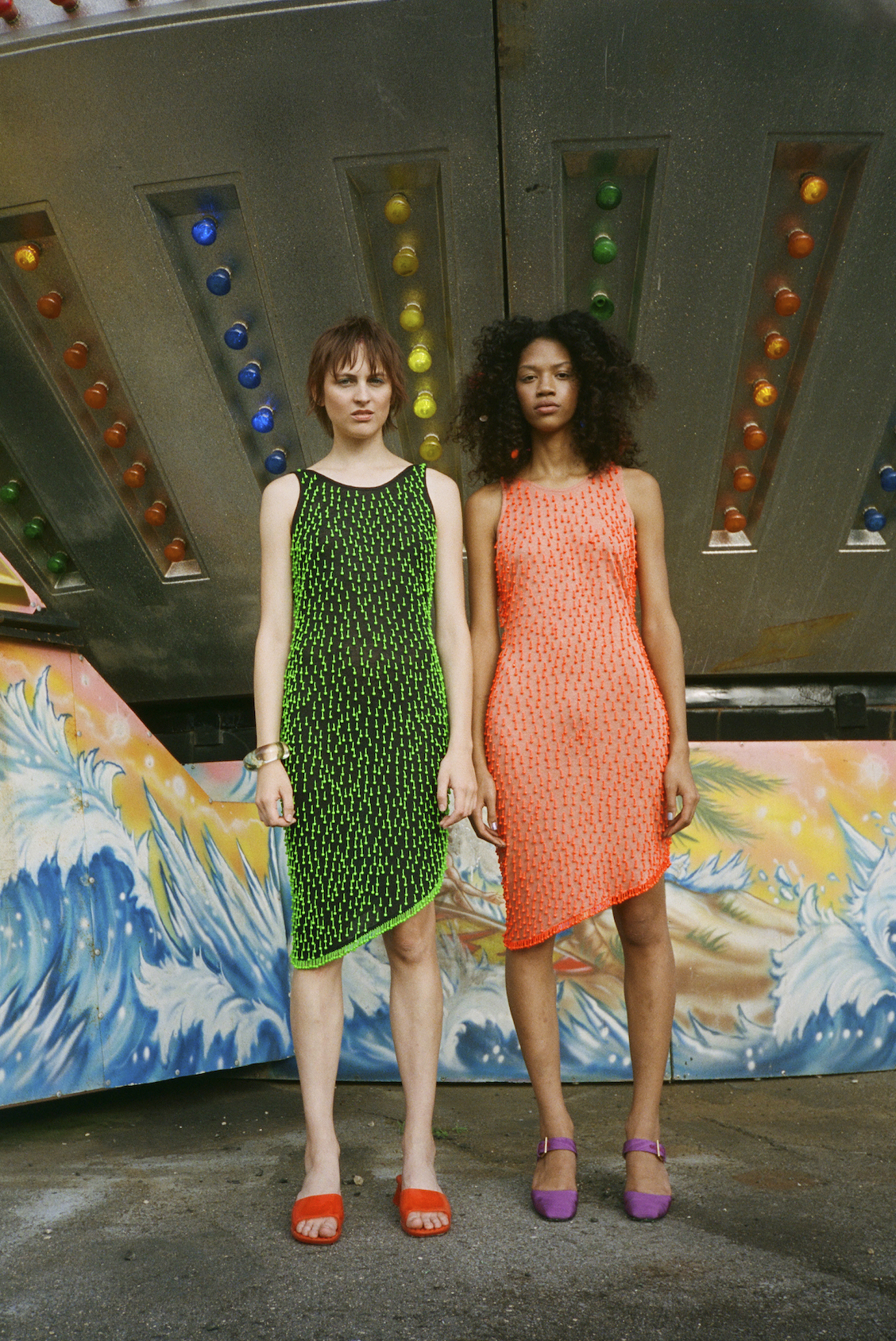 A lot of brands are focused on sustainability right now, but it seems like they use that as a marketing tool.
I think that there are a lot of ways to look at sustainability and one of the main ways is to think about what materials you're using and how you market that. My brand is trying to shift towards making pieces that will last for a long time. We've also been thinking about making our packaging fully recyclable and making sure that when we cut our patterns there is no waste. We are also working with my friend who does natural dying to come up with a color we can use for next season. The biggest thing for me is making pieces that people won't throw away. I'm not going to pretend that my line is at the peak of sustainability, but it is definitely something I'm working towards.
Your clothes are really fun and they're affordable. What inspires you?
For me, clothes have always brought joy. Before I started making clothes myself, I would wear really bright and playful things because it was so indicative of who I was. I think my demographic will grow over time, but for now it tends to be people who also want to bring joy to how they dress. Some of my biggest inspirations are the Bauhaus era, the 80s, and movements that are focused on color theory. The basis of the line is about how I can make things that make people feel creative, while also making them look good. It's really important to me that people feel like they look good while wearing these really fun pieces. I feel like often colorful clothes get put into this category of kitschy or childish.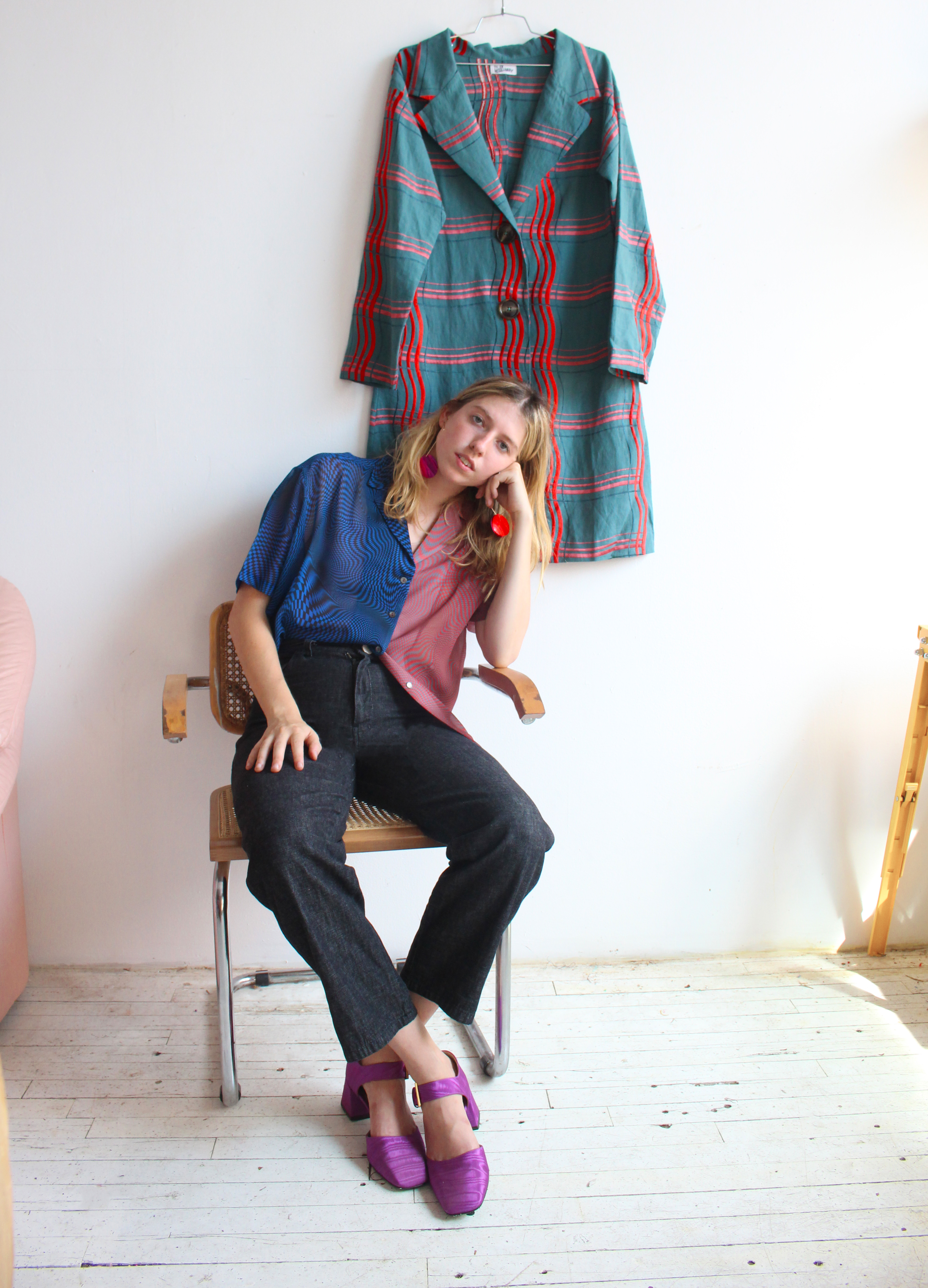 What is your process like from sketching to production?
I always start with color and what colors I've been interested in lately. I take photos of color schemes throughout New York and I'll go back through them and think about what stands out the most to me and start from there. After that, I'll think about what colors will make nice textiles and I'll build the whole thing in my mind before I actually make it. I'll also go through different artists' work that I love and use that as a building block to create the textiles and go from there.
Knowing that designers get a lot of inspiration from art is so fascinating because it's such an important part of the process.
I totally agree and it's funny because a lot of the time I draw inspiration from furniture. There's been such a shift lately in making [pieces] that look squishy and bright and that's so inspiring to me.
Would you ever want to design furniture?
I would love to make furniture in the next 10 years. My goal is to open a store and collaborate with a bunch of artists and designers that I admire. I feel like people would have things in their house that they wouldn't wear everyday.
Who are some creatives that you look to for inspiration?
I love Sam Crow, their rugs are beautiful. I love the textiles of Zoe Schlacter, who we work with. We are in a moment where there are so many amazing homeware designers and so it's hard to choose my favorites. Some other people I love the work of are Mala Projects, Misha Kahn, Liam Lee, Crystal Zapata, Hagihara Takuya, Earth to Lane, and Greem Jeong.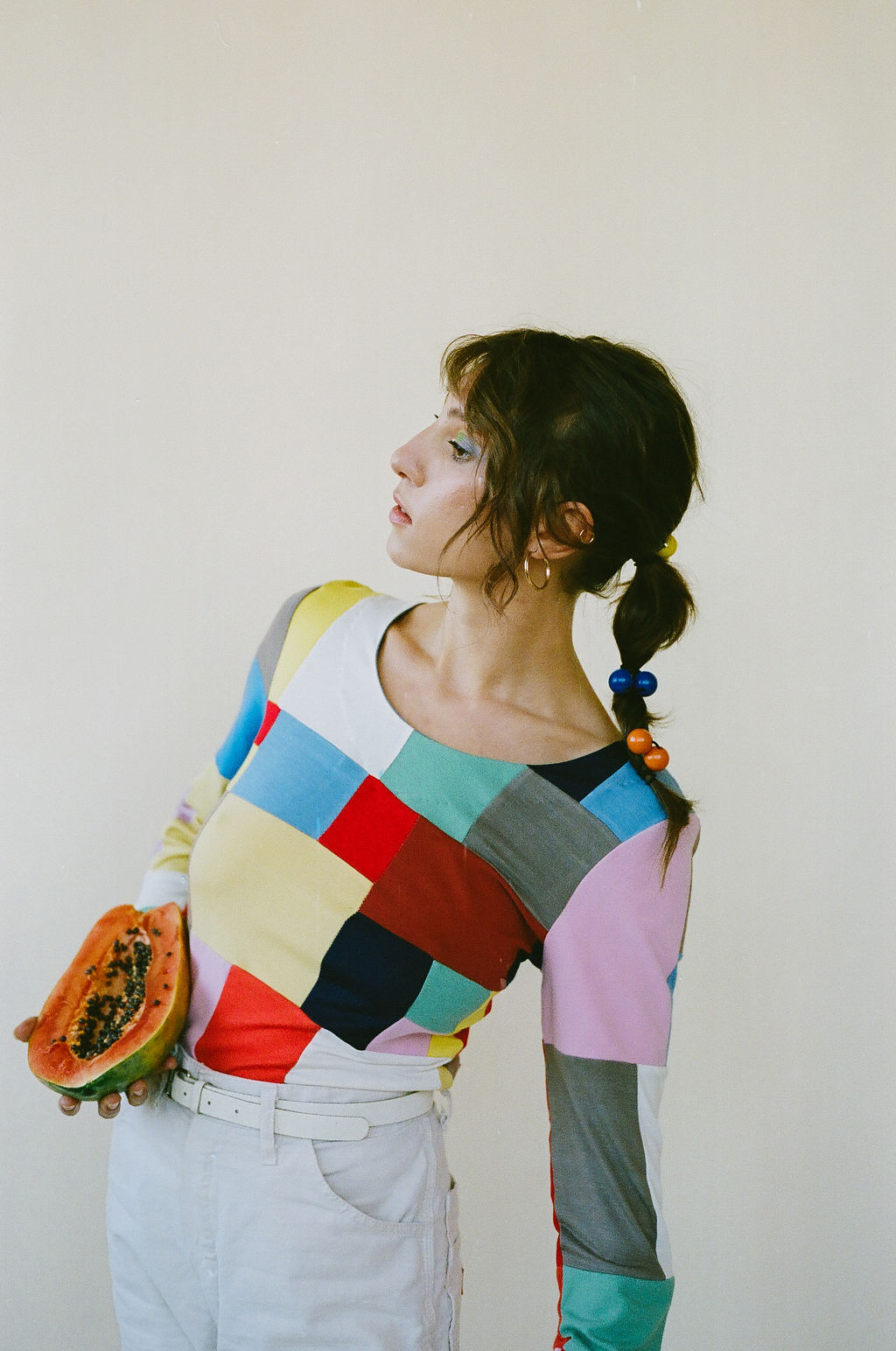 What are you working on now?
Right now we are working on finishing our fall/winter collection, which I'm super excited about because I feel like I now know what I want to make and what the customer would like to wear. So, we are making a bunch of patchwork pieces which are very art-inspired, as if you are wearing a painting. The collection has a lot of easy, wearable silhouettes that are sexy, but all of the pieces are great for different types of events. I feel like people lean more towards wearing things that are brightly colored if its a basic silhouette.
I'm so excited to see how your new collection differs from your current collection.
It's super interesting to see how people change throughout their collections and to get better and understand what's working for them because it's all a learning process and a way to stay true to yourself.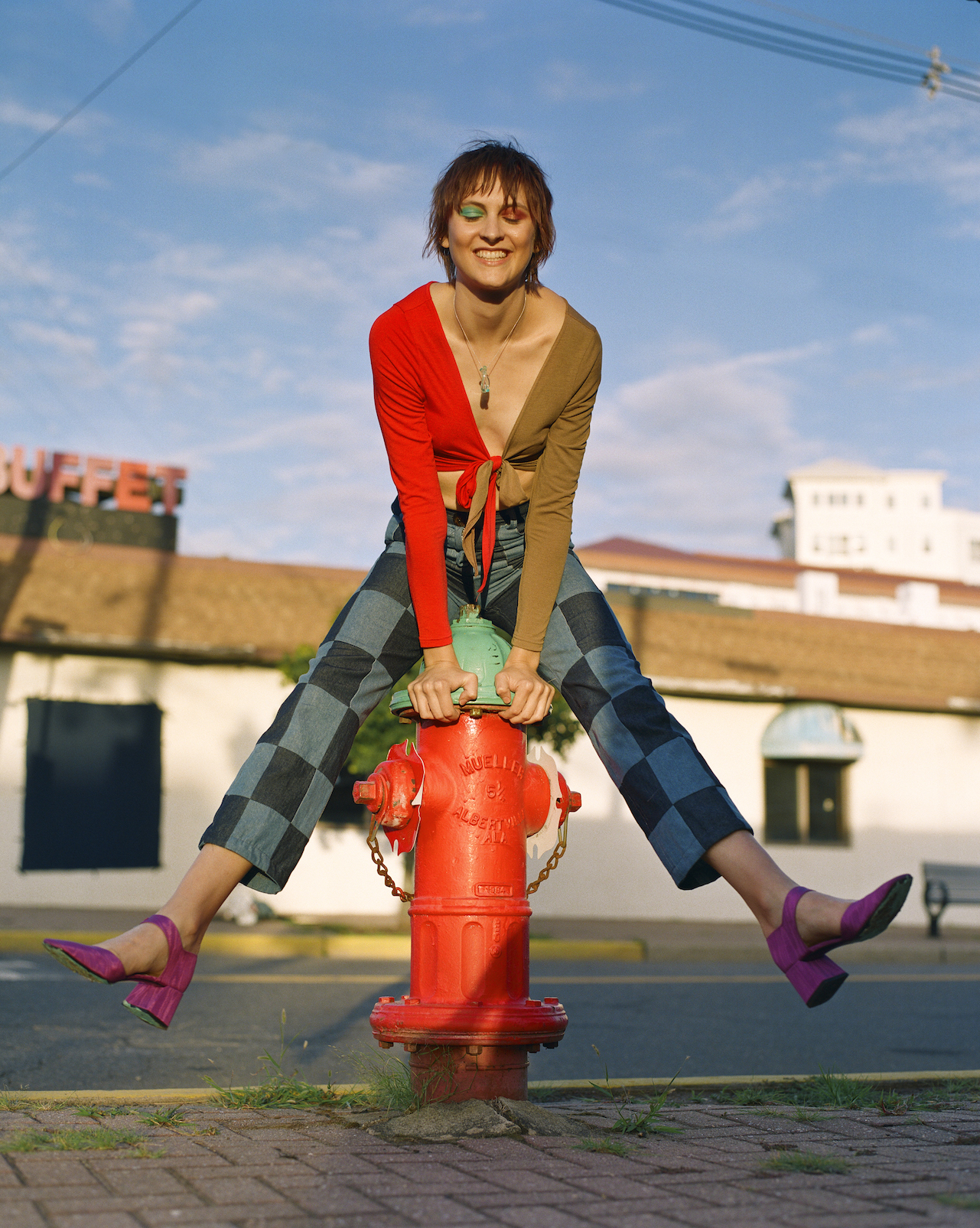 Who would be a dream to see in your clothes?
I'd love Tracey Ellis Ross to wear them. She has the best style of anyone I have ever seen. I'd also love Angel Olsen because I love her music or Jenny Slate because she's super cool. Lizzo wearing my pieces would be the greatest moment of my life. Any inspiring woman doing something amazing is the type of person I'd want to wear my pieces. I want to dress people that would feel happy to wear it like Issa Rae or Maya Erskine and Anna Ryan Konkle from Pen15.
What is your advice for someone who wants to pursue your career path?
Just do it! So many people wonder if they are going to succeed when they should just start doing it. Don't be afraid of how people respond to you at first. Don't be afraid in general. I think people also need to know how important it is to work hard. You aren't going to be amazing at something you're just starting to do, so just keep working hard and it'll all be worth it.