Rocha on Rocha: Simone and John in conversation for the first time
For The Get Up Stand Up Issue, John gives his first interview since retiring from fashion back in 2014, discussing daughter Simone's recent collection. We listen in on a distinctly family affair.
|
11 December 2019, 8:00am
This story originally appeared in i-D's The Get Up Stand Up Issue, no. 358, Winter 2019. Order your copy here.

Just under a decade ago, it was Simone's father, John, who was the preeminent Rocha in fashion. Born in Hong Kong, he made Dublin his home in 1979, setting up a studio far from fashion's beaten path, where he dreamt up voluminous proportions laden with Irish handcraft. For Simone, a family resemblance is only natural (she grew up learning to sew in his studio). Yet the 33-year-old has built a world of her own, translating the Rocha legacy into a language all of her own. Her designs speak to women of all ages and sizes, her shows often moving her audience to tears with their unbridled beauty. Not least John, who is now happy to sit on the other side of the catwalk as a proud dad. In their first ever interview together, and John's first since retiring from fashion in 2014, father and daughter sit down to talk fashion and family…
Simone: So dad, what did you think of my last show?
John: This show to me felt really important for your career. I can see us looking back on it for years to come. I was blown away by it. As a father, but also a professional. It really reminded me of the first time I saw an Alexander McQueen show. There was so much vision. The venue was amazing, the music was incredible, and obviously the clothes are spectacular. I don't think I was ever able to do something as good as this.
Simone: The clothes are the most important thing. This time we had worked so much in natural, earthy, elements, that it went from the clothes to the hair, to the music, to the way the women walked and the women who were in it. I really wanted to do something inspired by Ireland and I wanted to have lots of Irish women walking in the show. It was the first show where I felt comfortable with all the elements of it. So to hear that you liked it… You're probably my proudest critic, but also the most critical, because you really understand, not just from your own experience, but you see my whole process.
John: Working and living in Ireland for most of my career, too, to see what you have done to bring that element of Irishness into your work, it's so pleasing for me to see you develop it to this high level.
Simone: The one thing people always ask me is 'How did your dad end up in Ireland?' Because it's such a contrast.
John: For me, first and foremost, Ireland created a home for me as a person. I felt so at ease when I first went to live there and it was a good time to move. In the late 70s and early 80s there was a tremendous energy in the country — not in fashion, but in filmmaking, music, poetry, art. I felt like I was part of a movement there. The fact that they accepted me was amazing, I made so many friendships — people like Jim Sheridan, U2, Sinéad O'Connor, Van Morrison. It was so encouraging, even though I didn't feel that the culture was very fashion-based I was determined to be there and make a career from there. It was difficult! There was no infrastructure and I worked in isolation. But that made what I did different. Even down to giving my children a chance to grow up in this country, I think it made you the designer that you are in a way.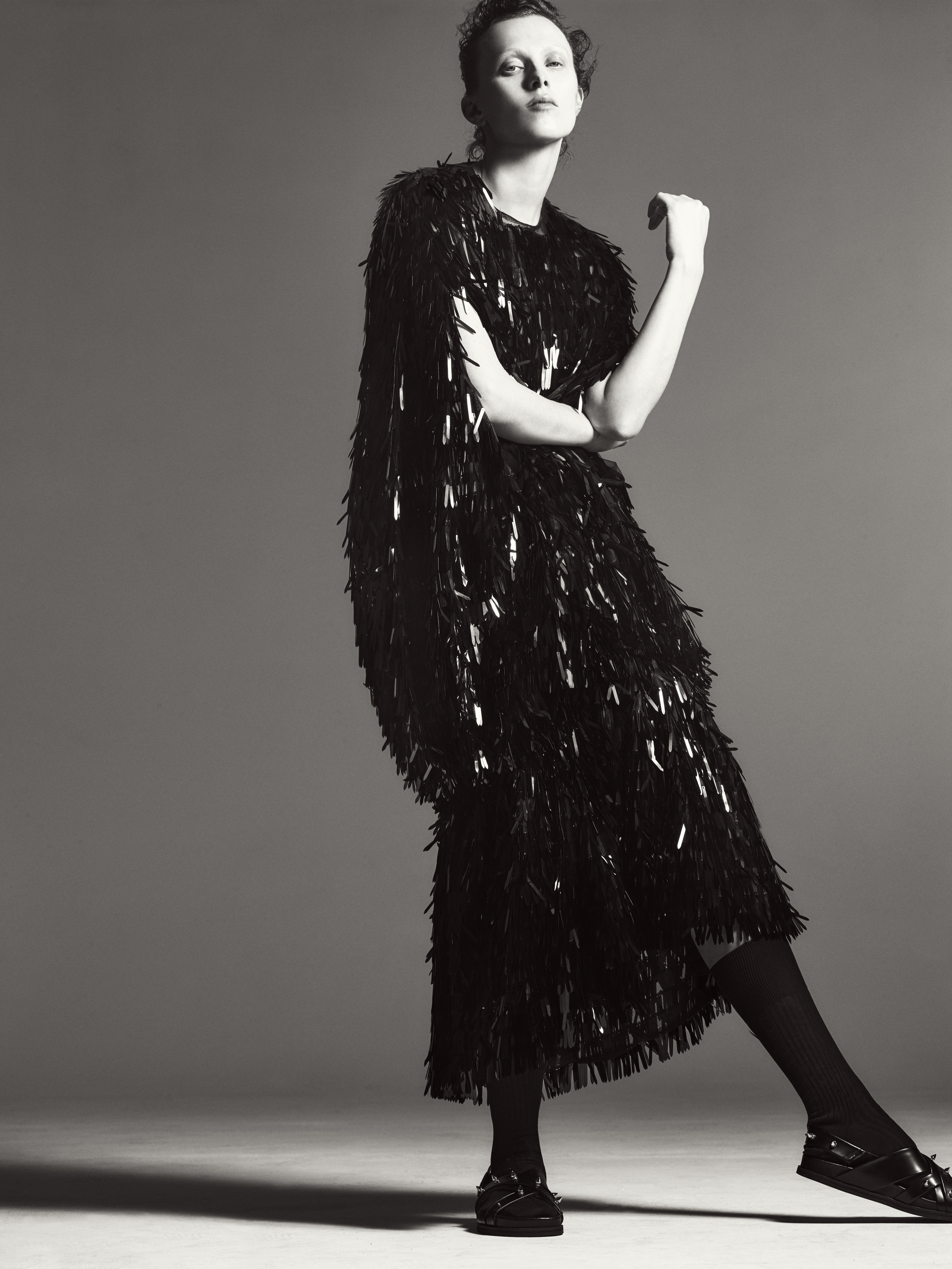 Simone: I totally agree! I loved growing up in Ireland and I'm very proud of being Irish, growing up with a creative community that was very small and very free. Even the way I was educated in Ireland was so different in comparison to what I got at St Martins. Both were amazing, but in Ireland I learnt everything from the bones up, whether that was machine knitting, hand knitting, pattern cutting, sewing... When I went to do the MA at Saint Martins with Louise Wilson, that contrast was amazing, this new environment bang in the middle of Soho, living in Hackney. Dublin is not the diverse city that London is. That combination and contrast really stimulates me, our heritage and the work we produce is about that tension, that makes something exciting.
John: It was very challenging when I moved to Ireland. One thing you could say about it in the late 70s is that it was not particularly diverse. I remember going to visit my wife's hometown in the country for the first time. I don't think they'd seen any Chinese people before, let alone one with long hair like me. Despite Dublin being such a very vibrant city, your studio is much more cosmopolitan and I think that makes your design slightly different. It enhances your philosophy.
Simone: Coming to Ireland from Hong Kong, you immersed yourself in Ireland and the history and culture of Ireland. And I'm not from Hong Kong but it's my family home in a way, too. I wanted to excavate that a bit, see how I could interpret Hong Kong into my work. Looking into the family, all your sisters, your mother and how they dressed, their femininity, their practicality, working out ways to reinterpret them. It's about the tension between being from somewhere and being a little alienated from it too.
John: All we have are references because no one has ever invented anything in fashion, it's all about looking at the past and bringing it forward. Your view of Hong Kong is very different from mine. I'm always astounded by that.
Simone, what was it like following in the footsteps of John?
Simone: He taught me so much because he has such an understanding of what I go through, the pressure, the creativity, how to keep a family together. I'm so proud of having an independent family-run business like my dad. My team have been with me for seven years, and they're like a family too, and that's come from me growing up in a studio that was a family. That's very connected across both our careers. When I was in Ireland it was more apparent that my dad was John Rocha, but once I went to St Martins, and was being educated by Louise Wilson, she wouldn't let me think about it at all. The very first thing she said was "I don't care who you are". She completely blanked me for a few months and in hindsight that was the best thing she could have done. She said, "I'll only talk to you when you come to me with some work to talk about". She wanted to know who I was, what my identity was. She wanted to find out what else I could bring to the table. Dad always worked in incredible volumes and that's something I definitely inherited, but I wanted to bring a female gaze to it. I'm a woman of a different generation looking at that craft and bringing it into a new place. It outweighs the name, no matter how proud I am of being his daughter, or of learning my craft from him.
John: All my life as a designer I looked at the female form from a man's point of view. It's very different to look at it, like you do, from a female point of view. I think it's a big difference between our worlds, the foundation and the philosophy is maybe very similar, but a lot of what you do in a collection comes from that personal point of view. It defines you as your own designer.
Simone: A very important part of our lives is my mother, Odette. She's our secret weapon. She was dad's partner, totally 50/50, and now my partner too. We work together very closely and creatively.
John: She's the best thing we've had. I worked with Odette together on everything 24/7, in the studio, at home. When I was designing I was very dependent on her, on her point of view. She was my everything.
Simone: People always ask this very dated question: 'Who is your woman?' From the very beginning I've thought that it was never about one woman but about femininity. It can be any age, any size. That's definitely a reflection of mum and us working together. She wears it, I wear it, the team wear it, she's always thinking about that multi-generational perspective because femininity has no age limit.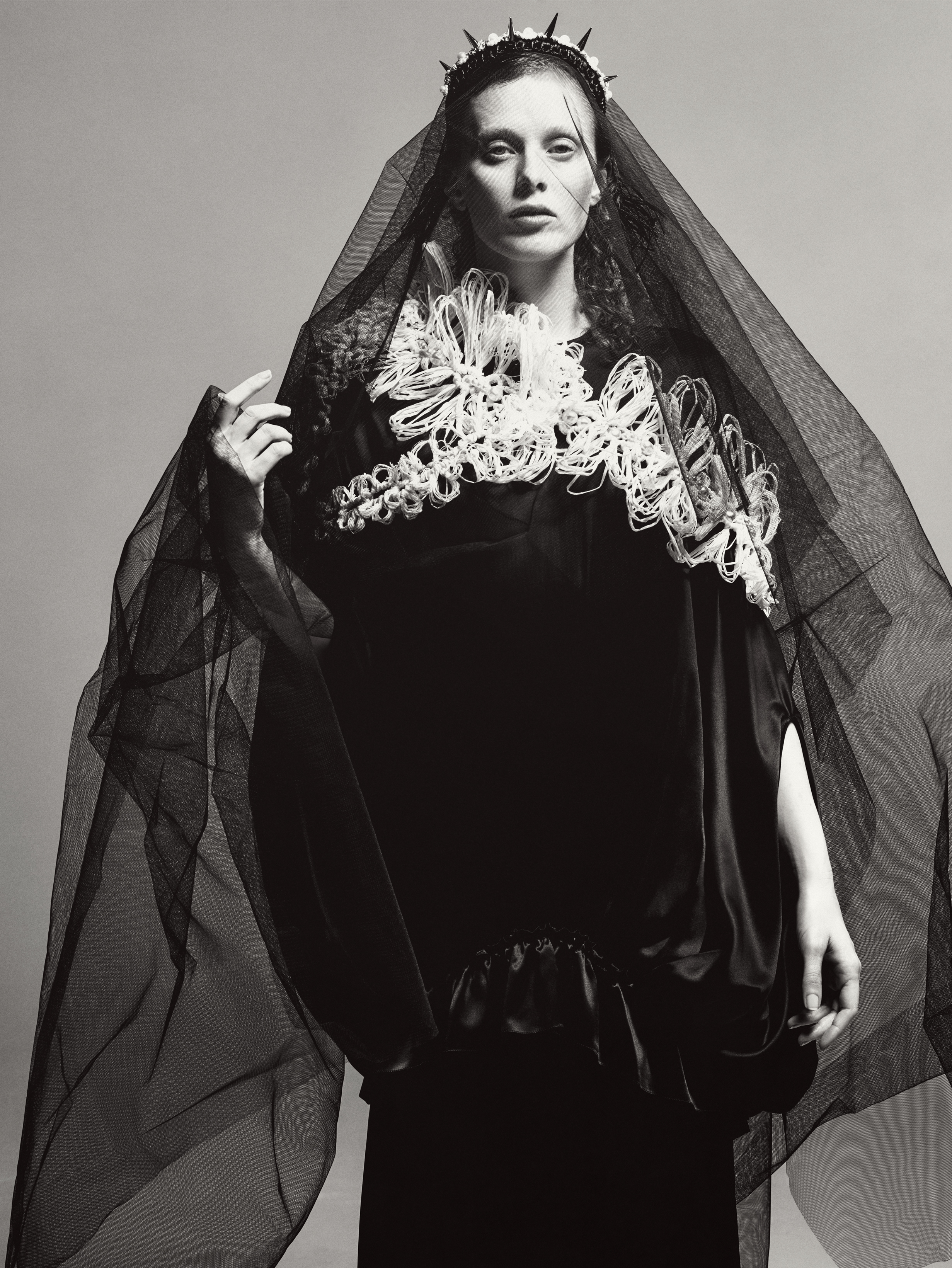 John, you closed your label as Simone's was beginning to flourish. What surprises you the most about the changes in the fashion landscape since then?
John: Even in the last five years since I stopped it feels like an incredible amount has changed. And changed so fast!
Simone: Now it's so intense, so instant.
John: The calendar used to be very strict. Now it all moves so much faster. To compete in this world now, as an independent business, it is so challenging. When I started as a designer it felt like there was a network of stores who could support you that are gone now. You need to protect the integrity of your business, and that means building slowly, step by step. My business was always very European based, but now, everything has to be very global. You have to be everywhere. Simone: It's about bringing this old school, independent ethos into today. The reality is that you need to be supported, so we've structured things so that the creative message can be spread worldwide on a practical level. It's about creating work and a business that we can be proud of. Early on, you told me to not sell my company. That was a good piece of advice. John: I think also I said — there's so much fashion out there, you must find your own voice. If you have a great voice, people will want to hear you sing.
Simone: That is very important to me. I want every collection to be in conversation with each other collection. It's my body of work. You wouldn't expect a painter to be a modernist one year and an expressionist the next. It's also the same in other fashion labels I admire. Like yours, like Comme, like Rick Owens. Also those labels are all partnerships, in a way, both public and private. I respect that so much.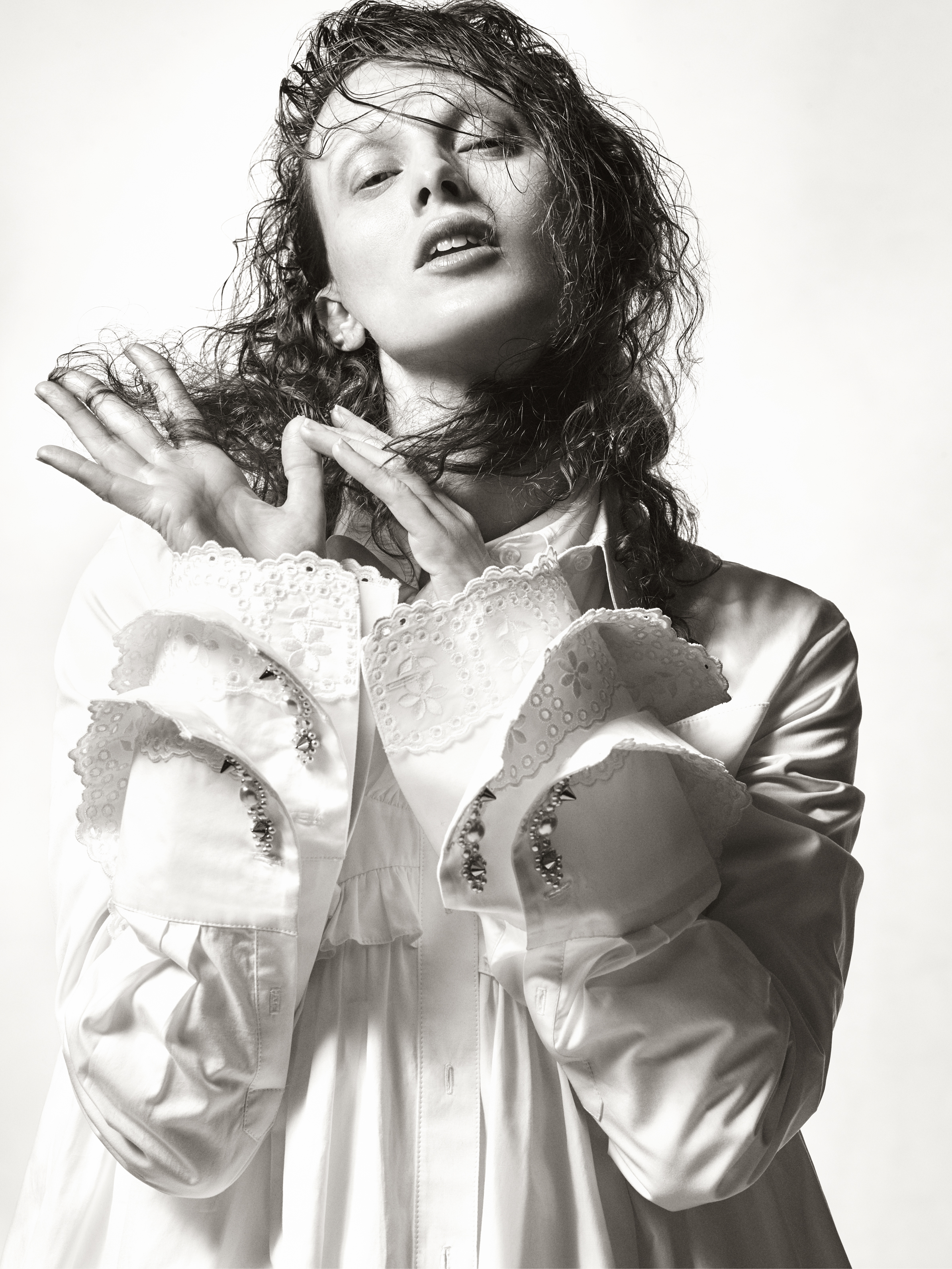 What is life like at the Rocha household away from the fashion world. What do you talk about the most?
John: We talk about art a lot. I collect art. I love art. In my life, these days there are three things; fishing, art, and music. I talk about fishing with my son, because he loves it too, with Simone we talk about art and music a lot. Your taste in art is a bit more out there than mine. I love art that I can hang on my wall and doesn't offend me. I like to be able to see art every day.
Simone: My house is a bit more provocative than yours. The art is a bit darker. Actually I have a question for you, dad. What has been the most surprising moment in my career to you? John: Hahaha. Oh boy.
Simone: Do you remember when I showed you the dresses I was making out of pink neoprene?
John: I think it was one of the early shows, when you were part of Fashion East, maybe, when the girls had the Perspex brogues? That was a brilliant moment for me.
Simone: It was my second show, I think.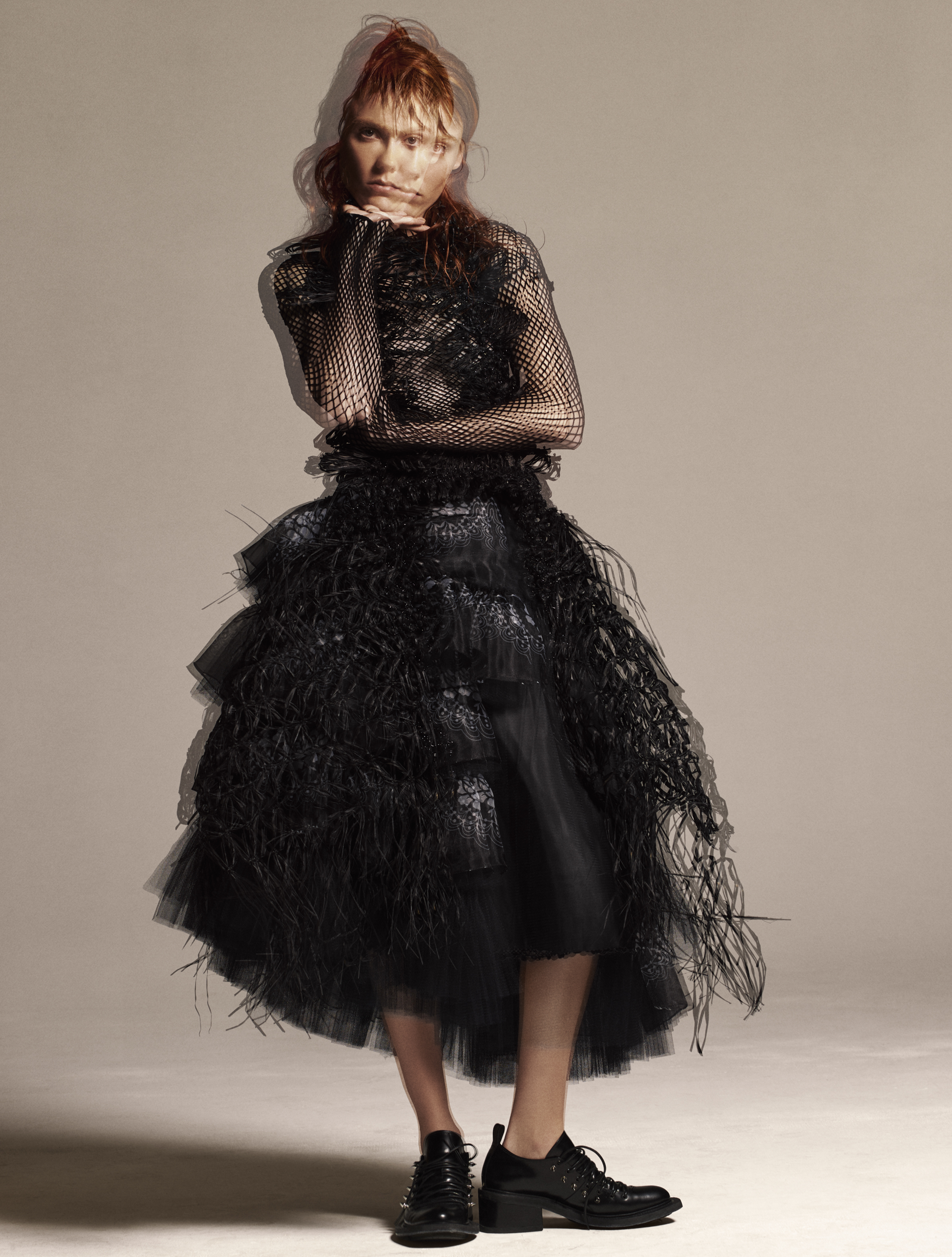 John: Because I think it was then that I realised just how talented you were. I realised, I think, you were going to be alright. That you could do it. I think another, very magical moment, for me, was walking through Hong Kong when you opened the shop. It was 50 years since I left Hong Kong, my home, and where we'd come from, and now we were back like this. I couldn't do it myself, but you did it for me.
Simone: I always loved Hong Kong and I loved the story of how, because it is so hot there, when you were growing up you would run through the Mandarin Oriental, chased by security, to get a blast of the air conditioning. Once you'd become successful, you would stay in the Mandarin Oriental. Then we opened the store on that street too, and you designed it, so it was like our family history was coming full circle.
John: Fashion as a career has been a wonderful journey for me, and it's great to see you continue that in your own way. It's beautiful.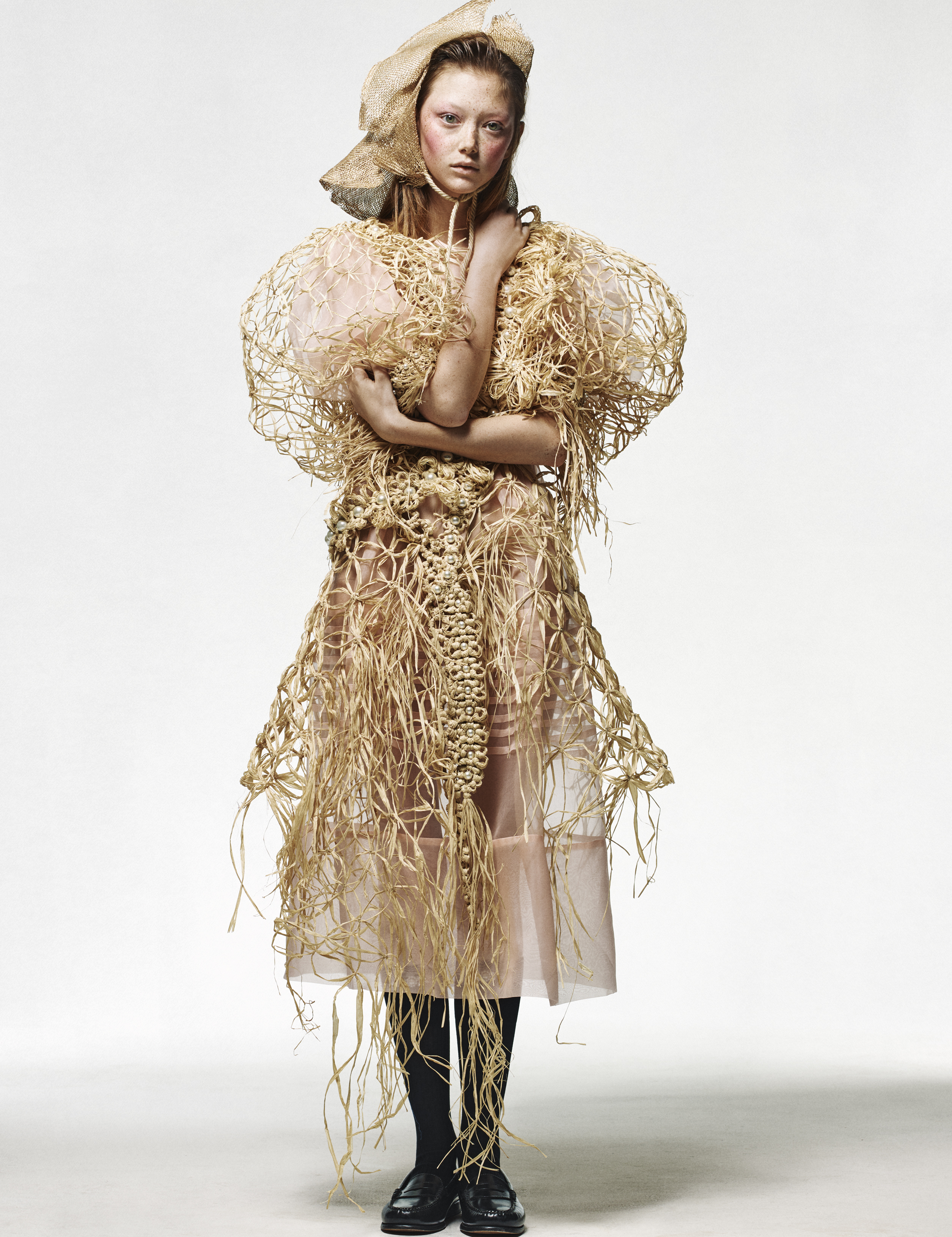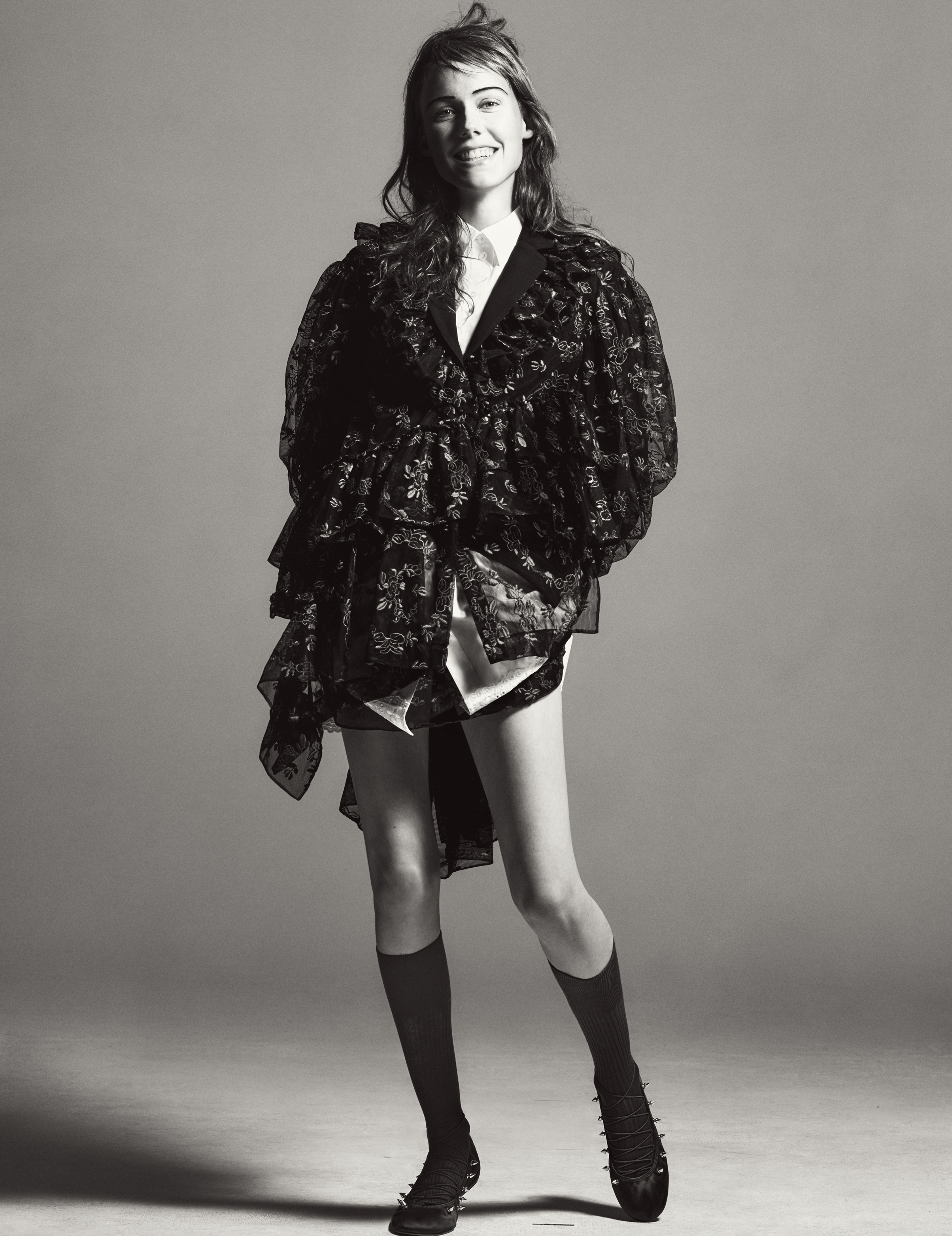 Credits

---
Photography Christian Macdonald
Styling Malina Gilchrist
Hair Kevin Ryan at Art+Commerce using R Session Pro Tools.
Make-up Erin Parsons at Streeters using Maybelline New York.
Nail technician Elina Ogawa at Bridge using Zoya.
Photography assistance Hayden Worsfold, Xavier Muniz and Nico Margoroz.
Digital technician Eran Wilkenfeld.
Styling assistance Bertille Noiret.
Hair assistance Ginger Leigh Ryan.
Make-up assistance Aya Watanabe.
Production Jessica Hafford at MAP Ltd.
Casting director Samuel Ellis Scheinman for DMCASTING.
Models Karen Elson at IMG. Kiki Willems at DNA. Sara Grace Wallerstedt at The Society.