meet the 17-year-old producer catching the attention of billie eilish
Perto is the Sydney-born production prodigy who went from DJing kid's parties to DM-ing Diplo.
This article originally appeared on i-D AU.
Perto is the Sydney-born 17-year-old musical prodigy who's been producing eclectic electronic tracks and playing sold-out shows around the world since a chance encounter with Diplo at the age of 11. Last year, he dropped out of school to tour and then hit the studio with industry titans like Timbaland, Billie Eilish and Justin Timberlake, and most recently, he signed with his all-time hero Skrillex's management company, Blood Company. Despite all of this, Perto's managed to fly pretty under the radar, until now (this is his first ever interview!). In the lead up to his imminent Australian tour, we caught up with the bleach blonde wunderkind while he was in Barcelona to talk about how he went from DJing 10-year-olds' parties to DMing with Diplo.
Hey Perto! How's Barcelona?
It's good! I just woke up — it's 10am here. I've just been writing a lot, seeing family and stuff. My dad runs a cafe out here. I'm mostly based in Sydney though.
We have mutual friends in Sydney, but I can't work out how you met them — can you go out to bars and clubs when you're 17?
In Sydney? It's super hard. If I want to go to a friend's show I have to have the venue be all across that and the police have to be across it. There's a lot that goes into it! It sucks.
But that'll change when you turn 18, right?
Yeah. I will probably have moved to the US by then though. A big part of my team is based out of there now, so it makes sense. I was just there in Miami writing some stuff with Timbaland. It was crazy!
Wait — are you still in school?
Right before my first tour last year I had to sit down with my parents and be like, "Well, I either finish Year 11 and do Year 12, or I shoot off and do this tour", and they gave me their blessing, so I left school.
And you were also playing shows while you were in school?
Yeah, but it'd be like I'd fly out, play a show, and be back by Monday morning. [Laughs]
So, were you, like, a musical prodigy on the piano when you were six or something?
Hell no! I don't come from a musical family. No one's ever done anything musical. I guess I just started DJing when I was 10. I was in the car with my mum when I heard like a Skrillex song — I think it was Bangarang — and I was like, "This is insane!"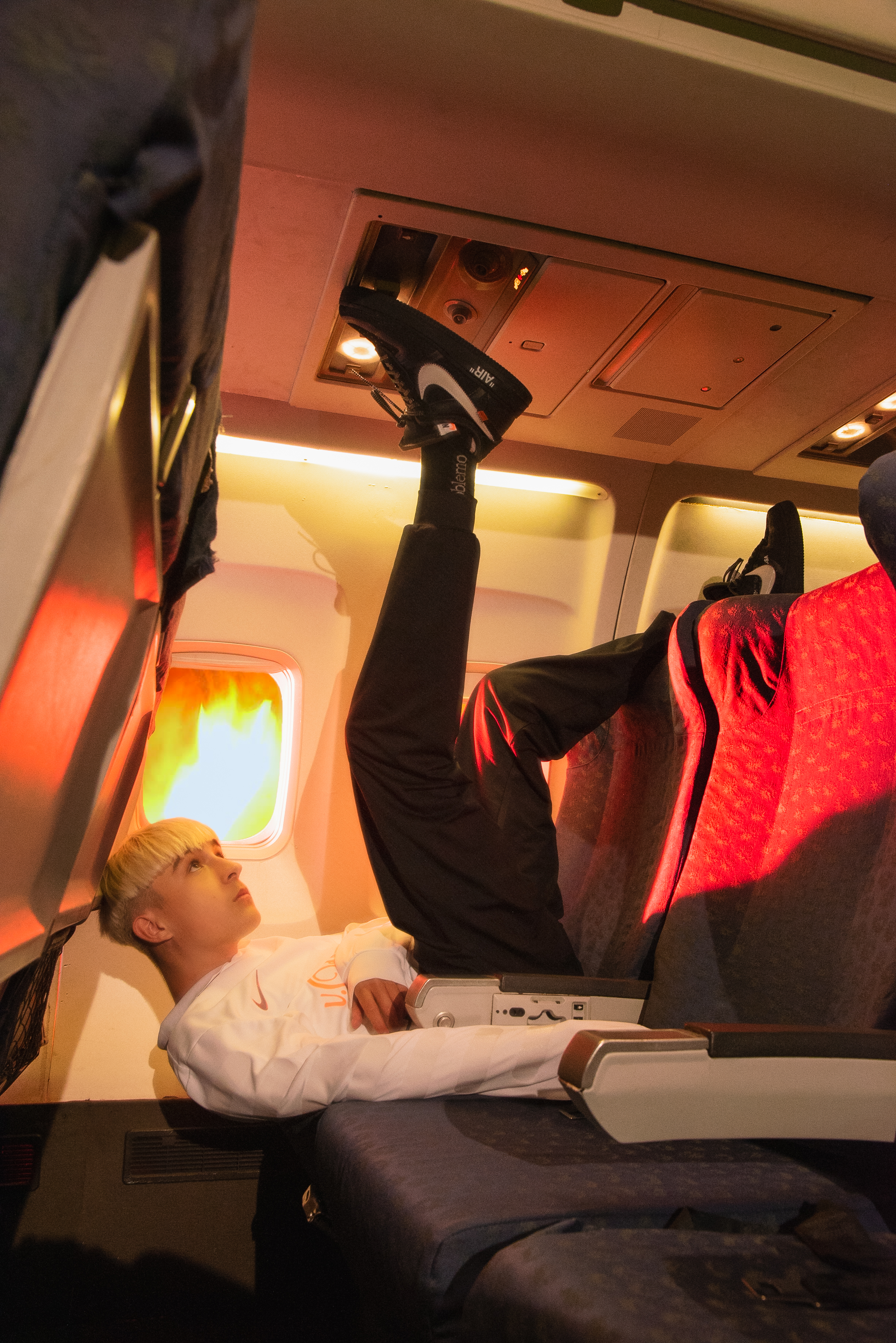 Where do you DJ when you're 10?
[Laughing] Like, I wasn't DJing anywhere. I played my school friends' parties here and there, and I sucked at that because no one liked what I played. Then I guess I just started producing. There was a DJ app on my iPod Touch and I used that for a while. And then on my birthday I got a shitty-ass controller that I used to work on. After a few months of producing I wound up going to a production school by the name of Ableton Liveschool in King's Cross for a little while. I just did a couple of courses there.
And how did you wind up meeting Diplo?
I think it was my eleventh birthday, and there was a Flosstradamus and Major Lazer show, which was the biggest thing ever to me. I was talking to Kurt from Flosstradamus at that point. I think I was just annoying him on Instagram, and he ended up bringing me on stage and that was crazy, and I met Diplo too. They posted me on Instagram because I was wearing one of their beanies, as if to say, like, "Why the fuck is this child wearing our merch?" Back then, I would literally hang out outside of clubs trying to meet the people I looked up to. I'd get hassled by security being like, "What the fuck are you doing here!" I'd tell my parents I was going out to see this person and they'd be like "okay!" and then I'd stand outside the club for eight hours.
So, at what point did it switch from you wanting to meet some of your heroes to you realising you could make a career in music?
I think when I first had that feeling I was playing in Myanmar — the video of my first show exploded online and I guess it must have reached their shores, and when I played my first show there, I had a 'me' waiting outside. Like, there was a kid waiting outside the show who couldn't get in! So I snuck him in and brought him on stage.
Right! I didn't know about the video, and just assumed you'd met Diplo, sent him some music, and it had gone from there?
No, it took years. I mean, I was always in touch with Kurt, but I didn't end up linking with Diplo again until like last year. It was my last day in LA and I was like, "Hey, what are you doing?", and wound up working on some stuff with him. Actually, Kurt was there too — we rode motorcycles around the Hollywood Hills and through national parks and stuff. It was sick. But yeah — there weren't like any artists pushing my music to anyone. I was kind of doing my own thing for a while.
So, what have you been working on lately?
Probably most of these won't come out, but between LA and Miami I worked with Timbaland, Ludacris, Justin Timberlake, Billie Eilish, Alison Wonderland, Diplo, and Whethan... So much stuff! And Diablo — he basically kicked off Smokepurpp and Lil Pump's careers. He was producing them from day one. He's the craziest dude ever. We linked in LA and I was cancelling sessions with everyone else 'cause I just wanted to hang out at his house and work on stuff. We've been working together a lot recently.
Do you work in the studio with the artists most of the time?
Being in Australia, I'm never in sessions with them because they're all in America but being in LA it was every single day I would be with someone. We'd just hang out, get into the studio, and figure out what we want to do really naturally. The next song coming out is Bad Maybe Good with Kah-Lo, and we made that song in about two hours. I love that track.
How do you finish a song in two hours?
People tell me I'm really fast at getting ideas out. It's a pretty simple song. It's a beat with her vocals on it. But I don't know... There was just something there that day. We just got along and got it done.
So, you don't overthink things?
Absolutely not!
What's the most surreal thing that's happened since you started making music?
There's just been so much stuff that's happened... You know what? I think it was meeting Skrillex. And I only spoke to him for like 30 seconds. It was me, Diablo and Whethan and we were watching him play in Miami, and he'd just finished. It was super weird — I've never had to play it cool before, but with him I was like, "Oh fuck oh fuck oh fuck." And afterwards it hit me. I was like, "Damn. I was really listening to him seven years ago in the car and it's what made me start." He's the reason I started making music. That was so crazy... If I didn't hear that song I'd probably be still sucking in school right now. [Laughs]
This article originally appeared on i-D AU.