girls trip is the brilliantly raucous film everyone should see
As one of the most important films made by and for black women, Girls Trip celebrates blackness while avoiding stereotype.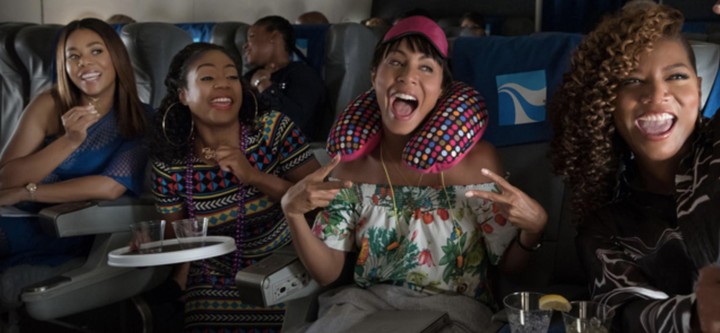 "One woman is every woman and the themes in the film are universal, even though we could be different ages and experience different things," said Jada Pinkett Smith ofGirls Trip, a film about four black female friends reunited for one wild weekend. The movie grossed £23.9 million in the US within three days of opening; to give that some scale the similarly framed Rough Night, a Scarlett Johansson led film about female friendships but with an almost entirely white cast, was a comparative flop pulling in £6 million in the same timeframe. Who'd have thought that a film about four black women just having a good time and galvanising each other to be their best selves would make £51 million in a fortnight, picking up high Rotten Tomatoes and Metacritic scores as well as an A+ CinemaScore rating? Not film executives, that's for sure, but black women could have told you so. Girls Trip is a raucous, relatable, smart flick that showcases a wealth of black talent, but mainly, it's a whole heap of fun.
He are 8 reasons why Girls Trip is a cinematic journey that we've needed to take for the longest time:
1. The film begins with a flashback to the girls, Ryan (Regina King), Lisa (Jada Pinkett Smith), Sasha (Queen Latifah) and Dina (played by big screen newcomer Tiffany Haddish) killing it at university. We see these sorority sisters graduating, beaming while they clutch their degrees, before arriving in the present day; here they are as four black women, all with their own individual professional success. This is set against Elizabeth, Ryan's white female agent who, if she does have any other clients, doesn't seem to care about them because Ryan and her husband Stewart consume her world. Whenever she's onscreen dropping as many 'blackisms' as she can, Elizabeth is patiently and politely told to stay in her lane. Remember when, in the video for Partition, Beyoncé was sitting at the dinner table and dropped a napkin on the floor literally so that her white maid could pick it and there were dozens of think pieces about it because we'd never imagined a world where that could happen? That.
2. The film respects and celebrates its audience: It's set at black magazine ESSENCE festival! In New Orleans, a city in the US with the 7th highest African-American population! With black inhabitants in background shots! Gorgeous wigs! Queen Sugar's Kofi Siriboe! Black love! Shots of performances from black artists such as Common, Diddy, Ne-Yo and Mariah Carey! Cameos from Estelle, Ava DuVerney and actual INYANLA VANZANT! And may we remind you that 'black don't crack'? Seeing four beautiful black women, many of whom we all grew up up idolising, underscores not only how important it is that women over the age of 30 are represented onscreen, but how in awe of them -- and their awesome melanin that just won't quit -- we are.
3. It's a black world, and we don't need to talk about racism in this place. The most familiar depictions of black people in cinematic history have been in films about slavery; presentations of black people in a white world enduring all types of triggering trauma until a white saviour comes along and saves us. In the world of Girls Trip, finally, black people exist in their own right, not quite sealed in a black universe but almost; they're being their best black selves, with no comparison to white people.
4. Obviously we hold a deep and unconditional love for Queen Latifah, Regina and Jada, but we need to be very thankful for the existence and performance of Tiffany Haddish who provided not just the majority of the laughs, but subverts the often one-dimensional role of the joker of the pack, reminding us that loyalty is one of the most important values.
5. Which brings us onto diversity. And by diversity, we refer to the long overdue depictions of black women in Girls Trip that go beyond 'sassy black friend' with pursed lips on the verge of young mammy who is loud, angry, cocks her head, screams (or grunts, depending) instead of responding with words and *pats weave aggressively* with the palm of her hand when confused or closing a point. Girls Trip boasts an array, yes an array of black women and men who have similarities and interests that bond them but are hugely different people. Who'd have thought it?
6. Sex! For once, black women having consensual sex (not with a slave owner, not to pay the bills because her son is at home, crying all alone on the bedroom floor etc.) This is no-holds-barred sex without judgement from society or friends; there are zero negative repercussions to four women desiring as much dick as they can get on a three day trip, plus there are sex tips Cosmo couldn't dream of throwing in the mix. You'll never look at a grapefruit the same way again. Ever.
7. Set It Off is a black cult classic that you should watch immediately if you haven't already. It sees Jada, Queen Latifah, Vivica Fox and Kimberly Elise as four brilliant black women from downtown LA turning to a sweet life of crime in order to make ends meet. A bad-ass romp that showed women being as relentless as any 'Bad Boy', Set It Off was an unmissable classic for any black person growing up in the 90s. Pretty much every person in the cinema roared with joy when Latifah and Jada gave their seminal nineties roles the nod we'd all been thinking about.
8. The men. Last and basically least; we won't linger on them because Girls Trip is all about the women, but every single time Kofi Siriboe wandered onto screen, the audience erupted; when Larenz Tate ambled into view it was time to coo. All great, and we love to see the male perspective inverted, but ultimately what this film does is remind us that as women, we're stronger together.
Credits
---
Text Candice Carty-Williams