inside england's only lgbt bookshop
As Gay's the Word turns 40, store manager Jim MacSweeney discusses its significance to the LGBTQ community.
|
18 January 2019, 12:29pm
Photography Dom Agius
Take a wander down the streets surrounding London's King's Cross and you'll stumble upon a marquee which bears the infamous pink triangle, originally a Nazi symbol for LGBT prisoners reclaimed by gay activists in the 70s. Among those activists was Ernest Hole, who had been thinking about opening an LGBT bookshop in London ever since he stumbled upon New York's Oscar Wilde Memorial Bookshop in the late 1960s. He spent the following years collating an archive and then laying the physical foundations for what is now Gay's the Word, a queer community haven which this week celebrated its 40th anniversary.
When I step inside the first person I notice is manager Jim MacSweeney. As Madonna's Ray of Light plays softly through the speaker he's deep in conversation with a young customer, who tells him all about their struggles with their own gender identity. Jim listens attentively, offering advice as well as a long reading list penned by authors who have experienced similar difficulties.
By the time I've introduced myself he's had other in-depth conversations with three more customers; they all leave not just with a new book, but seemingly with a sense that they've found somewhere they can truly relax. "I'm a bit of a Chatty Cathy today," he laughs as he unfolds a seat for me. "Conversations like that happen here all the time. The main thing I've learned is that you can never know what stage of their journey people are on, so you have to listen with empathy and compassion. It's really about talking to them, trying to evaluate their needs and then pointing them in the right direction."
Jim has been doing this for almost three decades now; he first got involved with the shop in the 80s through Gay Icebreakers, the socialist LGBT group of which founder Ernest Hole was also a member. Since then he's built a dedicated, charismatic team: "[Assistant manager] Uli has been here for around 13 or 14 years, but then we have new workers coming in like Erica, who's just started," he tells me. Not only do they bring their personalities to the table, they also bring expertise which plays a part in the shop's curation process. "We're not computerised, so [the collection] really comes from knowledge that builds up. For example, Erica knows so much about young adult literature and graphic novels -- she'll read something and then say 'You have to get this in!'"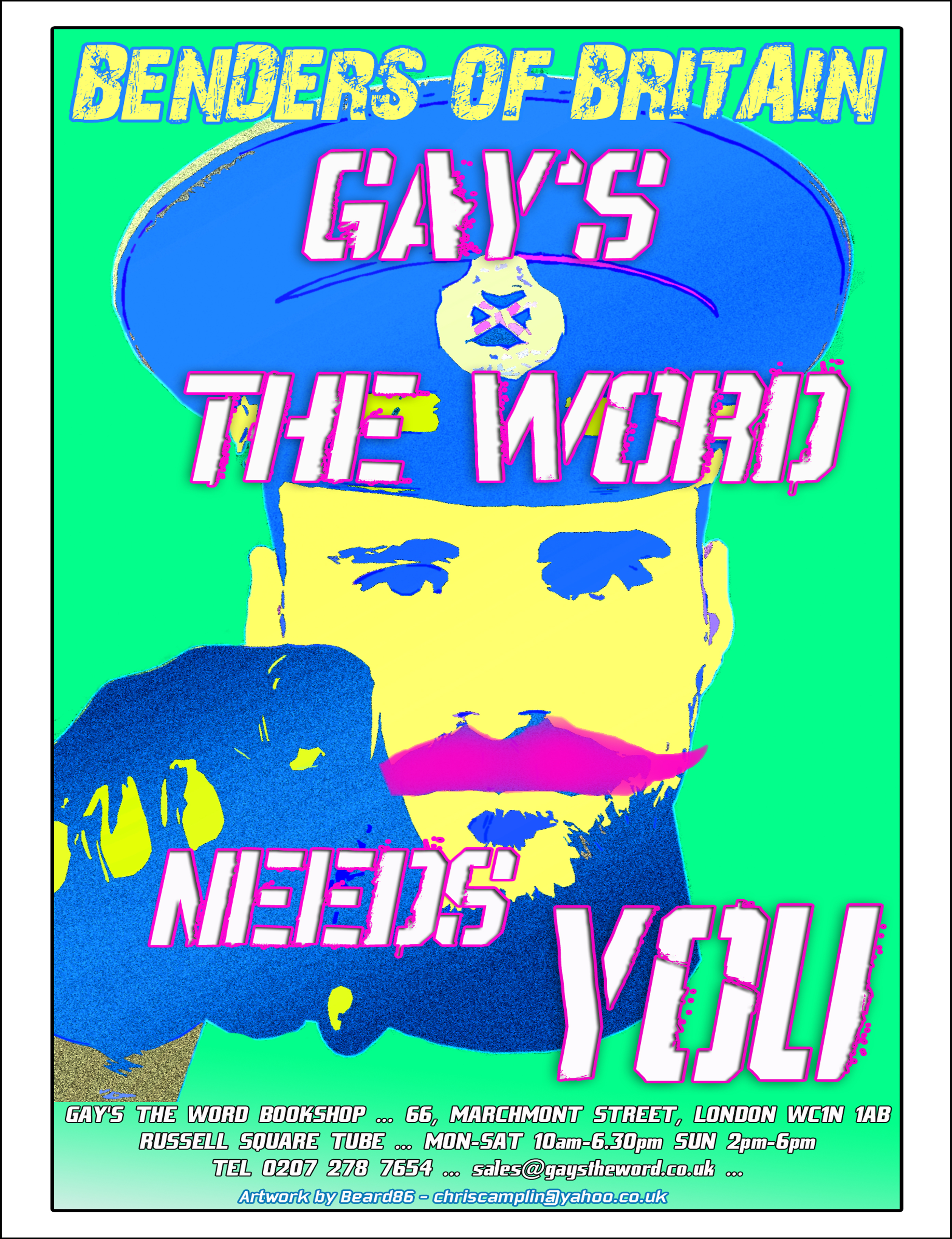 The result of this shared knowledge is an eclectic archive spanning numerous categories. Detailed history books document the stories of forgotten queer activists; trans survival guides are packed with practical advice on everything from binders to hormones; there's even the rare autobiography of late androgynous painter Gluck, thrust last year into the spotlight as the poster image of Tate's historic Queer British Art exhibition.
"Gay bookshops used to be very male-focussed and filled with erotic material, but we were different," says Jim, although there are still a handful of top-shelf gay magazines on offer, themselves an integral part of queer culture. "We only used to have two shelves of trans material, but now we have five -- I'm so pleased about that." He credits this increase in volume to UK-based publishers like Jessica Kingsley, which makes a deliberate effort to commission books by trans and non-binary writers. "We used to have to import books on these subjects and just hope they were good. The fact that they're now coming out of this country marks a really exciting change."
This progressive ethos has always been integral to Gay's the Word, which served as the meeting place of pioneering activist collectives like The Gay Black Group, Lesbians and Gays Support The Miners and, more recently, TransLondon. It also housed the organising which led to Britain's earliest Pride marches, a fact made evident by a series of notice boards towards the back of the shop. Hung proudly on the wall, they're studded with political badges bearing slogans like 'gays against fascism' and 'come out -- hide your badges where your mother can find them.'
TransLondon still meets here regularly, as does a lesbian reading group that's been going strong since the 80s. "One week we had [2018 book] Now You See Me: Lesbian Life Stories, and I remember it was packed," Jim recalls with a smile. "There was a load of young people and then a load of older women in their 70s; their conversations were so lovely, as was that real connection between them."
Events like these have arguably helped Gay's the Word survive the rise of e-books and the increasing appearance of LGBT sections in mainstream bookshops -- they provide a sense of community that's still hard to find outside of queer spaces, which tend to be nightlife-oriented. "There was definitely a time when dust was blowing through the bookshop, and I thought we might be done -- the internet has created so many ways to meet new people. But people still come and meet some of their best friends through these groups just like I did."
Not even the various attacks on the shop have dampened Jim's spirit, although he admits being occasionally fearful. Countless acts of vandalism have taken place over the years, and just last year the shop had its window smashed. "We are vulnerable because we are so visible," he says in reference to the shop's marquee, "but when we do get hatred it tends to be from the outside. Still, it's always a threat -- when you're on the street and you see hassle ahead you can hopefully cross over, but if people come into the shop we just have to do our best and hope they don't wreck the place." Luckily, when the shop is under threat the community comes together -- as it did last year, when a photo of the destruction went viral and prompted scores of locals to come in with bouquets of flowers and sincere apologies. "My irritation and distress just changed into the joy of being held by these people, who were giving us this outpouring of love."
It's not just the locals, either -- people from around the world make a pilgrimage of sorts to see the shop. Some are gay tourists from other European cities, but others leave the shop and return to one of the 72 countries which still criminalise homosexuality in some way. "I remember telling a Moroccan woman about our lesbian reading group, and she burst into tears and just said 'You're so lucky'; there was another young man from Mumbai who had been studying in London, and for three years he had walked past regularly but never come in. Then one day he came in and said 'I'm pan, and I'm proud' and asked to give me a hug."
Stories like these are what makes Jim so proud of the shop. At one point he gushes about the anniversary to a customer who underlines how rare it is for a queer-owned business to survive for so long. Just as importantly, the business is keeping pace with the rapidly-accelerating cultural conversations around queerness, which Jim says are a natural byproduct of the progress that's been made: "Bisexuality would have been given such a raw deal back in the 80s, but this new generation... I think because so many rights have been won, although they are being eroded in the US, people are really starting to think, 'Hang on -- I don't identify with this label, or this label."
This willingness to fuck with identity resonates with Jim, who ends our conversation by highlighting how excited he is about all the queer books still to come. "There are so many ways to be now. Those books are yet to be written, but they are starting to be written. Young people are throwing politics up into the air; they're questioning everything, and that's extremely exciting."