the complex relationship between fashion and self harm
Self-harm imagery has always existed in dark parts of the internet, romanticised and stigmatised in equal measure. Now, fashion could be providing the platform for the issue to get the discussion it deserves.
This article originally appeared on i-D UK.
In February, Instagram announced it would be introducing 'sensitivity screens' following the suicide of 14-year-old Molly Russell in 2017. The teenager had been exposed to increasingly disturbing images of self-harm and suicide, which, her parents suggest, was partly responsible for her death. For every blog and forum that acts as a safe space for self-harmers to feel less alone and talk about their experiences, there are sites full of triggering content where some users even encourage others to hurt themselves.
Inclusivity and mental health are now part of fashion's vocabulary; well known models like Adwoa Aboah and Adut Akech openly discuss their struggles with mental health and depression, and many designers are open with their own struggles with anxiety and stress. Yet the subject of self-harm is still taboo. Despite the fact it is rarely spoken about, charities have reported that the UK has the highest rate of self-harm in Europe and it mostly affects young people aged 11- to 25-years-old. It is more common than we think. Clearly, representation is vital to raise awareness and encourage those suffering to seek help. But when scars from self-harm can be romanticised or misconstrued as 'aspirational', fashion faces a tough battle when it comes to showing self-harm neutrally.
Last summer, New Zealand underwear brand Lonely Lingerie cast model Dani Ran in a campaign without airbrushing out her self-harm scars. When posted on Instagram, the imagery went viral, and Dani says received over 300 messages from people thanking her for helping them feel comfortable about their bodies. "The shoot was very liberating for me because I didn't have to hide," she tells i-D. "Scars need to be represented in a light where they're not really a big deal, not super glammed up. It's just face value. Take it or leave it. This is someone who's suffered with mental health."
It makes sense for brands like Lonely Lingerie to start a conversation about self-harm because they have always championed inclusivity. Their campaign is proof that representation and visibility can make a difference by helping other people to open up about their struggles. Commenters expressed gratitude to the brand and model for giving them the confidence to wear a bikini during the summer. Not everyone saw the campaign in such a positive way. Some commenters viewed it as inclusivity gone too far. Others suggested that the post should have come with a trigger warning.
Images of self-harm on social media can lead to imitation, particularly from those who are already struggling with their mental health. This is particularly problematic in fashion campaigns as models are often presented as an ideal to strive towards. "There is always a risk that unhealthy behaviour can be glorified and lead to a rise in self-harm in people who aspire to be like a model or celebrity," says Dr. Jekaterina Rogaten, the course leader of MSc Applied Psychology to Fashion at London College of Fashion. When we see beautiful models in magazines or on billboards, the implication is that we are supposed to want to be like them. When you add self-harm scars into the mix, the results could do more damage than good if not treated carefully.
Fashion is already much more inclusive than it was 20 years ago. Plus-size models used to be non-existent, but now they are becoming, if not commonplace, familiar. We could see the same happen to self-harm scars. When more people are represented, there is no longer just one beauty ideal. As long as it is the next step in inclusivity and not a fleeting trend, then self-harm can be represented without being glorified.
Photographer Sophie Mayanne's created her Behind the Scars project to erase the stigma around self-harm. Her powerful, intimate images are accompanied by stories where her subjects open up about their physical scars. "The reality is that everyone looks different, and we all have different emotional experiences that become a part of our story," she says. "At the moment fashion still has a long way to go, and we as a society still have work to do around removing the stigma from scars, and visual differences."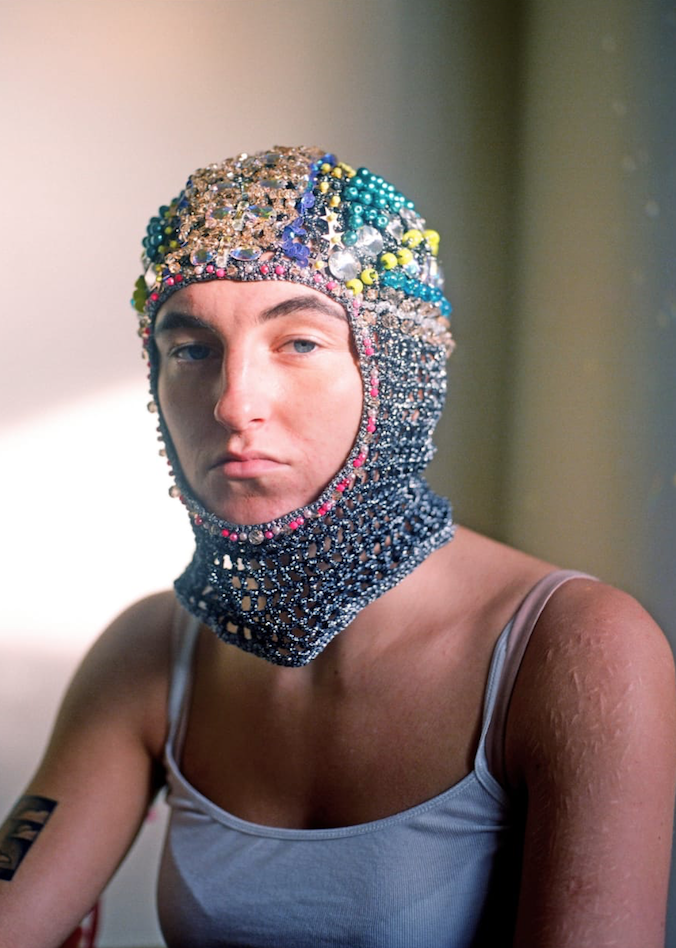 Self-harm changes the relationship between clothes and the body. Summers are no longer carefree days of t-shirts and sundresses, but of sweltering discomfort, when all that matters is hiding the scars on your arms and legs. Society has started to talk about mental health, but the conversation is still on a level that excludes 'uglier' symptoms like self-harm. Perceptions are changing, but many are still scared to show their scars for fear of being stared at or judged. While social media and the body positivity movement have helped a lot of self-harm survivors feel more comfortable about showing their scars online, in 'real life' stigma still exists. Photographer Heather Glazzard covered up her own scars with tattoos. "It makes people feel uncomfortable because it's not spoken about," she says. "Fashion is so powerful that it should be used as a platform to talk about issues that are not spoken about, but the right people have to push it."
While the way we represent self-harm in fashion imagery is difficult to gauge, a lack of representation entirely suggests that we would rather the issue did not exist. Of course, in an ideal world, it wouldn't, but, as rates of anxiety and depression among young people keep rising, we can't ignore it anymore. As with any intervention, no matter how well intentioned, there is a risk that some people will be triggered, but there is also huge potential for a positive impact on a profoundly neglected issue. As long as it is hidden, and not talked about, self-harm will be associated with shame.
It's time to stop pulling down shirt sleeves and being afraid to wear shorts in summer. Talking about self-harm can encourage people to seek help if they are struggling. We need the voices of survivors to say that it does get better. Self-harm doesn't define you. It may be a while before we see models with scars in high fashion campaigns, but in the meantime, we need to keep the conversation going.
This article originally appeared on i-D UK.