cozy girls explain how you can stay cool in this heat
"Cozy isn't a look, it's a lifestyle."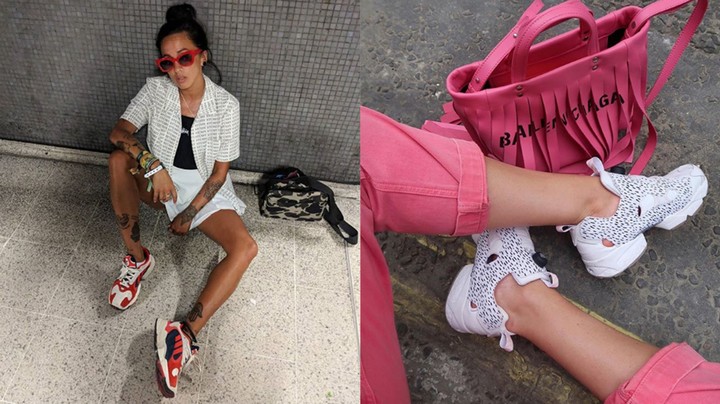 What's a cozy girl, you ask? A cozy girl, my friend, is a streetwear-loving, Depop-babe who lives in exclusive collab trainers, puffer jackets and vintage 90s tracksuits.

Like their goth counterparts in heavy-duty leather jackets and corsets, spare a thought for the cozy girls in this weather. Imagine wearing this in 30 degrees: Thick foam-lined sneakers, Champion joggers, goose down fill North Face puffers, Supreme fleeces and oversized long sleeve T-shirts. The only thing that's weather appropriate is the bucket hat and sunglasses, but even then, the lenses are so tiny on the latter there's no way they're adequately shading out the blaring sun.
But, fear not, there is a way to be a cozy girl in this heat. No one with over 30k Instagram followers would allow sweat beads to rub off perfectly straight eyeliner flicks. There is a way to make this work. So I spoke to some of the trendiest cozy girls -- queens of Yeezy beige cycle shorts and Off-White tape belts -- to ask how the hell you stay looking so fresh when the only position which enables you to survive the heat is spread-legged with an Ikea fan facing you.
Helene of @bbyekra, Norway
"Cozy isn't a look, it's a lifestyle. You can call me Ranch, cause I be dresssin'. Swimsuits are great at making streetwear work in the sun. They're comfortable and make you look like you can run onto the beach any moment -- so cozy. I was in the Pride parade in a pink cut-out swimsuit, flared pants and huge red snakeskin platforms. I also have like 30 pairs of sunglasses -- they make you look so much more chill and low-key. The tinier the sunnies the better. I am also really into colour coordination and making everything really matchy-matchy, in a tacky but fabulous way.
In the sun I always go back to my vintage Burberry bucket hat because it shades me from the sun and other humans. Every top has to be cropped cause of the heat, I normally wear camouflage cargo pants, a vintage Guess fanny pack and some designer sliders -- either Balenciaga or Gucci ones. I wear socks and sandals literally all year round. I just love the nerdy dad tourist-core aesthetic -- it's so chill. This is not my natural temperature, though. I can't wait for autumn, it's the best cozy-season. I don't feel relaxed until I'm in a luxurious faux fur coat, a long Ganni tailored jacket or a puffer."
Sanne of @girlonkicks, Amsterdam
"It took me a while to find my flow with my summer wardrobe but with this, 37 degrees situation I was forced to find an emergency solution. I wear oversized mens tees as dresses, most of the time it's a red Balenciaga, Patta or a basketball jersey -- all in XL. Underneath I wear cycling shorts. My favourite are these glittery and lurex leggings I chopped up myself.
I just love cozy fashion so much, but it's always getting me into trouble. Last week I was wearing a new lime green knit to a press event in 30 degrees. I curled my hair and did my make-up extra good, but it literally melted off my face in three seconds and my hair went flat and frizzy.
I cannot wear sandals. I need to wear sneakers even though it gives me sweaty feet. Most days I wear the really low Stance socks, but when it's wash day I go barefoot in my sneakers. People might think that's lazy but fuck being active in this weather. Last tip -- wherever you think no one will notice; go commando and feel that breeze. No pants, no problem."

Julia of @Julialang, NYC
"I am an introvert, that is extroverted in the way I dress. I'm definitely part of the Cozy Gang. Although I love a luxurious heel, you can easily find me pairing it with an baggy hoodie. Luckily, I'm not into that thick sock trend. I currently feel the coziest in my Chanel Sandals. Other than that, Converse GOLF le FLEUR or Converse JW Anderson are my go-to all summer.
I would rather be too hot and still look amazing. It doesn't matter that I live in New York, where summers are extremely sticky, humid and easily reach the 80-90 degrees fahrenheit mark, I still find myself gravitating towards coats. Denim, silk or linen coats are the true definition of cozy. I wore a Balmain PVC trench coat this season during spring/summer 19 Paris Fashion Week Men's, and I honestly sweated my ass off underneath. PVC doesn't support any room for your skin to breath to say the least. I looked fantastic though so what can you do?"
Juice of @JuiceGee, London
"I'm a tomboy. I like wearing loose shit especially, since I've just got back from travelling Asia -- the rice belly is real. My motto is "A cozy tomboy, everyday kicks". I even have "stay cozy" tattooed on my ankles. I just feel much sexier in comfy, baggy men's clothes. You don't always need to show skin to feel hot.
In summer I mostly wear baggy basketball shorts and little crop tops. When it's mad hot, sometimes you just need to let your pits breathe. Then I wear my Les Specs X Adam Selman shades, they are reflective and actually keep the sun out my eyes. I have to wear trainers, I mean I even wear them on the beach, my favourite pair are Keen's Uneek shoes. They're a bit like a Nike Mayfly, super comfortable and airy. Although the other day I took my new Dr. Martens X Stüssy loafers out for a spin with thick Stüssy socks -- that was a mistake, my feet were dripping."
Anni of @Lifeisapigsty, Cologne
"I wear the same outfit I would wear in winter just without pants. Bum bags are great when you're wearing something baggy -- so you can highlight your waist. Some years ago my friends and I made fun of people in cycling shorts, but now Kanye has made them cool again with Yeezy Season 6. The other day I took a super soaker with ice cold water with me and went into the city centre. I still want to wear cool stuff without dying in the heat. I refreshed some people who walked past -- let's say not everyone was happy, especially those wearing white because it went all see through.
I got an amazing new flannel shirt from the latest Stüssy drop last week. It was like 38 degrees in Cologne, but I really wanted to wear it. You can imagine, I was dying. The worst feeling in summer is wearing almost no pants and sitting on a plastic chair, or something leather, then having to peel your skin off it when you stand up. I miss my North Face Nuptse Jacket."