Image courtesy of Barbados Tourism Marketing Inc.
the rich history of crop over's spectacular costumes
How did a harvest celebration for slaves become Barbados' most dazzling street party?
Image courtesy of Barbados Tourism Marketing Inc.
Every other summer, Rihanna sets Instagram ablaze with a series of images that are out there even for RiRi. They show the pop star decked out in bedazzled, barely there two-pieces topped off with towering feather plumes, and last year, teal hair. Social media can't get enough. The reason for the stunning fashion displays? Crop Over, one of the biggest, flashiest Caribbean carnivals in Rihanna's home country of Barbados.
Dating back to the 1780s, Crop Over (formerly known as "Harvest Time") honors the end of a successful sugar harvest through music, revelry, dance, and over-the-top costumes. According to the National Cultural Foundation Barbados, the first documented celebrations started off as intimate feasts and dances on individual plantations. As the years went on, the tradition became ingrained in Barbadian culture until the 1940s, when it almost disappeared altogether as a result of the declining sugar industry. However, it wasn't long before Crop Over made a resurgence. In 1974, the massive celebration returned with the help of government interference.
Now, Crop Over is a cultural mainstay and fashion extravaganza attracting hundreds of thousands of people from around the world, who flock to the country every August to partake in the lively festivities. These days, "Crop Over" means a six-week party when a plethora of concerts, street fairs, and nonstop fêtes — each one bigger than the next — take over the island. The rum punch (Barbadians' drink of choice) flows heavily and the calypso and soca music reverberates across the island.
Beyond the parties, the biggest gathering (and the main event) is Grand Kadooment Day, a massive parade marking the end of Crop Over, where masqueraders wind down Spring Garden Highway. The judgement-free zone is thick with ornate and vibrant carnival costumes from various masquerade bands (design houses that provide clothes, drinks, and music on the road). Each band is evaluated by a panel of judges, who look for creative designs and overall energy.
Throughout the years, as Barbados' carnival has evolved, so have the costumes. Historically, African captives used to wear masks and feathered headdresses, shredded strips of cloth, and painted their faces and bodies in a medley of hues, as an outward expression of pride for their ancestral heritage. (A part of that tradition has carried over today, with people carrying their country's flags as accessories.) But as conventions changed, participants' way of dress did too. At one point, Crop Over was filled with people wearing simple T-shirts and pants. However, with time, costume designers starting getting more adventurous, and carnival costumes became increasingly risqué and ostentatious.
These days, participants sport some iteration of bedazzling two-pieces, à la Rihanna, or embroidered bodysuits with suggestive cutouts. When it comes to picking your outfit, you have three categories to choose from: frontline, midline, and backline — indicating how elaborate each costume and its corresponding wings and body accessories will be. Frontline costumes are the most complex (and the most expensive), followed by midline and backline. Despite these subtle differences, most costumes are typically paired with sequined arm and leg cuffs.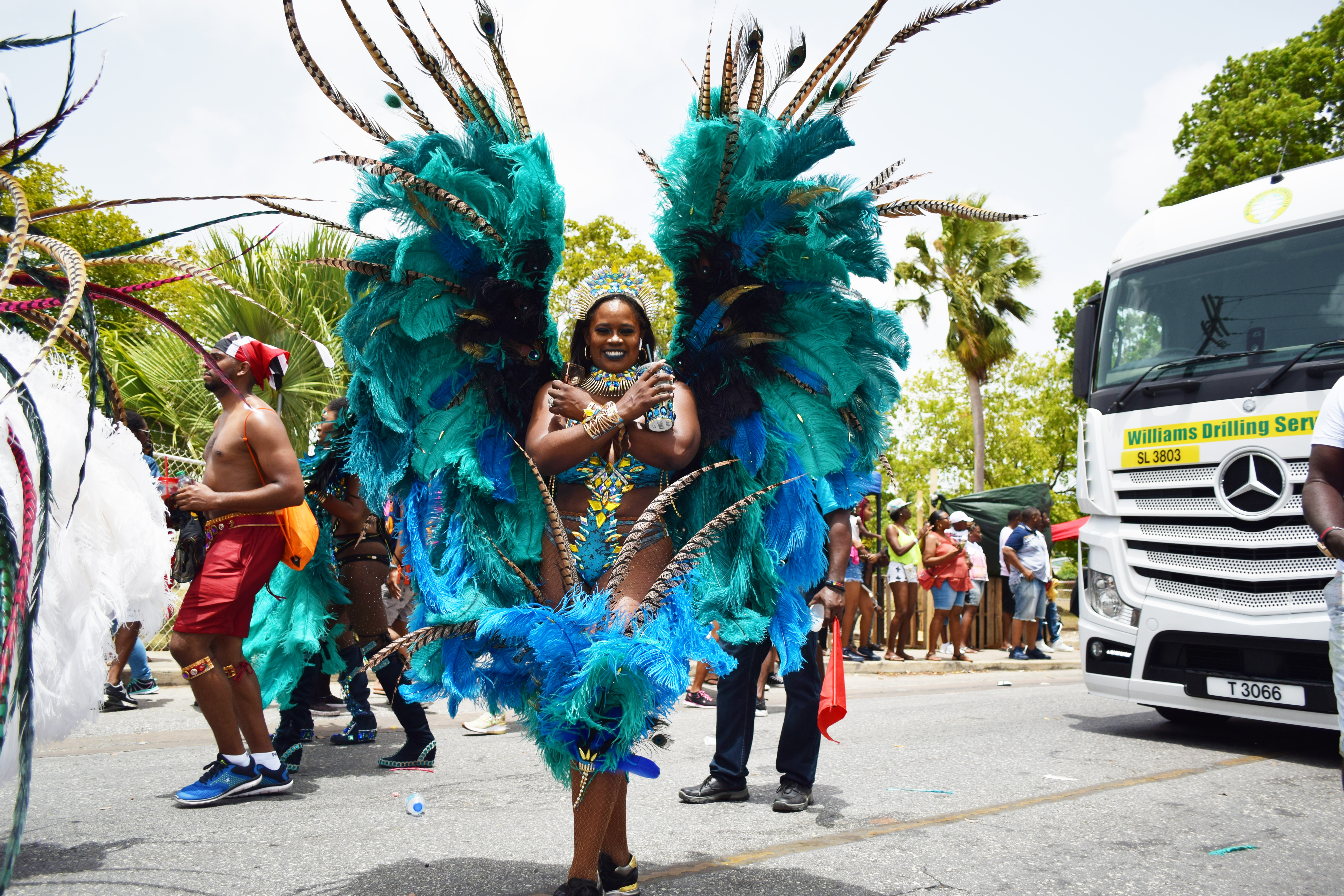 While there are a myriad of carnival bands selling an assortment of costumes, Aura Experience is the most popular and globally recognized, and the one Rihanna works with whenever she goes back home. Lauren, Aura Experience's co-founder, director and designer, has been has been responsible for creating all Rihanna's show-stopping looks since 2013. Hailing from Trinidad, the Barbados-based designer started working with the superstar after meeting her through her younger brother, Rorrey Fenty. "I usually provide her with the section options for the band theme and she usually chooses the one she likes best. I then personalize it to suit her and her needs," Lauren tells i-D. The theme is essentially the band's overall aesthetic, which can be one uniform vision based on particular color schemes and visual references, or a mix of different styles. Once Rihanna decides on a particular look that aligns with the creative direction that year, it takes the designer an average of two to three weeks to create it.
Lauren also makes bespoke creations for more everyday clientele. "I do not exactly have a specific formula for creating my designs. I prefer for my creative process to be very organic," she explains. Depending on the person's needs, it can take one to four weeks from inception to completion. Lauren's creations may differ from person to person, but she loves using materials such as gems, chains, and feathers in her work. The self-taught creative is also responsible for creating Aura's yearly made-to-order offerings. "During August, my co-director Matthew Ashby and I conceptualize the themes and ideas for the following year. Once we have come to a final decision, I then travel to New York in September to source materials for the six to seven band sections. On completion of each section design, the prototypes are sent to our chosen production company for mass production," she says. In addition to the costumes, Lauren makes an array of bejeweled accoutrements such as sunglasses and cups. By May, everything goes on sale for people to purchase, with prices ranging from $450.00 to $3,000.00. While the garments are pricey, that's typical for carnival wear, and you have to consider the artistry and effort that goes into making them.
Attending Crop Over in the Caribbean is a cultural experience like no other, and one with rich historical roots. For Lauren, it's a beautiful and significant moment when she adorns multitudes of people in the most visually stunning wares. And for the participants, it's one of the rare occasions where they are able let loose and have fun, free from insecurities and body hang ups. As Armin, one reveler from this year put it: "Crop Over makes you feel alive. You wear your costume and you feel like some sort of superhero — all revelers are there to celebrate life without judgement, no matter the shape, size, or color. It's about unity and togetherness!"