lady gaga just debuted hedi slimane-era céline
"I'm your biggest fan, I'll follow you until you love me, Papa-paparazzi."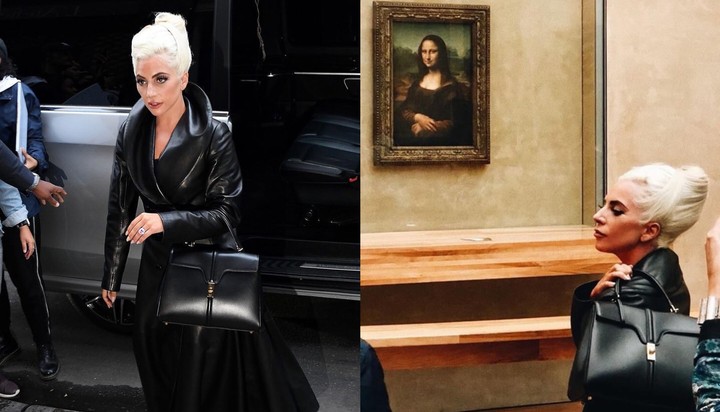 Out in Paris, the papa-paparazzi photographed Lady Gaga clutching fashion's future, the first piece of Hedi Slimane for Céline. Much more than a celebrity-approved IT-Bag, this chic leather accessory is THE-bag of tomorrow. It hints at the new dawn of luxury fashion that Hedi Slimane will reveal at his debut Céline show in Paris next month. Casually shot in front of Da Vinci's Mona Lisa and worn with an archive Azzedine Alaïa coat (from fall/winter 91), the moment encapsulates a collision of the old and the new, the familiar and the fresh, the archetypal and the unknown. The message is move over Philo-philes, Céline belongs to the Slimane stans now.
We've all had eight months to digest the shock news that Hedi Slimane was going to Céline. We've read the emotive op-eds, we've shared our own predictions and we've impatiently waited for the big reveal. Now, with his first show just weeks away and with Lady Gaga as our guide, we have our first peek inside the house that Slimane has spent the last half a year renovating. "I am particularly happy that Hedi is back within the LVMH Group and taking the reins of our Céline maison," Bernard Arnault, LVMH chairman and chief executive, explained in the statement that announced his appointment back in January. "He is one of the most talented designers of our time. His arrival at Céline reinforces the great ambitions that LVMH has for this maison." Echoing these words, Lady Gaga has just reinforced this statement of intent. Hedi is an empire building creative force and this is his first power move.
In this age of paparazzi-shot, celebrity-celebrating ad campaigns, and influencer-focussed product reveals, it isn't surprising that the first glimpse of fashion's most hotly anticipated has dropped onto our Insta-feeds and found a home on gossip sites. What is surprising to some is the star picked to reveal it. However, as Lady Gaga was the first celebrity to wear Hedi Slimane's debut Saint Laurent collection back in 2012, is it that shocking that she has done the same for Hedi's Céline debut? While so much has changed in the eight years since that seismic Slimane fashion moment, it's refreshing that the pair have joined forces once more to take us back to the future.
"I always look for singular characters, a sense of reality, mostly strong personalities, sometimes melancholy, or when it comes to design, a certain personal style," the press-elusive Hedi explained in a rare interview with Yahoo! Style back in 2013. Gaga is one such singular, strong character. "I ended up creating a sort of community between all those artistic characters, where often friendships flourished between them, or led to creative collaborations on their part. They understand the project and become the project." As he enlists past creative collaborators for his new empire, our feeds are abuzz with revised predictions of just what Hedi Slimane could unveil at the Céline spring/summer 19 show on February 28. This is Hedi's world now, are you ready?
This article originally appeared on i-D UK.
Tagged: