troye sivan's new album is a gentle celebration of queer sex and love
On 'Bloom' Troye Sivan explores some of the joy and darkness of being gay.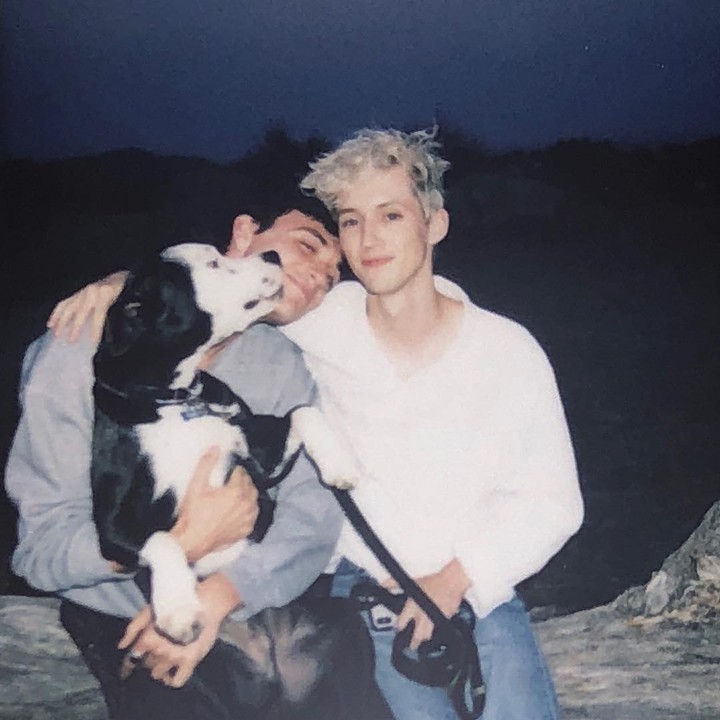 For all his protestations, Troye Sivan can't escape being labelled as a gay icon. The 23-year-old Youtuber-turned-popstar doesn't believe that he's earned that moniker, telling Another Man that his is just "one voice of so many that are missing". Nevertheless, this badge stalks him, be it fans on social media declaring him a savior, or the likes of NME acknowledging that for many of his young fans learning about their sexualities, Troye is a queer hero.
Whether he accepts the label is not up to him; as a public figure you relinquish the ability to control public perception. And anyway, Troye has hardly shied away from the responsibilities foisted on gay people when they live their lives in public. As a teenager, his coming-out video on YouTube inspired thousands (if not more) to express their own sexualities and now, as a popstar, he acknowledges his position to aid queer visibility and offers support to his fans, like teaming up with The Trevor Project and The Ally Coalition for his upcoming tour.
This narrative, though, is a misleading and a huge distraction from where Troye Sivan's most important work occurs: the music itself. On his debut album, Blue Neighbourhood, he wove a queer bildungsroman through the amber-lit suburban streets of his youth. Every track rumbled with teenage uncertainty, like the musical equivalent of a secret cigarette when parents are sleeping. Troye carved out bruised vignettes from his life, scoring the experiences of growing up gay and his subsequent encounters with love to sad pop songs with gloomy production.
With Blue Neighbourhood, however, the snapshots into Troye's life were just that; like a collection of short stories, he slotted together aspects of his youth -- teenage angst, the safety of home, the fear of firsts -- to create a whole, omitting anything that didn't contribute to this wider theme.
But if queerness was just one aspect of his previous record, on Bloom he smothers himself with life as a gay man. Rather than attempt to fit his queerness into heteronormative presets about life, with Bloom Troye acknowledges the power of embracing your queer truth.
As if to shock the listener with this assertion, the opening track, " Seventeen," is a unsettling but empowered song about how young LGBTQ people search for connections in an overwhelmingly cisgender, heterosexual world. Troye neither condones nor endorses his attempted search for community -- acknowledging that Grindr and precarious encounters with adults and hypersexualized environments were necessities in shaping his sexual identity. Unlike Elio from Call Me by Your Name, Troye doesn't romanticize these formative experiences. Rather, more akin to Nathan (or Justin for US readers) in Queer as Folk, they allowed him to formulate a language to understand his queer identity.
Subverting this darkness is " My My My!," the album's lead single. Like a bosh of poppers, this frenetic and strutting banger swirls with euphoria. It's the exhilaration that queer people feel when they've found the community that Troye was searching for just one track earlier. There's liberation in every smattering of synths, as same-sex desire plays out without fear, retribution or dinginess.
Even when Bloom gives off a whiff of naivety, it's done with self-assurance. On the title track Troye sings about bottoming for the first time, sex given a subversive Edenic quality. The loss of virginity isn't something being spoilt but rather how humans flourish. Gay sex here is consecrated, just as much a celebration of the sanctity of life as hetero sex. There's also sexual joy found in domesticity, and on the Ariana Grande-assisted "Dance to This," Troye luxuriates in his relationship, excited to "do that thing we never do sober". The song flushes with young love and contentment, as well as a comprehension that expressions of queerness can also be intimate. It's a dopamine rush that reaches its peak with " Lucky Strike," all bopping beats and ambient synths. Troye lists his lover's best qualities as he acquiesces to romance with the demanding lyric "tell me all the ways to love you".
"That's the power of queer truth and something that, with Bloom, Troye Sivan has acknowledged. There's no wrong or right way to be queer, but rather paths we follow, some well-trodden and others not, with happiness blossoming at the end."
Yet truth doesn't always equate to happiness. Exploring this on the waltzing "The Good Side," Troye gives the heartbreak he wrote about on Blue Neighborhood a new perspective as he sings, "But I sympathize, and I recognize/ And baby, I apologize/ That I got the good side." Even as he understands the impact that former relationship had and how he's found love again, the inherent devastation of love lost can't be escaped and the song becomes engulfed in a cascade of watery synths, each creating ripples of melancholy as they make their way outward.
Imperfections become beautiful on "Postcards," a tender ballad about learning how lovers can let you down, and on "Plum" there's an air of resignation as relationships turn sour, Troye, now noting: "Even the sweetest plum/ Has only got so long." On the saccharine "What Heavenly Way to Die," entropy also creeps in, Troye leashing on to the gay fetishization of youth. There are hints in " Dance to This," too that life may have already reached its apex, all outside excitement relegated with the line "You know we've already seen all of the parties." Aging isn't met with despondency, though, and with "Animal" Troye again consecrates gay sex, him and his lover "covered all in the night before", resisting the pull of angels and the propelling forward motion of time with their carnal desires.
The exaltation of monogamous relationships on Bloom, whether that's lapping up domesticity or swimming in sex, makes it a thematically conservative album, even if the subjects of these songs are also men. For some, gay love songs will be subversive enough; they'll delight in pop music that proudly boasts same sex pronouns and which promotes the joys of bottoming. For others, songs about spending the rest of your life with one lover will be perceived as innocuous heteronormativity and further proof of the of sanitization of queer culture.
Yet, as Troye's repeatedly stated, he isn't a gay icon; Bloom is not a gospel to living a queer life. In an interview with them., Troye shared how he didn't want to "bullshit" anyone with his new album. "I live in this very particular, surreal world where I hang out almost exclusively with queer people," he explained. "You know, for me, this is really real life, being able to celebrate these things, being able to talk about these things, and just being as open and honest as you want." Bloom, then, is Troye Sivan's specific queer truth. It's our human need for connection that reaches into his stories and plucks out the fragments that resonate with us. If you're looking for the inherent queer sadness in Bloom you'll find it in the depths of "Animal" or on the echoed fringes of "Dance to This." Lovers will hear their stories sung out on "Lucky Strike," the songs on Bloom soundtracking the romance of others. And those searching for understanding or acceptance will hear " Seventeen" and feel less alone, relieved that their exploits are shared and no longer drenched in secrecy.
That's the power of queer truth and something that, with Bloom, Troye Sivan has acknowledged. There's no wrong or right way to be queer, but rather paths we follow, some well-trodden and others not, with happiness blossoming at the end. An album like Troye's serves to show how sharing one person's queer truth helps us create our own narratives so that, hopefully, other queer people can one day bloom too.
This article originally appeared on i-D UK.