why can't scarlett johansson stop being so problematic?
The actress is the latest in a long line of cis actors playing trans characters.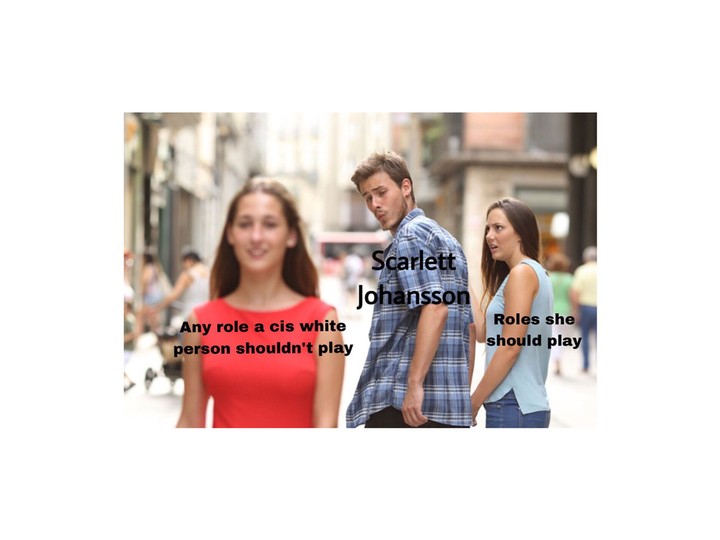 It's been a problematic few years for Scarlett Johansson, hasn't it? In 2017 it was announced that instead of a Japanese actor playing a character widely assumed to be Japanese, ScarJo was to play the role of Motoko Kusanagi in the live-action remake of anime Ghost in the Shell. Both Scarlett and the director maintained that it definitely didn't have anything to do with Hollywood's chronic whitewashing issue.
Then, in May this year, Scarlett came under fire for wearing Marchesa -- the brand co-founded by Harvey Weinstein's divorced wife Georgina Chapman — to the Met Ball. A move that many people criticized due to the obvious Marchesa-Weinstein affiliations. Scarlett defended the decision by saying she "wore Marchesa because their clothes make women feel confident and beautiful," but it appeared to align with Anna Wintour's attempt to stage a comeback for the brand -- something that Stella Bugbee scathingly condemned in her June editor's letter for The Cut: "When we ignore situations that hurt others because they benefit us, we are complicit."
Now, Scarlett's ticked off the triptych of questionable calls with the announcement that she'll play transgender man Dante "Tex" Gill in the upcoming film Rub & Tug. Based on a real life person and story, the film's about a massage parlor owner who used it as a front for a prostitution ring.
"Tell them that they can be directed to Jeffrey Tambor, Jared Leto, and Felicity Huffman's reps for comment."
Understandably, people are are pissed that a cis woman scored the role instead of an actual trans man. And look — Scarlett probably didn't mean to offend. She probably perceived it as a chance to flex some Serious Acting Muscles, to maybe snag a nice Oscar nom for transforming herself into the opposite sex for the duration of filming. After all, Jared Leto won one in 2014 for his role as trans woman Rayon in Dallas Buyers Club, before copping some well-deserved flak for not actually thanking the transgender community he benefited from in his acceptance speech. Eddie Redmayne won an Oscar playing trans woman Lili Elbe in The Danish Girl. Jeffrey Tambor won an Emmy for his role in Transparent, although he has since been fired over sexual harassment allegations.
In fact, when Scarlett was asked to comment on the casting controversy, it was the above cis-actors-playing-trans-characters situation that she called attention to. In a statement to Bustle, she said, "Tell them that they can be directed to Jeffrey Tambor, Jared Leto, and Felicity Huffman's reps for comment."
Nevermind the passive aggressiveness in that statement, the irony is that it only backs up everyone's point. The fact that when it comes to transgender characters in major films, they all too often go to cisgendered people. And while it's great to see more trans characters on screen, this doesn't send much of a message of genuine inclusivity -- nor promote much-needed genuine trans visibility.
Also: what exactly was Scarlett trying to say? That it's ok for her to be a bit shit because other people have been a bit shit before? That because Hollywood's traditionally pretended marginalized minorities didn't exist, it's ok for them to keep doing so while simultaneously making money off their stories? Or was she drawing attention to the fact that these cis-gendered people weren't subjected to the same levels of criticism? After all, Felicity Huffman's Transamerica came out in 2005, a year before the birth of the echochamber that is Twitter. But both Jared and Tambor did receive backlash for their casting (and in Leto's case, his performance), as did Eddie Redmayne. As writer Carol Grant wrote in Indiewire in 2015, "It's discomforting as hell being so early in my own transition and seeing words like "bravery" and "heroism" used to describe Redmayne, even though he'll be able to shed off the experience after his probable Oscar win."
"While cis actors are busy dipping into the very limited pool of trans characters on offer, trans actors do not get to play cis roles."
There have been some phenomenal films featuring trans characters played by trans actors of late. Daniela Vega was the breakout star of Chilean Oscar-winning film A Fantastic Women, and was the first openly trans presenter at the Oscars. Tangerine, the film Sean Baker shot entirely on an iPhone, stars trans actors Kitana Kiki Rodriguez and Mya Taylor, and received mass critical acclaim. There's Laverne Cox in Orange is the New Black, and Ryan Murphy -- of Glee and American Crime/Horror Story fame — has just premiered TV series Pose, about 80s ballroom culture in New York, which includes the largest cast of transgender actors.
It's encouraging to see the proliferation of films exploring these stories with people who've actually lived them, and reflective of the growing awareness in Hollywood — and beyond -- that diversity is important. But there's another issue that Scarlett's controversy has brought to the surface. While cis actors are busy dipping into the very limited pool of trans characters on offer, trans actors do not get to play cis roles. As Jamie Clayton tweeted, "Actors who are trans never even get to audition FOR ANYTHING OTHER THAN ROLES OF TRANS CHARACTERS. THATS THE REAL ISSUE. WE CANT EVEN GET IN THE ROOM. Cast actors WHO ARE TRANS as NON TRANS CHARACTERS. I DARE YOU". Actor Trace Lysette echoed the sentiment, writing. "So you can continue to play us but we can't play y'all? Hollywood is so fucked... I wouldn't be as upset if I was getting in the same rooms as Jennifer Lawrence and Scarlett for cis roles, but we know that's not the case. A mess."
Unlike ScarJo, some of these actors have addressed the backlash more directly. Before he was fired from Transparent, Jeffrey Tambor said, "I would very much like to be the last cisgender male playing a female transgender role." Eddie even addressed the lack of opportunities to play cis roles, saying, "I hope there's a day when there are more trans actors and trans actresses playing trans parts, but also cisgender parts. And I hope -- as an actor one hopes -- that one should be able to play any sort of part if one plays it with a sense of integrity and responsibility." Which is all very well. But it's a bit empty to say these things and not act on them. To play the good guy, while enjoying your privilege. For that kind of change to happen, those in positions are power are going to have to make a bit of a sacrifice.
This article originally appeared on i-D UK.