the powerful words of chimamanda ngozi adichie
Chimamanda Ngozi Adichie is a Nigerian novelist, activist, and feminist. A brilliant mind, her 2013 TED Talk and book 'We Should All Be Feminists' has inspired everyone from Beyoncé to Maria Grazia Chiuri at Dior.
This article originally appeared in i-D's The Earthwise Issue, no. 353, Fall 2018.
"I've been a feminist since I was old enough to know anything," Chimamanda Ngozi Adichie says over the phone from the east coast of the US, where she splits her time with Nigeria. "I don't remember a time when I wasn't acutely aware of how it was different for men and women." Author of three novels, one collection of short stories and a myriad of other widely acclaimed and quoted works – most notably Beyoncé's sampling of her talk "We Should All Be Feminists" on her 2013 song "Flawless" — Chimamanda's stories and wisdom are a part of culture. "We teach girls to shrink themselves, to make themselves smaller. We say to girls, 'You can have ambition, but not too much. You should aim to be successful, but not too successful, otherwise you threaten the man…'" are words that were recited almost verbatim by the crowd during Beyoncé's performance of "Flawless" at her latest stadium tour, On the Run II.
Born in Enugu, Nigeria in 1977, to the University of Nigeria's first female registrar and the country's first Professor of Statistics, Chimamanda has been writing since she was five years old. She didn't set out to say anything, or to be anything; she was simply propelled by the desire to tell stories. "I'm not sure how many creative people know what they want to say, right?" she asks. "To write is to explore, and part of it is also the journey and not the destination." Despite her passion for putting pen to page, Chimamanda studied medicine and pharmacy at university and it looked like her path to being a doctor was set. "I think as most sensible Nigerian parents do, mine expected me to study something that would enable me to earn a living," she laughs. "You were supposed to do something sensible, and write at night."
Today, Chimamanda can't imagine not being a writer. "It's the thing that gives meaning to my life, really," she says. "I have the good fortune to be published widely, to be read, but if I didn't have that good fortune, I would still be writing, because it matters so deeply." Her writing came in the form of poetry at the beginning of her career, followed by short stories, and eventually her first novel, Purple Hibiscus, which was published in 2003. Listed for numerous literary prizes, it is set against the backdrop of postcolonial Nigeria, and tells the story of a deeply dysfunctional family through the eyes of daughter Kambili.
Purple Hibiscus was followed three years later by Half of a Yellow Sun. A novel that, across time, details the brutality of the Nigerian Civil War and the questionable and often devastating way it affected people. Half of a Yellow Sun won the Orange Prize for Fiction in 2007, but Chimamanda still finds it hard to pick a favorite of her works. "It's like asking a woman who has four children!" she says laughing. "My mother has six children, and I often tease her about my brother being her favorite, and she says, 'No no no, I love all my children equally.' So I'm going to do what my mother does and say 'I love all my books equally'. And then I'm going to say in a smaller voice, 'Half of a Yellow Sun has the most emotional significance for me.'''
"I've been a feminist since I was old enough to know anything. I don't remember a time when I wasn't acutely aware of how different it was for men and women."
In 2008, Chimamanda was awarded the coveted $500,000 MacArthur Foundation Genius Grant, and the following year The Thing Around Your Neck, a critically-acclaimed collection of 12 short stories, was published. That year she also delivered " The Danger of a Single Story," a TED Talk that sits in the top 25 most viewed talks of all time, in which she spoke about how narrow the vision and perception of a person, or a culture, can be, unless we do a better job of telling a multitude of stories. Three years later, Chimamanda delivered her now legendary " We Should All Be Feminists" Ted Talk, inspiring Beyoncé and Maria Grazia Chiuri's debut collection as Artistic Director of Dior.
The novelist and activist is a self-confessed observer. Always watching. Always taking in human nature. I ask if she is an introvert or an extrovert. "I'm a people person," she tells me, then goes on to say, "I think there are two different kinds of writers. There are writers who are interested in ideas primarily, and writers who are interested in people primarily, and I am interested in people."
Chimamanda's attentiveness to people shows in all of her work, but it is particularly apparent in Americanah, where she grasps just how complex human emotions can be. Published in 2013, the book follows lovers Ifemelu and Obinze as they part ways and embark on new lives in the United States and London respectively after Obinze is denied a Visa post 9/11. Theirs is a love story so raw and real that anyone might think they're reading a case study of an actual relationship. Through the lens of two Nigerian characters, Americanah explores two vastly different yet equally painful and alienating western experiences. "I really did think that it probably wouldn't do very well, because Americanah isn't very interested in being subtle about race," Chimamanda says. "I've been amused by how many non-black people have said it was an education. They're like 'Really? So that's what happens?' And I'm like 'Yes!'''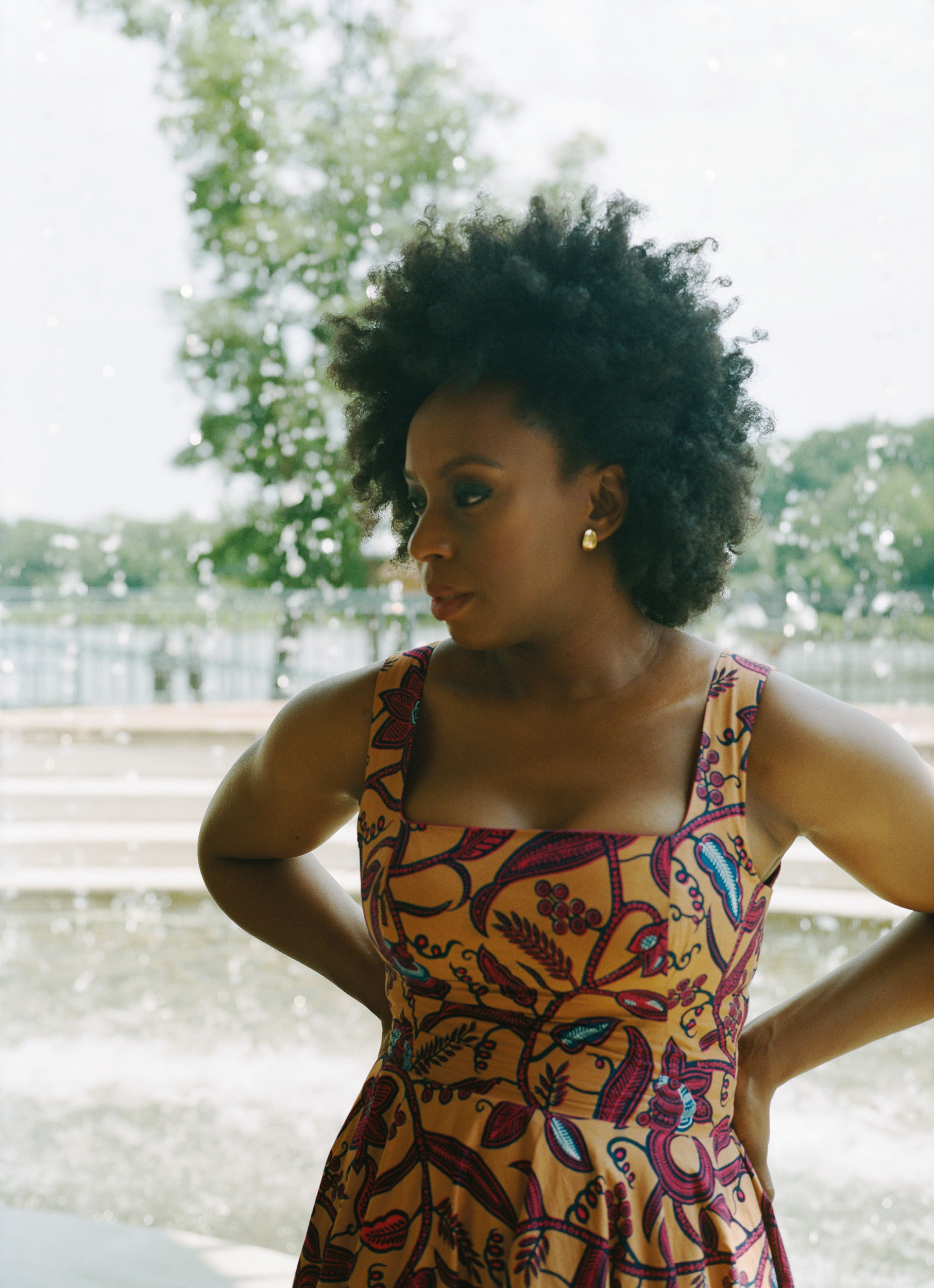 Chimamanda is an author whose politics pulse through every element of her being. "When I started to learn about Western feminism, I realized that in many ways, feminism and femininity were supposed to be mutually exclusive," she explains. "At a time when women -- white women -- were considered property, they needed to just look pretty and stay at home. So I can see how, to rebel against that, women said 'You know what? To hell with pretty!' When I first started writing, I pretended not to like fashion, because I wanted to be taken seriously." One of the most notable things about Chimamanda is that she always looks impeccable. Her natural hair is worn in the most intricate and desirable of styles, and her outfits say as much as the words she speaks. "I decided to use fashion as a kind of political statement," she reveals, "which is to say that I made the choice to wear mostly Nigerian designers to public events, because obviously I want to support an industry that's full of talent, but also to make a case for how fashion can tell a story. Fashion and culture are intertwined in very interesting ways."
I tell Chimamanda that as a big black woman I was forced to realize that the standard of beauty in the UK has been damaging to me and women like me. "I hear you," she says. "Had I grown up in a world where I was told that there was one particular standard of beauty, that you had to be very skinny, that you couldn't have breasts, and you had to be blonde, I probably would be messed up in my head, because I'm not any of those things. When you talk about being a black woman, being a big woman, who has a behind and who has breasts…" she trails off, then says, both exasperated and firmly, "I think many people in England find that very desirable! It's just that it's not in the mainstream language, it's not in the films, it's not in the magazines, but go to the clubs! I know many, many men of all races who do not like skinny women. And I know many, many women who find non-skinny women incredibly attractive." She goes on to say how it is the responsibility of the gatekeepers of the industry to come on board. "The reality of the world is one in which beauty is diverse," she continues with real fervor. "Nobody falls from the sky and becomes the 'it girl', there are people who make them that, who constantly photograph them, and feature them in magazines."
"I think I'm seen as strong, but I also think that strength doesn't mean a lack of vulnerability. Being the strong black woman often makes people forget your humanity."
"I was talking recently to a number of magazine editors," she continues, "about the lack of a diverse group of women to represent what it means to be beautiful, and they kept saying, 'Oh, it's really terrible!' and I remember thinking 'Yeah, it is terrible, but you can change this!'" She laughs at the ridiculousness of their statement. "There's a large market of women who are hungry to see different kinds of beauty." We talk about the lack of representation in the make-up industry too, and how there were so few shades of foundation for black women that when Rihanna's Fenty Beauty collection came out the extensive range of dark shades sold out almost immediately. "I was thrilled reading that," Chimamanda says. I can almost hear her smile down the phone. "I thought, 'I hope this makes many executives sitting in their offices rethink the idea of commercial reasoning for excluding people.' It's 2018!"
It occurs to me just how strong Chimamanda is; a staunch feminist who has blazed a trail for equality in the west and in Nigeria where much of her work is seen to be transgressive, a woman whose pregnancy wasn't revealed because she didn't want to 'perform' it, an author whose work is often under question, always being dissected by those who don't think it's the woman's place to speak on the themes she does. When I ask her about the myth of the black superwoman who can bear anything, she pauses and sighs deeply before answering. "I think I am seen as strong. I think I am strong, but I also think that strength doesn't mean a lack of vulnerability. I am human and I am vulnerable. Being the strong black woman, I think often makes people forget your humanity." Chimamanda tells me that her friends and family think that she can handle anything. "I think that even that makes them sometimes forget that I'm vulnerable, that I'm human, that I cannot be strong about everything."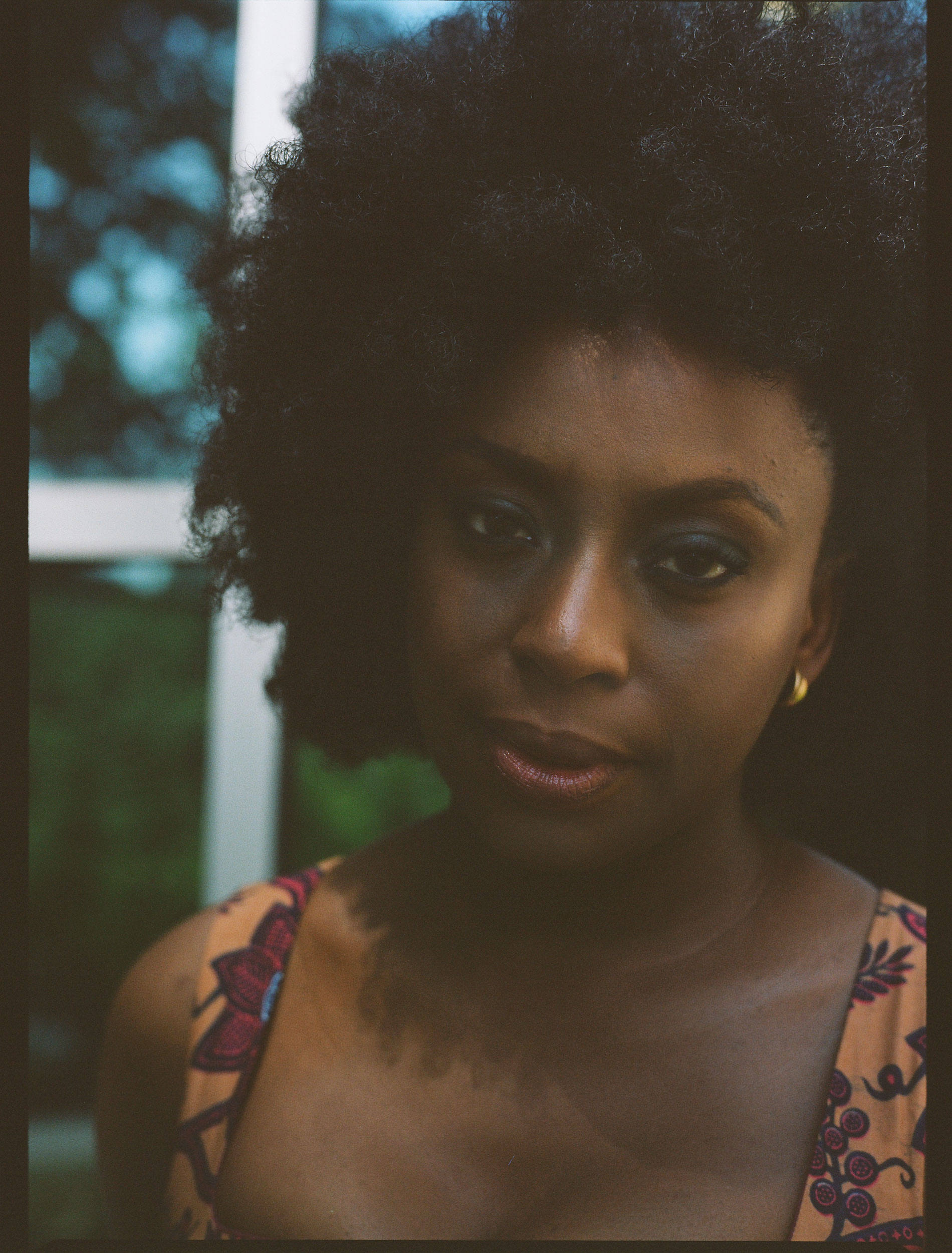 "We have to remember our humanity. Every damn human in the world is vulnerable, I don't care, we are," she laments. "At the same time, there are black women I really admire -- ordinary people, not necessarily celebrities – because they really do often deal with more crap than usual. And they somehow keep going. I don't think we should expect black women in general to be the saviors, or even the sacrificial lambs of the world. I think this is true within black communities, in the US, in the UK, in Europe, where the black woman is somehow supposed to protect the black man. I think even that is another additional layer or responsibility that she doesn't have to carry. Existing itself can be exhausting."
Chimamanda's latest published work, Dear Ijeawele, or A Feminist Manifesto in Fifteen Suggestions, began as a letter to a friend who asked how she could raise her daughter a feminist, and which turned into an open Facebook post. It's now published as a standalone small handbook. I wondered if there'd been any response from Nigerian fathers to its content. "I should say, in Nigeria, there's a lot of hostility around feminism," Chimamanda says. "This is from both men and women. So by taking on a public case of feminism, the response is always combative, and there's a refusal to engage. With that said, there's a young man, not yet a father, who just got married, who said to me that it was so important for him to read that book because it's made him think about the kind of father he wants to be. Though of course I've heard of men who have said, 'How dare you tell us? You now want us to become women,'" she says sternly, mimicking these critics. Before concluding, "You just say nothing to that. You move on."
Chimamanda Ngozi Adichie. A feminist, feminine. Strong, vulnerable. Observant. A body positivity activist, a mother, a friend, a teacher, a storyteller, human. In her own words, "Women should be allowed to be many things."
Dear Ijeawele, or A Feminist Manifesto in Fifteen Suggestions by Chimamanda Ngozi Adichie is out now, published by 4th Estate. Queenie by Candice Carty-Williams will be published by Trapeze in March 2019
Credits
---
Photography Rebekah Campbell
Photography assistance Sasha Frolova.
Chimamanda wears all clothing model's own.
This article originally appeared on i-D UK.