missguided was made for instagram
The aggressive fast-fashion brand might make you look like a celebrity in the virtual world, but it doesn't make you feel like one in reality.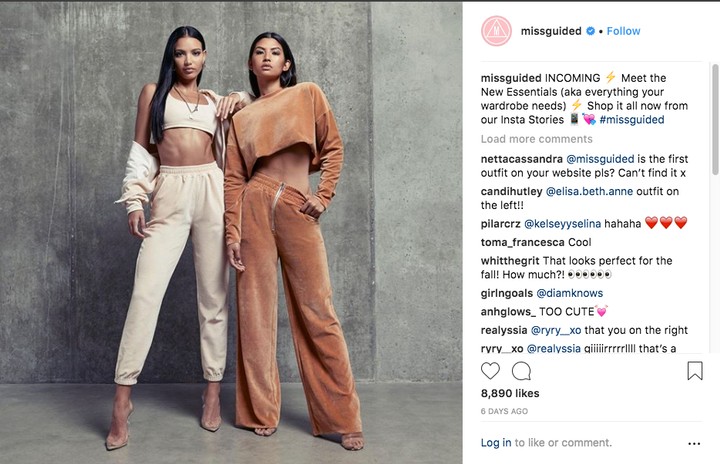 Instagram
Missguided was made for Instagram. Waiting for a bus you scroll through social media and become entranced by the influencers posting 25% off discount codes. You think about that party you have in 12 hours. Suddenly you hate all your clothes. So you buy a chainmail rose gold slip dress, or lime green flares, or an orange hoodie dress emblazoned with "cute but psycho". Later, assured of the barrage of likes on that picture of you straddling someone's white 4x4 on the walk home from the club, you fling it to the back of your chest of drawers and never wear it again -- it gave you a camel toe and you were sweating under it profusely.

This is the era of Instagram fashion, and Missguided is its key fashion house. Stretchy beige all-in-ones that turn you into a murky sack IRL look dreamy under a Valencia filter. T-shirts are covered in erotically confrontational slogans -- "Girls Do it Better" "As She Pleases" "Shuga Honey" -- providing a caption to your photo without any typing of your own. Of the moment colours like lemon yellow or baby blue are woven into multiple styles, (off the shoulder, wrap around, bandage) and seamlessly weld into a well curated Instagram feed. Instagram fashion isn't high-end: Jacquemus' ultra tiny bags or Vetements deconstructed blazers are exchanged for puffed out lips and matcha powder.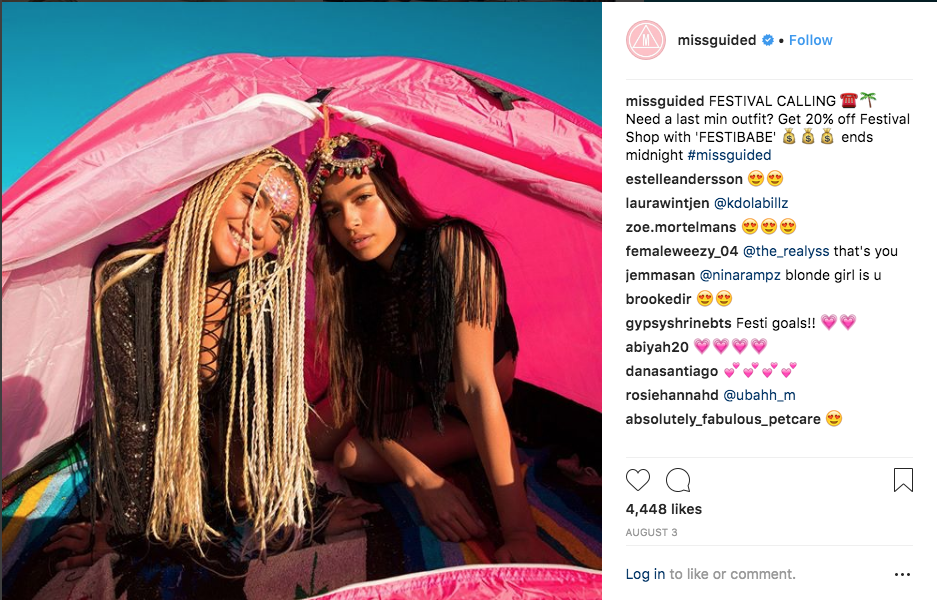 Not only are they made to look good on Instagram, Missguided, as well as rivals Pretty Little Thing, operate their business model almost entirely through the platform. Their feeds, which have around 3 million followers, are expertly stylised: girls who are essentially the Mo Farah of squatting, lounge around infinity pools in orange mesh. Others crouch down in knock off adidas three stripe joggers, their thighbrows shining. Those who manage Missguided's social media profiles talk like a sassy fairy godmother, commenting "yas queen" and "unreal" under selfies of it-girls like Blac Chyna, Amber Rose and Rihanna. You can even shop through their instagram on the site's home page under "Shop Our Insta" or Pretty Little Thing's "Shoppable Instagram", moving straight from, "she's hot", to "I want it" faster than you can say "next day shipping".
These brands are well versed in internet obsessions. Online women mock their own predictable clothing taste, with a popular meme asking: "are you even going for drinks with the girls unless someone puts on the group chat that their wearing 'jeans and a nice top'". After @jeennyx's tweet "Wish there was a tab on like Missguided, Pretty Little Thing etc for 'jeans and a nice top", got 6k likes, Missguided commented "noted" and actually made a collection of beaded camisoles and stretchy jeggings. When @yasmin_dodge's tweet, "petition to get PLT, Missguided, boohoo etc an 'airport outfit' category" reached 13k likes, Pretty Little Thing replied with plane emojis before uploading a collection of sand coloured baggy jumpers and baby pink T-shirt dresses. Perfectly mimicking the lazy cool of Hadid sisters boarding endless private jets during fashion week season.
It's easy to understand the appeal of these websites. That you can wear an identical simulation of Kim Kardashian's Calabasas Uniform -- grey sports bra, fleece joggers, and perspex heels -- days after her uploading the Yeezy season 6 campaign onto her Instagram makes you feel you too can achieve her level of sexy. This is emblematic of Missguided's democratisation of fashion. As Andy Warhol wrote of a particular canned beverage: "You can be watching TV and see Coca-Cola, and you know that the President drinks Coke, Liz Taylor drinks Coke, and just think, you can drink Coke, too. A Coke is a Coke and no amount of money can get you a better Coke than the one the bum on the corner is drinking. All the Cokes are the same and all the Cokes are good."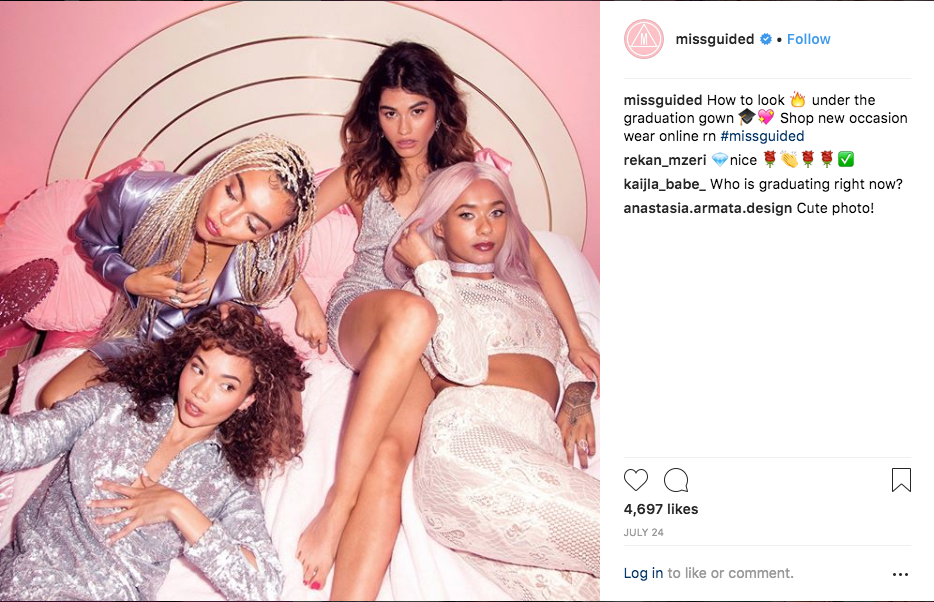 The Missguided Instagram page is more than just an online shop. It provides community, granted one made with the intention to make you spend all your money. Wear Missguided in an Instagram selfie and hashtag it #babesofmissguided and you can join reams of women wearing the clothes; those that take a good enough picture could be picked to join the legions of coveted Missguided hunnies who get sent free clothes and discount codes or feature in the brands own publication: Babe Zine. You don't have to look like a conventional model: Missguided's babes include those with severe burns, psoriasis, scarring, birthmarks, women with cellulite, wheelchairs and those deemed too "fat" by fashion. All you need is a self timer and a fire pose. By depicting bodies conventionally ignored by fashion, Missguided has woven a culture of aspiration stronger than Victoria's Secret. We buy these clothes because we think, for once, we might actually look like the models do.
However, Missguided's ability to bring the Kardashians to Kent comes at a cost. These clothes are disposable, made with the intention to be worn once, maybe twice, photographed and binned. Most items are cheap -- Pretty Little Thing has a section of dresses that sell for £5. The sheer mass of clothing leaves you up late at night flicking through endless rows of bodycon until your eyes are weak, possessed by teeth-bared determination to get to the bottom of the list, your virtual basket exploding with £80 worth of nylon.
And cheap prices are reflected in the wear: these clothes are uncomfortable and ill suited to the practicalities of the physical world. Made out of cheap polyester, they often chafe or feel itchy and metallic against the skin. There are also problems with the fit. Mocking Pretty Little Thing's sizing is a good way to get a retweet, from their absurdly long trouser legs, to crop tops so small they are don't fit over your head. In the competition to keep up with the endless churn of Instagram fashion, there are casualties in the race as poorly structured garments rush out of the factory.
"We're rapid fashion" Nitin Passi, Missguided's founder and chief executive, told The Guardian, "We update our site once a day with new stock, but in my eyes we should be updating it every hour. If a trend comes, we need to have it on our site in under a week." Felipe Caro, a professor at UCLA Anderson School of Management, spent years studying Zara, which in 2005 was hailed by the Economist as the pioneer of fast fashion. He described the work of Missguided and Boohoo as "fast fashion on steroids". At Zara, the journey from drawing board to shop floor is typically around four weeks. But Passi claims he "can turn samples around in a day".
How do these clothing sites manage to be so quick? A lot of it has to do with geography. BooHoo, Pretty Little Thing and MissGuided are all based in Manchester, near the large wholesale district of Cheetham Hill -- an area once deemed the "Silicon Valley of fashion". Most of their clothes are created in Leicester factories. Without having to wait for clothes to be shipped in from Bangladesh or China, they can be made much faster, photographing models while Topshop are still crafting mood boards.
Missguided might be fast fashion at its most aggressive, but if you can wear the same dress as Sofia Richie to a birthday party it is difficult to resist. The issue is the disposability of the clothing. Their snake print cycling shorts and a rhinestone studded bandeaus might make you look like a celebrity in the virtual world, but often they don't make you feel like that in the real one.