watch a new trailer for matt groening and abbi jacobson's new netflix show, disenchantment
The latest TV show from 'The Simpsons' creator, Matt Groening, drops on Netflix on 17 August.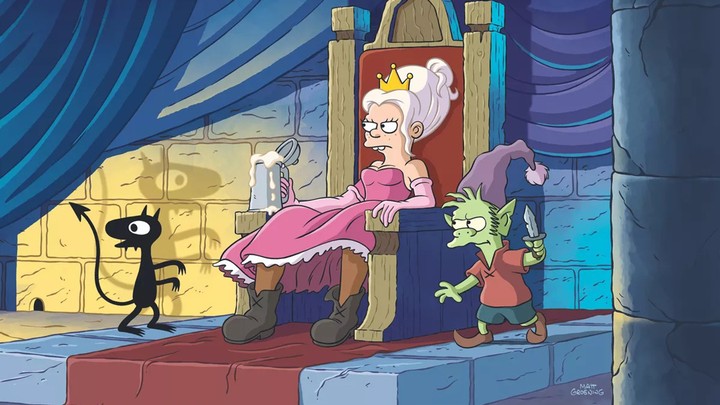 Still from Disenchantment.
The newest trailer for Netflix's Disenchantment is here and we are excited, to say the least. Let's be honest, the television landscape is looking a little sparse at the moment. The summer juggernaut that was Love Island has ended, after taking over our lives for what felt like the last six months. Stranger Things and Game of Thrones won't be back until 2019. We need something to tide us over the rest of this rainy-but-also-strangely-scorching-hot August. Luckily, Disenchantment -- the latest show from The Simpsons creator, Matt Groening, is about to drop on Netflix on 17 August.
In the latest extended trailer, we see Princess Bean, played by Broad City's Abbi Jacobson, as a decidedly different type of medieval princess. After running out on her own wedding -- not before accidentally impaling her groom -- Bean sets off on a journey of discovery in an attempt to gain her own independence. Accompanied by her feisty elf companion, aptly named Elfo, and her own personal demon, Luci, Bean escapes from the crumbling kingdom of Dreamland, much to the chagrin of her dad, the king.
What follows is hard drinking, adventure and butchery -- and it looks pretty great. Already being called "the offspring of The Simpsons and Game of Thrones", the first of 10 episodes commissioned for season one of Disenchantment drop next Friday. Until then you can watch a new trailer below.
The Dark Ages never looked so interesting.
read this next