an interview with the first woman to helm dior, maria grazia chiuri
In her first year as Creative Director of Dior, she has embraced the global feminist zeitgeist head on. But as we joined her on travels from Tokyo to Calabasas and back to Paris, a more personal motivation came to light.
This article originally appeared in i-D's The Acting Up Issue, no. 349, Fall 2017.
No designer has provoked as many opinions over the past year as Maria Grazia Chiuri. Taking over Christian Dior at age 52 last summer, her appointment was met with delight for the first ever woman to do so – but also with speculation about her vision as a standalone designer. She came from an acclaimed duo formed with Pierpaolo Piccioli at Valentino in 2008. Chiuri had been an accessories designer at the house since 1999, and worked on Fendi's design team in the 90s. Now, she had to face the music on her own, no doubt a daunting disposition. " No, no, no – I was not worried about that. What did I have to lose? Nothing," she shoots back, breaking out in her signature warm Italian laughter. Welcome to the no-nonsense, unmistakably Roman world of Maria Grazia Chiuri where sugar-coating gets an eye-roll and honesty is gospel. This is the woman, who left Valentino when sales were at an all-time peak, and critics couldn't get enough of the wafting, puritan aesthetic she'd co-created there. "Okay," she shrugs, "but… done! It was a beautiful relationship and teamwork: a beautiful adventure. But it's like if you've had a husband, you can have a second husband," she laughs. "Why not?" Her new husband has just turned 70.
Not Paolo Regini — a Roman shirt manufacturer who is her actual spouse and father to her daughter Rachele and son Nicola — but Christian Dior, the formidable house she now runs, sometimes in an ankle-length New Look skirt-suit, at others in a slouchy denim trouser. She kicked off her first season at the house, historically inhabited by male designers, with a fencing-themed collection immortalized in look 18, a floor-length embroidered tulle skirt and a white T-shirt stencilled with the words "We Should All Be Feminists." (It sold out but has gone into reproduction — still at $710.) The show quickly labelled her as an activist designer. This, the industry deduced, would be her ethos at Dior. "People think it was something specific for the moment, but no," Chiuri asserts, hinting at a fall dominated by Trump and his view of women. "That moment I wanted to express something so personal and at the same time it was so global. It was in the stars and the moon. Strange." In the year that followed, she would learn that any wave made by the powerhouse of Dior is felt globally, as she traced the globetrotting footsteps of Christian Dior himself — the first designer to understand the meaning of a modern global brand, as early as 1947.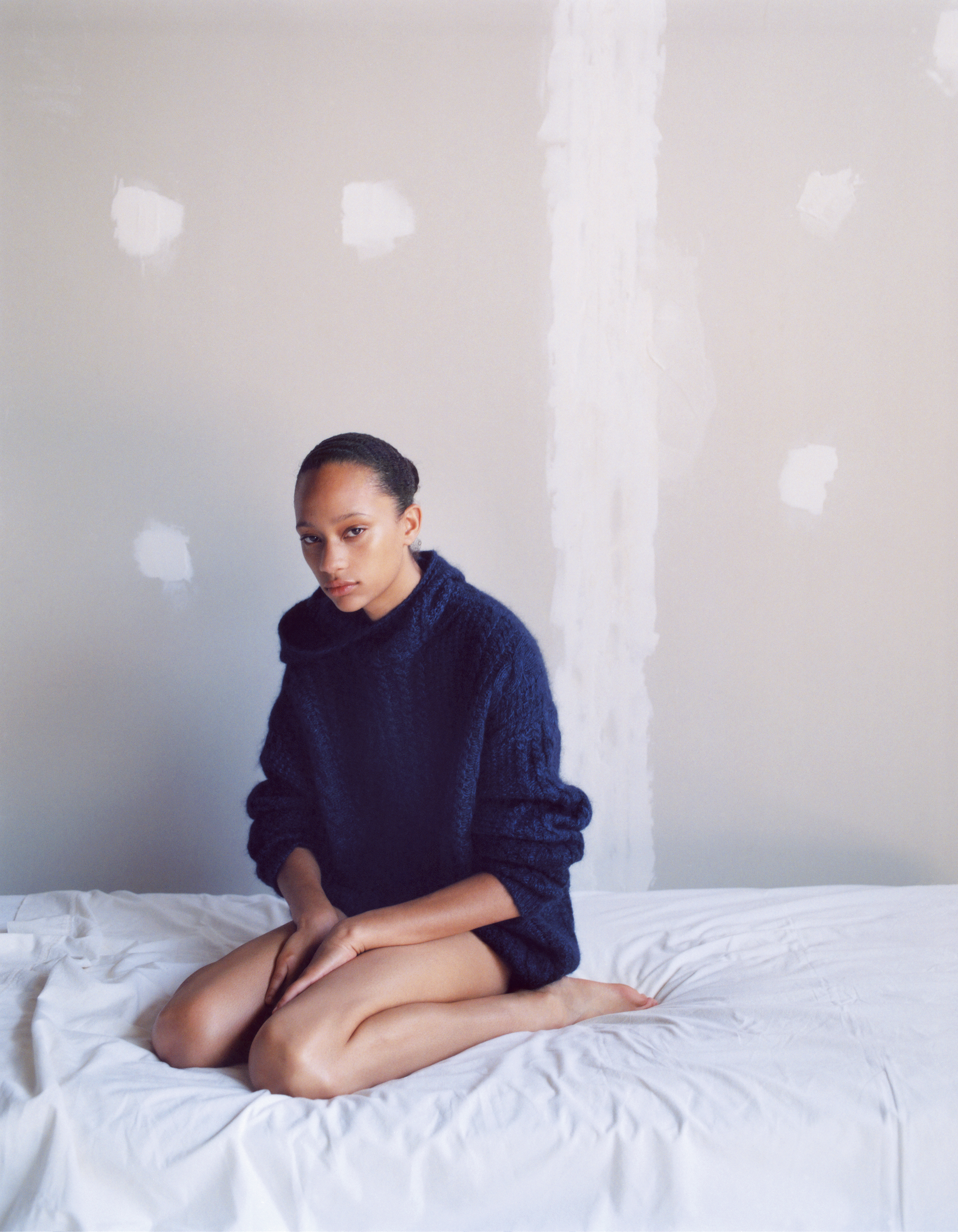 "Christian Dior reflected a lot on the style of women around the world," she says in Tokyo in April, curled up on a sofa at the Grand Hyatt in jeans, a fencing jacket, and that feminist T-shirt — her fingers bedecked with gigantic cocktail rings. We're in the Japanese capital for a restaging of Chiuri's spring/summer 17 haute couture show, created in the fairytale image of an enchanted forest. "If you are interested in fashion now, you're part of a community. Fashion people are an international community," she notes. Her intense first year of global expeditions has served as her education of the house and the worldly philosophy of Mr Dior, as he's called in the ateliers on rue François 1er: to relate to women all around the world. In a bedouin tent in the Calabasas desert in May, dressed informally but excessive jewels still in place, Chiuri is talking about the cruise show she's about to put on. A suffragette prairie parade of sorts, she says it's about women in contact with the natural elements. "We have to feel our instincts. We have to define ourselves and what we want," she stresses.
"Sometimes the heritage of a brand doesn't work with women's real lifestyles. It's possible for a designer to translate a house's heritage in a contemporary way, for different women. I try to work in this way." In Dior's 70th year it's only appropriate this approach should come from the creative mind of a woman. "I'm an instinctive woman. I don't reflect too much. I do what I want to do," Chiuri says in her Paris ateliers in July, days before the unveiling of her appropriately cartography-inspired fall/winter 17 haute couture collection and a sprawling 70th anniversary exhibition at Les Arts Décoratifs. "Sometimes you fall in love with a white T-shirt, and sometimes you want a beautiful dress." Chiuri believes in a kind of innate, global, feminist-driven fashion. In the Dior building, she marches resolutely into an empty conference room in one of those dramatic skirt-suits from her all-navy fall/winter 17 collection, her Bar jacket left decidedly unbuttoned, sits down at the head of a mile-long table, looks around and breaks into laughter at the boss-like situation.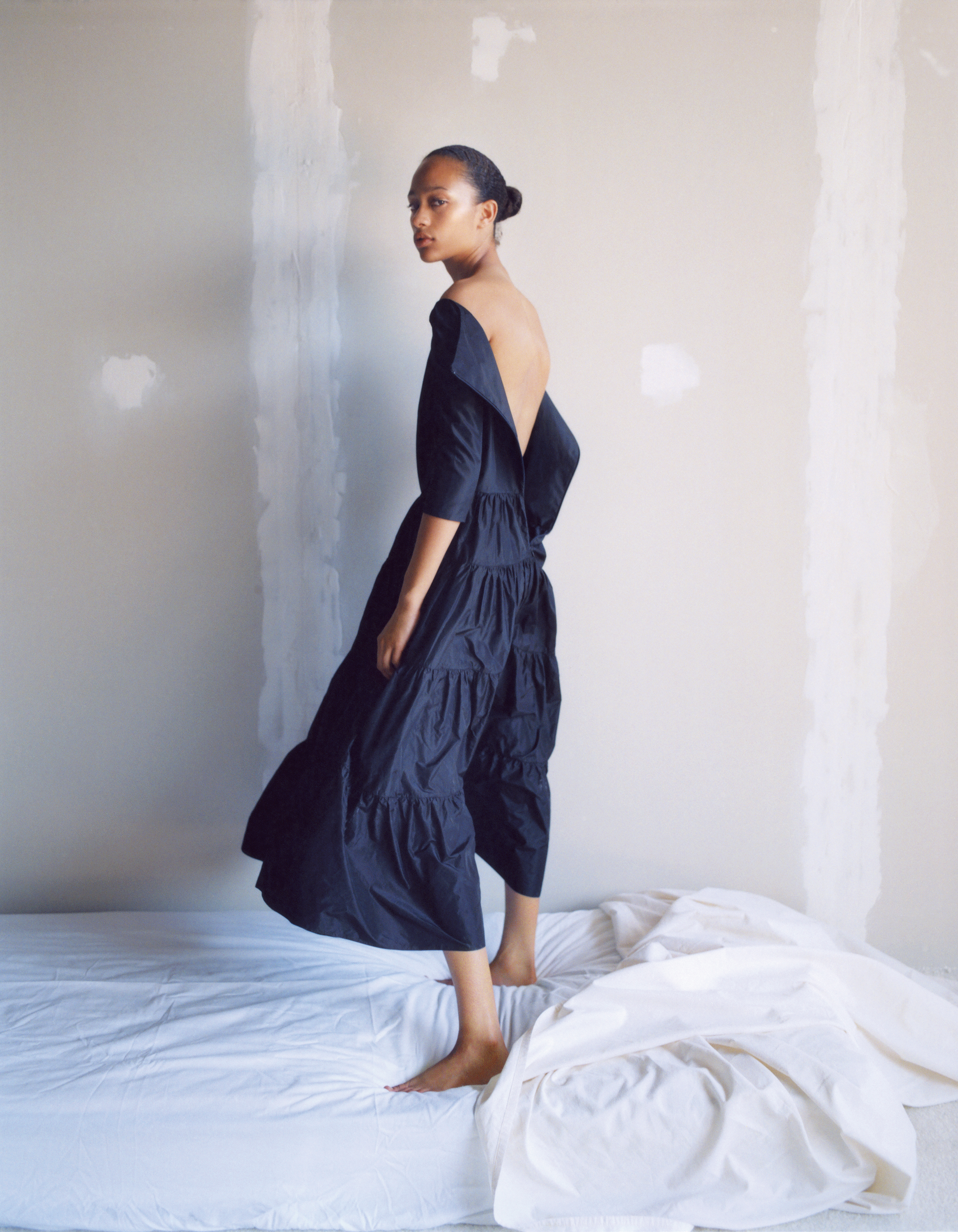 In her first year as Creative Director of Dior, Maria Grazia Chiuri has embraced the global feminist zeitgeist head on. But as we joined her on travels from Tokyo to Calabasas and back to the Paris she now calls home, a more personal motivation came to light.

"You! What are you doing?" She points her finger animatedly down the table, doing her best mean queen impression, and with her striking slicked back platinum blonde hair, thick black eyeliner, and all those rings, she looks every inch the lady in charge. "Am I?" Chiuri ponders. "You'll have to ask the others. I know very well what I want, but I think I'm very simple at the end of the day, because I say what I want. I feel a responsibility in my job, because fashion is a huge industry that gives jobs to many people. Fashion is dreaming, fashion is beautiful, fashion is fun — but it's also a serious thing," she notes. "Maria Grazia is a good listener but she has a very strong idea of what she wants," Stephen Jones says over email. As Dior's milliner for 20 years, he creates hats for Chiuri's collections and travels the world with her for international shows. "She is a very unusual combination of things, because she has the sort of politics, ethics, and design philosophy of one sort of designer, but she's also very product-driven because she came from an accessories background," he continues.
"So what is fascinating — and I have never seen anybody else doing it — is how she puts it together. She always tries on my hats herself to see what they do for her. That's never happened before," Jones admits. "Even though she's a Roman lady on the outside, she has a London punk on the inside." Chiuri's charismatic and beautiful 20-year-old daughter, Rachele Regini, who lives in Chelsea and studies History of Art at Goldsmiths, says her mother isn't the type of designer to "just sit at her desk designing clothes all day — she will go to the factories, she knows the business side of fashion." Over dinner at Park Chinois in June, the night before she retreats to Rome to write her dissertation on second-wave feminism, Regini is dressed in an archive Vivienne Westwood bustier she's nicked from her mother. "She's got an amazing wardrobe, I'm not gonna lie," she divulges. Her mother, Regini recalls, bleached her chestnut locks two years ago because "she no longer recognized herself," and it wasn't until she was 40 that she started wearing make-up, acquiring the gothy Karen Blixen kohl eye that's now her trademark look. By all accounts, it would seem the transition, which brought Chiuri to Dior, was part of a greater instinctive self-transformation.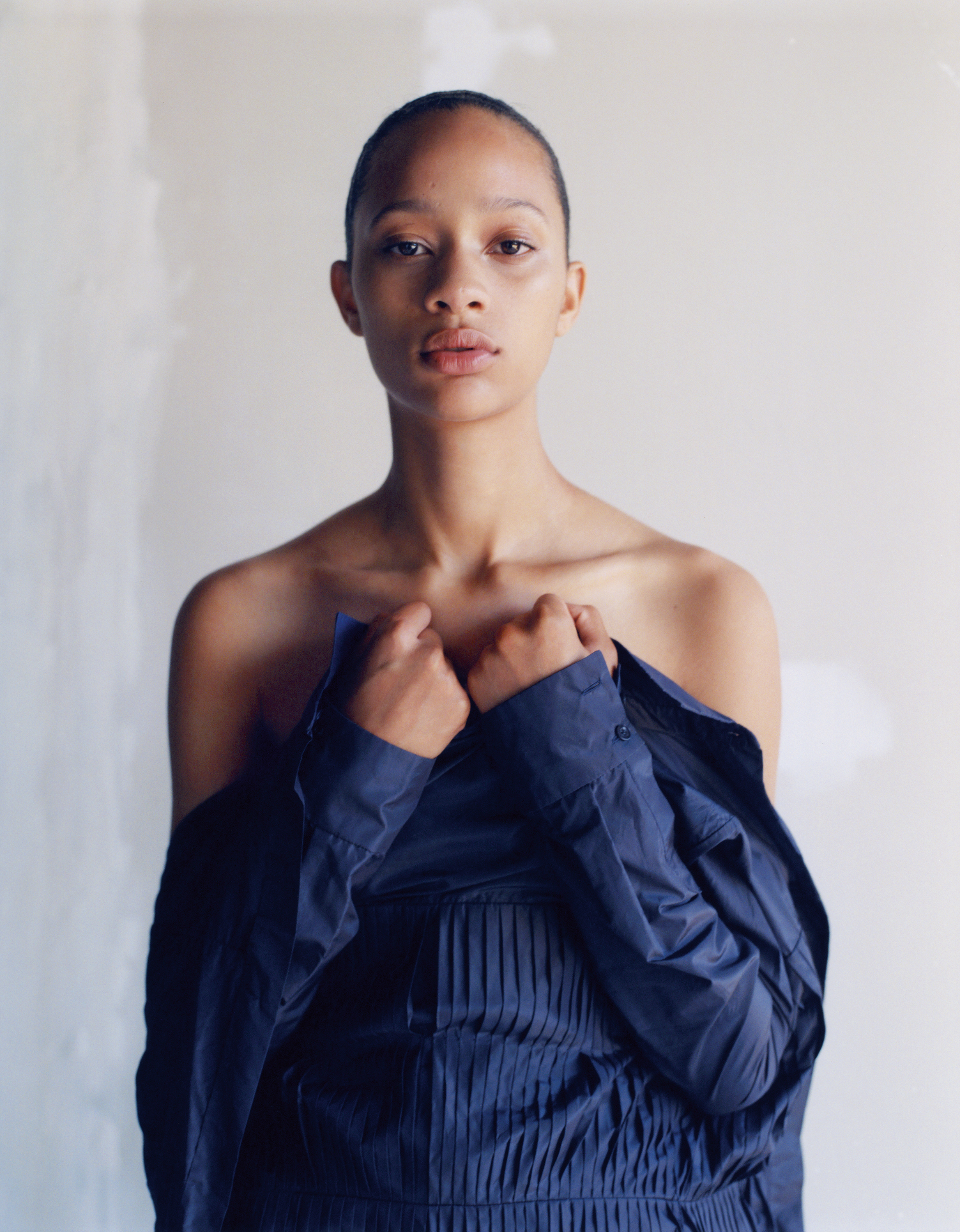 It's what Chiuri talks about when she says her feminist collection for Dior was more personal than it was political. "She started all from scratch at 52," her daughter points out. "It's about her journey as a person, about her being a mum, who always worked; about growing up in Rome but then moving." When Chiuri accepted the Dior job, she moved to Paris on her own, leaving her husband in Rome for weekend visits only. "She went through a lot alone and that doesn't necessarily come across, but I feel like that's why she did that collection," Regini explains. It was Chiuri, who encouraged her daughter to move to London at just 17, fueled by limitations in her own childhood, which she didn't want to pass on to her own children. "Each kid has to "kill" their father and mother if they want to be free, in order to try your own point of view, and it's not an easy decision to make," Chiuri says in Paris. "I probably understood many things very late. I pushed Rachele to move to London because I wanted her to be really free from family — and for Italian culture that's not normal. But I want them to be free."
"She always treated me and my brother as adults," Regini recalls. "We were always part of the conversation. She was never strict with us. She was like, 'I'm doing what I have to do so you do what you have to do.'" On Chiuri's part it was an attempt to contrast her own upbringing. "My mother is crazy — completely crazy — and really egocentric! That's probably why I'm so shy, because I find her too egocentric. She embarrasses me, but you can't choose your mother," she says, laughing heartily. "I have to maintain a distance because now she talks about me to everyone and I would like to have an intimate life." She goes into mock-Italian cackling: "' … Rachele! … Maria Grazia!' She tells everything and everybody too much."Regini describes her grandmother as a very fabulous eccentric; Chiuri's mother was a seamstress herself, but had great expectations for her daughter. "The first option for her was to study, to have a very serious job like doctor or lawyer. They pushed me to go to university, but it was too…" She pauses. "I said, 'You have to let me do what I really like.' It was difficult to say no."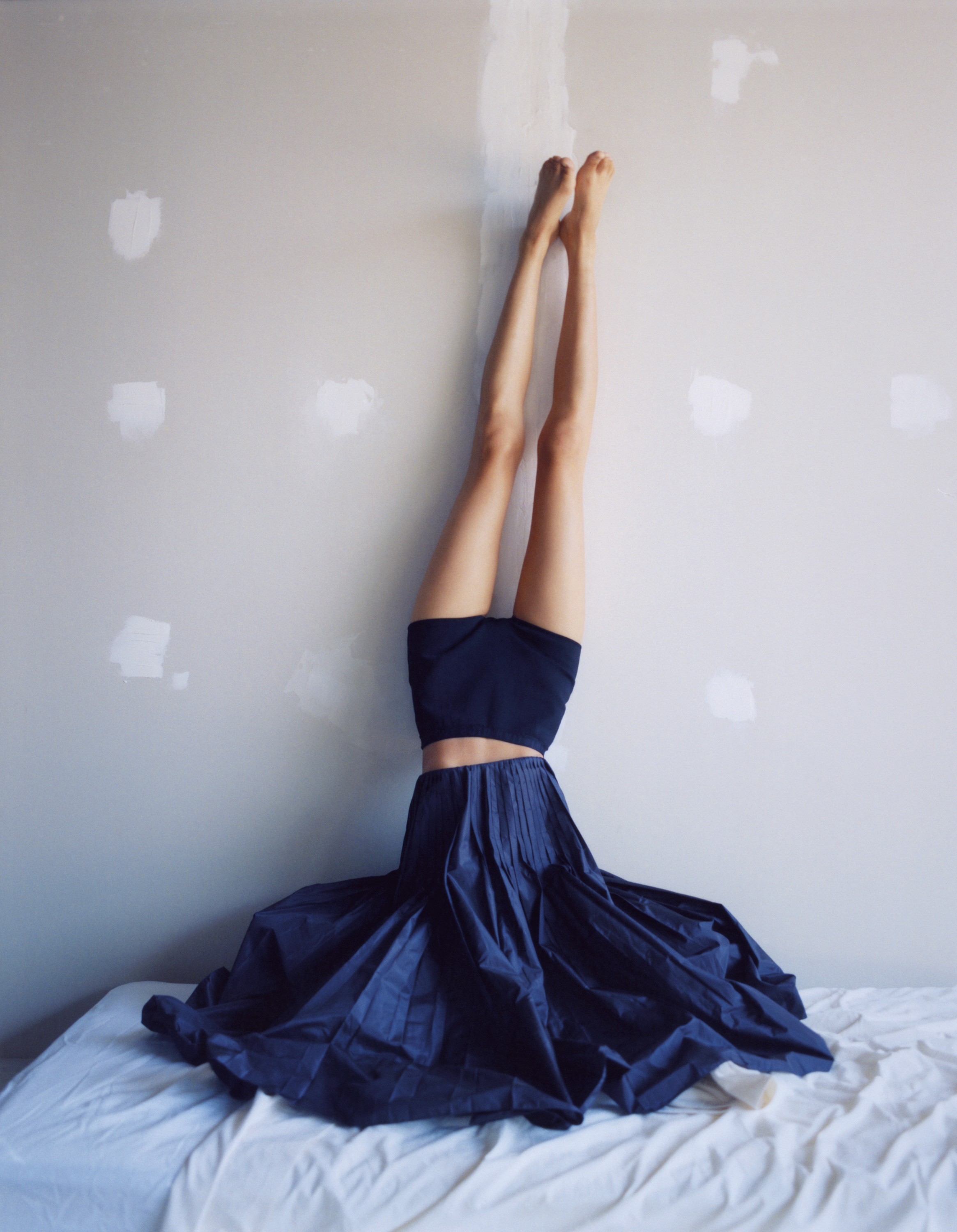 Starting out in Florence as a young designer, Chiuri remembers well the financial difficulties, which emerging designers struggle with today. Later on in Rome, she admits she was lucky to have her children while working for Fendi, a then family-owned company run by women. "They knew what it meant to work and have kids." Since Chiuri took the reins at Dior, her daughter has become a kind of muse and millennial adviser to her, and accompanies her on our trips through April and May. In Tokyo, Chiuri says she wanted to add a kimono-inspired dress to the nine looks she expanded her haute couture collection with — but Regini wouldn't let her. "She says it's 'cultural appropriation'. We discuss this a lot because I say, 'Please, why can't I use a kimono if I like a kimono?' It's like the Japanese Bar jacket. Why not? And she says, 'Oh, no!'" Roman benevolence doesn't always cut it with the new political correctness. "You know, I completely love African cultures, Japanese culture… in any case it's a way to discover another culture and other people," Chiuri argues. "I think we have to get to know other people. We have to try to understand." At 53, now the creative head of one of the biggest fashion brands in the world, Chiuri says her biggest privilege is not having to worry. "When I was 22, I was so serious. In my family it was like, 'You have to study, you have to find work.' It's like with Rachele now, I find she's too serious. I say, 'Please, Rachele, take your time!' Now that I'm 53, I say, okay, I can relax. Now I work in a more playful way." Case in point, just two nights before her second haute couture show, the designer closed up shop in rue François 1er and went to a Depeche Mode concert.
Between her grounded ready-to-wear collections and extravagant haute couture shows, Maria Grazia Chiuri is the quintessence of the contemporary woman she designs for, as romanticist as she is pragmatic. "I dream a lot but I know if I want to survive I have to be realistic," she says, her big Italian smile still intact. "I would like to live in a dream but it's impossible for me, because I would like to see my dream in reality."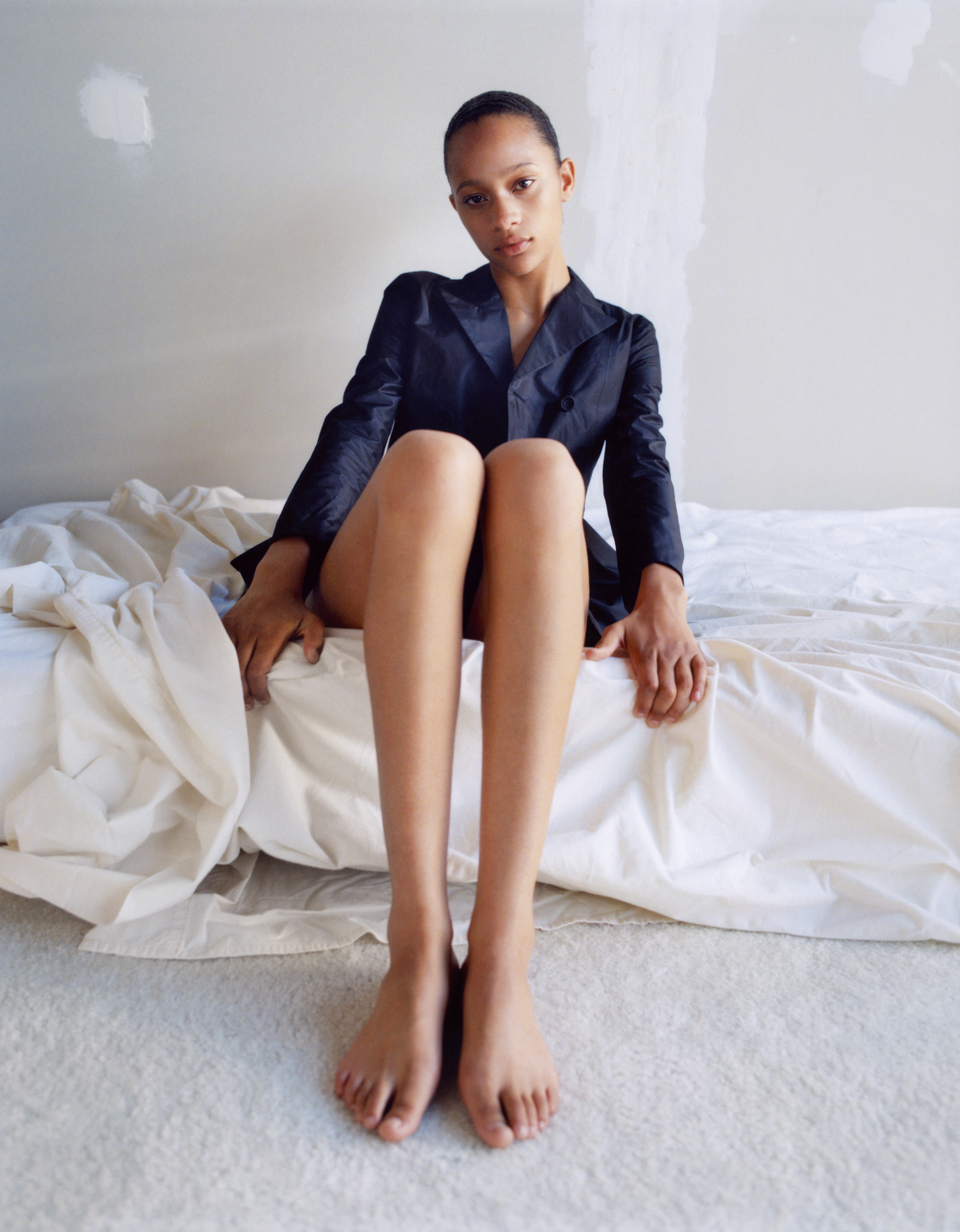 Credits
---
Text Anders Christian Madsen
Photography Zoë Ghertner
Styling Julia Sarr-Jamois
Hair Marki Shkreli at Bryant Artists using Marki Haircare. Make-up Maki Ryoke at Streeters using Dior. Set design Spencer Vrooman. Photography assistance Caleb Adams. Styling assistance Bojana Kozarevic, Alexandra Bickerdicke and Megan King. Hair assistance Tanasia McLean. Set design assistance James Rene and Brian Steinhoff. Production Connect The Dots. Casting director Angus Munro at AM Casting (Streeters NY). Model Selena Forrest at Next.
Selena wears all clothing Dior.