rose mcgowan stars in luna's new video covering the cure
Luna's cover of The Cure's "Fire in Cairo" doubles as a short film about the actress-turned-auteur.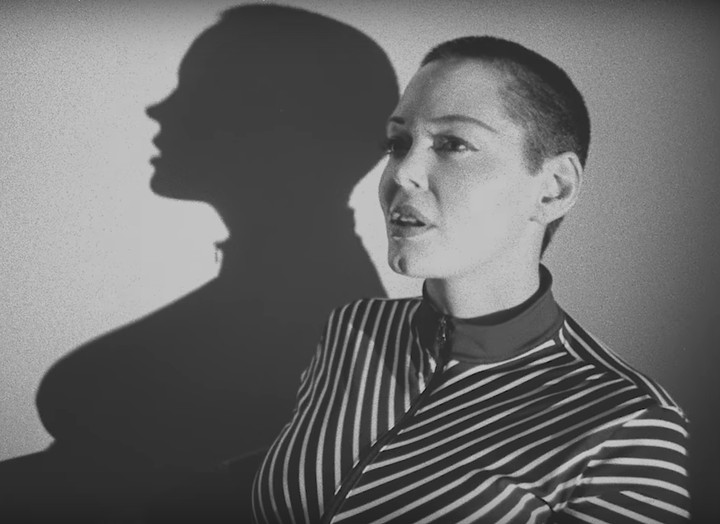 still via youtube.
Rose McGowan was only six years old when The Cure released "Fire in Cairo" on their debut album in 1979. All these years later, the song has become the soundtrack to a short film about her, courtesy of Dean Wareham's 90s dream pop band Luna. Rose is the star of a black-and-white cinéma vérité music video for Luna's cover of "Fire in Cairo," a cut off the New York outfit's upcoming covers album A Sentimental Education (Luna's first release since 2004). The album also features covers of Fleetwood Mac, The Velvet Underground, David Bowie, and punk/soul CBGB regulars Mink DeVille.
This isn't Rose's first time starring in a music video. Last year the perennially punk icon dropped a self-directed visual for a song she wrote called "RM486," a reference to the abortion drug RU-486. She described the artsy, NSFW video to Rolling Stone as a composite portrait of herself, depicting stages from "the media perceived 'goth' period of my life" to "Green Hair Hollywood" to her current authentic and artistic self. Luna's video is sort of a mashup of all three. The grainy amalgamation of scenes includes Rose looking at sketches of her younger self, Rose staring into a mirror, Rose chilling backstage at a Luna show, and Rose receiving an important phone call on a vintage landline phone. Check out the era-spanning clip below.