44 tracks to celebrate 44 years of hip-hop
Disclaimer: It's not definitive; it's just a bit of fun. Welcome to an argument-inducing list of 44 rap tracks to honour the birth of hip-hop. Happy birthday hip-hop!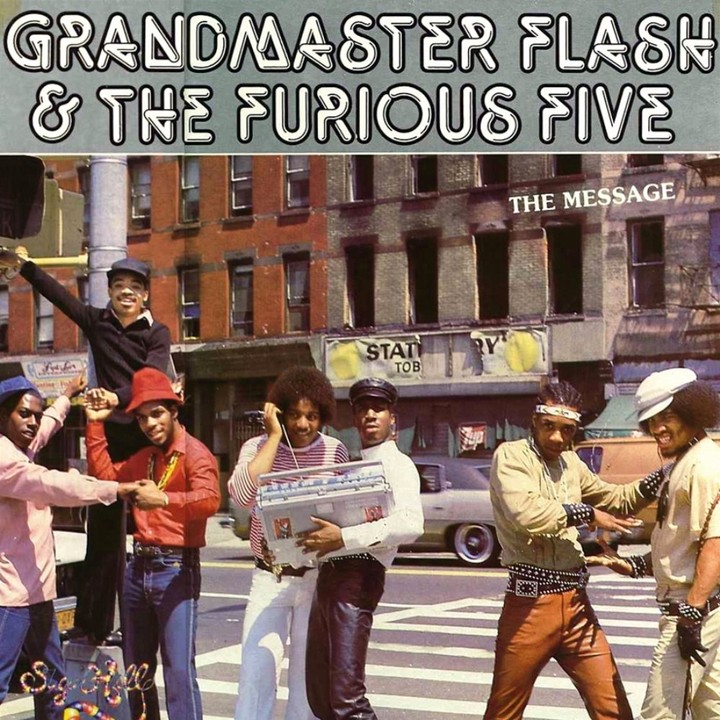 According to Google Doodle, today 'officially' marks the 44 th birthday of everybody's best pal, hip-hop! We're not entirely sure how Doodle arrived at this date, but we're willing to roll with it because it gives us a great excuse to celebrate 44 times hip-hop was brilliant.

From the obvious to the obscure, in no particular order and with the full caveat that this isn't a conclusive list, here are 44 of the finest rap anthems known to man and woman.
1. Grandmaster Flash & The Furious Five, The Message
Taking hip-hop from partying to politics in seven striking minutes, Melle Mel's ruminations of people pissing on the stairs (you know they just don't care) remains a potent piece of music, relaying the realities of the inner-city struggle.
2. Salt-N-Pepa, Shake Your Thang
Push It is the obvious choice, sure, but this track is so enthusiastically joyful, we have to celebrate this ode to James Brown.
3. Lil Kim, Lighters Up
Yes it's sacrilegious to ignore Big Mamma Thang and its candid confessional couplets such as, 'I used to be scared of the dick, now I throw hips to that shit', but the 100% perfection of this Scott Storch offering can't and mustn't be ignored. Long live the Queen Bee!
4. Foxy Brown Ft. Spragga Benz, Oh Yeah
The most critically acclaimed rap bitch in the game!
5. Queen Latifah, U.N.I.T.Y
Erm, who you calling a bitch? A fantastically fierce feminist anthem from 1993's Black Reign.
6. Craig Mack Ft. Rampage, Notorious B.I.G, LL Cool J, Busta Rhymes, Flava In Your Ear
The absolute ultimate posse cut of all time, ever.
7. Wu-Tang Clan, C.R.E.A.M
RIP Ol' Dirty Bastard. From a debut album of near perfection, the Wu really weren't nothing ta fuck wid.
8. Jay Z Ft. UGK, Big Pimpin'
So much Hov, so little time. Personal preference prevails with this rough 'n' rugged Rick Rubin banger. Critics, you can kiss my whole asshole.
9. The Notorious B.I.G, Juicy
A stone-cold classic that perfectly illustrates Biggie's imagination for imagery.
10. Nas, N.Y. State of Mind
After Nasir, nothing was the same.
11. N.W.A, Straight Outta Compton
RIP Eazy E. The most powerful, provocative hip-hop crew of all time.
12. Kendrick Lamar, Bitch Don't Kill My Vibe
And he doesn't kill ours. Ever.
13. Drake, Started From the Bottom
Now we here!
14. Eminem, Stan
Sure this song is overplayed, but imagine hearing that tune for the first time and realising just how outrageously excellent Em was/is. Phenomenal.
15. Outkast, The Way You Move
Technically just Big Boi and, yes, not a little known classic from Aquemini, but what human can stay seated when this hits the speakers? Not us, that's for sure. Utterly outrageous. Utterly brilliant.
16. Tupac, Dear Mama
Just one of the more poignant offerings from Pac. Lets hear it for the mothers.
17. Scarface, Hand of the Dead Body
Sounding like it was made in a coffin, a truly creepy classic from this Geto Boy.
18. Lauryn Hill, Lost Ones
She miseducated and misentertained all at the same time. You might win some, but you just lost one.
19. The Fugees, John Peel Session
A rarity recoded before Peel's death on 22 Feb 1996 -- this rough and ready recording almost surpasses everything from The Score. So rare it's not on Spotify, so here's the YouTube link instead.
20. De La Soul, Me, Myself & I
Long live the D.A.I.S.Y. age.
21. 50 Cent, In Da Club
Fif did exactly what he said on the tin and quickly put the whole rap game in a chokehold. Still sounds beautiful today.
22. Missy, The Rain
Missy and Tim shot hip-hop into outer space and, boy, was it better for it.
23. Ice Cube, Today It Was a Good Day
For once, it was all good in the hood.
24. DMX, Slippin
Proving his bark wasn't always as bad as his bite, X showed a softer side to great effect. Sometimes, we just can't get up and that's ok.
25. Mobb Deep, Shook Ones (Part II)
RIP Prodigy. The Queensbridge metaphor murderers remain infamous.
26. Kanye West, Jesus Walks
So much Kanye, so little time, but this remains iconic.

27. LL Cool J, Mama Said Knock You Out
Ideally we'd choose I Need Love, but it's Friday and who needs to be trolled on a Friday?
28. UGK Ft. Outkast, International Playa's Anthem
RIP Pimp C. Also unavailable on Spotify, Three Stacks is utterly sublime here.
29. A Tribe Called Quest, Scenario
RIP Phife Dawg. Just to be contrary but also because the remix first introduced the world to a young Trevor Smith aka Busta Rhymes.
30. The Beastie Boys, Sabotage
RIP MCA. For the video alone tbh and tbf. From rap brats to sophisticated musicians, the Beasties proved white men can do hip-hop.
31. Run DMC, Down With the King
RIP Jamaster Jay. Another personal preference, plus so many classic DMC tracks have been bastardised by Jason Nevins et al that they've almost become unlistenable.
32. Public Enemy, Rebel Without A Pause
Do you know what time it is, boyyyeeee?
33. Eric B And Rakim, Paid in Full
The originator of your favourite rapper's favourite rapper, Rakim really was the God MC.
34. Dr. Dre Ft. Snoop Doggy Dog, Nothin But a G Thang
Ushering in both the G-Funk Era and further establishing his Long Beach protégé, Calvin Broadus, there's nothing smoother than the pairing of these two. A hip-hop karaoke classic.
35. Sugarhill Gang, Rapper's Delight
Taking hip-hop from the streets to the charts, this six minute long song confirmed that hip-hop was a commodity that could be commercialised. Was that ultimately a good thing? Guess we'll never know now.
36. Bone Thugs-N-Harmony, Thuggish Ruggish
The 5-piece from Cleveland took triple-time spitting stratospheric.
37. Lil Wayne, A Millie
Young Money, ya dig! Newlins had never been hotter.
38. Slick Rick, Children's Story
U.K. represent!
39. Clipse, Grindin'
This understated futuristic beat from Pharrell was perfectly complicated by the most exciting duo hip-hop had seen since Big Boi and Andre.
40. Snoop, Gin N Juice
RIP Nate Dogg. Pour a little liquor for all the fallen soldiers.
41. Nicki Minaj Ft. Lil Wayne & Beyoncé, Sweet Dreams remix
Nicki absolutely BODIES the beat, establishing herself immediately as every rap bitches nightmare.
42. Migos, Bad N Boujee
Hate it or love it Mumble Rap is of its time and Migos are the undisputed kings of crud talk.
43. Dead Prez, Hip Hop
You can't celebrate hip-hop's birthday and not include the ultimate celebration of the culture, right!
44. ?
It's impossible to choose a final track. Something from BDP? EPMD? It Takes Two? Regulate? We couldn't decide, so we'll let you fill in the final blank. You're welcome.