all the times christina aguilera made us feel like burning our levi's and getting our chins pierced
From Suck My Dick t-shirts to buttless leather chaps, here's our definitive guide all things Xtina.
|
10 November 2017, 5:14pm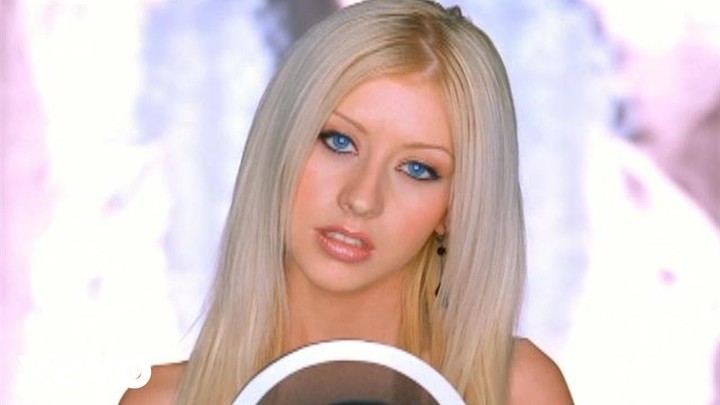 Still via "I Turn To You," YouTube
This story was originally published by i-D UK.
Christina Aguilera has boldly gone where few pop divas have sartorially dared. From butt-less leather chaps to chin piercings, belts worn as skirts to scarves worn as tops, she's too dirrty to clean her act up and we love her all the more for it.
Just last week she had us weak at the knees and clicking our fingers to the reverberating sound of "yas kween," after posting a now-viral image of her serving slicked back hair realness, velour tracksuit bottoms, a pimped-out furry coat, some shades and a slogan tee that simply read: "Suck My Dick." *Drops mic.
Forget #NewVogue, this heralds a new look for one of our fave 00s popstars, and possibly even a new chapter if the "New things on the horizon" caption means what we think it means. She's back, right?
We thought we'd prematurely celebrate by throwing back to some of her greatest style moments.
1999 -- A genie in combat trousers
In 1999 Christina graduated from being a Mouseketeer to a legitimate pop princess, making her entrance onto the world stage with the now-iconic music video for Genie in a Bottle. Cue obligatory scenes of our fresh-faced fair maiden rolling around nonchalantly on a beach. A sartorial dream, the 3-minute vid features a heady mix of short shorts and bare torsos, tank tops and cropped jackets. But nothing compared to the capri pants and t-bar sandals combo. I seem to remember something about some shimmery turquoise eyeshadow? Oh and who could forget her killer combat trousers in bright orange, paired with a colorful fringed crop top (a must). Coy, somewhat sexy but still erring on the side of PG, this pretty much marked the beginning and end of Christina's girl next door era.
2000 -- A Rolling Stone gathers no moss and very little clothing too
Ah, the misty dawn of the early noughties, before social media angst was even a glint in your eye. The Nokia 3310 has been released. Usher is number one. R&B stars are making their own liquor, and we're stashing our pennies to save for the secret purchase of a Tammy thong. Christina has just bagged the cover of Rolling Stone (Brit snipped in before her in 99) and she's going someway to remove herself from the squeaky clean Mickey Mouse Club image. Yes Brit bared her abs, but Christina went one step further, exposing her pubic bone in a tight blue crop top emblazoned with the words "Super Girl," a denim mini skirt unzipped all the way down to her crotch and a pair of bikini bottoms. But let's be honest: that crop top is basically just a bra. Goals.
2000 VH1 Music Awards, a nuanced look

Christina's fairy goblin queen phase is a strong one. Here is a key look from this moment in the Aguilera archives. Quasi Renaissance corsetry-style clothing, PT abs, sex dungeon footwear and cyber dog hairstyles. It's an eclectic look for sure, but it's an important insight into our maven's stylistic trajectory. Take this tie-dye gold lamé mermaid look she rocked at the 2000 VH1 Music Awards. Describing this outfit in words is actually incredibly difficult.
This 2000 VMAs outfit was so noughties it basically sums up the entire decade
Looking like a life-sized Bratz doll, here she wears some pretty iconic diamond patchwork denim flares, denim baker boy hat and bubble gum pink lingerie up top. The braids are the finishing touch and the belly chain would later become her accessory of choice.
Lady Marmaladey 2001
"Christina…Pink (Lady Marmalade)…Lil' Kim (Hey, hey! Oh oh oh)…Mya (Oh Oh)"
Was there ever a better moment for Christina than the Lady Marmalade era? Was there ever a scarier time to be the mother of a teenage girl? Rumours spread around school about thingy's older sister on the French exchange who'd told a Parisian boy she wanted to "voulez vous coucher avec moi?" That's how iconic the video was. We all invested in red eyeshadow, Moulin Rouge merch, crimped our hearts out and started wearing underwear tucked into jeans. We miss the noughties.
Too dirty to clean her act up

In the moment right before Stripped was released, sometime in 2002 on a full moon, Christina Aguilera and her whimsical cabaret wardrobe was laid to rest and Xtina's x-rated look was born. It wouldn't be an overstatement to say that the video for Dirrty Changed My Whole Life. Looking like a cross between Devon Aoki in The Fast and The Furious, a skunk, and the naughtiest girl at school, Xtina's bumble-bee chaps and zero fucks sealed the deal.
*whispers* "Don't look at me" AKA Stripped, 2002
Let's look at her 2002 MTV VMA red carpet look. If MySpace were a person it would probably dress like this: stripey hair with sporadic braids, baker boy hat placed at a jaunty angle, a Monsoon (maybe) scarf worn as a bra, a belt worn as a skirt and Elizabethan-style pointed patent boots. Chin piercing, nose stud, pencilled-on eyebrows, very fake tan and headband under her hat -- yup, she looks beautiful.
The black hair moment c. 2003

I want to skip over the black hair moment, but that would be a disloyal turn away from the intensive investigative journalistic stripes this piece has earned me thus far. So we'll be brief. Here she is in a white corset dress, matching strappy sandals and big gold hoops at the GLAAD awards. Next!
Xtina in a bridal romper at the 2003 VMAS = the best episode of Don't Tell The Bride ever
Ok something good did come out of 2003. Christina performs live in a slutty bridal romper alongside Britney Spears, Madonna, and Missy Elliot in a flippin' tuxedo. All this happening right in front of a really bored looking Eminem who is literally wearing reading glasses at the 2003 VMAs.
Bada Bing!

The release of her 5th album in 2006 saw such bangers as Candy Man and Ain't No Other Man and ushered in a new experimental style phase for Chrissy, AKA the Marilyn Moment. She'd ditched the flares and the cropped peddle-pushers and fully embraced old-school Hollywood Glamour and… womanhood. We're not against this period -- Coke-can curls, fishnets, fishtails and sailor suits ahoy, but it needs to mature a little before we pillage it for style cues. Please see here, her 2006 VMA look. Versace, Versace, Versace.
The bounce back c. 2009

The Moschino LBD Christina wore when she hosted an NYE party at a club in Vegas (obviously) is a definitive moment. The blunt bob, classic Louboutins and red lips are to die for. Happy New Year bbz.
The tan period

In 2012, Christina and Jersey Shore's Snookie merged. Please see her AMA look, the purple body-con, the pink dip-dye, the dripping fake tan, and then, erase it from your mind forever.
Keeping Up With The Kardashians

In December 2016, Christina celebrated her 36th birthday a month early and Kylie Jenner came dressed as her in Dirrty mode. You know you've made it when one of the Kardashians has sartorially appropriated you.
We can't wait to see what comes next.