"i remember when channel u was popping" – meet rising teenage rapper mike
The Earl Sweatshirt-approved 19-year-old talks Biggie, community and the stigma busting power of hip-hop.
|
17 November 2017, 4:50pm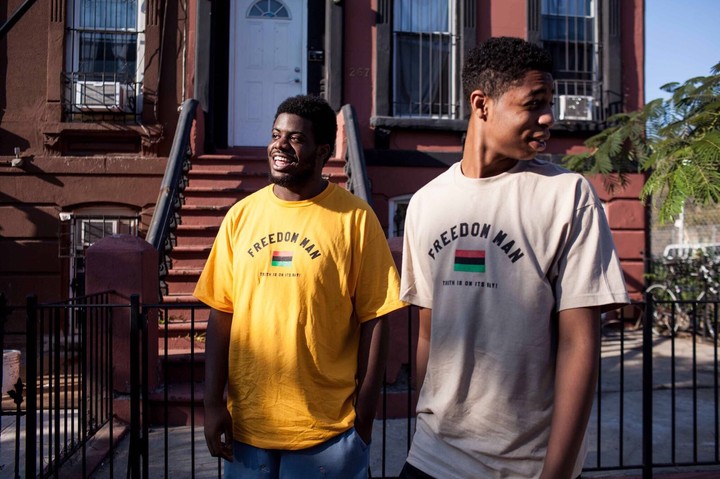 There are many rappers from The Bronx. Melle Mel, Fat Joe, Kool Keith... What there are fewer of, it must be said, are Bronx-based rappers who arrive in the New York borough via Rainham in Essex: a sleepy suburban town on the outskirts of east London. Hello, then, to MIKE -- your new Essex-indebted rapper of rap.
Born in South Livingston, New Jersey, he moved to England with his mum at the age of five, a culture shock he describes as "kind of crazy". He makes music inspired by artists like MF Doom and J Dilla, and if you ever get to meet him, you'll notice he has that mega vibe that people who moved around a lot as kids have: kind of super relaxed and adaptable. He's been chucking out sounds for the last couple of years, most recently By The Water, his first EP on former home of King Krule, House Anxiety, and he seems pretty chilled out when we meet at a trendy Shoreditch eatery, 23-year-old manager, Joygill Moriah, by his side (MIKE, himself, only recently turned 19).
"I used to listen to a lot of grime," he says of his five years spent in the UK (MIKE later went to live with his father in Philly before moving to New York). "I remember when Channel U was popping. I used to get well deep into it. I was listening to Younger Wolfpack, back in the day Skepta."
Where that fits with the hazy, jazz inflected shit he's doing now, god only knows, but it must be in there somewhere. You see, MIKE is part of a new wave of DIY underground hip-hop in the city, member of a crew called Slums that consists of him, SIXPRESS, Jazz Jodi, King Carter, and a whole host of others like Standing on The Corner, Medslaus and Caleb Giles. "It's a big ass network," he says. "It just keeps on growing, and it's a real beautiful thing. There's just this big ass network of new sounds and new nations. It's like a circle, acquiring mad knowledge. It's blessed."
You get the feeling that having a community around him is important to MIKE. Relaxed as he may be, he's not a natural extrovert and is at pains to stress the two sides to his personality. "When I talk to my friends, one thing they always say is, 'being around you perform or record is like two different MIKEs,'" he describes. "MIKE while he's not performing is laid back, chilling, whereas MIKE performing has this mad emotion coming out. Really, a stage with a microphone is the only place I feel comfortable. I may not be able to tell people how I feel face to face, but I'll be able to translate it to you in a different form."
Of course, how MIKE feels is a big part of his appeal. His music carries a real personal narrative, and even a cursory listen to May God Bless Your Hustle, the soul splintering mixtape that won him stacks of acclaim back in June, reveals a properly frank commentary on depression and mental health. "I definitely feel like rap is 'black music,'" he says, "and there's a lot of trauma that comes with being black." He talks about listening to old Biggie records and recognising moments of shared experience: "I hear some of the stuff he says and I'm like, 'Yo, I know this man is depressed.'"
"Talking about it in music makes people more comfortable," he continues. "More understanding. I'm one of those people who are a whole mash inside and so I get to the point where can't keep it in anymore. The fact I'm able to release some of this into the music industry and let people understand where I'm coming from means I don't have to let them know how I'm feeling slowly." He pauses for a second. "It helps."
Mike appears at London's Omeara this evening (17 November). The vinyl release of By The Water is out now.