​16 years on: where are the cast of donnie darko now?
With a sequel to the 2001 time travelling odyssey just announced, we jump through the space-time continuum to find out where the original cast are now. Seth Rogan played high school bully Ricky Danforth, feel old yet?
|
02 February 2017, 11:30am
We've been watching you. Come closer. Ok, fine, we've been re-watching Donnie Darko, but still, come closer, because in 28 days...6 hours...42 minutes...12 seconds... the world will end, again, well, according to director Richard Kelly. Yes, that's right, 16 years of time travel later and the cult indie classic is getting a sequel. To celebrate, we've jumped back into the space-time continuum and called up a handful of real and imaginary friends to find out where the original cast are now. Well, not all them, it was a big cast, and let's face it thanks to the internet we all have the attention span of a gnat; it would be physically impossible to get through a list of the entire cast without getting distracted by Instagram.
Jake Gyllenhaal aka Donnie Darko
I don't know about you, but the first time I laid eyes on Jake Gyllenhaal as the angst-ridden Donnie Darko, I knew I had to have him. 16 years on and that still hasn't happened. Weirdly, Taylor Swift got there first. But anyway, it's fine, because Jake's been a busy boy since pulling on that stupid man suit. I'm talking lead roles in movies like Jarhead, Zodiac, Nightcrawler, Southpaw, Brokeback Mountain - I mean who didn't shed a tear when he as the brooding cowboy Jack Twist, was brutally beaten to a pulp? In fact he's died a few times on screen, it's been pretty devastating. Then there's Tom Ford's Nocturnal Animals. The list goes on. But you know all this, it's Jake Gyllenhaal ffs, the guy has won an Oscar, he's Hollywood royalty.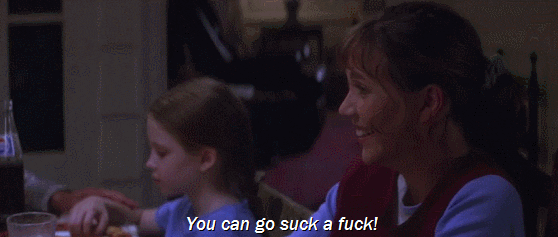 Maggie Gyllenhaal aka Elizabeth Darko
If Jake wasn't in the picture, then big sister Maggie would obviously be our favourite of the Gyllenhaal clan. I mean she's as cool as they come, and she's married to Stephen Sarsgaard, who, let's face it, is fit. Who else could pull off the immortal line of Elizabeth Darko, "Go suck a fuck"? To which her onscreen and IRL brother #meta retorts, "Oh, please, tell me, Elizabeth, how exactly does one suck a fuck?" Ahh, the joys of sibling rivalry, doesn't get much punchier does it? But beside all that, what else has the Magster been up to? Well, lets see, she blew our minds as Lee Solloway in BDSM-in-the-workplace film, Secretary. She also starred as Batman's leading lady in The Dark Knight, only to be killed later on by the Joker. There was also Mona Lisa Smile, Stranger Than Fiction, and of course Paris je t'aime, which was a whole lot better than its New York equivalent. This year you can see her starring opposite James Franco in new TV drama, The Deuce, about porn and prostitution in 1970s New York. Nice.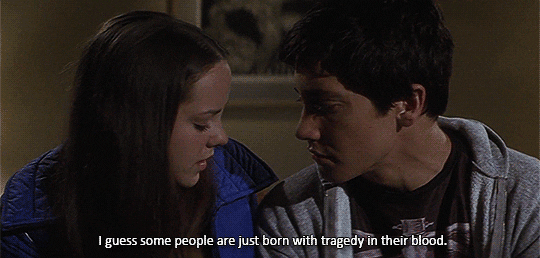 Jena Malone aka Gretchen Ross
And none for Gretchen Wiener. Ok, fine, different movie. But this Gretchen… I mean what a drip. "Some people are just born with tragedy in their blood," Oh please. Actress Jena Malone on the other hand, is a total rock star. She totally betrayed her family when she married George Wickham in one of the many versions of Pride and Prejudice, kicked ass as Johanna Mason from District 7 in the Hunger Games trilogy (there were four, but who's counting?), and then there was Neon Dreams, in which she played Ruby, the mortuary make-up artist with necrophiliac tendencies. Actually, let's just leave that one there. She also re-united with her Donnie Darko co-star in Tom Ford's Nocturnal Animals, in which she perfected the art bitch stereotype down to a tee.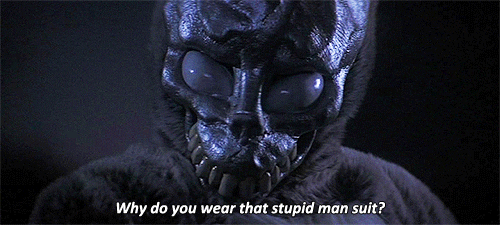 James Duval aka Frank
Talk to Frank, or rather Frank will talk to you. But be warned, if you're caught chin wagging about time travel with an imaginary dude in a monster bunny suit, people may think you're a bit odd. It also means that you're world is about to end. Speaking of the world ending, you may recognise James Duval, the man behind the rabbit mask, from Greg Araki's iconic coming of age trilogy Teen Apocalypse, in which he played a variety of fucked up characters. Now, according to IMDb, James has been in multiple films every year since he appeared in Donnie Darko. But you know what? Sometimes the internet lies, cos I sure haven't seen him in anything.
Drew Barrymore aka Karen Pomeroy
From childhood star to queen of the indie screen, Donnie Darko's gentle high school teacher Karen Pomeroy is now a cannibalistic house wife in Netflix show Santa Clarita Diet - Drew Barrymore has had more lives than a housecat. Long may it continue.
Patrick Swayze aka Jim Cunningham
Patrick Swayze, now there is an icon. He graced our screens as the paedophilic promotional speaker Jim Cunningham in Donnie Darko, and sadly passed away in 2009. He had a long and colourful career in cinema, but, like with his character in Ghost, we know he's here in spirit.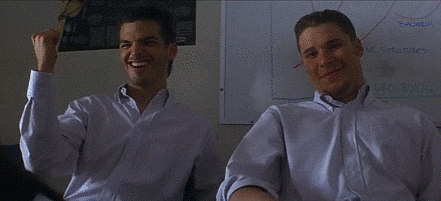 Seth Rogen aka Ricky Danforth
Lol, Seth Rogen played high school dickwad Ricky Danforth. Feel old yet? I sure do.
Noah Wyle aka Prof. Kenneth Monnitoff
Noah Wyle, the sweet, nerdy Professor who no one could look at without thinking of Dr. John Carter, the dreamy doctor he played for over a decade in iconic series E.R. He was also in the Librarian franchise. Still not quite sure what that was all about but it clearly had a cult following as they made three of them, and a TV spinoff. Paging Dr. Carter.
Credits
---
Text Tish Weinstock