sasha frolova's solo honeymoon in vegas is extreme self-love
A glittery Sin City escapade in the name of empowerment.
Collina Strada's fall/winter 18 show in February was all about self-love. Designer Hillary Taymour was celebrating the special union between ourselves and our Higher Self, inspired by mindfulness meme queen (and Broadly Hotline host) Bunny Michael. Taymour even enlisted a bride in the form of actor/photographer Sasha Frolova — who closed the show in a studded t-shirt with nipple piercings before hacking into a two-tier frosted wedding cake. So what's a young newlywed singleton to do next? Honeymoon solo in Vegas, of course.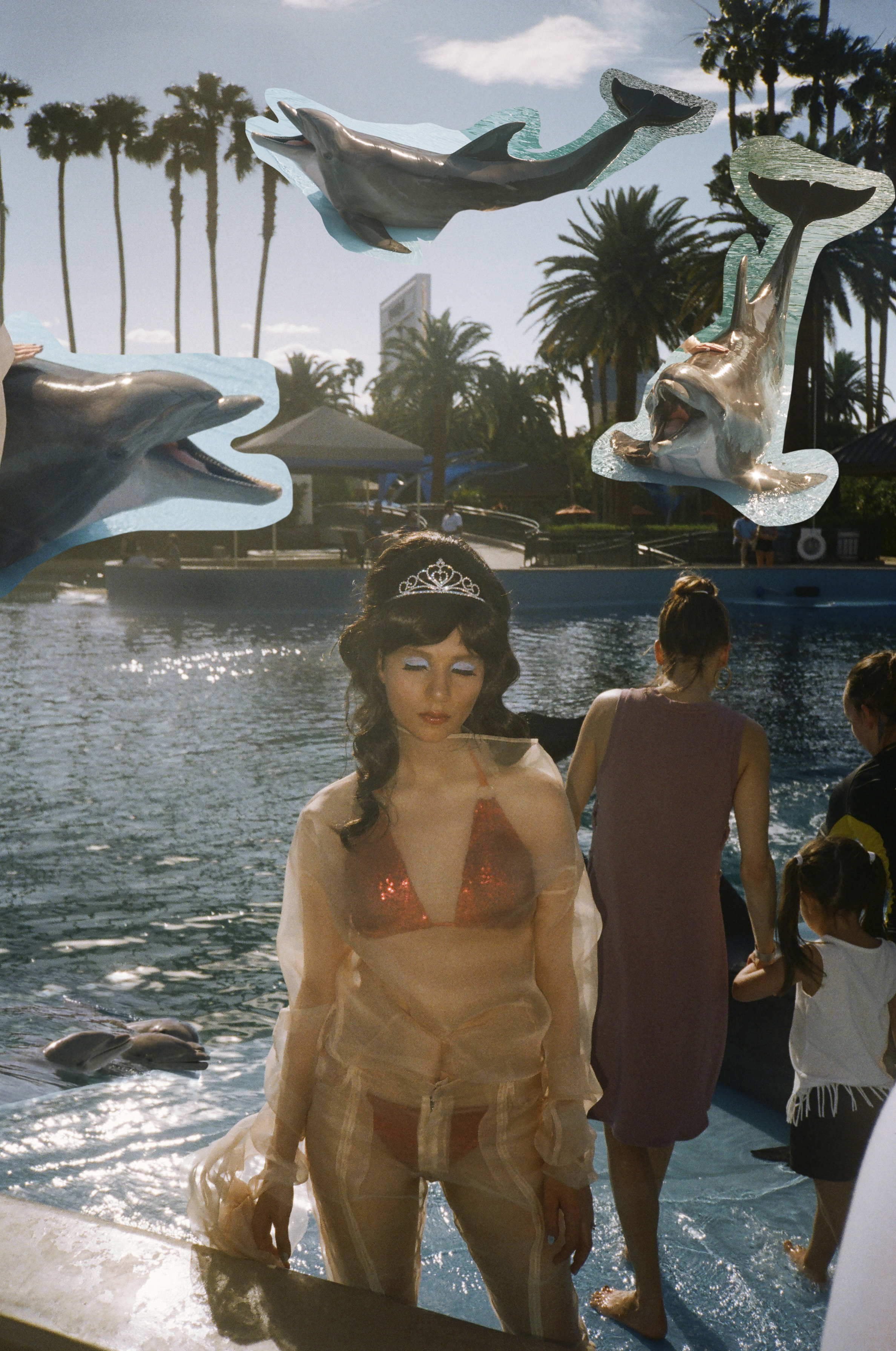 Frolova's opulent ode to self-love serves as a mantra for the social media generation. We know Instagram isn't the best app for mental health — in fact it's the worst — but Frolova asks us to question our relationship to social media while simultaneously indulging in it. I mean, you can't go to Vegas and not take a selfie lounging poolside in a drenched gown and diamond-encrusted tiara, or perched on a Venetian hotel bannister gorging on a giant plate of spaghetti. "If a tree falls in a forest and no one is around to hear it, does it make a sound?" Frolova asks i-D. "If you love yourself in 2018 and no one knows it, do you even love yourself?"
Sin City's coolest newlywed is cautious of being a caricature. "I think there is a real conversation to be had about the greater implications of this," Frolova says. "The character is fairly allegorical — a way to explore the ways in which we define empowerment through social media." Frolova's solo yolo makes good a case for booking your own glittery "mindfulness retreat" in Vegas, but check yourself before you wreck yourself. As Taymour said back in February: "On social media, you can be whoever you want. But, really, do you know yourself? Do you love yourself? Look inside, figure things out, and take that into the world."