this crime-noire set in los angeles is a cult hit in the making
Its director, It Follows' David Robert Mitchell, tells us why.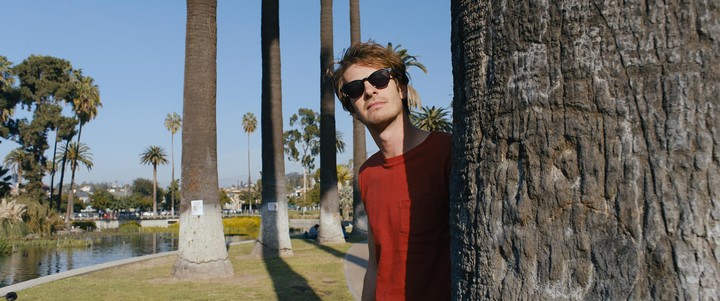 Still from Under the Silver Lake
As night falls on Los Angeles, apartment blocks and vintage villas can turn from seeming romantic to sinister in a split second. Palm trees cast shadows, making things seem like something they're not; ripples of chlorinated pool water and the shrill shriek of cicadas are all you can hear, bar the groan of life going on, ceaselessly, in the city below. LA can be terrifying if you paint it the right way; David Robert Mitchell, the acclaimed American director who gave us the cultish horror It Follows four years ago, knows that.
His latest project, Under the Silver Lake, just premiered at the Cannes Film Festival, and transports its audience to the city enraptured by glamour, crime and mystique in equal measures. Set in the summer of 2011 (a number of references to pop culture and recently deceased celebrities tell us that), the film tells the story of Sam (played by career-best Andrew Garfield), a down-and-out thirty-something with no job or drive to become someone better. One afternoon, as he sits on the balcony of his apartment, he catches a glance of Sarah, his stunning new neighbour, played by American Honey's Riley Keough, sunning herself poolside. He instantly becomes infatuated with her. But when Sam arrives the following day to treat her to a drink, Sarah's apartment is completely empty. It's as if she's left in the night; disappeared without a trace. Now, there's nothing for him to do but try and find out where she's gone.
Lacing tales of legends, cults and serial killers together, it's the kind of LA we seldom see in movies nowadays; its heady oppressive heat feels more powerful that the wealthy people that populate it. "The initial idea came from my wife and I wondering what was happening in those big houses up in the hills, and the strange things might be making their way through those neighbourhoods," David tells i-D. "[The city] is great: it's a combination of the cinema history and its changing face. So much has stayed, but so much has gone too." Pair that with the dichotomy between the obscenely rich and the regular people with huge aspirations that live there, and you have the perfect recipe -- "like wood for a fire", he says -- for an LA noire.

As Sam dives deeper into a state of paranoia, he becomes convinced the world around him is sending him subliminal messages that will lead him to his lost love. An urban legend tied to a strange, owl-faced serial killer that appears in a zine he finds becomes his primary source of fascination. That classic ink-on-paper method of spreading conspiracies is one we don't see much of nowadays in a snopes.com era; David felt it was time to resurrect it. "He's hanging on to this old-fashioned, analogue way of sharing information," he says, claiming its a more inscrutable way for urban legends to spread, because it's impossible to find their source. "Nowadays, people create their web pages filled with stuff you're not sure is accurate or not. [Back then], people xeroxed that information and sold it. You weren't necessarily getting the truth." Not that we always are now, either.
Is this obsession with conspiracy theories part of David's blood, or something that drew him towards creating this story? "When I was a kid, I loved the idea of aliens, but that probably stemmed from watching E.T." he says, assuring us that he's not as neurotic as his lead character. "I'm more interested in the idea of people pursuing things that don't exist. I'm fascinated by why that happens, and the long journeys that people take down those paths."
"We become convinced that there are other people out there who know more about us that we do ourselves. It's disorienting at times, and can make the idea of real life more horrific than anything fiction could ever conjure up."
Fans of David's movies will be glad to know Under the Silver Lake is bathed in that same eerie and nightmarish atmosphere that shaped It Follows. Is it true too, that he's fascinated by the idea of creating suspense and modern paranoia? "I'm sure there are moments when I [experience] paranoia, but never as intensely as the film does -- so I don't know if I can understand it in that way! But I think the film talks about that. The age we live in now lends itself to instilling paranoia in people."
Perhaps it's because we live in an era of internet policing and constant surveillance, where our every move is tracked by our phones and CCTV. We become convinced that there are other people out there who know more about us that we do ourselves. It's disorienting at times, and can make the idea of real life more horrific than anything fiction could ever conjure up.
That hazy mix of fact and filmic fantasy is something that David likes to toy with. As critics funnelled out of Under the Silver Lake's first screening, there were mutterings of David Lynch's name, and particularly his own LA noire Mulholland Drive. But instead of creating a carbon copy of another artist's work, or 'paying homage' to one of his inspirations, David's films feel like their own emphatic entries into the cult cinema canon. Either way, being compared to Lynch certainly isn't a bad thing. "He's certainly one of my favourite filmmakers, but he's one of many," David admits. "When I was writing and creating this, I wasn't constantly thinking what Lynch would do, but I love his films and I'm sure that has an effect. There are so many more loves of mine that contribute to it. [The David Lynch comments] are not wrong -- I don't disagree with them -- but it's not so singular."
Cult status is something that most films and their directors spend decades earning, but David Robert Mitchell, like Lynch, seems to have achieved it with just three modest films under his belt. I wondered what that title, bestowed upon his works by fans and critics, meant to him. "That's cool with me!" he smiles, as if there's no super articulate way to explain how these strange stars align. "You always wonder if people are going to connect to your work or not, but I believe that if I feel strongly about something… if people don't connect immediately maybe they will later down the line."
'Later down the line': something David Robert Mitchell's films, so immediately great, don't even have to contemplate.
Under the Silver Lake had its world premiere at the 71st Cannes Film Festival, and hits cinemas later in the year.
This article originally appeared on i-D UK.