the story behind... moloko's sing it back
According to the woman behind it, Róisín Murphy.
Summer 1999 was dominated by two songs; Germany's Lou Bega and his lady-listing Latin classic Mambo No. 5 and Moloko's featherlight, disco ball-tastic Sing It Back. While both monopolised the radio playlists and compilation market (the latter was chucked on over one hundred of the buggers), neither song was 100% the work of the artists involved, with Lou Bega's built around a sample of Dámaso Pérez Prado's 1950 original, while the version of Sing It Back that reached number 4 that summer was a remix by DJ Boris Dlugosch. For Moloko -- aka real life couple Róisín Murphy and Mark Brydon -- the song's success catapulted them into a different league, allowing them to tour the world and play festivals that would have been out of their reach before. (For Lou Bega, it lead to a seven-year long legal battle regarding copyright and literally zero other hits).
While Sing It Back's parent album, I Am Not A Doctor (featuring the jazzier, more esoteric original version), just crept into the UK top 75, its follow-up, 2000's Things To Make and Do, peaked at 3, with its lead single -- the excellent The Time Is Now -- crashing into the singles chart at number 2. By 2001 they'd been nominated for five Brit Awards, including Best Group (they lost to Coldplay, natch). These were heady heights for a band who started out as a way of spending time together. "Moloko was a love affair," Murphy tells me over the phone. "I remember when Mark said 'do you want to sign this record deal?' I was like 'why do you want to do that to me?' He was a proper musician and producer. I think he wanted me near him because we were in love." Even when the deal was signed, neither of them wanted to be in a band in the traditional sense. "First of all we were going to have three dolls as the band," she laughs. "We sent them down to London to have their pictures taken at one point, but we couldn't go too far with it. We couldn't get much human feeling out of the dolls."
Wilfully idiosyncratic, gloriously arty and fiercely protective of what Moloko stood for, Sing It Back represents a strange anomaly in their career; both their defining moment for many, but also not entirely their baby. Its gestation involves tantrums, label arguments, hanging out with Mel C and furniture reupholstering.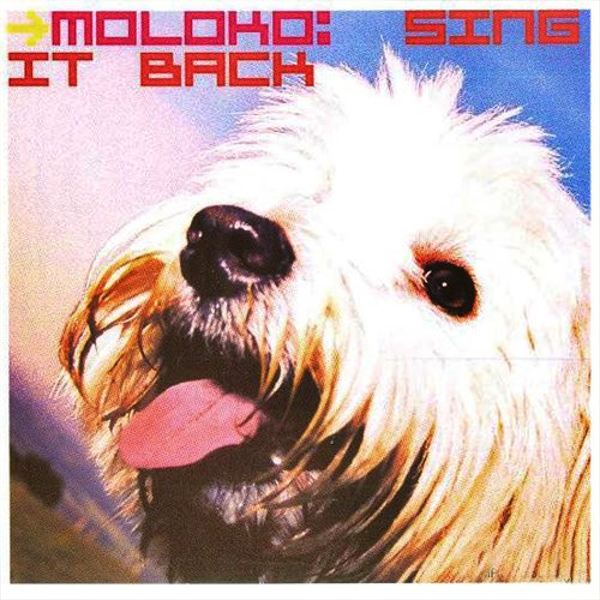 Here Róisín Murphy talks us through the song's amazing journey to unlikely summer success.

The song's inspiration...
When Moloko did their first album [1995's Do You Like My Tight Sweater?], bearing in mind I'd been clubbing for a few years in Manchester and then in Sheffield, we almost thought four on the floor was finished. We were like 'Jesus, how many of these bloody tracks can you listen to?'. We were a reaction against that and thinking that it was on its way out. I had loved it earlier on in my life but had been going to clubs with more of an eclectic mix of music in Sheffield. In Manchester you could sample all kinds of music cultures but it was all quite separate. Race-wise it was very separate, music-wise it was totally separate, and in Sheffield it was different and all mixed up. The best DJs could mix reggae and hip-hop and house and techno and all these things and you'd see where the connections were. It was very educational, musically. Moloko was a reaction to that.
Anyway, then I went to New York and I came up with the "sing it back" part of it while clubbing at Body and Soul. I'd go quite regularly, just by myself. This was in 1996 or 97, and I was staying with a girl who was working at Tommy Boy at the time. I felt like I'd got to the source of it to a degree. Body and Soul was very church-y and it was on a Sunday. It was totally devotional. François K would play a lot of vocal tracks and the whole audience seemed to know all the words so he'd turn down the music and everyone would sing it back to him. That's where I started to think about a club track with the lyric "sing it back" as the chorus.
So I came back to Sheffield and I was totally reinvigorated as far as house music was concerned. Came back buzzing and the first song we wrote for I Am Not a Doctor was Sing It Back and it was over a house beat. Then we continued making the album, and we got into jungle, and all these different styles. It's a submissive song you know. It's about playing the role of the submissive and submission in general. At the end Mark [Brydon, producer] felt like it didn't fit on the record because we hadn't gone ahead and made lots of house music, we'd made lots of bonkers music instead. So he changed it. It was always a disappointment if I'm being honest because it never developed into the song I thought it could be. Once I get the bit between my teeth it's pretty hard for me to let go. I'm like a dog with a bone and I like to chew it to death. We put out the record [I Am Not A Doctor] and it was a disappointment commercially, and whereas Do You Like My Tight Sweater? had all this buzz around it, for various reasons this next one was difficult for us.
The remix...
At the end of the album campaign I went to the record company and said 'please get a remix done of Sing It Back and put it out as a single because I think it might work'. They thought to themselves 'let's get Todd Terry to do it', which I wasn't against because he's a don, but his remix wasn't all that. Even he'd tell you that. But Boris Dlugosch got in touch with the German part of the label having heard that there were remixes being done, and he had a vision for it. I had no idea he was even doing it. The next thing I knew, it came in the post. We put it on and I immediately knew it was a hit. It had hit written all over it. I immediately envisioned me singing it on Top of the Pops, I swear down.
So then I rang the label. This was all me pushing for this, by the way. Just this young bird from Sheffield that people don't necessarily listen to. Anyway, I was like 'we've got the remix, it's going to be a hit'. The record company were like 'no, we've got to do the Todd Terry version because we paid a fortune for it'. I was like 'just because it was free, doesn't mean you should ignore it'. They just wouldn't listen and I had arguments with them where I was literally lying on the ground crying going 'please!'. I was almost pulling the carpet up. They weren't having it and it was a fight that I lost. They put [the Todd Terry remix] out and it entered in the lower reaches of the top 40. So that was a disappointment, because back then you got your best shot in the charts in the first week. Then the following Friday I was listening to Pete Tong and loads of people were requesting the Boris Dlugosch remix from Miami Music conference, saying it was the sound of the festival blah blah blah. So I rang the head of our label and was like 'I told you'. So I told him to delete the Todd Terry remix and put this one out instead and that's exactly what they did.
The song's success...
It still feels like a victory, honestly. Actually, it still feels like a lesson more than a victory, in that you should trust your instincts. The best thing about Sing It Back and Time Is Now, is that it took us to festivals all over the world, to play in front of thousands and thousands and people. That was the best thing that came out of it. I also got to perform it on Top of the Pops just as I'd imagined it after I put the CD on in Sheffield months before. Who else was on the show? Sporty Spice was there with the Canadian fella... Bryan Adams! Or was that with The Time Is Now? I forget. I do know a lot of these young popstars were watching me and going 'hm, it is possible to be cool and popular at the same time'.
The video...
Then me and my best friend Dawn Shadforth, who I was living with in Sheffield at the time, made the video. There was an old VHS copy of Michael Jackson's Rock With You video in the flat and I said to Dawn -- we didn't have much money for the video -- 'let's do it like this, it could be brilliant'. She executed it so beautifully. The mirrored dress came from the fact that I was trying to give up smoking at the time so I was covering an old piece of furniture in broken mirror. It was quite a long process so I was staring at tiny pieces of mirror mosaic for a good month, but that's where the idea for the dress came from. I used to get people saying they used to put that video on in front of their three-year-old kids and leave them there for hours and hours just watching it. It shut them up. It's a magic video. I'm never going to make a cheesy video, not never.
But what I will say is that Sing It Back and Time Is Now are both fantastic videos, brilliant, but a little one dimensional. So you're stuck in a rut in terms of the imagery -- on the one hand you've got the nice disco dolly in Sing It Back, on the other you have the Timotei advert of Time Is Now, and that's what solidified me in people's minds as a nice, sweet blonde girl and I couldn't follow that up continually because that's not who I am. I didn't think I had to, but I think looking back that's perhaps -- not what I should have done, because I wouldn't change anything -- but what they wanted. When you look at someone like Björk, she's like an alien almost – not a woman or a man. Similarly with Grace Jones. Some friends of the family had her album up on the fire place, the one where she's standing on one leg, and everyone in this small town in Ireland was coming in going 'huh? What the hell?'. You can go wherever you like when the base image is so weird, but me swinging my blonde hair around in slow motion, they just didn't fit with what I wanted to do after it.
The aftermath...
Obviously with it being a remix, we couldn't really say it was Moloko in that sense -- it wasn't the Moloko sound, it was a double edged sword. Where do you go from there? We thought we'd lift it higher but nobody really wanted us to. Or not everyone did. We poured our heart and soul into our last album, [2003's Statues], and then we put it out and it was like 'oh, it's not Sing It Back though is it?'. You know, so to be honest it is difficult to talk about what it really meant. Also, I had Mark going 'I don't want to do that', like a Sheffield bastard. It was our thing, together, and maybe if I'd started to be like 'I'm going to be a pop star' it would have separated us and made us different from one another. It would have made the reasons for us doing it different, too. I didn't want to be in a different world to him.
Róisín Murphy's back in the music game! Check out her new video for Plaything, you'll love it.
This article originally appeared on i-D UK.