cynthia nixon made sex and the city merch for her governor campaign
"I'm a Miranda and I'm voting for Cynthia."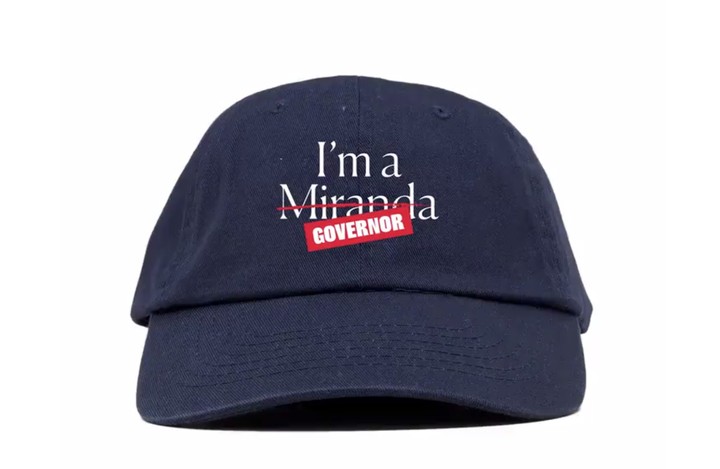 Image via Twitter
Cynthia Nixon, aka Miranda, is currently running for governor of New York. Now she's combining her politics with her pop culture prestige in the most Sex and the City way possible -- with clothes.
Cynthia's teamed up with Instagram account Every Outfit on Sex and the City to make a line of merch in celebration of the show's 20th anniversary. On offer is a hat that says, "I'm a Miranda Governor", and a T-shirt and tote bag that reads, "I'm a Miranda and I'm voting for Cynthia." There are no options that let you to identify with the rest of the core four, but that's ok because Miranda is definitely the best character in a pretty unwoke show. (Besides, maybe, Woke Charlotte). While Carrie was flitting around saying things like, "I'm not even sure bisexuality exists, I think it's just a layover on the way to gaytown", Miranda was a balling lawyer, slaying a suit and tie, and trotting out perfect phrases like, "What's the big mystery? It's my clitoris, not the sphinx."
Luckily for us, Cynthia too is fighting the good fight. She's pushing for education reform, is a huge proponent of LGBTQ rights, and if she wins would be New York's first female and LGBT governor. She understands the inequalities that see people of colour unfairly incarcerated, and supports the legalisation of marijuana accordingly.

And, when she was told by former New York City governor David Paterson that she should be running for a lower office to "learn", she retorted, "Women have been told to wait their turn and stay in their lane for as long as there have been men. So comments like these don't faze me. I've been fighting to improve education in this state for nearly 20 years, and I'm one of thousands of women who looked around after Donald Trump and #MeToo and said if we want change we'll have to do more -- we'll have to run."

Run, and vote.