nicki minaj announces her new album queen — here's everything we know so far
The album is out in just over a month, so here's what you need to know.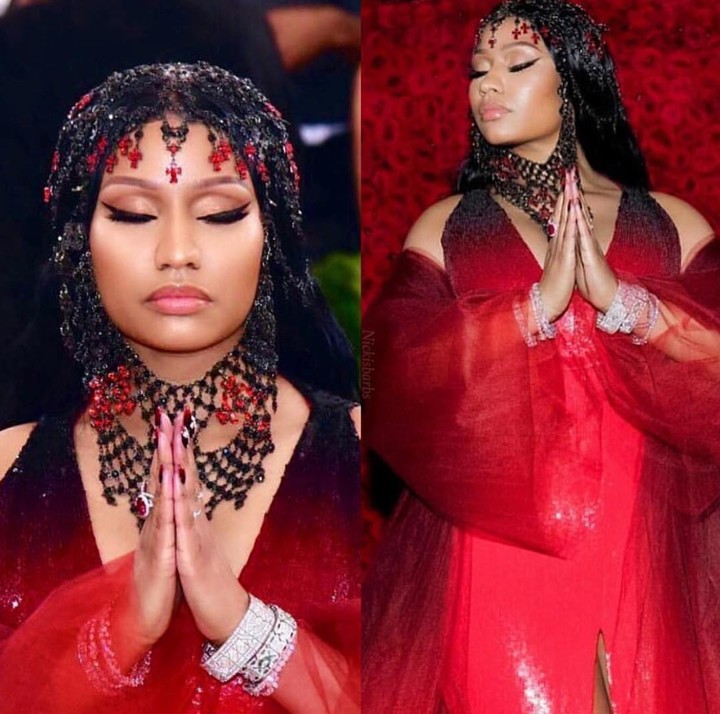 Bow down Barbz, the queen of rap has returned. Nearly four years since she released The Pinkprint, Nicki Minaj has confirmed that her long awaited fourth album is imminent.
On the red carpet at the Met Gala, Nicki finally let her fans know what they've been dying to know for years, the title and release date of her forthcoming album. Speaking to E! News, Nicki revealed that the record would be called Queen (fitting, tbh) and that it would be released on June 15.
After a four year wait, the hype for Queen is real. And with just over a month to get ready for an abundance of new Nicki music, here's everything that we know about the album so far.
What will it sound like?
Nicki's records are always eclectic. Thankfully, we have had a taste of what Queen has to offer. In April, Nicki dropped two singles, Chun-Li and Barbie Tingz. Both tracks are hard, with Nicki hitting back at her detractors or pugnaciously boasting about her musical and sexual prowess.
The co-producer of both songs, J. Reid, told XXL Mag that Nicki approached him wanting something that was similar to the boom-bap beats from early 90s East Coast hip-hop. "With the sound that I was able to provide, I really feel like we're about to bring New York back," he said. "Because even the New Yorkers up there now, they're trying to make trap music. And that's cool, but y'all got a whole culture. When I was coming up, New York culture was the shit. Dipset, fucking Jay-Z, Kanye, Cam'ron. That shit was a staple to the world, not just New York… So when she asked me to do it, it was like, damn, this is what I like to do. I like to do real music. I been in here cooking up, I ain't been doing nothing but New York shit. It's a new wave coming."
Nicki herself has said that Queen is a celebration of "everything in my life coming full circle and me being truly, genuinely happy. This is definitely the most inspired and free and excited I've been since I started releasing albums through a label," she told T Magazine. "When you start working with a record company, you start thinking you need a bigger sound. I wanted to get back to the place where I wasn't second-guessing things so much. Sometimes simple is OK."
With this in mind, it's probably safe to say that we won't see any Starships-sized bangers on Queen. But, that doesn't mean that the poppier part of Nicki has been smothered. Only last year, she released a trio of songs that chronicled the ending of her relationship with Meek Mill, No Frauds featuring Lil' Wayne and Drake, Changed It featuring Lil' Wayne and Regret In Your Tears. The latter is Nicki in full ballad mode, so it's clear that she hasn't quite lost her softer side. It's unclear right now whether those three songs will make the final tracklisting for Queen.
Who has she worked with?
It's been speculated that Cardi B could feature on the record. The pair have worked together before on Migos's Motorsport. That collaboration, however, was marred by rumours that Nicki hadn't known that Cardi would also be on the track. All this was cleared up though, so it's quite possible that both artists could crop up on Queen. Similarly, it wouldn't be a Nicki record without a sizzling collaboration with Drake and her mentor Lil' Wayne. Whether it'll be another Truffle Butter-shaped banger is tbc.
Both DJ Mustard and Mike WiLL-Made It have teased that he's been in the studio with Nicki cooking up beats, with the rapper also suggesting that she'd recorded a song with Diplo and Remy Ma (although given their beef, that might be one that stays locked in the vault).
There'll probably be some other surprise guests, too. Appearing on the red carpet together at the Met Gala, Nicki and Madonna teased that they had "a secret coming soon", which could be a collaboration for Nicki's album or Madge's. The pair have worked on songs for Madonna's last two records, MDNA and Rebel Heart. Similarly, given that Beyoncé and Ariana Grande both appeared on Nicki's last album, The Pinkprint, we're desperately hoping for Feelin' Myself part two.
When is it out again?
You'll be able to stream, buy and get your life to Queen on June 15.
Tagged: