Photography Stanislaw Boniecki
nyc's gay senior couples on love, pride, and paving the way
Stanislaw Boniecki captures longtime lovers and new BFFs at the Queens Center for Gay Seniors.
Photography Stanislaw Boniecki
Manhattan has rainbow flags coming out its eyeballs ahead of the big Pride Parade this weekend, which also marks the 49th anniversary of the Stonewall Riots. But Greenwich Village isn't the only place in NYC with a rich history of queer resistance. Over in Jackson Heights, Queens, a plethora of gay taverns and dance clubs stretch along Roosevelt Avenue, the Latinx-heavy immigrant neighborhood's answer to Christopher Street. (The area recently came to citywide attention earlier this month, when LGBTQ activists rallied to stand against homophobic attacks on a gay man and trans Latina woman.) And one of the best LGBTQ hubs in the 'hood isn't a dance club or disco but the squat brick building hosting the Queens Center for Gay Seniors. In the spirit of radical queer love and staying young at heart, i-D dropped in after lunch to ask the community's sweetest couples — including longtime lovers and platonic BFFs — about paving the way.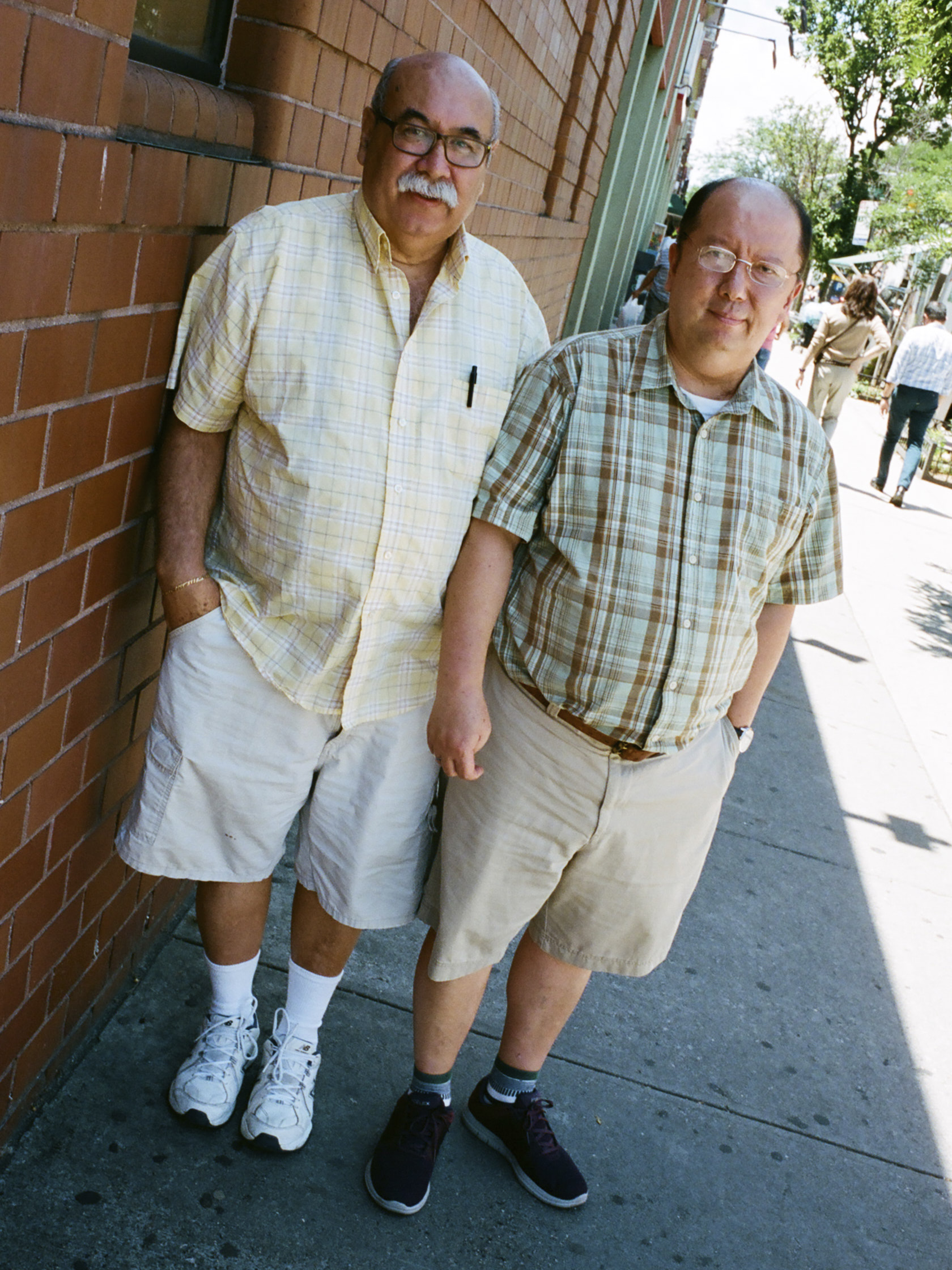 Sam Caro (70) and Harry Kim (60)
How did you meet?
Sam: We met in Florida six years ago. Harry lives in Brooklyn and I live in Woodside.
Why is the Queens Center important to you?
Sam: We love to come here. We have lunch, we talk, and we meet a lot of new friends.
What were you like when you were young?
Sam: When I was young, I was married. I was married for over 20 years. I have kids, I have grandkids. My kids 45 and 42, and my grandkids are 21 and 13.
Do you feel positive about the state of gay rights today?
Sam: Oh yeah.
Harry: Yeah, pretty positive.
What would you tell a young person struggling with their identity today?
Sam: Just do whatever. We have to come out early. My grandson just came out. He's 21. I was proud of him. I said, 'I'm proud of what you are, what you've been, what you're going to be.' Just be yourself.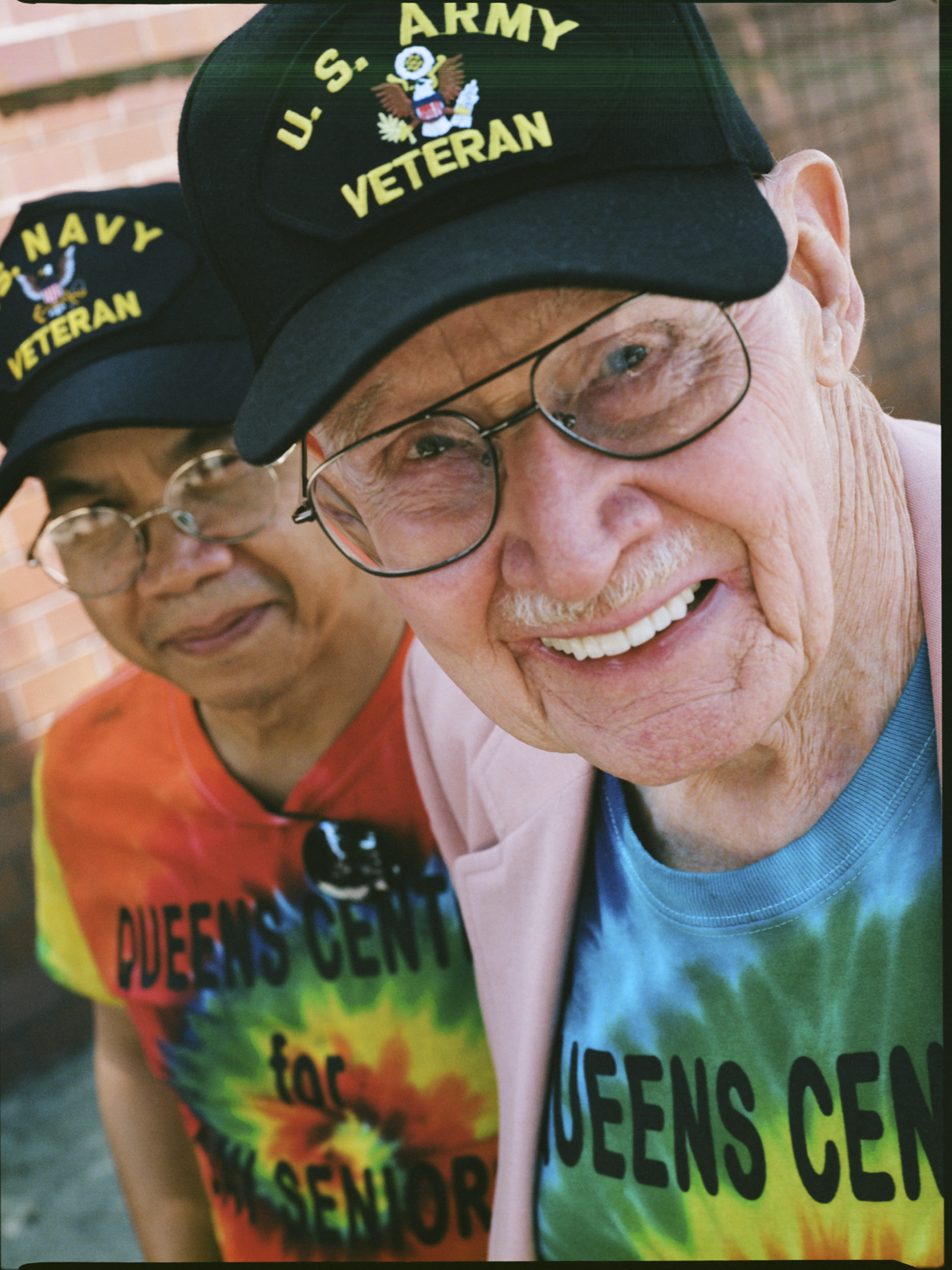 Virgil Medina (65) and Lawrence Clepper (80)
How did you meet? Lawrence: Virgil had just graduated from school in New Orleans — I grew up in South Louisiana, but I moved [to New York] in 1972. Virgil became friends with a friend of mine, and I went to visit my friend in New Orleans and I met Virgil there. I think it was about 1978. He moved up here in '82 or '83 and we've lived together ever since.
How would you describe your perfect day together? Lawrence: Just about everything! I guess going out and dining, or going to nice cafés. We have so many nice ones here with [owners from] different nationalities in Jackson Heights.
Would advice would you give to your younger self? Lawrence: Just do what you've always done.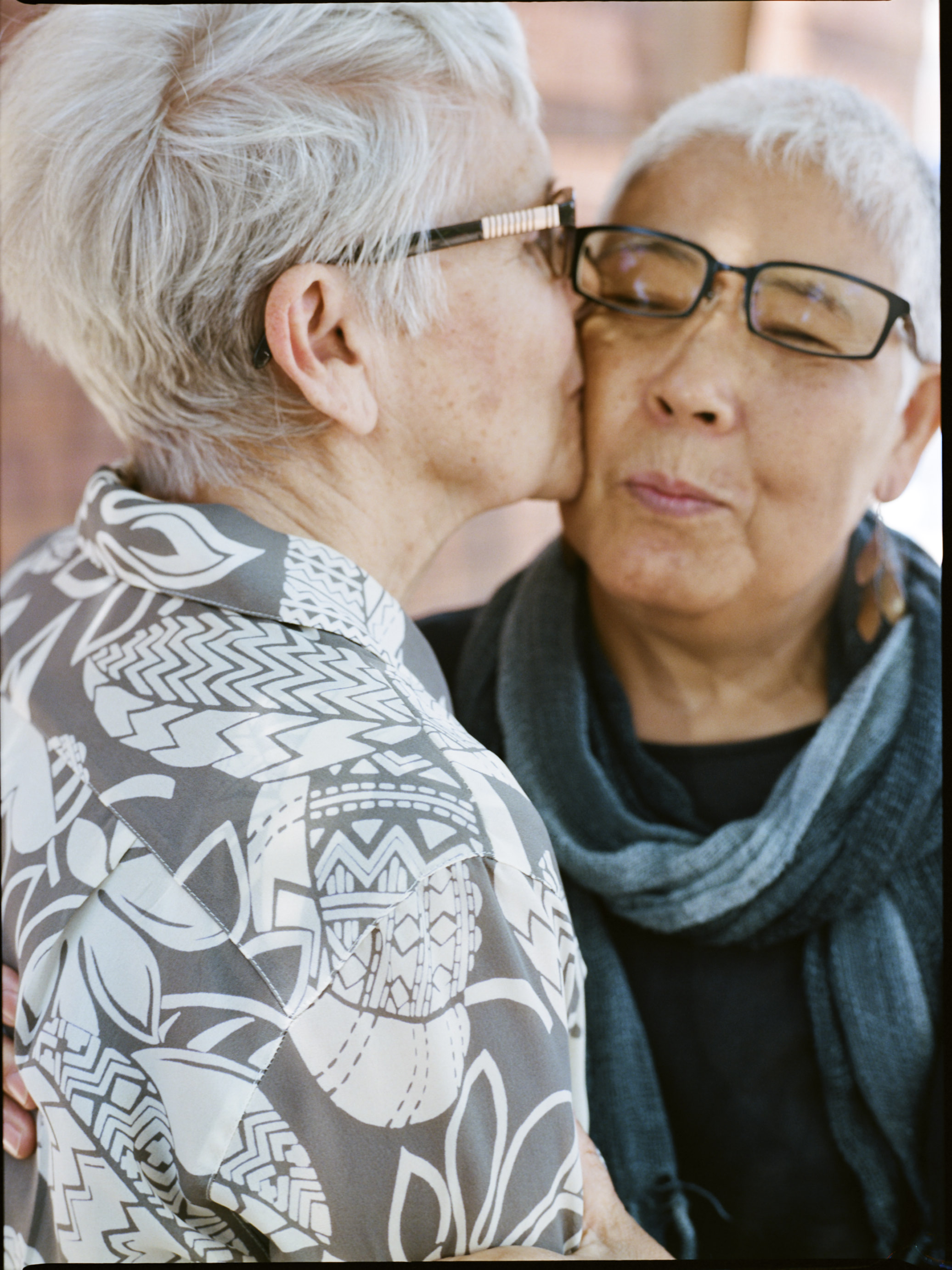 Eleanor Batchelder (78) and Fumiko Ohno (69)
How did you meet?
Eleanor: In 1986, I was living in New York City. Fumiko was living in Mexico but she came to New York for six months to work in a Japanese restaurant. We met through a women's bookstore. The woman who was running the bookstore at the time was a bilingual Spanish-English woman. She knew that I was studying Japanese, so when Fumiko and her friend came into the bookstore looking for someone to exchange conversation with, she thought of me. Her friend was 'eh,' Fumiko was wonderful.
What's your favorite thing to do together?
Eleanor: Sometimes we watch television or go to the movie theater. We like to go to museums. Sometimes we go to a carnival or a country fair.
If you could give a piece of advice to your younger self, what would you say?
Fumiko: I don't regret my life so I don't think about it.
Eleanor: I guess I think that way to. I live my life quite adventurously, and for me that's worked out pretty well. But if everybody in the world did that, that would not make a good society — you need to have some people who hold still and do their jobs.
Do you feel positive about the state of LGBTQ rights today?
Eleanor: It's certainly much, much, much better than it used to be. The people who are having problems today are trans people — they're dealing with a lot of the issues we had to work through and it's been very difficult for them. We got married after DOMA was squashed, in 2014, and at that point Fumiko could participate in my social security benefits, and she could qualify for a green card. In the 30 years that we had been together before that she had no basis to apply for a green card.
Rich Mirro (69) and Carl Eden (78)
How did you meet?
We met at a lesbian and gay counseling center where we both volunteered, around 1978. I was a counselor and he was a therapist, and we had a staff holiday party for Easter.
What's your ideal day together?
Rich: We go to the beach, and we do this — we come [to Queens Center] a lot, it's very important.
Why is the center so important to you?
Rich: This neighborhood is where the LGBT community has historically made its mark. We had a lot of theater people in the 30s, 40s, and 50s. This particular neighborhood was built as a condominium co-op neighborhood. People would come here to live in the country — because it was the country in those days — and they'd buy a little apartment, and it was theirs to leave to their children and their friends. That's how the community grew.
If you could give a piece of advice to your younger self, what would you say?
Carl: Save more money and do more exercise.
Rich: Educate yourself, and don't forget about being creative, but be financially and socially independent. Get as best an education as you possibly can because you will eventually have to support yourself, and perhaps someone else.
What was it like for you to grow up gay?
Rich: When we were coming out of the closet, it was illegal. You were a criminal. The American psychiatric association and the British psychiatric association referred to [being gay] as a psychological disorder. So you were mentally ill and you were a criminal. It was pretty harsh on a teenager to hear that in high school. Yet, I knew there were were a lot of gay people around. I joined the acapella choir and I was in the little theater — I wasn't a jock, I liked going to the gym though [laughs]!
Carl: We moved here not long after there was a murder in the schoolyard, just over there. The man who was murdered was called Julio Rivera.
Richard: Our councilman had to get an attorney to sue the city to make sure they investigated it. He organized a parade here in 1992. I brought Carl and then we used to come out every year to see the parade. Our councilman said he had sharpshooters on the roofs of all these different buildings because there were threats. There have always been gay business people owning gay taverns and discos all along Roosevelt Avenue. They brought a crowd from all over the metropolitan area.
What would you tell a young person who might still be scared to come out today?
Carl: Come out to the people that already love you. Friends and family. After that, based on your age and your interests, think about what kind of gay organization might suit your needs. When you find that out, you'll have to go visit. Visit a gay organization.
Are you going to the parade in the city this weekend?
Rich: We're going to be in the big parade. We're going to ride on the bus.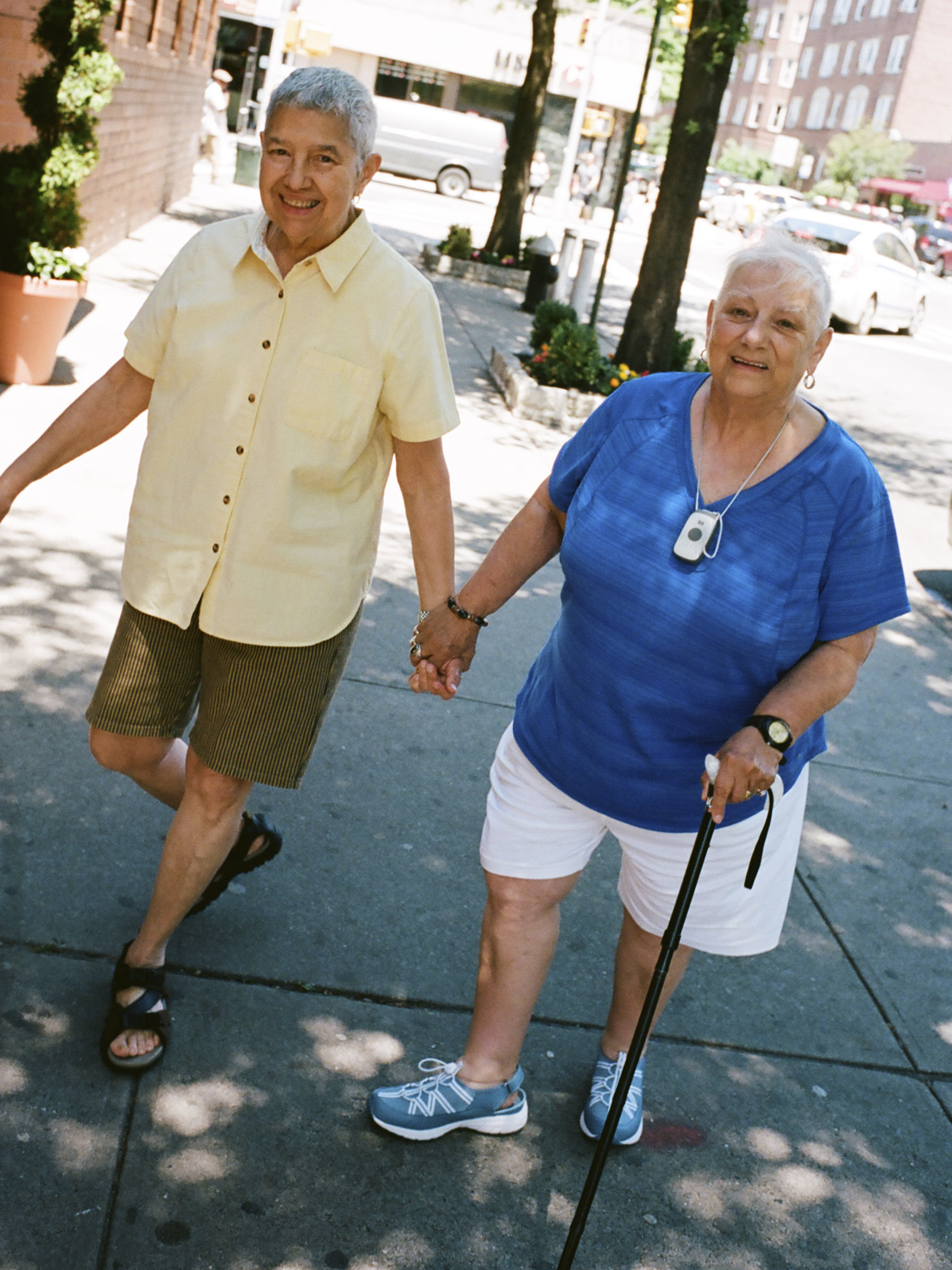 Constance Vien (75) and Gladys Berroeal (74)
How did you meet?
Constance: We've been together 41 years. We met at a bar in Manhattan. But Gladys is from Colombia and I was born in Canada.
What do you love doing together?
Constance: Living together. We're together 24/7! We're together in everything we do. I think my favorite time is Sunday morning because it's a day when we're always relaxed. I do the puzzle, we read the Sunday newspaper, and then we church. This is our day.
If you could give your younger self any advice, what would you say?
Constance: I'm sorry I didn't come out sooner. I came out in my 30s. So I would have started a lot earlier.
Do you feel optimistic about LGBTQ rights today?
Constance: Well, after what we've been through, I think it's good. We had garbage left at our door and I knew what it was about. If we went to the parade we had to wear big hats and sunglasses because I was afraid to lose my job.
What would you tell a young person who might be still be afraid to come out?
Constance: I never went out and said, 'Hey, I'm gay.' but I didn't back down either. I would just tell them, 'Play it cool. You don't have to shout from the rooftops. Just take it one day at a time and that's it.'