is it time to forgive taylor swift?
The popstar is redeeming her name through her Reputation tour.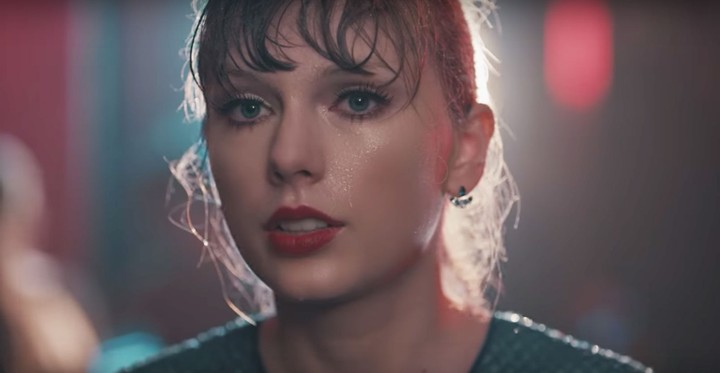 Image via Youtube
It's pretty easy to hate on Taylor Swift. Over her 13 year career (so far), the 28-year-old has graced the gossip columns on a near daily basis. Initially, it was pretty standard tabloid fodder — high-profile relationships with a string of hot young things: John Mayer, Harry Styles, Jake Gyllenhaal, Tom Hiddleston, Calvin Harris, and then some. She's collected enough exes to fuel six albums, based on which the internet has painted a portrait of a serial dater whose subject matter hangs solely on her ability to date. "Hope you're ready for Tay to write her next single about you!" is pretty much the narrative underpinning every headline breaking news of a new fling. Nevermind the fact that love and sex is the subject of 99.999% of pop songs, this angle's also an archaic double standard that sees women slandered for dating with even just mild frequency. Meanwhile, the Leo DiCaprio's of this world are players at best, seedy modelisers at worst.
Things escalated two years ago when Kanye called her a bitch in his track " Famous." When he claimed he'd run the song by her to get permission, Taylor's camp quickly denied this. It reignited the pair's longstanding on-and-off feud, which began when Kanye barged on stage during her acceptance speech for Best Female Video at the 2009 MTV Video Music Awards, shouting that Beyonce "had one of the best videos of all time". Arguably, he had a point — and drew attention to the fact that the industry regularly doles out awards to white performers over phenomenal artists of color — although interrupting a huge milestone in a 19-year-old-girl's life on live TV is possibly not the best way to make it.
But back to the "bitch". On the back of Taylor's claims she'd never authorized the track, in 2016 Kim Kardashian posted a Snapchat of a conversation between Taylor and Kanye, suggesting (although not proving) that Taylor had authorized the track, then called her a snake and shit hit the fan. Taylor was demonized and her social media was flooded with snake emojis, because as the saying goes, an emoji speaks 1,000 words.
And so, Taylor wrote Reputation. The 2017 album is laden with easter eggs referencing past and present relationships with exes, lovers and Kanye: the very first line of her lead single, " Look What You Made Me Do," is widely acknowledged as an on the nose reference to the rapper and his slanted stage: "I don't like your little games / don't like your tilted stage / the role you made me play of the fool / no I don't like you." The rest of the album is equally hung up on the of notion of a bad reputation overshadowing your life and relationships, and people were pissed.
"With Reputation, she'd ruined hers."
They were pissed because it was 2017 and the world was falling apart. Between Trump, Brexit and the disintegration of supposedly stable democracies, she was hung up on petty he-said/she-said sagas. Meanwhile, alt-righters were reportedly heralding her as an Aryan Princess, a title she herself said nothing about. And while her contemporaries have plastered their hate for Trump across Twitter, she's almost gone out of her way to withhold her political perspective — a tactic which many people have argued is a way of holding on to her country fans, with country music fans widely regarded as having traditionally Republican roots.
Also, a lot of people just didn't think the music was very good. It wasn't the heady pop perfection of 1989, nor the hooky country-pop she'd cut her teeth on. It was a bit more forced, a bit less cohesive, thematically fluctuating between saccharine romance and revenge fantasies. With Reputation, she'd ruined hers.
Ironically, that's one of the reasons her tour is so phenomenal. At the London show, she packed out Wembley Stadium, her first time ever playing there. Charli XCX opened, fresh from a gig with boundary-demolishing artists like SOPHIE, A.G. Cook and Rina Sawayama. Camila Cabello followed, whose near flawless voice is one of the best in the pop game. When it was Taylor's turn, the two enormous angle screens towering over the X-shaped stage slowly edged apart, revealing a figure silhouetted in angry red light. Three grimey bass notes signaled the start: "...Ready For It?"
What followed was a rapid succession of hits, pyrotechnics and flying pop stars. Taylor raced through banger after banger with supreme confidence and execution. While Reputation wasn't as revered as some of her past albums, its heavy production stood its own in the cavernous stadium, proving that actually, the record houses some very good pop — "Gorgeous," "Delicate," and " Getaway Car" all standouts. She indulged us in fine vintages like "Love Story" and " You Belong With Me," plus 1989 hits " Blank Space" and " Style" — reminding us of her enormous back catalogue of expertly crafted pop. Her voice, which, let's be honest, was never her strong point, was better than ever. It was the kind of meaty concert where you don't dare go to the toilet for fear of missing an absolute banger, or, say, Taylor flying from the main stage over the crowd in a giant golden orb.
Charli and Camila joined her for " Shake it Off," a defiant fuck off to all the shit that female pop stars have to deal with on a daily basis. Her backup dancers and singers were diverse, and she credited them with both a personal namecheck and massive rolling credits at the end of the show. She also balanced the spectacle with subtler moments, like when she played fan favorite " Long Live" on a grand piano and the audience cheered for about five minutes. Five minutes is a very long time to cheer. The whole thing was exactly the kind of expensive, high-production extravaganza you want from a pop star: Fireworks! Fountains! Giant inflatable snakes popping out from behind the stage!

Coming from someone who's been dragged backwards through the internet's more cynical spheres, this is quite a sight. Sure, it'd be nice if she used her massive influence to denounce Trump — but let's not forget that a couple of weeks ago Kanye was wearing a MAGA cap and purporting that slavery was a choice. Now he's front row at Louis Vuitton, while the albums he's worked on are receiving immeasurable internet adoration. The responses to their respective political stances (or lack thereof) seems a little lopsided.
"With social media, our reputations precede us more than they ever have, and sometimes they're not what we want them to be."
What's more, while Taylor's focus on the concept of "reputation" was generally received as self-indulgent and introspective, it actually feels pretty relevant in today's social media obsessed world. Where once it was predominantly celebrities who grappled with the dichotomy of a public vs. private life, this is something we all have to contend with now. Our "personalities" are judged on a perception garnered through Instagram and Twitter, whether that's our conscious curation of them or everyone else's interpretations. And as Taylor said at one point on Friday night, "It can really affect your happiness if you feel like your reputation doesn't match who you are." Before adding that, "what's scary about our reputation sometimes is it's so disconnected. It's what people say behind your back. It's what people say when you're not there." With social media, our reputations precede us more than they ever have, and sometimes they're not what we want them to be.
The sight of such a defiant performance not just in spite of a bad reputation, but actually galvanized by it, is impressive. And to the hundreds of people declaring their love through slogan tees or mascara smudged cheeks, the night clearly meant something. If the message they received was to keep your chin up despite people talking shit about you behind your back — well, I can think of worse ideologies to champion.
This article originally appeared on i-D UK.