who cares if cardi b does or doesn't have a baby out of wedlock?
The rapper has announced her marriage to rapper Offset, delivering a serious clapback to those who mistakenly judged her decision to get pregnant out of wedlock.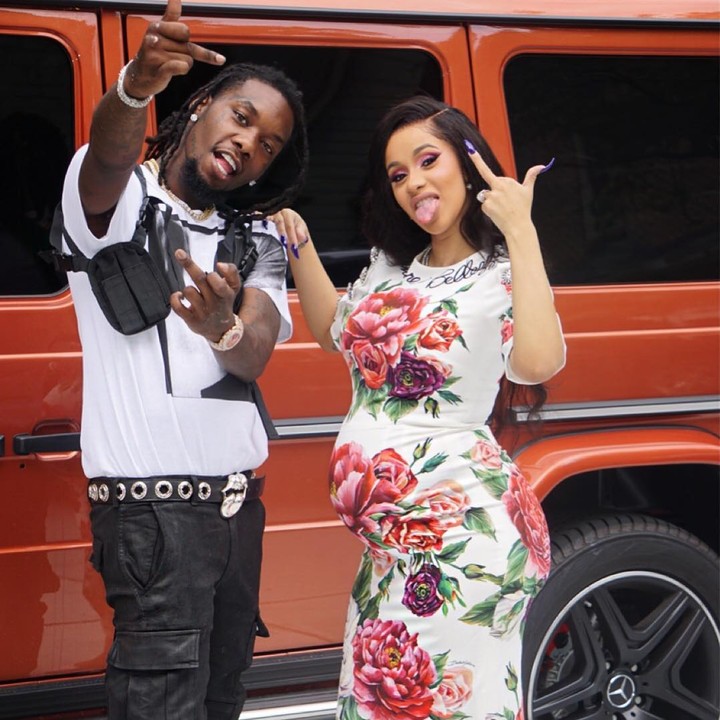 Image via Instagram
Were you thirstily looking forward to seeing Cardi B's wedding dress, drip-drip-dripping in diamonds? Well, we're sorry to announce that is probably not going to happen. Yesterday Cardi tweeted that she has actually been married to rapper Offset since September of last year. We were hoping for a People magazine spread but, what can you do?
In the tweet, Cardi admonishes those who judged her decision to get pregnant out of wedlock: "well now since you lil nosey fucks know at least ya can stop saying I had a baby out of wedlock." Sorry, but who is telling Cardi she shouldn't have kids before marriage? Aside from sounding like something off Pride and Prejudice, it reproduces the backwards idea that women cannot be happy unless their relationship follows the strict template outlined by conservative society. Entering into a long-term monogamous relationship, meeting the parents, moving in together, getting engaged, then married, before having babies and living happily ever after.
But women aren't all the same and what is right for one woman is probably not right for another. For some, the idea of living with a partner might make them gag, for others it is a fundamental part of intimacy. Forcing women to live out the dull pattern prescribed for us from birth will not guarantee happiness. As Cardi's unexpected rise from Instagram and reality TV to rap queen shows, life doesn't always turn out as planned. We should go with what feels good at the time.
No shade if you want a fairytale wedding with a chicken wrapped in Parma ham main course and awkward speeches about how embarrassing the best man was at boarding school. But sometimes the unexpected is far more romantic. For Cardi, getting married with no premeditated plan and no one but her future husband and cousin in attendance was the most hazy loved-up thing that could happen. "I said I do, with no dress, no make-up and no ring!" she wrote. "I love my husband so much for still wanting me to have that special moment that every girl dreams of."
This is not the first slew of criticism Cardi has come under after getting pregnant. Many questioned whether by choosing to have a baby she had ruined her career. Others criticised her decision to stay with Offset after rumours emerged he had cheated on her.
With an album debuting No.1 on Billboard 100 and a partner who loves her, everyone should probably just hush and stop being so judgemental of Cardi. Okurrrrr.
This article originally appeared on i-D UK.